The U.S. administration has been persistent in prolonging the student loan payment moratorium ever since the outbreak of the Covid-19 virus back in March 2020. The pause has once again been approved by the Biden administration, setting the new date to January 31st 2022.
By temporarily stopping the loan payments, a new problem arose; two huge student loan servicer companies decided not to continue their business with the U.S. Department of Education. 
This has been a serious blow for all the parties involved. Not only is the federal income halted and the proficient companies are opting out, but the chaos of migrating the entire student loan database is yet to begin. 
Needless to say, historically, such transfers have always been somewhat disastrous, resulting in data loss and inaccurate payment histories.
The servicers in question, Granite State Management and Resources, and FedLoan, handle over 10 million borrower accounts combined.
Biden And Student Loans
It was no surprise that student loan borrowers advocates and other officials have given praise to Joe Biden student loans move. They argue that the social disruption is not over and students need more time to resume their financial obligations. 
The amount of $1.73 trillion, which is the current student loan bill, is hardly pocket change, and now the prospect of collecting it is even more challenging than in regular circumstances. 
To put the sum into perspective, the U.S. has spent $5 trillion over several stimulus packages to keep the economy running during the pandemic.
Source: Statisa.com
It is clear that for the last 15 years, outstanding student loans in the U.S have been on the rise at a pretty steady, yet unwavering pace. Because of the pandemic and the inability to meet their obligations, the students' position is basically unattainable, creating a chain of financial, legal, and technical problems.
Biden On Student Loans
Although Biden sought to ask Congress to pass legislation and forgive $10,000 of loan funds per student, there are influential Senator voices, Elizabeth Warren and Bernie Sanders most notable, who ask for a more comprehensive approach to loan debt cancellation. A wider one than the Biden student loans policy.
Warren has urged for debt cancellation of up to $50,000 for 95% of students, or roughly, 42 million people. Those costs, she argues, could and should be covered over the period of the next ten years by imposing an 'Ultra-Millionaire Tax'. 
There are 75,000 American families that hold $50 million and more in wealth. 
They would be taxed 2% annually in order to cover the estimate of $1.25 trillion in federal costs.
Negative Trends Put Loan Sector In Peril
Although it's the Government's prerogative to allocate federal funds, and setting aside the eternal debate on the minimal state and tax interventions, the market operates in real-life categories, and at this point, the trends are looking grim. There are serious concerns that student loans altogether affect the economy in a negative way.
As mentioned above, it is clear that the student loans are constantly rising (and 7% of the borrowers never pay back the loan), but in addition, the very fact that companies compensate college graduates for student loans, puts other workers in fiscal disbalance, and furthermore, weighs down on companies, as college degrees offer a 14% ROI (return on investment) on average. 
This means that student loan payments shift from graduates to the companies that hire them. As a result, low-skilled workers find it harder to find employment and are given lower wages, but the absence of the workforce from the market whilst in college generates unemployment. Hence, welfare increases, putting pressure on public fund distribution. 
Furthermore, student loans can be seen as a family rival to commercial loans, canceling out potential human capital, meaning, users and their businesses who avoid the job market altogether, affecting credit accessibility, and in the end, creating a vicious circle of high tuition fees and low welfare checks. 
Students Tightening The Belt
Because of the burden of the loan, students are less inclined to expose themselves to spending on products or services other than what they deem essential – a staggering 35% of student borrowers are reluctant to buy daily necessities. 
They are also less likely to start their own business or purchase real estate but often rely on public social programs to help their finances.
One of the basic principles of the market economy is that in the order for it to function, wealth has to be kept in circulation. Such circulation encourages economic growth and creates jobs, motivates workers (or more precisely, all of those who work for a living) to make and spend money.
The policy of student loans, in its current form, is in latent conflict with the free market principle, and an open discouragement to personal expenditure. 
Relentless Statistics
Let's take a look at more numbers. When considering the consumer's student debt-to-income ratio, each time it increases by 1%, the consumption declines up to 3.7%. Student debt is a household credit second only to mortgage, affecting spending 20 years after enrolling in college, with half of the students, later graduates, still owing $20,000 per student on outstanding loans. 
And for more perspective, the pet industry, a huge sector worth $95 billion, makes a mere 5.59% of student loan debt value.
A study carried out by Pennsylvania State University and Federal Reserve Banks concluded that there is an economically negative correlation between student borrowers and starting new businesses that employ one to four employees. 
It is easy to do the math: 
Such businesses count 12.5 million out of a total of 17.6 million in the U.S.
$37,693 is the average loan debt per student
Potential business owners are 11% less likely to start their own business if they have more than $30,000 in student loan debt
Conclusion
Considering all data, there is little room for optimism, as problems are piling up, and solutions seem to be complex, lengthy, and highly structural. In any case, the calculations are sound and now it's the Government's turn to make a move. Current Biden Student Loans Extension decision is just a necessary step in the right direction.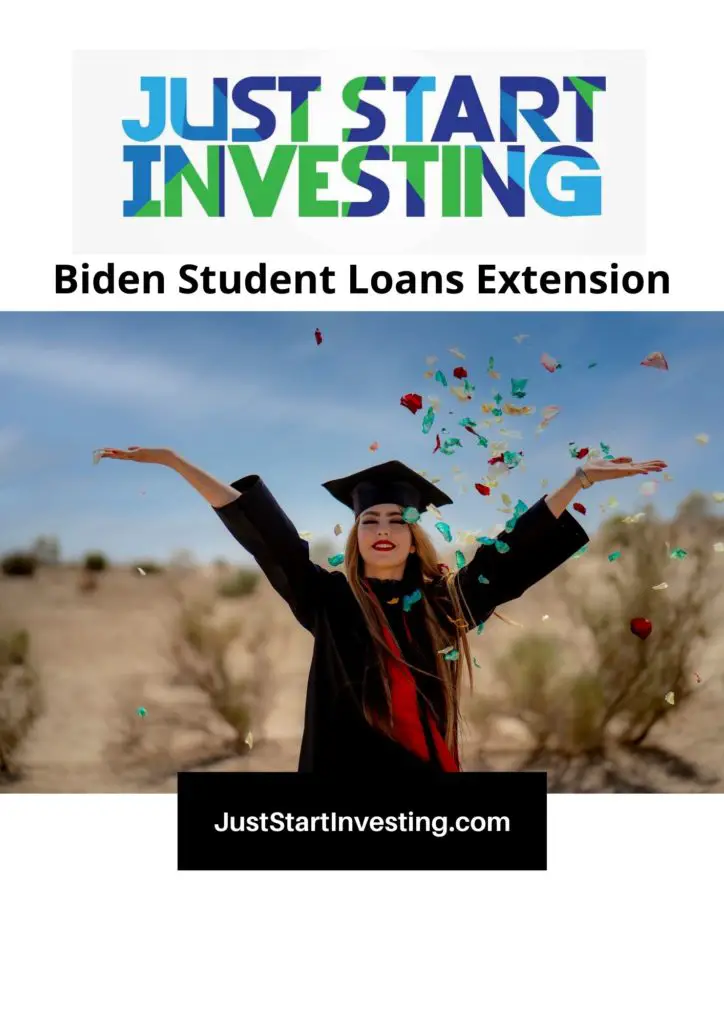 Just Start Investing is a personal finance website that makes investing easy. Learn the simple strategies to start investing today, as well as ways to optimize your credit cards, banking, and budget. Just Start Investing has been featured on Business Insider, Forbes, and US News & World Report, among other major publications for its easy-to-follow writing.