This credit card tool will find the best everyday credit card for you.
It will analyze your spending in various categories and recommend the credit cards that will provide the most value for you based on your spending (*while making a few key assumptions). The directions for the credit card tool below are as follows (more details in the actual tool):
Enter the time horizon over which you want to analyze credit cards (1, 3, 5 or 10 years). In other words, how long do you plan to have this card? The default is 5 years.
Enter your estimated monthly spending:

Total spending each month.
Best estimate of spending in each category (dining out, airfare, lodging, other travel, groceries, online, gas, entertainment and retail).
Then, the tool will recommend the top 10 credit cards that will maximize your rewards based on your estimated spending (and the assumptions detailed further below).
Once you know what you card is best for you, you can apply:
Use the Credit Card Tool
There are 3 tabs you can utilize in the credit card tool:
No Annual Fee: Find the best no annual fee credit cards for you based on your spending habits.
Annual Fee: Find the best premium credit cards with an annual fee based on your spending habits.
Annual Fee (No Hotel+Airline): Find the best general, premium credit cards (not specific to any airline or hotel brand) with an annual fee based on your spending habits. Great if you are not loyal to any airline or hotel company.
Here's an example of what the tool looks like so you know what to expect: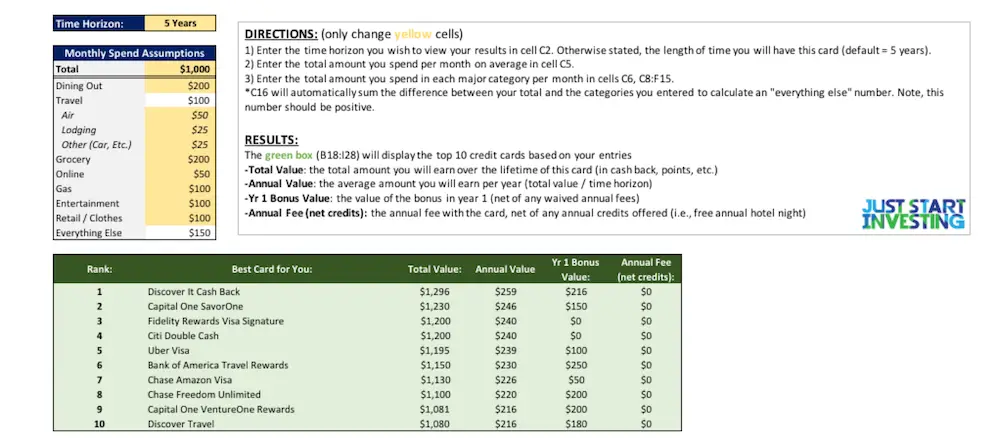 Assumptions
*There are a few key assumptions and disclaimers behind this tool. The credit card tool will never give a perfect answer, but we worked hard to attempt to get it as close as possible.
All general points (American Express, Chase, etc.) are worth $0.01 (unless the program specifically denotes a 1.25X or 1.5X like with the Chase Sapphire cards).
Hotel points convert to cents as the table below denotes: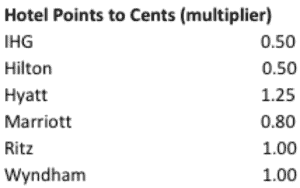 Miles convert to cents as the table below denotes: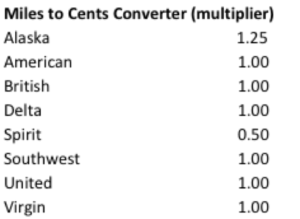 When applicable, all spending on airfare or hotels is with the brand / company of the displayed credit card. For example, all air spending is assumed to be American for American cards, Delta for Delta cards, etc.
Annual fees are the total amount of annual fees less any credits (i.e. dining, hotel, or any other credits). For this reason, many annual fee credit cards score above no annual fee credit cards. With credits, many annual fees drop to $0 (but that credit, i.e. a reimbursable hotel night, must be useful for this value to be realized).
If annual fees are waived in year 1, it was added to the "bonus offer" number for year one.
The assumption is that all bonus offers are redeemed (i.e. if you need to spend $4,000 in 3 months to receive the offer, it is assumed that will happen).
In most cases, this tool values indirect perks (i.e. lounge access, free checked bags, etc.) at $0.
The tool selects one card at random in the event that two cards tie in value.
We examined 50+ of the top credit cards to create this tool.
Last updated: July 2019.
---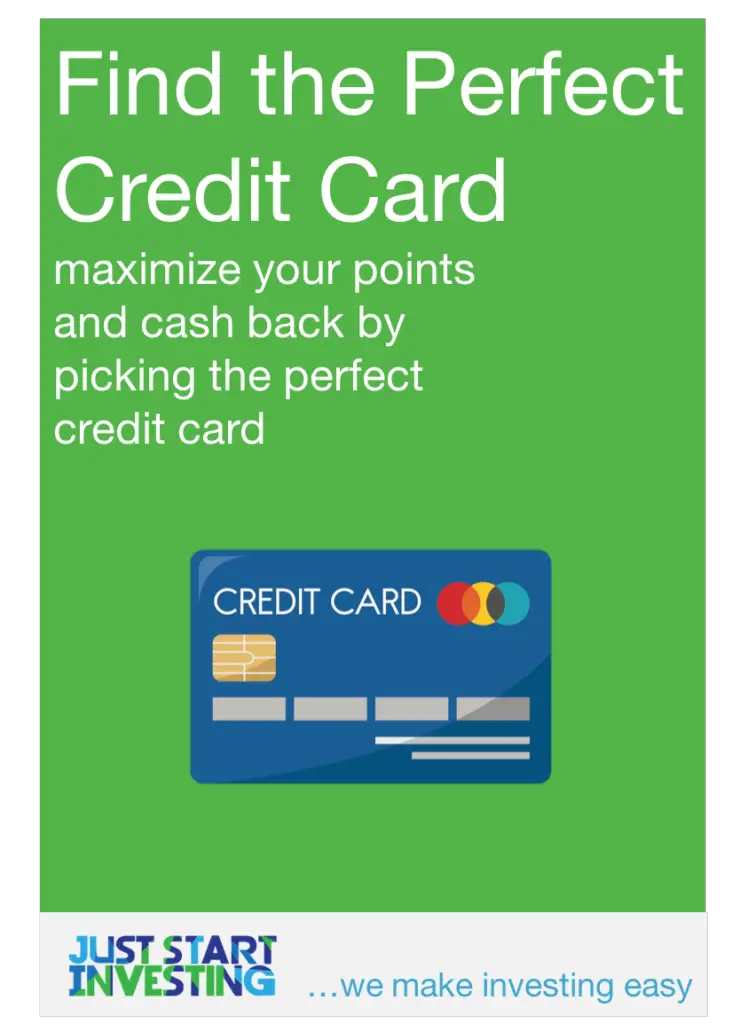 Have a question, a credit card you think should be added, or other comment? Let us know by reaching out.
If you want to learn more, check out the types of credit cards that are available to you or learn about the 5 steps to take when applying for a new credit card.
Editorial Disclaimer: Opinions expressed here are the author's alone, not those of any bank, credit card issuer, airlines or hotel chain, and have not been reviewed, approved or otherwise endorsed by any of these entities.