Learning how to choose a credit card is a lot like learning how to invest in index funds – there are 5 steps and it's easy to do once you know what you're doing.
Like riding a bike, it's something everyone should learn at some point in life.
Learning how to choose a credit card fixes two big problems that people face with credit cards today:
Not using a credit card at all.
Using a credit card, but not using the best one possible (like the new Apple Card).
Simply put, credit cards pay you to shop! It's like getting everything on sale. As long as you use them responsibly and pay them off on time, they are a great tool to both get a discount on everything you buy and build your credit to help with other financial goals.
Below are the 5 steps to follow to both walk you through how to choose a credit card and make sure you are getting the card that provides you with the best possible rewards or cash back.
Apply now: Check out some of the best credit cards out there.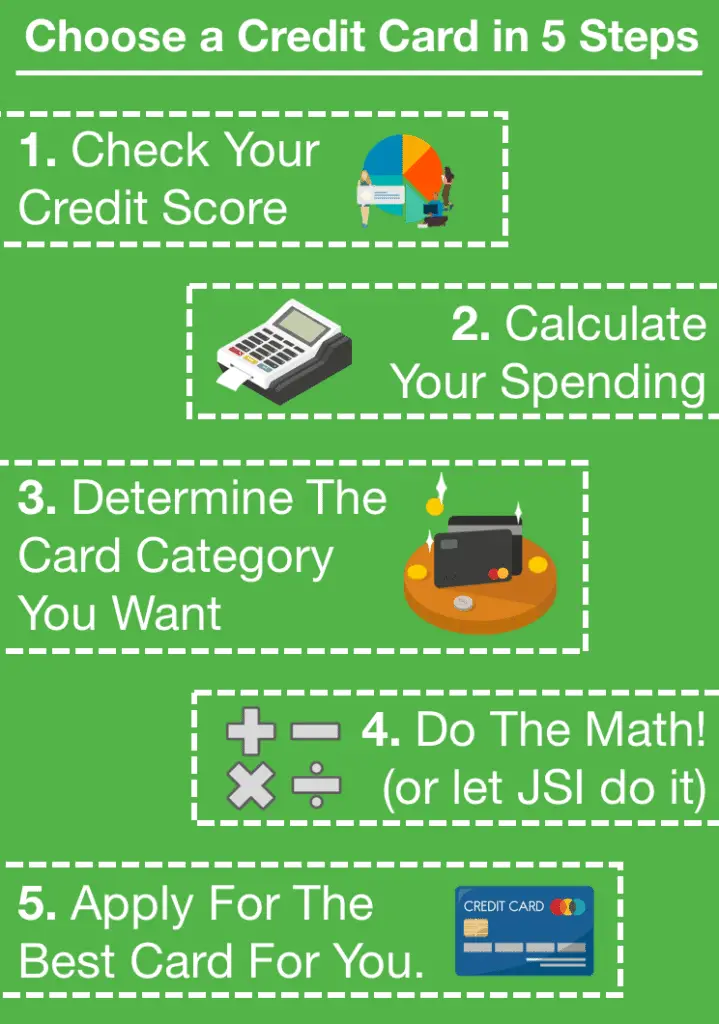 1. Check Your Credit Score
The first step in learning how to choose a credit card is to understand your credit score. You can check your credit score here for free.
Simply put, a good credit score means you are a reliable consumer and therefore can get credit cards with better rewards. A bad credit score means you are a risky one, and likely need to spend more time building your credit before you can get high reward cards.
A credit score is made up of 5 parts:
Payment History [35%]
Utilization [30%]
Length of Credit History [15%]
New Credit [10%]
Types of Credit [10%]
Those 5 parts come together to give you a numerical score. Which will fall somewhere on this scale:
800-850: Exceptional
740-799: Very Good
670-739: Good
580-669: Fair
300-579: Very Poor
You can learn more about how credit scores are calculated and what they mean here. Though, when it comes to needing to choose your next credit card, understanding your credit score will help you understand what cards you can get approved for.
Most cards will tell you what score is necessary to have a better chance of getting approved, like as seen here when you go to apply for credit cards.
In general:
If you need to improve your score, you likely need to start with a card designed for someone with bad or fair credit, like the Blaze MasterCard.
2. Calculate Your Spending
The next step to choosing a credit card is to calculate your spending, which includes both:
How much you typically spend per month.
What types of categories you spend on.
When I say categories, I mean things like restaurants, travel, or grocery stores.
You don't have to tally up whether you bought a banana or apple last week, or if your last shopping trip was for jeans or sweaters. But knowing how much you spend online shopping vs at grocery stores is necessary.
Now, set aside this information until step 4.
3. Determine the Card Category You Are Interested In
The first major card category you need to decide is if you want a no annual fee credit card or a credit card with an annual fee.
The general rule of thumb is that those who are higher spenders and have a good credit score typically choose cards with annual fees. This is because the higher rewards that those cards offer usually make them worth it by offsetting the cost of the annual fee.
On the other hand, those who spend less every month and/or have a lower credit score usually opt for credit cards with no annual fees.
If you're interested in diving into the details, this post shows you the math that can help you decide which type of card is right for you.
After deciding between an annual fee or no annual fee, it's time to decide what types of rewards you value most. Some cards simply offer cash back, while others offer travel points, hotel points, airline points, and many other types of rewards or points. You need to make sure that the card category you are applying for rewards you with something you will use.
If you don't like to travel, don't sign up for travel rewards cards!
4. Do The Math (or Let Us Do it For You)
Once you know what type of credit card you want based on your credit score, spending habits, and rewards you want – it's time to choose the best credit card for you.
To do that, I would take a purely quantitative approach. Which means using math.
Luckily, we've created a credit card tool that will automatically choose the best credit card for you based on your spending habits.
---
---
Using the tool above you can input your past spending details by category (which you completed in step 2) to see which credit card will provide you with the most rewards based on your spending.
If you spend a lot on travel, then it'll recommend a card with great travel rewards.
If you spend a lot on dining out, then it'll recommend a card with great dining out rewards.
…And so on.
Here is a sneak peek at what the credit card tool looks like: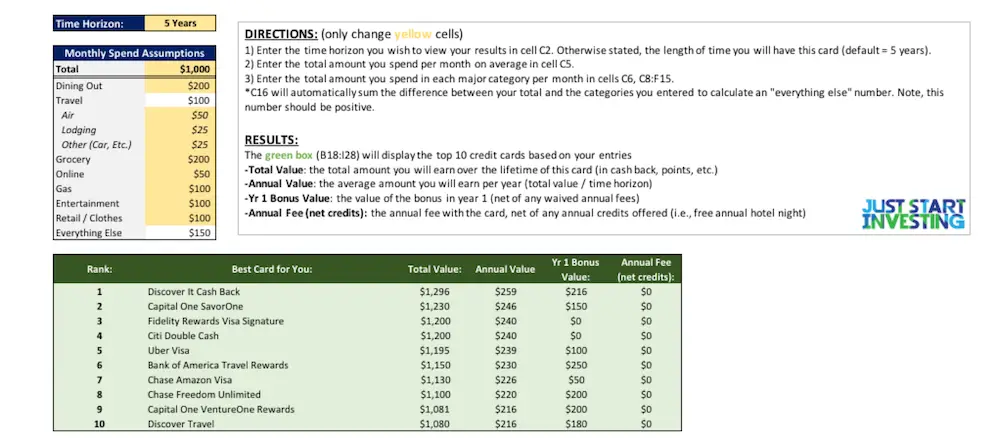 The worst thing you can do is have a card that does not reward you best for the type of spending you typically do!
If interested, you can learn more about this tool and how it works here.
5. Apply for the Best Card for You
And the final step in choosing a credit card is to actually go out and apply for the best card for you.
Here are some short cuts if you want to dive in right now and apply for:
The biggest watch out with opening a new card is the temporary negative effect it will have on your credit score because of a hard credit check. Which happens every time you apply for a new credit card.
This is a one-time dip in your score that will reverse over time with responsible spending and by paying off your card on time every month. Nonetheless, it will happen and is the reason you should not apply for or open up multiple credit cards in a short period of time or right before needing to take on debt (like a mortgage).
Bonus Step: Pay Your Card on Time Every Month!
Like beer commercials, all credit card ads, articles, and information should come with the disclaimer, "please use responsibly."
A credit card can be a great tool for consumers when used properly and paid off on time every month. So, do that. Pay it off on time every month and don't spend money on things you cannot afford!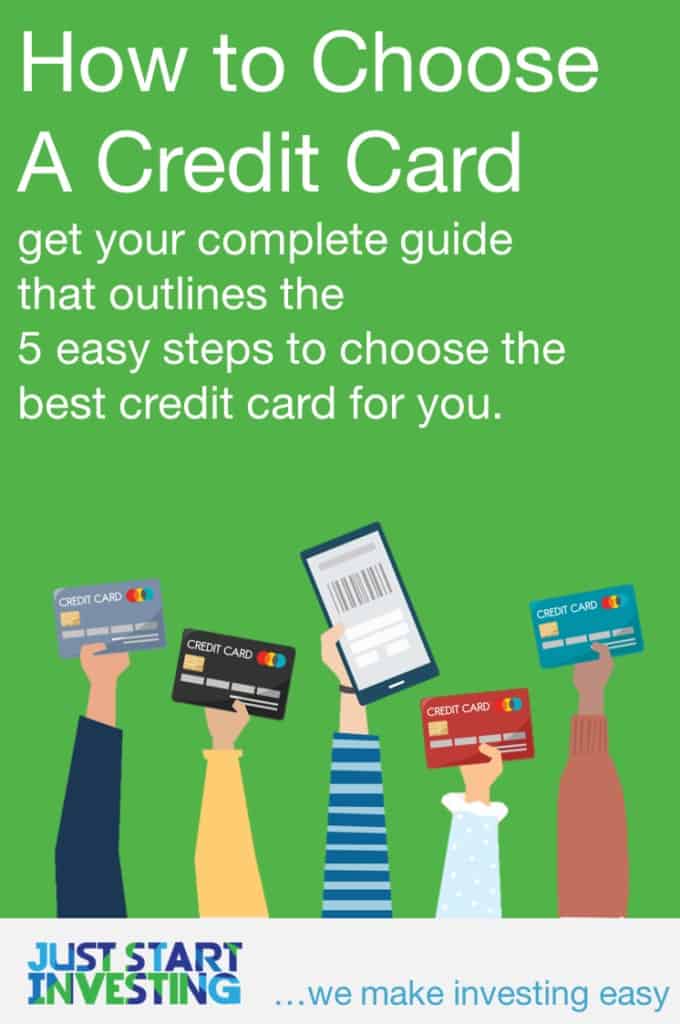 Summary: How to Choose a Credit Card
Learning how to choose a credit card is easy when you know what to do. And now you do.
Just remember to complete each step and not rush into a decision. If you have questions, reach out at any time.
---
Apply for One of the Best Credits Out There:
---
Editorial Disclaimer: Opinions expressed here are the author's alone, not those of any bank, credit card issuer, airlines or hotel chain, and have not been reviewed, approved or otherwise endorsed by any of these entities.
Just Start Investing is a personal finance website that makes investing easy. Learn the simple strategies to start investing today, as well as ways to optimize your credit cards, banking, and budget. Just Start Investing has been featured on Business Insider, Forbes, and US News & World Report, among other major publications for its easy-to-follow writing.