Is an annual fee credit card worth it? Definitely a question all consumers should ask (or think about) before signing up for a new credit card.
It's actually a pretty simple question to answer, you just need to do some basic math.
Well… it was basic math until credit card providers started introducing points, miles, bonus offers and other hidden benefits (and fees). It's not as simple as finding the best cash back offer anymore.
There are some questions you need to ask yourself to figure out if an annual fee credit card is worth it, or if you should stick to the no annual fee offerings.
Apply now: Check out some of the best credit cards.
Is an Annual Fee Credit Card Worth it?
Here are a few questions to ask yourself to help answer the ultimate question of if an annual fee credit card is worth it:
Do you already have a credit card?
How much do you spend annually?
What do you spend your money on?
Do you travel?
How long do you plan to use this card?
It seems simple, right?
Agreed. It's pretty straightforward when you break it down. And below we're doing just that (breaking it down…). Learn why you should be asking these questions, and what you should do depending on how you answer.
Do You Already Have a Credit Card?
If you don't have an annual fee credit card right now, you can skip ahead and move onto the next question.
If you do already have an annual fee credit card (or 2, or 3), then the chances of it making sense for you to have another are slimmer. You should likely be asking if your first (or second, or third) annual fee credit card is worth it in the first place.
Regardless, if you answered "yes" to this question, then you need to take that into account moving forward.
For example, let's say you spend $20,000 annually. You may actually only be putting $10,000 onto this new card if you already have a credit card. And with an annual fee of $100 eating away at any rewards, the pay back may not be worth it (like it would have been on the full $20,000).
Here's how the math plays out in one set of examples:
Example 1: Fancy new credit card offering 2% cash back

Spent: $10,000
Earned: $200 (2% x $10,000)
Fee: $100
Net: $100 ($200 Earned – $100 Fee)
Example 2: Regular credit card offering 1% cash back

Spend: $10,000
Earned: $100 (1% x $10,000)
Fee: $0
Net: $100 ($100 Earned – $0 Fee)
As you can see, the less money you put on an annual fee card, the less likely it is to pay back. In this scenario, you would have been in the same financial situation if you picked a no annual fee card. And, if you had found a no annual fee card offering 1.5% cash back, you would have been better off!
Make sure to take inventory of your cards and understand how much you are spending on each one (if you have more than one). But we're getting ahead of ourselves here, this is all part of the next question…
How Much Do You Spend Annually?
Onto the next question, and arguably the most important. Three important things to call out here:
The more you spend, the more likely an annual fee credit card will be worth it. For the same reason detailed above, you need to earn enough rewards to recoup the yearly fee.
If you already have one or multiple credit cards, you need to divide your annual spending across all of them
Do not spend more money thinking that, in fact, you are earning more money!
An annual fee credit card is a great tool for someone who naturally (or needs to) spend a higher sum of money. Though, at the end of the day, saving $100 is worth $100. Spending $100 is worth $2. It's always better to save. Hence the third point above.
Unfortunately, there are no set rules for figuring out if your spending amount warrants an annual fee credit card. Depending on your card, what you spend, and what you spend it on will determine if an annual fee credit card is worth it. The table below gives a sense for if an annual fee card might be worth it based on annual spending, but it is not the hard and fast rule.
It's a basic example assuming a credit card providing 2% cash back on all purchases, but it gets the point across. The more you spend, the more an annual fee card will pay back.
Also, keep in mind, >$0 pay back is not always good. If you could be getting even more with a no annual fee card, you should. There is always an opportunity cost to consider.
What Do You Spend Your Money On?
Now we're getting into the fun (complicated) part.
Some cards offer a simple cash back percentage on all purchases (like the new Apple Card that debuted in 2019). Usually, these types of cards are free ones.
As mentioned at the beginning of this article, a lot of credit cards are getting more complex and no longer offering straight cash back percentages. Many annual fee credit cards offer a percentage of cash back on all purchases (say, 1% or 1.5%), but then offer higher rewards on certain categories (like, 4% on groceries, or 3% on dining).
For example, the Chase Sapphire Reserve ($550 annual fee with $300 travel credit) offers:
3X points on dining
3X points on travel (after using full travel credit)
1X points on all other purchases
If you can categorize your spending and see what your biggest spending bucket is, it will make it easier to find a credit card that will reward you for spending a lot in a certain category. Common spending buckets include:
Dining Out
Travel
Groceries
Online Shopping
Gas
Entertainment
Retail / Clothes
All Other
I don't want to say it again, but I will. Do not spend more money in a certain category thinking you are earning more (and therefore "winning"). That is what the credit card companies want from you. Saving money (and not spending) is always better in the long run than spending money.
Make sure to take an unbiased look at past spending and pick the card that rewards the types of purchases you typically make.
How long do you plan to use this card?
This is a tough question to answer, but having a general sense of this answer is important. That is, whether or not you plan to hold this card for only 6 months, a year, 5 years, or the rest of your life.
Many credit cards, especially ones with an annual fee, offer huge sign-up bonuses. Their dollar values can range from $500-$1,000. Knowing how long you are going to hold onto this card can you help determine how valuable this sign up bonus really is for you (you need to spread this one-time payment over the card's useful life).
For example, if you are opening a credit card with a $500 bonus, here is how that value would calculate depending on how long you plan to hold the card:
1 Year = $500 / year
5 Years = $100 / year
10 Years = $50 / year
20 Years = $25 / year
50 Years = $10 / year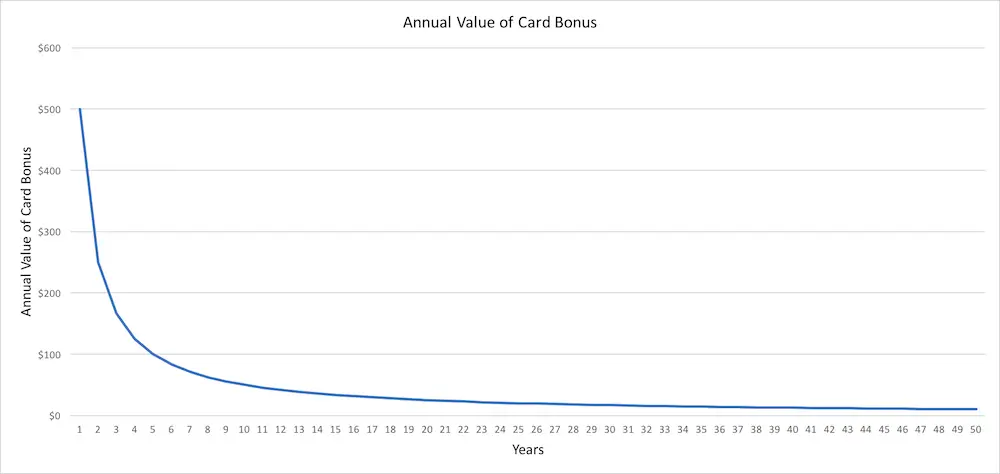 As you can see, the longer you plan to hold the card, the less valuable the sign up bonus will be year over year.
On the other hand, if you're looking for a new everyday credit card, the bonus will be a nice perk in year one, but likely won't be enough to make a card worthwhile over time. You should be placing more value on the ongoing rewards and cash back (or points, miles, etc.) that the card offers.
Do You Travel?
Last but not least, is to consider whether or not you want to travel in the future.
I love to travel and always will (I think). But some people don't enjoy traveling or don't do it often.
It's an important question to answer because many credit cards reward you in the form of miles and hotel points. If you are not a traveler, these rewards will obviously be worthless to you. So make sure you find a card that offers cash back or points that can be redeemed on a variety of items if you are not an avid traveler.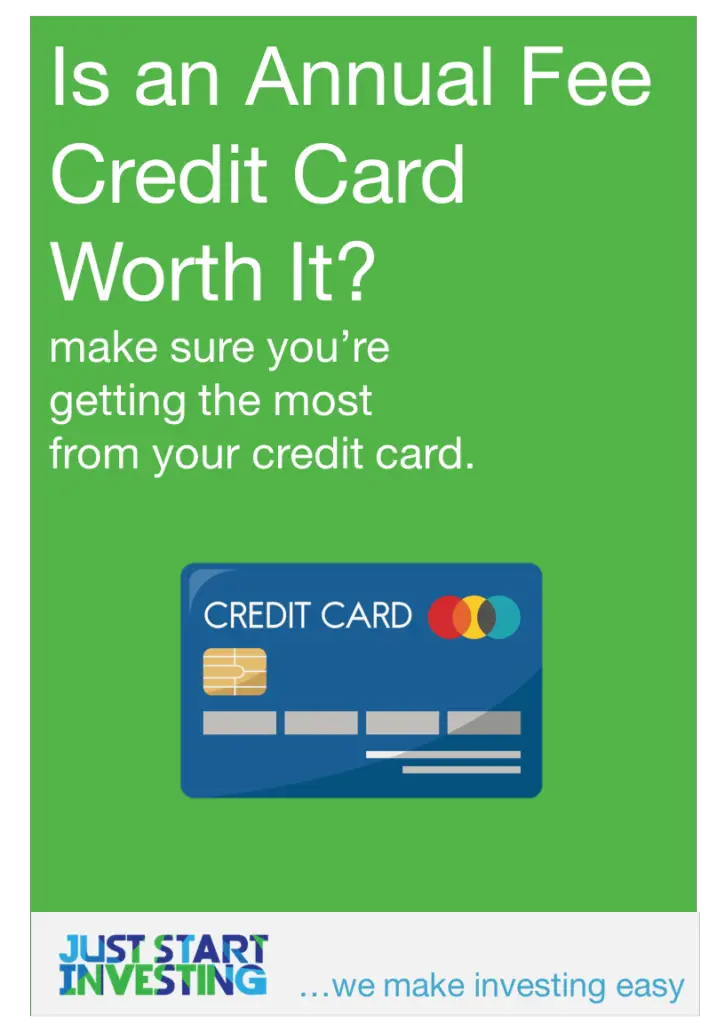 Explore travel rewards credit cards here.
Putting it All Together and Finding the Perfect Credit Card
Whether you have decided that an annual fee credit card is worth it, or not, that's only the first step in finding the perfect credit card for you.
The second step (or step 1a) is to have a firm understanding of your answers to the questions above.
The third step is to go out and find the perfect credit card that will maximize your rewards, leaving more money in your pocket. At Just Start Investing, we created a comprehensive credit card tool that will recommend the perfect credit card for you based on your spending habits. Check it out and maximize your rewards today!
Apply today: Learn more about the best credit cards available.
Editorial Disclaimer: Opinions expressed here are the author's alone, not those of any bank, credit card issuer, airlines or hotel chain, and have not been reviewed, approved or otherwise endorsed by any of these entities.
Just Start Investing is a personal finance website that makes investing easy. Learn the simple strategies to start investing today, as well as ways to optimize your credit cards, banking, and budget. Just Start Investing has been featured on Business Insider, Forbes, and US News & World Report, among other major publications for its easy-to-follow writing.