Betterment is one of the most well-known robo-advisors, and for good reason. Investing with Betterment is easy – they are an established, modern robo-advisor that features an extremely easy-to-use platform.
At a high level, Betterment features:
Best in class fees and expenses:

0.25% management fee ($25 for every $10,000 invested)
Expenses ratios as low as 0.03% on Exchange Traded Funds (ETFs), and as high as 0.25%

A wide variety of ETFs
An easy-to-use online platform
No account minimum
Not to mention, getting started with Betterment is easy, and we'll walk through exactly how to open an account and start investing below.
---
Ready to Start Now? Jump Straight to Betterment:

---
Here are the 3 Steps to Start Investing with Betterment – The Smart Money Manager:
Answer a Few Basic Questions
Select a Plan and Goal
Connect Your Bank
Let's get started.
1. Answer a Few Basic Questions
The beauty of robo-advisors like Betterment is that they take all of the work out of investing. Making it extremely easy for everyday invsetors to get started.
They don't charge huge fees to do it, either (like a traditional financial advisor might do).
Betterment also has a best-in-class user interface which adds to the ease of use. Below is a preview of what their home page will look like if you head over there.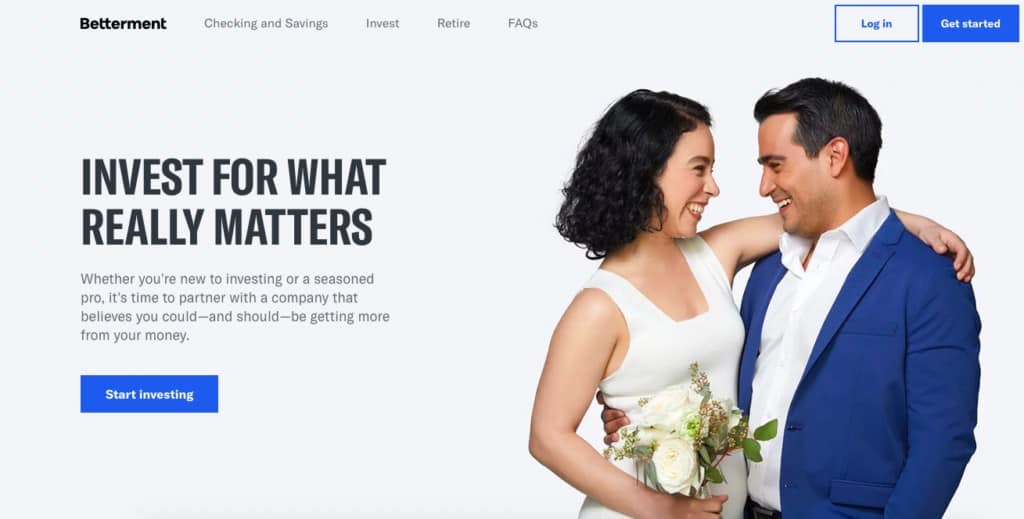 From there, you click one of the two dark blue buttons to get started:
"Start Investing" in the bottom left corner, or
"Get Started" in the upper right corner.
You'll then be redirected to a different page and asked to answer a few basic questions, like the one below.

Overall, the survey is short and sweet. They keep it as simple as they can, which is great for beginner investors.
The purpose of this one-time survey is to gather basic info so that Betterment can invest on your behalf and implement the right investment strategies for your specific needs. Besides asking if you are retired, they will also ask your age and income.
Then, later on, some necessary contact information too (like what you see below).
Note, as part of this survey, you will need to input some sensitive and personal information – such as your social security number, income, and investable assets, among other things. Betterment uses this info to open and manage accounts on your behalf, as well as provide relevant recommendations for you.
2. Select a Plan and Goal
As part of this set-up phase, you will also have to select a plan and high-level investing goal(s).
Select a Plan
Betterment offers two pricing structures – or plans.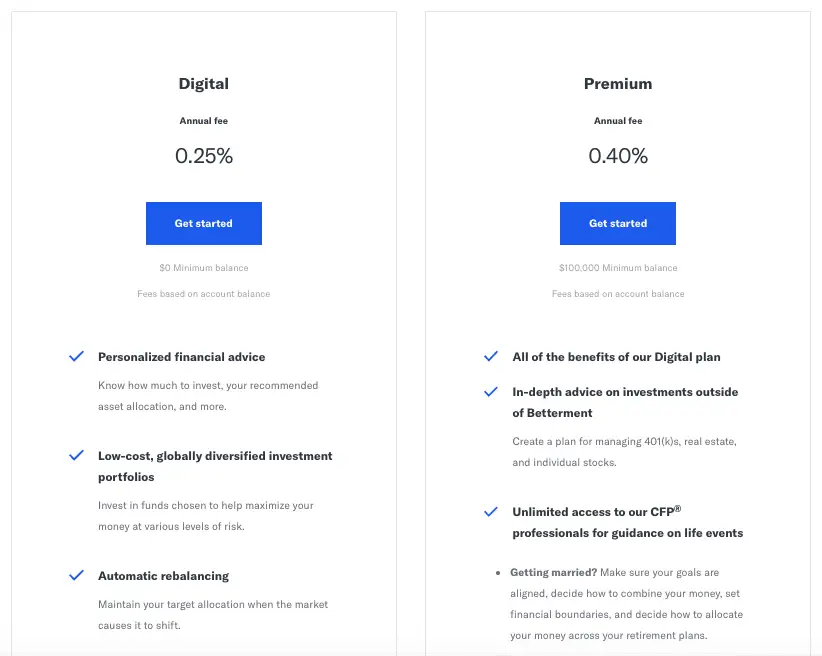 For most new investors, the digital plan provides everything you need, including:
Personalized financial advice.
Low-cost, globally diversified investment portfolios.
Automatic rebalancing.
Advanced tax-saving strategies.
Everything in one place.
Reliable customer service.
The Betterment premium plan, on top of offering everything above, provides some additional personalized benefits:
In-depth advice on investments outside of Betterment.
Unlimited phone access to Certified Financial Planner (CFP) professionals for guidance on life events.
However, the premium plan does have a $100,000 account minimum. Obviously, not a great option for beginners, but likely one that high net worth individuals choose.
How Pricing Works
Betterment's management fee is one of two fees that you will pay when using the platform. The other fee is the expense ratio associated with each ETF:
Management Annual Fee: 0.25% – 0.40%
ETF Expense Ratio: 0.03% – 0.25%
So, for every $10,000 you will pay $25 – $40 per year in management fees depending on what plan you choose. Most people opt for the 0.25% annual fee route.
Plus, you'll pay an additional $3 – $25 per year on the same $10,000 depending on which ETFs you are invested in to cover the expense ratios.
This brings the total fees to anywhere from $28 – $65 per year for every $10,000 invested.
The management fee is the extra "robo-advisor" fee. It's much, much less than what most investment professionals charge, but still more than what you pay when investing on your own.
For example, if you were investing on your own through Charles Schwab, you would only pay the ETF/Index Fund expense ratios. No management fee because you are the manager.
There are more details on this later, but that portfolio management fee does come with some benefits:
Hands-off management: You can sit back and let Betterment do the work for you.
Automatic rebalancing: Betterment will adjust your balances over time to fit your needs.
Advanced tax strategies: Something most of us can't or don't want to do.
Select a Goal
Once you know what plan you want to select (digital or premium), you'll also need to provide some guidance on your investing goals.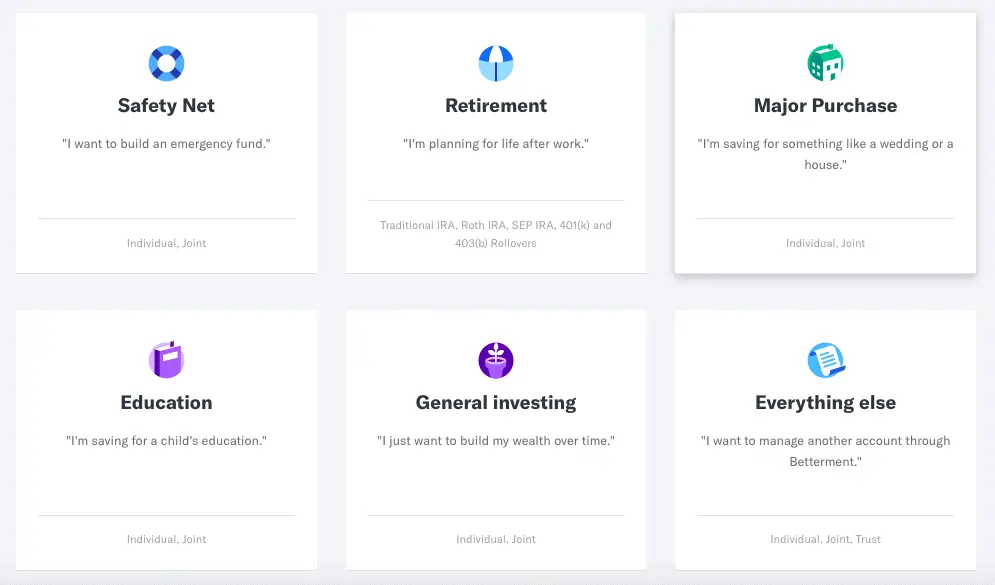 Betterment works off an easy-to-understand goal system. In general, you'll have the 6 options you see above:
Safety Net: Building an emergency fund.
Retirement: Planning for life after work.
Major Purchase: Savings for something, like a wedding or a house.
Education: Savings for a child's education.
General Investing: Building wealth over an investment time horizon.
Everything Else
Choosing a goal will help Betterment understand both the best accounts to open on your behalf as well as the ideal asset allocation.
For example, you probably don't want to have your savings for a major purchase tucked away in a Traditional IRA that has restrictions on when you can access your funds.
Similarly, having your entire retirement portfolio allocated to bonds within an individual brokerage account is probably not a wise investment strategy for a young investor.
Betterment uses your survey answers as well as your investment goals to ensure they put together the best plan for you. Plus, you can have multiple goals within your Betterment account, making it easy to tackle multiple investing strategies at once.
Other Call Outs:
You have the option to invest in Betterment's socially responsible portfolio if that is important to you.
Additionally, you could invest in their Smart Beta portfolio that seeks above-average returns (do your research here before diving in).
3. Connect Your Bank to Start Investing with Betterment
Last but not least, you need to fund your Betterment account.
The simplest way to do this is to link your bank account to your Betterment account. You can then make a one-time transfer of funds to get started.
Plus, you can set up ongoing transfers to automatically add funds to your account on an ongoing basis.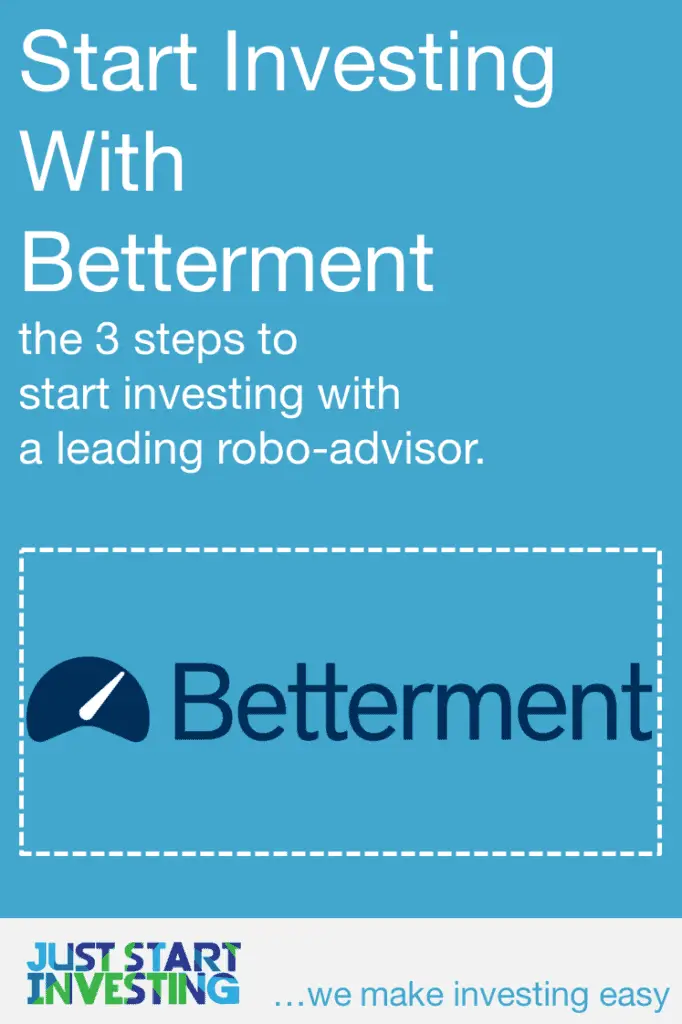 Betterment Does the Rest
From there, the real benefits of Betterment kick in as they manage your accounts and investment portfolio on your behalf. Below are some of the major benefits and financial services that Betterment provides.
Account and Portfolio Set-Up: Betterment gets everything set up and started for you, so there is no need to go out and research individual ETFs or index funds. Let alone make multiple purchases through a broker. They make investing easy so that almost anyone can do it.
Adjusts Your Asset Allocation Over Time: Based on your previously selected financial goals, Betterment adjusts your investments over time to make sure you are always on the best track possible.
Practices Advanced Tax Strategies: This primarily takes two forms for Betterment. First, they invest smartly across your portfolios, putting high taxed investments in tax-free accounts (to avoid capital gains taxes), and vice versa. Second, Betterment also employs tax-loss harvesting, saving you money when your investments drop in value. This one benefit makes using Betterment worth it for a lot of people.
Ongoing Customer Service: Betterment also offers ongoing customer service if you should have any questions. Though, if in the basic plan, additional financial advice does come with a fee.
If you want even more details on the pros and cons of Betterment, you can read our detailed Betterment review here.
Start Investing with Betterment Today
You can get started with Betterment today and start investing in your future here:
---
Start Investing Today, The Easy Way:

---
Other Products from Betterment
Betterment offers a wide variety of personal finance products that are not solely focused on investing. Some of their banking products designed to help you save money include:
Betterment Everyday Cash Reserve Account: This is Betterment's high yield savings account, with an interest rate of 0.40% (as of January 2021 – subject to change).
Betterment Everyday Checking Account: Betterment offers a checking account with no monthly maintenance fees, no overdraft fees, and no minimum balance. Plus, a Betterment Visa debit card is coming soon to accompany the account.