Betterment is a Robo-advisor that offers a ton of great features, like managing your investments for you and optimizing your investments for taxes. But it is also more expensive than investing on your own. So we did a full Betterment review with this question in mind – is Betterment worth it?
The short answer is, yes, it is worth it if you are a new investor. Or if you are someone who just wants to take a hands-off approach to investing.
So, if you're ready to start investing today and want to skip the full details of the Betterment review below, you can get started with Betterment here:
---
Start Investing Today, The Easy Way:

---
If you want to learn more before getting started, just read our full Betterment review below.
What is a Robo-Advisor?
We'll start at the beginning – defining what a Robo-advisor is in the first place.
Robo-advisors are online platforms that do 99% of the work for you when it comes to investing. Most will ask you to complete a series of questions before opening an account. Then, the Robo-advisor will automatically select investment vehicles for you based on your answers.
Behind the scenes, Robo-advisors are employing an algorithm that buys and manages investments for you—optimizing and reallocating your portfolio to match your goals.
They have been gaining in popularity recently due to their efficiency, low costs, and easy-to-use online interfaces.
How Does Betterment Work?
Betterment was one of the first Robo-advisors – launching in 2010. Simply stated, their mission is to "Help People Live Better". It's a little corporate-y. but they certainly live up to it by providing best-in-class investing resources to the masses.
Betterment works like many Robo-advisors do (as described above). New investors answer a series of questions so that Betterment can set up and manage their investments ongoing.
It's a very hands-off approach for investors. This makes it great for new investors or those who just don't want to spend a lot of time worrying about reallocating their portfolio or optimizing it for taxes-Betterment does it all for you.
You can get our full how-to guide for Betterment here, which walks through how to get started with Betterment in 3 simple steps.
Betterment Review: The Details
Here are the high level details to know about Betterment to help determine if they are worth it for you.
Pricing
There are two costs to be aware of with Betterment—management fees and expense ratios. Fortunately, there are no account minimums.
Management Fees: Betterment offers two tiers of pricing – or plans. A digital plan and Premium plan.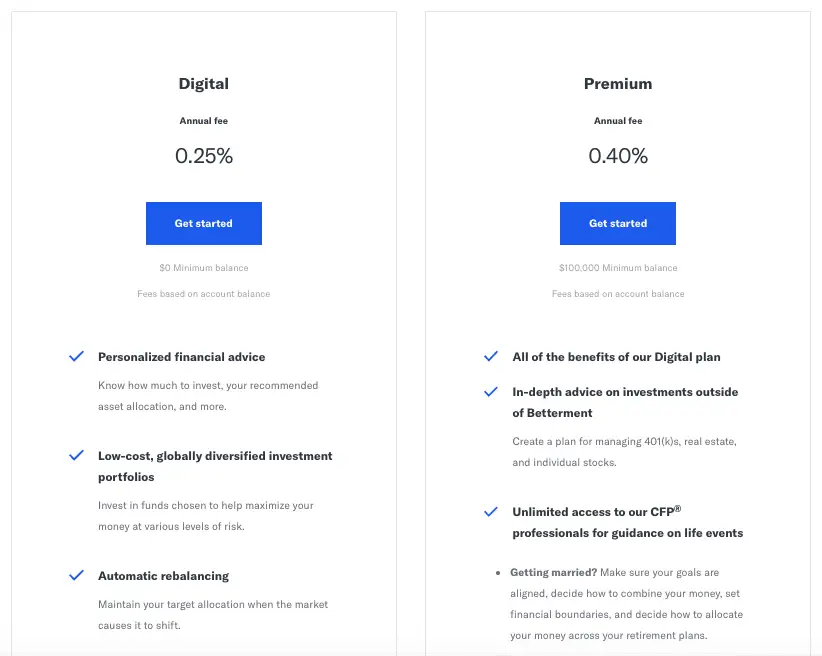 The Betterment digital plan provides the following and charges 0.25% in an annual fee:
Personalized financial advice.
Low-cost, globally diversified investment portfolios.
Automatic rebalancing.
Advanced tax-saving strategies.
Everything in one place.
Reliable customer service.
The Betterment premium plan provides the following (on top of everything above) for a 0.40% annual fee:
In-depth advice on investments outside of Betterment.
Provides unlimited access to CFP (certified financial planners) professionals for guidance on life events.
So, for example, if you had $10,000 invested with Betterment, your annual fee would be $25 or $40 depending on which plan you choose. This is the fee Betterment charges for you to use their services.
Expense Ratios: On top of the management fee, you must also pay for expense ratios. These are the same expense ratios you would pay if you were investing on your own.
Betterment invests in low-cost funds that have lower fees than general mutual funds. For example, they offer funds provided by Vanguard and Charles Schwab, where the fees range between 0.03% – 0.25%.
So, for example, if you had $10,000 invested with Betterment, your expense ratio would be anywhere from $3 or $25 depending on which ETFs you are invested in.
This brings your total cost to anywhere from $28 – $65 per year for every $10,000 invested.
Prices and costs are huge factors in determining if Betterment is worth it, so it's important to know how much you could be paying for Betterment to manage your money.
Services Offered
As hinted at above, Betterment offers a range of investing services in exchange for their management fee. They include:
Account and Portfolio Set-Up: Betterment handles everything for you. After you answer a series of simple questions, they will set up your account for you, so there is no need to go out and spend hours researching on your own (though, we won't hold it against you if you do!).
Types of accounts: Betterment can also help you start with a variety of different accounts, including IRA accounts:
Individual Brokerage Account
Joint Brokerage Account
Traditional Individual Retirement Account (Traditional IRA)
Roth Individual Retirement Account (Roth IRA)
And more
Adjusts Your Asset Allocation over Time: Betterment was originally created with the primary service of automatically rebalancing your portfolio over time. This is still a huge perk of Betterment. Based on your investment goals, Betterment will review and adjust your investments over time to make sure you are always on the best track possible. They handle the trades and the nitty gritty details, as well as automatic deposits.
Retirement Advice: Betterment also offers specific advice to help ensure you are on track for retirement. Similar to the investment goals and questions they ask you about, you can answer a series of questions and Betterment will let you know if you are on track (and how to get on track if you are not).
Customer Service: Betterment also offers ongoing customer service to answer any questions you might have. Though, it's worth noting, in the basic plan additional financial advice does come with a fee.
On top of that, Betterment is also cracking into the banking space with a Betterment Checking Account called the Betterment Cash Reserve. Its an account offering 0.30% interest and no fees.
Tax Advantages
A newer and more advanced benefit that Betterment offers is tax optimization. This primarily takes two forms for Betterment: asset location and tax loss harvesting.
Asset Location: First, they invest smartly across your accounts, putting tax-advantaged investments in taxable accounts where they can, and vice versa. So, if you have an asset that is not taxed (like a municipal bond), Betterment will ensure that it is not sitting in a Roth IRA and wasting the tax benefit that a Roth IRA provides.
Tax Loss Harvesting: Second, Betterment also employs tax loss harvesting, which can save you money when investments decline in value. Simply put, if you are invested in a broad index fund that declines 10% one year, Betterment will sell that fund and purchase a new, similar one instantly. This will allow you to write off those losses while staying invested in very similar assets the whole time.
The Pros and Cons of Betterment
Pros
Easy Set Up: Betterment is easy to get started with – you can do it in just 3 simple steps.
Automated Investing: Betterment not only sets up your account and investments for you, but they manage them ongoing as well – rebalancing your portfolio for you based your risk tolerance and goals.
Tax Optimization: You get the peace of mind that your investments are being made as tax efficiently as possible. Keeping more money in your pocket and out of Uncle Sam's.
Reliable Customer Service: Yes, Betterment is a "robo" advisor, but they still have customer service ready to answer your questions as they come.
Account Minimum: Betterment makes it easy to get started with no account minimums.
Cons
Management Fee: This obvious negative with Betterment is that there is an extra fee – either 0.25% or 0.40%. You need to decide if this fee is worth the value that Betterment provides by optimizing your portfolio for taxes and managing it for you.
Expense Ratios: While Betterment does offer some really, really good expense ratios, they are not all 0.05% or below (which would be great). You could be left paying an expense ratio as high as 0.25%.
Restricted Investments: Obviously, Betterment is handling your investments for you. This gives you less freedom to make decisions yourself. Though, keep in mind, the reason to sign up for Betterment is to let them handle the decision making for you.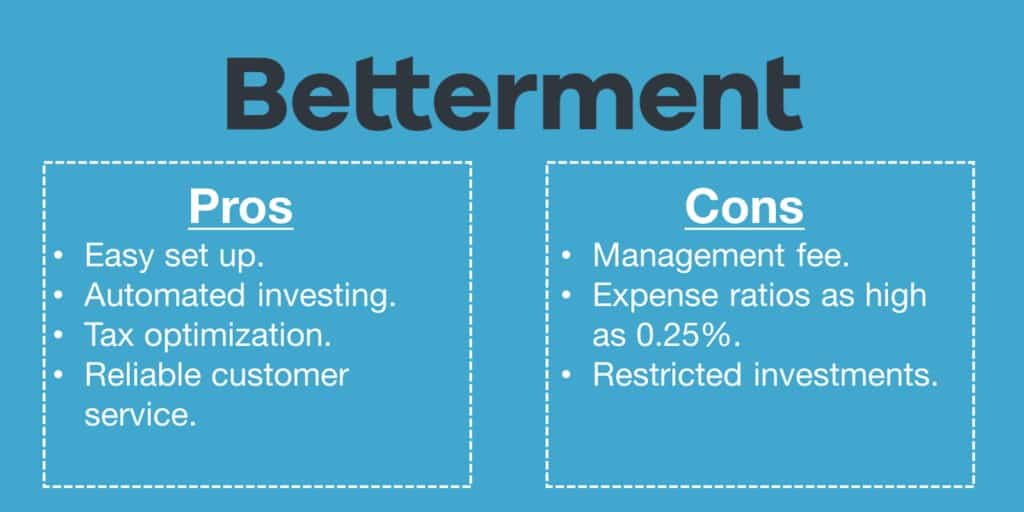 Is Betterment Worth It?
Another way to ask the question "Is Betterment worth it?" is to ask, "Is Betterment right for you?"
After doing a full Betterment review, in my opinion it is right for you if you:
Are a new investor with limited knowledge
Want to take a hands off approach to investing
Value the tax optimizations that Betterment can provide
Betterment offers a lot of value for the fee they charge. And while the fee is real and should be carefully considered, it is much lower and provides much more value than many other investment products and advisors out there right now.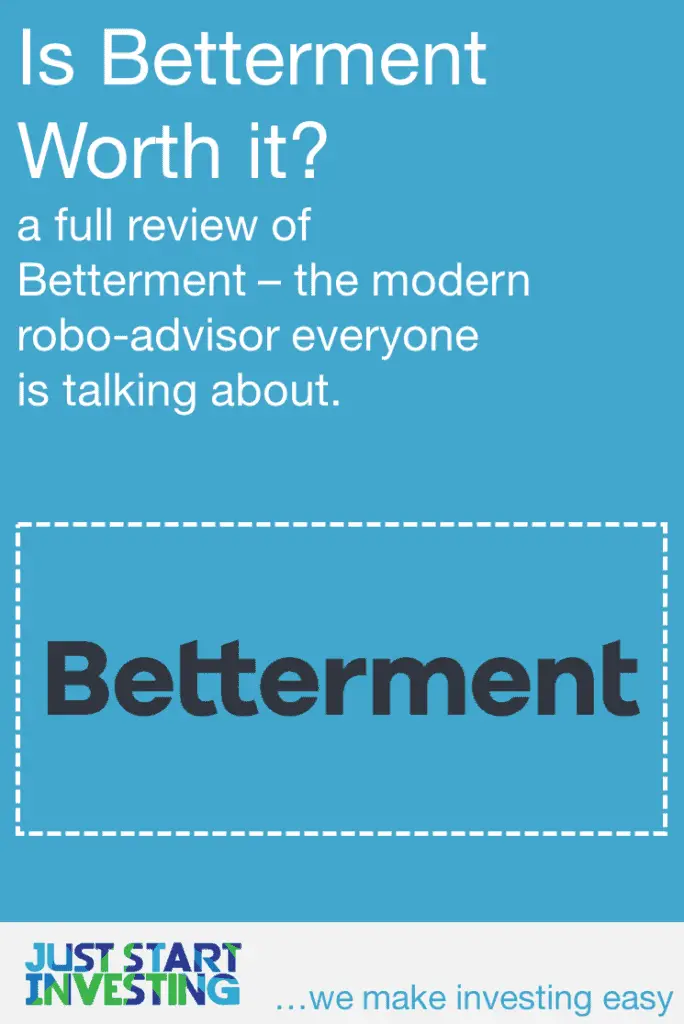 How to Get Started with Betterment
Is Betterment worth it and right for you?
You can get started with Betterment today and start investing in your future here:
---
Start Investing Today, The Easy Way:

---
And if you need more guidance, we've also written a full guide detailing how to get started with Betterment in just 3 steps.
Just Start Investing is a personal finance website that makes investing easy. Learn the simple strategies to start investing today, as well as ways to optimize your credit cards, banking, and budget. Just Start Investing has been featured on Business Insider, Forbes, and US News & World Report, among other major publications for its easy-to-follow writing.