Deciding between online banks vs brick-and-mortar is one of the first decisions you need to make when setting up a bank account. Largely, it's a decision in which is the most convenient option for you.
What is a Brick-and-Mortar Bank?
A brick-and-mortar bank is a traditional bank. It has branches that you can stop by locally, offers various bank accounts (checking, savings, etc.) and has tellers that can assist you. Recently, brick-and-mortar banks have been slowly declining in popularity while online banks have become more popular.
What is an Online Bank?
An online bank is a bank that you can access anytime on your computer, tablet or phone. It exists on the internet, and offers a lot of convenience to some consumers. A lot of brick-and-mortar banks offer online services, but an online bank is one with no physical locations and can only be accessed online.
When to Use Online Banks vs Brick-and-Mortar
Online banks vs brick-and-mortar each are best used for specific activities. If you have the following needs or wants, it may help you decide between the two:
Online Bank:
When you value lower fees and higher interest rates (traditionally found with online banks).
You want the convenience of accessing your accounts anytime online without the hassle of having to go into a branch.
You don't mind having limited services available.
Brick-and-Mortar Bank:
When you need specific banking services (i.e. a safe deposit box).
If you value 1 on 1 assistance with banking.
If you frequently write and deposit checks.
Brick-and-mortar banks are more suitable for those who want in person support and special services. Online banks are better suited for those who want to maximize the return of their savings.
Below is more information on the pros and cons of online banks vs brick-and-mortar.
Online Bank Pros and Cons
Pros:
Higher Interest Rates: Online bank accounts are usually able to offer higher interest rates (especially on savings accounts).
Lower Fees: Similarly, fees are usually lower.
Convenience: Quick access 24/7 to your accounts online is huge perk to some consumers.
Cons:
Limited Services: Online banks do not have a lot of the bells and whistles beyond their core offerings (it's what keeps interest rates high and fees low).
Limited 1 on 1 Attention: While most online banks offer assistance over the phone, via email and through online chats, you will not get the live 1 on 1 attention that you typically receive when in person.
Brick-and-Mortar Bank Pros and Cons
Pros:
1 on 1 Attention: The biggest benefit to brick-and-mortar banks is the 1 on 1, in-person attention you can get from a teller when you visit a branch. Understandably, this is a must-have for some people.
Special Services: Traditional banks usually have a larger suite of services to offer to its consumers.
Convenience: To some, being able to visit a branch is more convenient that having to have to access your bank online.
Cons:
Lower Interest, Higher Fees: The largest drawback to brick-and-mortar banks is that they do not always offer the same competitive monetary advantages as online banks.
Lacking Modern Features: Some traditional banks are taking awhile to catch up with technology. Certain features, such as mobile deposit for checks, are not available at all traditional banks.
All in all, deciding between online banks vs brick-and-mortar is a decision of which is more convenient for you.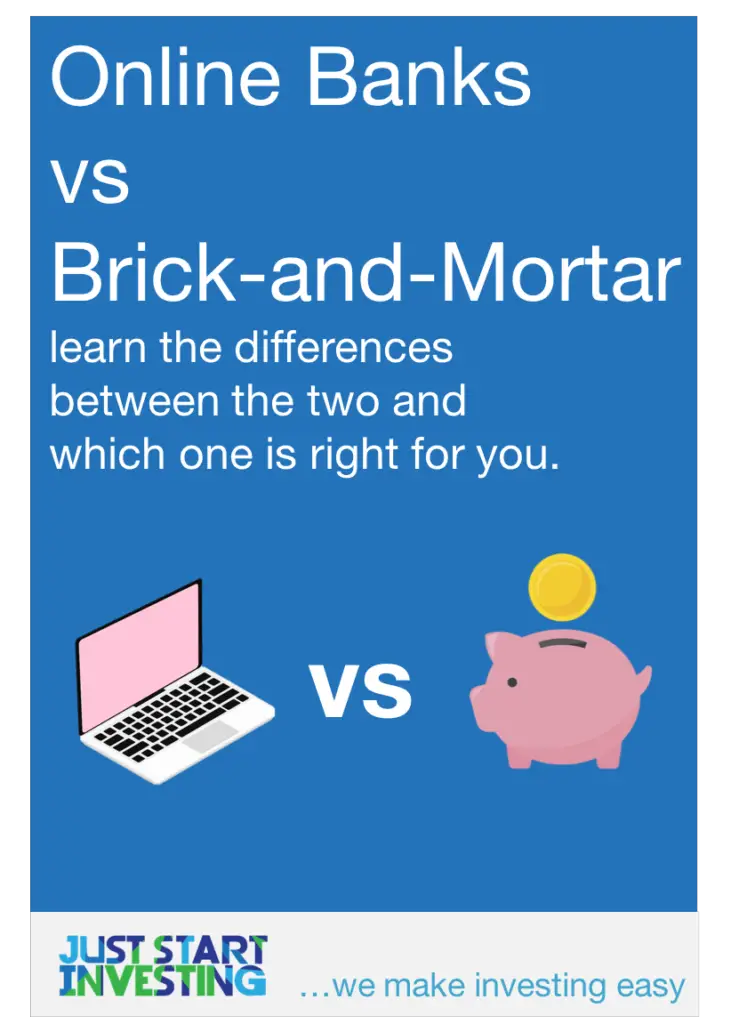 Want to open a bank account? Check out our favorite banks.