Having a low credit score is inconvenient, to say the least. In this Blaze MasterCard Credit Card Review, we'll showcase how this card can help you build credit.
Having fair credit or poor credit can make it hard to obtain a loan, rent an apartment, or even land a job. Recovering from a low credit score is never easy, but it is possible when using smart tools like credit building credit cards.
The first step is to identify the problem and decide you want to fix your credit. From there, you can start to take action to improve your score and your financial situation.
The Best Credit Cards for Building Credit:
Explore all of the best credit cards for building credit, and find the best one for you. While the Blaze MasterCard is a good option, it's not your only option.
Explore Cards
In Blaze Credit Card Review below, we break down everything you need to know about this card as an option to build your credit. Including reviewing the card's specs, pros, cons, and how it can help people like you recover from poor credit.
Blaze MasterCard Credit Card Overview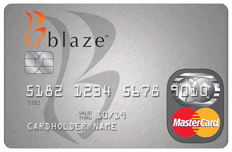 The Blaze MasterCard is best known for being a straight-forward credit building card.
Below are some key specs to help you get familiar with the Blaze credit card:
Unsecured credit card: The Blaze MasterCard is an unsecured card, so there is no security deposit required (unlike secured credit cards, which require upfront cash in order to open an account).
APR: APR (annual percentage rate) is the same for all cardholders at 29.9%. This is essentially the card's interest rate for any unpaid balances.
Credit limit: Most cardholders start at $350. If you have a higher credit score, your credit limit may be as high as $1,500.
Opportunities for credit limit increase: If your account remains in good standing, you'll be eligible for limit increases over time.
Issuing bank: First Savings Bank issues all Blaze Credit Cards. Having been around since 1913, First Savings has served countless individuals across the country. The institution is one that is reputable and well-established.
Annual fee: You'll have to pay a $75 annual fee for your Blaze credit card. If you use your card responsibly, First Savings Bank may waive the annual fee after a few years.
Free mobile app: You can use the Blaze MasterCard mobile app to easily manage your credit card account online. It's free, easy-to-use, and convenient. You'll get alerts when you're nearing your limit, when your next payment is due, and more.
Customer service: You can reach representatives by phone to address account issues, ask about improving your credit, and more.
Read on for a more in-depth Blaze Credit Card Review, including its pros and cons, and how you can use it to improve your credit.
Blaze MasterCard Credit Card Pros
The Blaze MasterCard is designed for people looking to improve their credit score. Here are some eight common reasons people choose to use the Blaze Credit Card:
1. It's Easy to Qualify For
When you have bad credit, you can get desperate.
You might find yourself applying for loans and credit cards to try to improve your score. Though you don't always have the same options as someone with good credit, and you risk rejection.
Rejection isn't just bad for your self-esteem, either. When you apply for loans, you permit lenders to run hard inquiries. Multiple hard inquiries can negatively impact your credit score in the short term – compounding the issue.
This is where a Blaze Credit Card comes in.
The Blaze MasterCard is made for people with poor credit. It's easy to qualify for, with some users reporting they were approved even after finalizing bankruptcies.
2. It Doesn't Require a Security Deposit
A secured credit card is one that you back with collateral. You need to put down a security deposit in order to get the card.
Most secured cards are designed for people with poor, or even no credit. So the security deposit gives the card issuer some insurance in case the credit card user can no longer afford their payments.
Luckily for users, like most credit cards, the Blaze Credit Card is an unsecured card. This means you do not have to put down a security deposit when you open your account.
3. It Reports Your Activity to Credit Bureaus
The good news is that unsecured cards come with many of the same benefits of secured cards.
This includes reporting your activity to credit bureaus. Blaze promptly submits reports to the three major credit bureaus (Equifax, Experian, and TransUnion). Records of your good credit practices will help your score go up over time.
Just remember, you have to use your card responsibly in order to reap the positive benefits here!
4. It Has Opportunities for Increasing Your Limit
If you have a low score, Blaze will probably set your limit at $350 to start.
You will be eligible for limit increases as long as you don't exceed your limit and make payments on-time. This is good as higher credit limits can also boost your score by lowering your credit utilization.
5. It Doesn't Have Hidden Fees
A lot of credit cards designed for people with poor credit hide a lot of fees in the fine print. From what we can see, the Blaze MasterCard does not have any of these hidden fees.
Blaze is different in that there are absolutely no hidden fees. Pricing is straightforward, and you won't have to pay additional setup, maintenance, or monthly charges.
6. It Has a User-Friendly App
Those with poor credit might find it stressful to manage their card. There's a lot you need to keep your eye on. If you let the ball drop, you might end up making your score worse.
The Blaze mobile app helps you manage your account so that you don't make mistakes.
You can easily monitor your purchases and account activity, receive relevant alerts, and even schedule payments to ensure you never miss a payment due date. You can manage your Blaze account virtually anywhere.
7. It Has Good Customer Support
Blaze's customer service team is based in the U.S. and you can easily reach live representatives by phone if you have any questions.
They are friendly and ready to resolve any issues you may have. This is good news for you as having responsive customer support is crucial when you are trying to repair your credit.
8. It Has Security Measures
The Blaze card offers security measures such as SecureCode and Identity Check. They ensure that you're the only one using your card.
This means that criminals can't ruin your credit by making unauthorized purchases.
SecureCode is a free service that comes with your account. You'll get a private security code that acts just like a PIN. You enter it when checking out with participating online merchants.
Identity Check offers additional solutions that confirm your identity during online transactions (or other kinds of transactions where your card isn't physically present). It may text one-time passwords to your phone, use two-factor biometric authentication, or take other measures to protect your card.
Like all security measures, SecureCode and Identity check aren't foolproof, but they will offer you significant protection against fraud.
Blaze MasterCard Credit Card Cons
Credit cards intended for those with poor credit are bound to have a few downsides. The potential drawbacks of a Blaze card include:
1. High APR
The 29.9% APR is high.
It may hurt you financially if you carry a balance for one month. So, only consider applying for a Blaze credit card if you can pay off your bill every month.
This is true for most credit cards too: you should strive to never carry a monthly balance!
2. High Annual Fees
You'll have to pay $75 per year for your Blaze credit card, which is a relatively high annual fee.
You may be able to ask First Savings Bank to waive the fee after a few years, though there is no guarantee. The institution may comply if your account is in good standing.
3. Credit Limit Issues
Most people start with a relatively low limit of $350, and it can only go up to $1,500, which isn't ideal if you are looking to increase your overall credit utilization.
Additionally, if you want to raise your limit, the terms for doing so are unclear. You'll need to wait at least six months, but Blaze doesn't outline the exact terms and conditions.
4. Premium Membership Required for Cash Rewards
To access cash back rewards, you'll need a premium membership.
The $4.95 per month may not be worth the extra perks, and is an annoying extra cost since you are already paying an annual fee.
Blaze MasterCard Credit Card Review: Is It Worth It?
Despite its downsides, the Blaze MasterCard is a fine option for those with low credit. It makes it easy to raise your score, as long as you use it responsibly.
However, I wouldn't dive in without first examining your other options.
The Best Credit Cards for Building Credit:
Compare credit cards for building credit, and find the best one for you. While the Blaze MasterCard is a good option, it's not your only option.
Explore Cards
How to Apply Online
To apply for the Blaze Credit Card, all you have to do is fill out the online application and wait to hear back. If you received a Blaze prequalify invitation offer in the mail, then use that code or offer link to apply directly.
The Blaze MasterCard application will ask you for basic info such as your:
Name
Address
Social security number
Income
Before applying, you might want to check your credit score. This isn't mandatory, but it will help you know where you stand.
When you submit your application, First Savings Bank will run a credit report on you.
The higher your score, the more likely you'll be to qualify, but plenty of people with low scores qualify for the Blaze credit card. Having a regular income will may improve your chances of qualifying as well.
Blaze Credit Card Important Reminder
If you have poor credit, a Blaze card just might be the solution you require. It's easy to apply for and can help raise your score.
Though, it's important to remember that opening a credit card on its own isn't a magic bullet. Merely qualifying for and using it isn't enough to boost your score.
Like with any card, it's essential to use it responsibly. Don't spend more than your credit limit, and, most importantly, pay your bills on time.
Responsibly using your card will look great to the credit bureaus. They'll see you are a trustworthy borrower, and your score should go up over time, making your financial situation much more manageable.
Summary: Blaze MasterCard Review
If you are suffering from poor credit, all hope is not lost.
There are smart steps you can take to improve your score over time. There is no quick fix, but opening a credit card designed for people with bad credit is a good first step.
From there, if you use your card responsibly and pay your bills on time, you should start to see your credit score improve over time.
Editorial Disclaimer: Opinions expressed here are the author's alone, not those of any bank, credit card issuer, airlines or hotel chain, and have not been reviewed, approved or otherwise endorsed by any of these entities.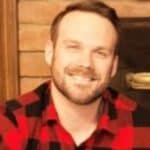 Chris started a digital marketing business that focuses on freelance writing, content marketing, and SEO - all while working full-time and playing dad to two kids. You can check out his blog - Money Mozart - to read more.