There are a few finance tips that matter much more than others when it comes to helping you live a stress-free life. Starting to invest in index funds early, using the right credit card, and attaining a good credit score are three of those tips. Today, we're focusing on the benefits of a good credit score.
People with strong credit ratings get access to better financial opportunities throughout their lifetime. For example, they can access low-interest loans (like online mortgages) and high-rewards credit cards more easily. These perks have the ability to save thousands of dollars (if not more) over your lifetime.
In general, a good credit score comes in handy whenever you are looking to borrow money. And borrowing money is not always a bad idea. Actually, in some cases, it can be a very good idea.
Though, you should always use borrowed money carefully. Borrowing for short-term wants is usually unwise, while borrowing for a mortgage or car loan is typically necessary.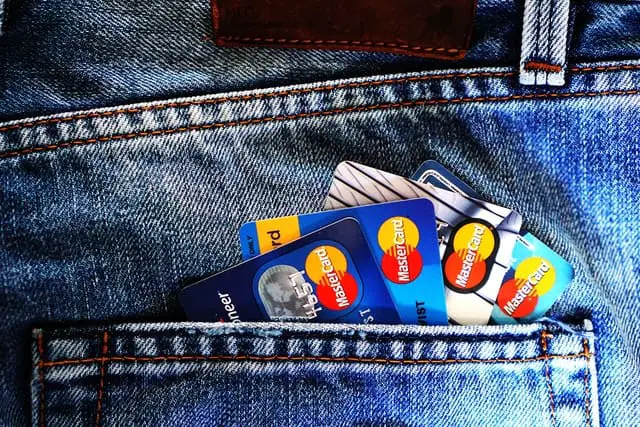 What is a Credit Score?
First things first, a credit score is a measurement that lenders use to understand if a consumer is reliable or risky. This score helps them understand how likely they are to get their money (the money they loaned out) paid back.
Pretty simple stuff at it's core. And it only gets ever-so-slightly more complicated from here, stick with me…
…there are 5 components that make up your credit score, each weighted differently in their importance to the overall score:
Payment History [35% of Score] – Have you historically paid back your debts on time and in full?
Utilization [30% of Score] – How much of your current credit limit are you using?
Length of Credit History [15% of Score] – How long you have been a reliable credit user?
New Credit [10% of Score] – How often do you ask for new credit?
Types of Credit [10% of Score] – What does your variety of your credit look like?
You can learn more about these 5 components and how credit scores are calculated here.
FICO credit scores are the most popular and widely used credit score out there. Yes, there are multiple scores, but no need to complicate things with that now. That's because according to Discover, 90% of top lenders use FICO scores when making their lending decisions.
If you want to check your score now for free (and if you don't know it, you should probably should), you can head to Credit Karma or AnnualCreditReport.com to get your free credit report.
7 Powerful Benefits of a Good Credit Score
1. Access to Excellent Credit Cards
A good credit rating gives you access to some of the best credit cards available. I'm talking about credit cards that give you huge sign up bonuses, great cash back percentages, and awesome perks like access to travel lounges.
These cards can be worth $1,000 a year or more in benefits and rewards depending on how much you spend.
With a good credit score, they could be yours.
---
Check Out The Best Credit Cards for Good Credit:
---
2. Higher Chance of Approval on All Other Credit Cards
The other benefit of having a good score is that you can more easily access mainstream credit cards too. Credit cards that have no annual fee but still offer generous cash back percentages.
If you don't want to pay a premium annual fee for a new card, these types of cards can be a great option. And a good credit rating will make them much easier to attain than if you were working with a bad credit rating.
---
Check Out The Best Cash Back Credit Cards:
---
3. Lower Interest Rates on Big-Time Loans, Like Mortgages
People with good credit ratings are more likely to secure a big-time loan. They are also more likely to get a competitive interest rate on these large loans.
What's a big-time loan you ask?
Think mortgages, student loans, and auto loans.
A good credit score means you'll have lower interest, and lower interest can save you a ton of money over the long run.
Take a $200,000 loan for example (assume you're buying a house). The difference between a 5% and 4% interest rate in the first year would be $2,000! Compound that over the life of a 15 year or 30 year loan and the potential savings gets huge.
4. Easier Access to Small-Time Loans, Like Cell Phones
Small-time loans, mainly cell phone contracts, get better with a better credit score as well.
With a bad score, you may be forced to buy the phone outright or be put on an unfavorable payment plan. But with a good credit rating, you'll be able to get the best discounts and contracts that cell phone companies provide.
5. Better Rental Options
Believe it or not, a good credit score doesn't just help you when you are buying a house with a mortgage!
With a top-notch credit score, if you want to rent property you will have a wide range of rental housing options made available to you as well.
Landlords and rental managers are more inclined to rent their property to a financially trustworthy person. With a good credit score, landlords will be eager to have you rent their apartments (and you never know, they might just throw in the first month free or give you a break on the security deposit).
Can't decide if you want to rent or buy? Get our free rent vs buy calculator.
6. Lower Car Insurance Premiums
Like it or not, many car insurance companies take your credit score into account when calculating your premium.
They see a correlation between people with lower credit scores and people who file claims more often. So, they charge more for someone who has a lower score.
Just another one of the benefits of having a good credit score – paying less for owning your car!
7. Approval for Higher Credit Limit
Last but not least, having a good credit score can also positively impact your credit limit.
Your credit limit is the amount of money your credit card provider allows you to owe at one time. The higher your limit, the more flexibly you have to put expenses on your credit card.
As long as you use credit cards responsibly, a higher limit is generally viewed as a good thing.
Get The Benefits: How to Improve Your Credit Score
The key to improving your credit score is building up (or fixing) all of the things that potentially damage it.
Like with your personal reputation, a credit score can take a long time to build up or repair, but only a few days to completely destroy.
So remember to be patient as your build your credit score. Here are a few thing you should try to improve first.
1. Improve Your Payment History
As mentioned earlier, your payment history is the largest component of your credit score. The longer your creditworthiness of paying loans back on time, the better.
And I know, you can't change history.
But, you can rewrite it!
Just kidding… unfortunately, the only way to change your credit history is to start being more fiscally responsible now so that in 1, 5, and 10 years you're new history will be better.
So start now and pay your bills back on time. And in addition, having several saving plans such as personal pension can go a long way in strengthening your creditworthiness.
2. Decrease Your Utilization
Your utilization is how much of your credit limit you are currently using.
The math is pretty simple. If your credit limit is $1,000, and you have $100 outstanding on your credit card, then your utilization is 10%. If you have more than one credit card, then your credit limit will add up all of your card limits.
The two ways to decrease your utilization is to either:
Decrease your spending
3. Avoid Hard Credit Checks
Hard credit checks have the ability to negatively impact your credit score in the short term. But they are a bit of a catch-22.
Opening a new credit card usually triggers a hard credit check, which involves a lender inquiring about your credit history and score. This is viewed as a bad thing because if you have a lot of hard credit checks it could signal to lenders that you are frantically running around town trying to borrow money from anyone with a few bucks to their name.
It's an extremely outdated measure, but it exists nonetheless.
The catch-22 comes in because a great way to increase your credit limit (and improve your score) is to open a new credit card. But that also can negatively impact your score due to the credit credit check.
With me still? I know we're running in circles here.
The good news is that a hard credit check usually only impacts your score for a short period of time. So as long as you don't need to immediately utilize your credit score for a mortgage or major loan, you should be safe to open new cards occasionally and reap the benefit of the higher limit (and new cards) over the long run.
4. Pay Off Old Debt and Use Borrowed Money Wisely
These points are fairly obvious, but important to mention.
When you get your rating report and find out that it is damaged, the best way to repair it is by paying off the listed debts. Before paying, ask to determine that all the listed debts are legit. If any previously settled loan appears, file a dispute through the credit bureaus. If the debt is not legit, the bureau will wipe it Clean.
Last, use your borrowed money wisely. Do not spend more than you can afford just because you have a credit card. This will hurt your credit rating over the long run if you are unable to pay it off (not to mention blow up your budget and impact your ability to save and invest).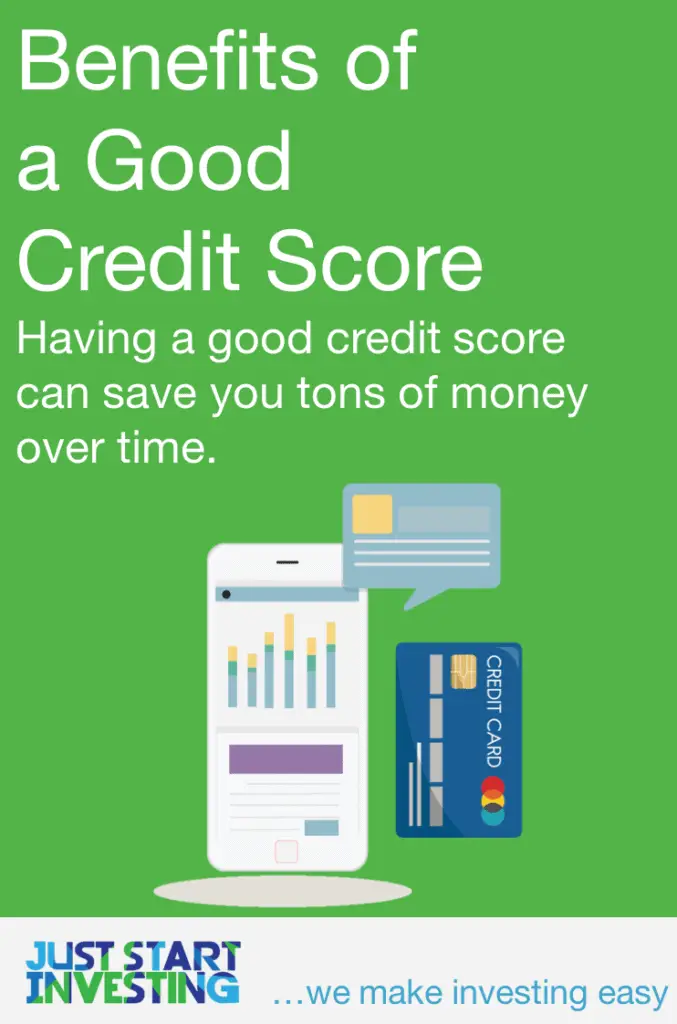 Summary: The Benefits of a Good Credit Score
The benefits of a good credit score have a direct monetary impact on your life. Hopefully, that makes it easy to prioritize getting your credit score in order!
When it comes to improving your credit score, just remember to be patient. With commitment and proper planning, your credit score will start to improve – unlocking all the benefits we walked through above!
Editorial Disclaimer: Opinions expressed here are the author's alone, not those of any bank, credit card issuer, airlines or hotel chain, and have not been reviewed, approved or otherwise endorsed by any of these entities.
Just Start Investing is a personal finance website that makes investing easy. Learn the simple strategies to start investing today, as well as ways to optimize your credit cards, banking, and budget. Just Start Investing has been featured on Business Insider, Forbes, and US News & World Report, among other major publications for its easy-to-follow writing.