Shopping for car insurance can be time-consuming and confusing. Not to mention, most people end up overpaying for their insurance when it's all said and done! Gabi recognized these problems and set out to solve them with their insurance comparison tool. Below, we have a full Gabi Insurance Review.
Personally, I'm a big fan of Gabi for two reasons:
It's free: there is no harm in giving them a try
It works: on average, Gabi saves users over $800 per year
If you want to give them a try right now, you can below. Otherwise, keep reading to learn more about how to use Gabi.
Try Gabi Today for Free:
Save money and time by using Gabi to compare car insurance quotes. The best part about it: it's free.
Get Started
Gabi Insurance Review: What is Gabi?
As mentioned, Gabi is an insurance comparison tool. The company is based in San Francisco and was founded in 2016 with the goal to make shopping for insurance easier and less time-consuming.
From Gabi's Website: Gabi is a free tool that compares auto and home insurance rates across top providers and finds you the cheapest rate for your exact coverage. We are an online insurance broker fully licensed in all 50 states.
Today, Gabi is most well known for comparing car insurance rates, but it can also shop for your home, renters, condo, landlord, and umbrella insurance. It is a licensed broker across all 50 states, and they comparison shop from their network of over 40 of the top insurance companies, including:
Gabi is able to do all of this effectively because of technology. At the end of the day, they are a technology company, using AI to compare rates and find the best insurance rates for you. All for free.
Gabi Key Features:
Pricing: Free.
Speed: It typically takes 5 minutes or less to comparison shop with Gabi.
Customer Service: While Gabi is primarily a tech platform, they still have customer service that you contact via [email protected].
Licensed: In all 50 states as well as Washington DC.
Security: Gabi uses 128-bit key based encryption and promises to never sell or share your data.
How Does Gabi Work?
Gabi is a fully licensed insurance broker in all 50 states. That means after you compare auto insurance quotes (and other types of insurance quotes) through Gabi, you can also purchase new insurance through Gabi if they find you a better rate.
You can click on the button below to get started yourself for free. Then, follow the 3 quick and easy steps below to get your new insurance quotes from Gabi.
Get Started: Gabi
How to Use Gabi: 3 Steps
Step 1: Provide Basic Personal Info
The first step to using Gabi involves providing some basic information. This includes information such as your:
Current insurance provider
Name
Birthdate
Home Address
Email
Phone Number
All of this information is necessary so that Gabi can find new quotes for you and get in touch with you after finding these quotes. You can see an example of one of these questions below: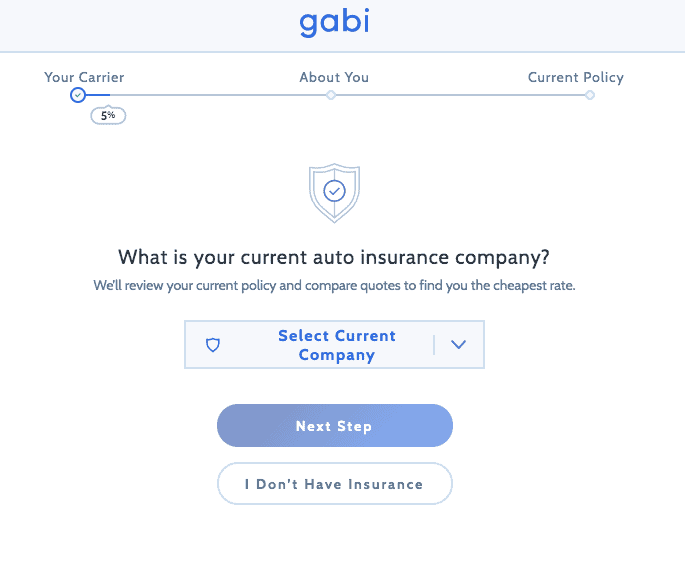 Step 2: Connect Insurance Account
After providing some basic information, you will need to provide more details on your current insurance company and plan.
You have two options to do this:
Connect to your current account so Gabi can automatically import data from your car insurance policy
Manually input the info yourself by downloading your current insurance details onto a PDF and then uploading the PDF to Gabi
Personally, I opted to connect my current account because it was easier and faster. However, for those more concerned about internet security, it's good to see the second option is available.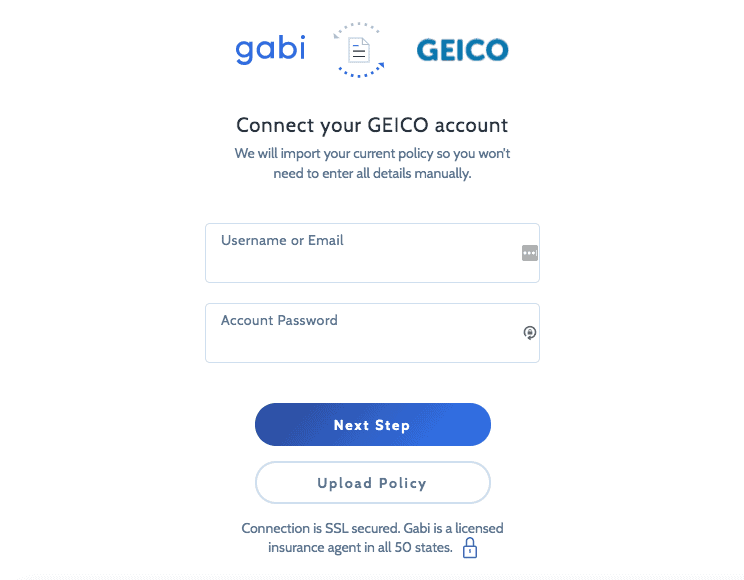 This second step is necessary so that Gabi can see what your current policy looks like and see what other providers offer to match the same plan details.
Step 3: Compare Insurance Quotes
Lastly, it's time to compare quotes!
Note: you may need to complete some additional info during this step, such as marital status, driving record, education, and occupation, in order to see your quotes.
Gabi lays out your insurance quote information in an organized table for you to see both what the new providers are charging and how much savings that would generate for you annually.
I only have one car and renters insurance and am with a low-cost provider (Geico) already, but there were still opportunities to save over $300 per year!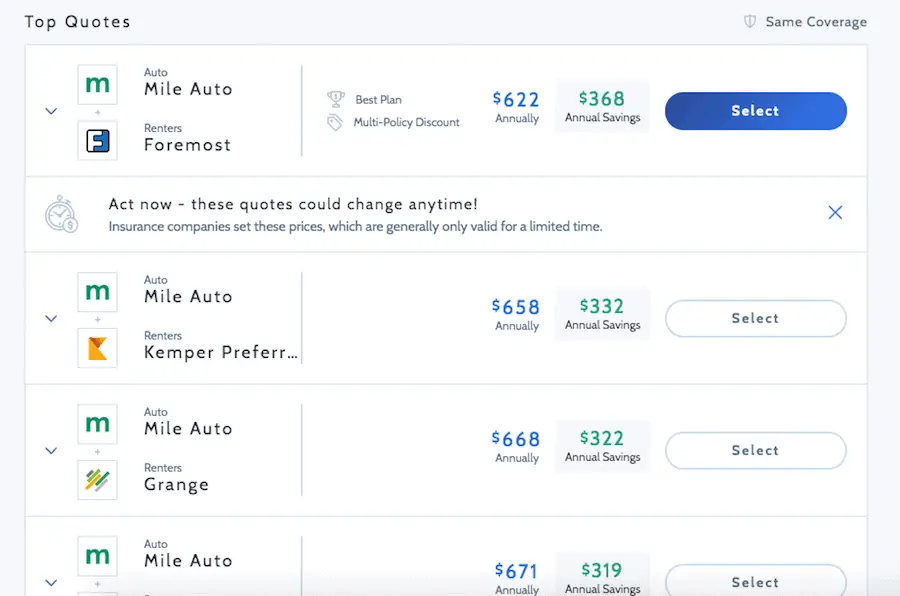 I can easily see how someone with a home and multiple cars could have the opportunity to save much more when buying car insurance through Gabi.
---
Ready to start saving today? Find insurance using Gabi below, for free:
Get Started
---
Gabi Review: Pros and Cons
Gabi Pros
Free: Gabi is 100% free to use, which is hard to beat.
Fast and Easy: Using Gabi only takes about 5-10 minutes, and they have a clean user interface that is easy to navigate. Overall, my experience with the service was seamless.
Licensed Broker: Gabi is a licensed broker in all 50 states, which means you can buy the insurance that they quote you straight through them.
Variety of Insurance: Gabi does more than just car insurance. They offer home, renters, condo, landlord, and umbrella insurance as well. Plus, you can bundle quotes for better discounts as needed.
Gabi Cons
Research Still Needed: Gabi provides the lowest priced insurance for you, but the lowest price is not always the best offer. If you value service, and other factors when it comes to insurance, you'll want to do your research on the companies Gabi recommends before signing up.
Limited to Gabi Providers: Gabi offers a long list of providers, but obviously not a 100% exhaustive list. Some providers are left off.
Potential for Rate Changes: As you'll see in the review section below, some customers stated that their initial quoted rate from Gabi increased later on in the process. This "bait and switch" tactic was not experienced by everyone, so I assume it is the exception more than the norm, but is important to be aware of.
Gabi Insurance Reviews
Gabi prides itself on the positive reviews it has received from users. To be honest, it's not surprising to see the following results, since they provide a lot of value with a free service:
Facebook: 4.7/5.0 Stars
Google: 4.8/5.0 Stars
Yelp: 4.0/5.0 Stars
To give you more perspective outside of my personal experience using Gabi, below are a couple of snippets from Yelp of what other users are saying about Gabi:
"Not only did they save us a bunch of money they got us much better coverage for less than I was paying for cut rate coverage." – Tom A.
"Quotes were lightening quick. My savings compared to my existing auto policy was HUGE.  Transaction completed in 1 hr. Great business model." – Kevin J.
"Wow! What a great experience.  So easy. So fast and accurate.  I saved BIG!  For my 4 cars and home, I saved about $2500 per year for the exact same coverage.  Gabi imported everything, got me lots of quotes, and made the comparison process simple.   They also responded fast to my questions.  I highly recommend Gabi." – Ron S.
Of course, there were a couple of negative reviews on these review sites to be aware of as well. Mainly, it was customers complaining about rates jumping up after the initial offer.
Here is one for example:
"They lowball you initially, and at the time of acceptance and signing papers the rate jumps by 22.68%. Save your time…Stay away. I will never use their service because of their games!" – Ooj A.
From the Gabi Insurance reviews that are out there, it looks like they are at least worth a try to see what you can save. Get started below, for free:
Get Started
---
Gabi Insurance Review Frequently Asked Questions (FAQs)
Question: Is Gabi Legitimate?
Yes, Gabi is a legitimate insurance company. Their service is free, takes less than 5 minutes, and can oftentimes save someone hundreds of dollars a year in car expenses and more.
Question: What Types of Insurance Does Gabi Cover?
Car, home, renters, condo, landlord, and umbrella insurance.
Question: How Much Does Gabi Cost?
Nothing! Gabi is free to use, and since they are a licensed broker in all 50 states, they get paid by the insurance companies if they make a sale.
Question: Is Gabi Safe?
Gabi uses a 128-bit key based encryption to store your credentials and personal data. In addition, The connection between your browser and Gabi's servers is encrypted using Secure Sockets Layer (SSL).
That's all straight from Gabi's website. I'm not a security expert, but both seem to be security best practices. In addition, Gabi promises to never sell your data, and they don't need to since they make money by being a licensed insurance broker.
Question: Does Gabi do a Hard Credit Check?
No. Gabi mentions that some insurance companies may do a soft check before providing rates, but a hard credit check should not happen.
Question: Who Has the Best Car Insurance?
Determining the best insurance depends on a lot of personal factors – the answer will not be the same for everyone. Gabi is helpful because it can help you find the cheapest car insurance for the coverage that you desire.
Gabi Insurance Review Summary: Is Gabi Right for You?
My consensus after doing a full Gabi insurance review is that Gabi is right for everyone.
At least, trying Gabi is right for everyone.
Their service is free, fast, and has the potential to save you hundreds of dollars per year. The worst-case scenario is that you lose a few minutes of your time. The best-case scenario is that you save hundreds of dollars per year by finding you low-cost insurance.
Ready to start saving with Gabi today? Get started below, for free:
Get Started
Just Start Investing is a personal finance website that makes investing easy. Learn the simple strategies to start investing today, as well as ways to optimize your credit cards, banking, and budget. Just Start Investing has been featured on Business Insider, Forbes, and US News & World Report, among other major publications for its easy-to-follow writing.