There are a lot of budgeting tools and apps on the market designed to help you manage your money. Though the Trim App is unique, so I decided to write a full review of this money-saving tool below.
Trim is a company that is built on automation.
They can automatically save you month on your monthly bills, automatically cancel unused subscriptions for you, and automatically help you earn extra cash through their high yield savings account.
If you want to get started with Trim and start saving money right away, you can below. Otherwise, check out our full Trim app review below to learn more, including how to save money through their various services.
Get Started: Trim<
---
Trim App Review 2020: What is the Trim App?
Trim, also known as the Trim App or AskTrim, was founded in 2015 by Thomas Smyth. They are one of the many fintech companies that have been growing over the past few years.
At the time of its founding, Trim's primary mission was to help people solve their spending problems. It's two most popular features helped users:
Cancel unused subscriptions
Negotiate lower monthly bills
Since then, Trim has grown and expanded it's mission:
Trim is a financial health company. Our mission is to solve your financial problems so that you can live the life you want.
Trim now focuses on overall financial health and refers to itself as a personal finance assistant. It has added features such as high yield savings accounts and debt payoff plans to reflect this mission.
We'll detail all of these services further below in our Trim App Review.
How Does Trim Work?
Trim is a holistic personal finance app that is focused on helping you save money. At least, saving money is their primary focus.
As mentioned, Trim is continuously rolling out new features, but below is an overview of the seven primary services Trim currently offers.
These seven services are broken out below between "free" and "premium" services. With the free features, all you need to get started is to link a bank account.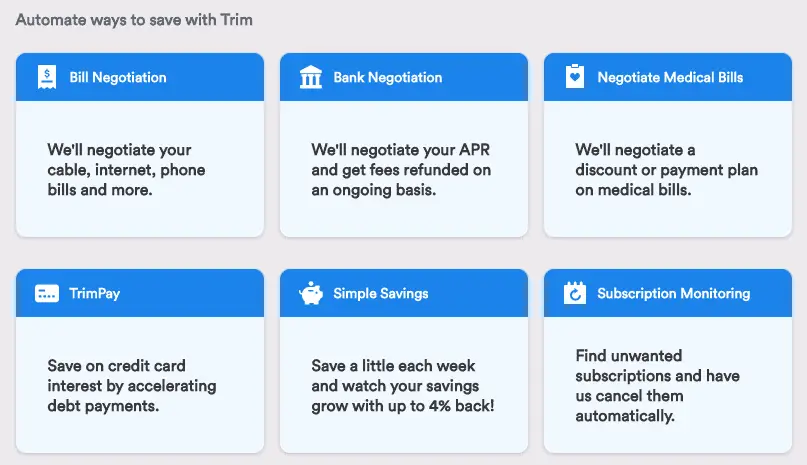 "Free" Services
Trim offers a couple of ways to save money that don't require an upfront payment. All you need to do is link your bank account to start saving today.
Get Started
Trim Subscription Monitoring
First, one of Trim's most popular services is its subscription monitoring. Through this service, Trim analyzes your bank account and identifies reoccurring subscriptions.
It then puts all of your reoccurring subscriptions in one easy-to-read dashboard for you to review.
If you're guilty of constantly signing up for new streaming platforms or other subscriptions, this might be a good wake up call for you. The $7 a month fees can add up, and seeing all of your subscriptions laid out in front of you at once might make you realize that some are undervalued or unwanted subscriptions.
Note: In order to have Trim cancel subscriptions on your behalf, you'll have to sign up for Trim Premium. With this free service, you are still responsible for canceling your own subscriptions.
Trim Bill Negotiation (Basic)
Bill negotiation is another popular Trim service where they negotiate lower bills on your behalf. According to the Trim website, they have saved users over $40M on their cable, internet, and phone bills! That's $250 per year in average savings for each user.
The catch is that Trim charges a 33% fee of the annual savings that they are able to attain. However, what's great about this service is that if they don't save you anything, you don't pay anything. You only pay a portion of the money they are able to save you.
---
How Trim Bill Negotiation Works in Four Steps:
Select your provider for Trim to negotiate with (like Comcast, AT&T, Verizon, etc.)
Log in to your service provider account or send Trim a copy of your bill
Trim negotiates your bill with the provider on your behalf
You pay Trim 33% of the one-year savings (no savings, no payment)
---
If Trim saves you $25 per month on a bill, or a $300 in total annual savings, you'll pay them $100 upfront. It'll take you 4 months of savings to recoup your costs, but after that, its all upside!
Plus, you save a lot of time not having to do the negotiating yourself.
Note: This is the "basic" version of bill negotiation because as you'll see in Trim Premium, they are also able to negotiate medical bills, just not for free.
Spending and Budget Tracking
Last in the suite of free services, Trim offers a very basic budgeting platform to track your spending.
Personally, I think this service was too high level to be effective, and not very user friendly. It can help you identify places to spend less, but if you are looking to use Trim, I would use them to help you save more before using them as a budgeting app.
Budget Better with These Tips:
If you want to improve your budgeting skills or create a budget from scratch, check out our article that highlights
11 tips to budget better
.
Trim Premium
The below services are part of Trim Premium, and not offered within the free platform. Trim Premium does offer a 14-day free trial, but it costs $99 annually afterward.
Get Started
Bank Negotiation (APR)
The premium bank negotiation service primarily deals with credit cards.
If you are carrying a balance on your credit card month after month, the high APR and interest rates are likely costing you a fortune. Trim claims that on average, they save users over $1,100 by attaining a lower APR, and even mitigating other costs like overdraft fees.
Hopefully, you are never in this situation because you use your credit card responsibly. However, if you are, lowering your interest rate is a great way to save money each month and help you pay off your credit card faster.
Medical Bill Negotiation
In Trim's free bill negotiation service, they can handle cable, internet, cell phone, and phone bills. However, if you need assistance with medical bills, you will need to upgrade to their premium service.
With medical bill negotiation, Trim will look to install a 0% payment plan on your behalf, and even ask for discounts when possible.
Trim Pay
Trim Pay is a premium debt payoff plan service.
It helps you get out of debt faster by strategically automating credit card payments based on your budget.
Simple Savings
Trim Simple Savings Account is a high interest, FDIC insured bank account that offers a 4% interest rate on your first $2,000 invested.
This 4% interest rate is best in class, and can yield you with $80 annually if you max out the $2,000 limit.
However, anything over the first $2,000 faces a lower interest rate. Right now (June 2020), like many bank accounts, the rate is low or even zero.
Open a High Yield Savings Account:
CIT Bank is a great high yield savings account to explore, you can learn more about them
here
.
Trim Premium Bonus Offers
Trim also offers a few additional services that come with a Trim Premium subscription:
Financial Coaching: Unlimited access to financial coaches to answer all your burning personal finance questions and help you achieve your financial goals.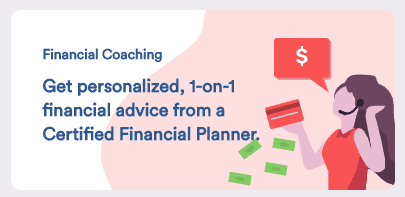 Partner Offers: Exclusive deals with financial companies that partner directly with Trim that helps you to save even more money.
Subscription Cancellation: Trim will not only help you identify subscriptions, but they will cancel unwanted subscriptions for you at your request.
How Much Does Trim Cost?
Trim, for the most part, is free.
However, they do charge and make money off a number of their services, it just varies by service. Here is the breakdown:
Trim Basic: Using the basic services in the Trim app, like subscription monitoring and budget tracking are 100% free. Even using bill negotiation is free, until Trim starts to save you money.
Bill Negotiation: Trim charges 33% of what they save you with bill negotiation. If they save you $300 per year, you will be charged $100, and get to keep the remaining $200 throughout the course of the year. It's a win-win situation, saving you time and money.
Trim Premium: Trim premium costs $99 per year and provides access to a few extra features. Trim's goal is to make this money back for you, and then some. They also offer a two-week trial program so that you can test out Trim Premium and see if it is right for you.
Trim App Review: Pros and Cons
As you've seen in this Trim App review, it does a lot of things really well, and has some room for improvement too.
Trim App Pros
The Free Services: Mainly, the subscription monitoring service is the best truly free service. It can be an easy, eye-opening process for some people to see just how much they are spending every month on various subscriptions.
Bill Negotiation: I love this tool because not only does Trim only charge you money if they save you money, but they are also an expert at saving money. Imagine, if you or I tried to call Comcast to negotiate a bill, we'd likely stumble along either getting mad and picking an unwarranted fight, or being too nice and not getting what we want. Trim is the expert, and I imagine they have a script that works to save its users money.
Their Focus on Savings: Personally, I think Trim has found a great niche helping consumers save money. They have succeeded here saving most people who sign up hundreds of dollars per year.
Customer Service: When I emailed the customer service team at Trim, I got a thorough and detailed response in about 24 hours.
Trim App Cons
Budgeting Tools: The free budgeting tool lacks a lot of features and is very basic. There are other services, like Truebill, that may be better equipped here.
The Cost of Premium: While I believe Trim can provide over $99 worth of value for most consumers, I wish they took the same approach for Trim Premium as they did with bill negotiation – charging consumers a percentage of what they save them.
Trim App Review: Frequently Asked Questions (FAQ)
Question: Is the Trim App legit?
Yes, the Trim App is legit, and people save money when using it. In fact, according to Trim, they saved users more than $1,000,000 in the last month.
Question: Is the Trim App safe?
Trim takes a few measures to ensure safety:
Trim uses bank-level security with 256-bit SSL encryption, two-factor authentication, and read-only access to make sure your sensitive account information is safe. Plus, they never store your account credentials on their servers.
Question: How does Trim make money?
Trim makes money in two ways. First, they charge 33% of money they save you through their bill negotiation service. Second, they offer a premium platform which costs $99 per year to use.
Question: What types of bills can Trim negotiate?
Through it's regular bill negotiation service, Trim can negotiation cable, internet, cell phone, and phone bills. Through Trim Premium, they can also negotiate medical bills.
Question: Does Trim actually work?
Yes, while Trim will not save money for everyone, they have the potential to help you save hundreds of dollars per year. For example, in just the past month, Trim has saved users more than $1,000,000.
Trim Review Summary: Is Trim Worth It?
Yes, I think that Trim is worth it.
At the very least, it is worth signing up to utilize its subscription monitoring and bill negotiation services. Of course, you can try to negotiate your bills beforehand to see if you can pocket all of the savings, and then use Trim as a backup as needed.
As far as Trim Premium goes, I think it's worth it for specific situations. If you are in credit card debt or medical debt, their premium offerings could help you save a lot of money. They also offer a 14-day free trial, so you can always cancel if the premium service doesn't appear to be worth it after signing up.
If you are ready to start saving with a Trim account, you can do so here:
Start Saving
---
Just Start Investing is a personal finance website that makes investing easy. Learn the simple strategies to start investing today, as well as ways to optimize your credit cards, banking, and budget. Just Start Investing has been featured on Business Insider, Forbes, and US News & World Report, among other major publications for its easy-to-follow writing.