Before we dive into the comparison between Debt Snowball vs. Debt Avalanche, it's important to note that these debt payoff methods only work if you have extra money each month to pay towards debt. It also only works if you have more than one type of debt to pay off. If you have only one type of debt, your extra monthly payment would go to your one account. And if you don't have money left over each month, you would just pay your monthly minimums.
Why pay extra towards debt each month? It's simple – you pay less in interest and get out of debt faster.
Below we will compare the debt avalanche vs debt snowball method and give you ideas to help you decide which one is best for you.
What Are The Different Debt Payoff Methods?
You choose a debt payoff method when you have extra money each month to pay towards debt. The method you choose is how you prioritize your extra money each month.
Debt Avalanche Method: 
In the debt avalanche method, you would line up your debts and pay off your highest interest rates first. You save the most interest in this method.
Debt Snowball Method:
In the debt snowball method, you would line up your debts and pay off the lowest total amounts first. You would then "snowball" the money you were paying towards the lowest debt to the next highest debt. By eliminating your smallest debts first, you can feel the psychological benefit of paying off debt faster. You should understand that there are problems with the debt snowball method that we will address later.
Debt Savvy Method:
The Savvy debt payoff method is a relatively new method of paying off debt. This method combines the debt avalanche and debt snowball methods. You may pay off your smallest debt first, and then snowball that payment into the debt avalanche method to save on interest. This new debt payoff app employs this method.
Debt Payoff Prioritization Example
Let's look at a comparison of the debt payoff methods and how you would prioritize your debt.
| | | | | | |
| --- | --- | --- | --- | --- | --- |
| Type | Owed | APR | Snowball | Avalanche | Savvy |
| Credit Card A | $1,598 | 10% | 1st | 6th | 1st |
| Credit Card B | $2,492 | 12% | 2nd | 4th | 5th |
| Loan A | $26,004 | 25% | 5th | 2nd | 3rd |
| Loan B | $31,320 | 27% | 6th | 1st | 2nd |
| Auto Loan A | $6,830 | 15% | 3rd | 3rd | 4th |
| Auto Loan B | $10,520 | 11% | 4th | 5th | 6th |
Using this scenario, let's run it through a debt payoff calculator. Here's a breakdown that shows that the Savvy method would save $4,916 in interest when compared to the snowball method.
The avalanche method here would be similar too, yielding slightly more savings than the savvy method.
Which is more popular: Snowball vs Avalanche?
The snowball method is the most popular debt payoff method, as you can see by the Google trends graph below that compares the snowball to the avalanche method in search volume.
Many people appreciate seeing their debts getting eliminated one by one because it gives them a sense of accomplishment. The sense of accomplishment is real, but you can also lose significant money in interest payments.
Why Is the Snowball Method So Popular?
This may bring you to the logical next question, "Why is the snowball method so popular compared to the avalanche or savvy method when you can lose money on interest?"
You can find the answer in two words. Dave Ramsey.
Dave Ramsey is an extremely popular personal finance guru who created the 7 Baby Steps to achieve financial freedom. Dave Ramsey's Total Money Makeover has sold over 500 million copies and has been on the Wall Street Journal bestsellers list for over 500 weeks.
Dave Ramsey preaches the debt snowball method in Baby Step 2.
"Baby Step 2: Pay off all debt (except your mortgage) using the debt snowball method"
Let's dig into why Dave Ramsey loves the snowball method so much. 
Why Does Dave Ramsey Love the Snowball Method?
The reason is simple. Dave Ramsey doesn't believe the Debt Avalanche Method works. His reasoning is that some people say that you should lower your interest rate through balance transfers when you do a debt avalanche. His point is that it takes time and effort to shop around for the best rate. He states, "It's better to focus on getting rid of your debt instead of just moving it around from one card to another."
The challenge with these statements is that he is assuming that everyone who follows the Avalanche Method will try to do a balance transfer. When in fact, if you follow that plan and pay down high-interest debt, you will come out on time from a monetary standpoint.
Dave Ramsey also states that the motivation (psychological benefit of paying off debt) is the secret sauce that gives you motivation and will get you out of debt faster. This yields some truth, but will not have the same benefit to every type of person.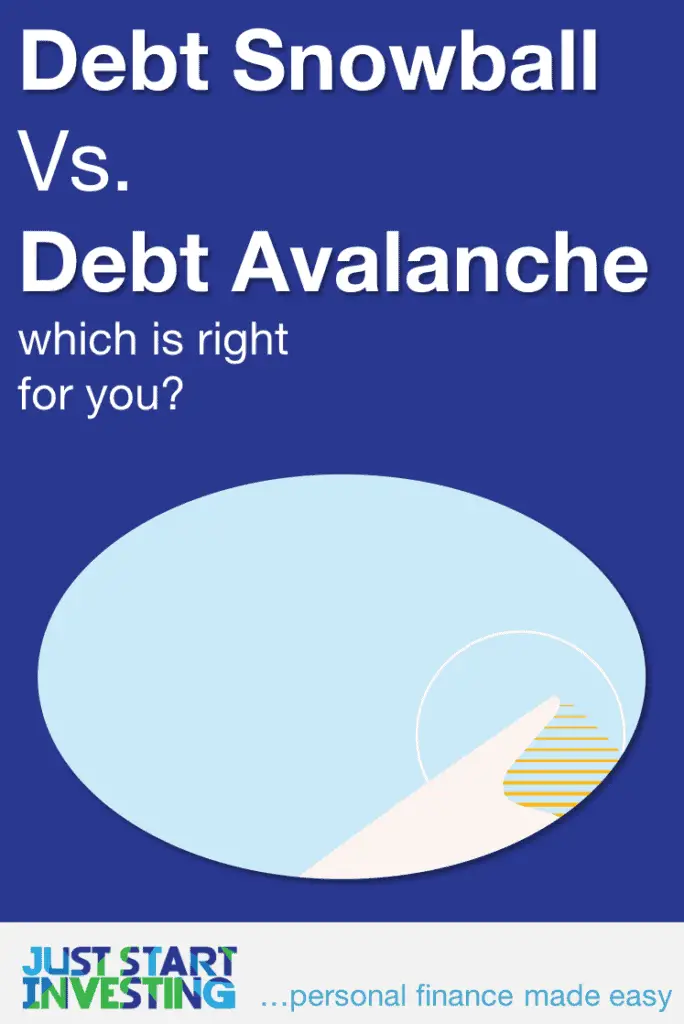 Debt Snowball vs Debt Avalanche: Which Method Should You Choose?
You should choose the best option for you depending on your personal situation.
First, determine how serious you are about getting out of debt. Next, understand your own self-discipline. You may lose money using the debt snowball method, but if you get an extra boost from the motivation, then that is your decision.
Hopefully, you now understand the differences between the avalanche and snowball methods to make the most informed decision on how to get out of debt.
Once debt-free, your money is now in a better position to work for you by paying you interest instead of you paying the bank's interest. See investing techniques and information on how you can build a portfolio that works for you to take the next step in improving your personal finances.