The cost to create an NFT can range from $1 to above $1000. This is based on many factors which we are going to cover in this article.
NFTs, or non-fungible tokens, are digital assets that signify ownership of a special object, like a work of art, a piece of music, or simply a tweet. Yes, you read that right: a tweet. In fact, according to The Verge, Twitter cofounder Jack Dorsey was able to produce an NFT from his very first tweet, which sold for $2.9 million.
Indeed, the hottest thing in the digital world right now are NFTs, and for good reason too! They give creators a method to make money off of their digital artwork, and they give collectors a fresh way to buy and possess digital art. 
Utilizing blockchain technology, NFTs may also be verified as being truly one-of-a-kind and their ownership can be transferred and tracked on a public ledger that records transactions, according to Forbes. 
They have grown in popularity recently, and many other industries, such as the gaming, music, and real estate sectors may also employ them.
This article's goal is to provide you with an answer to the question, "How much does it cost to create an NFT?" It will also help you gain a thorough understanding of all the expenses related to developing an NFT.
We'll go over every expense you need to consider to create your first NFT so you may be fully prepared and be able to choose wisely. If you stick with us, you'll master NFT by the conclusion of this article! 
Preproduction Costs
A. Design Conceptualization
1. Getting the services of a digital artist or designer
The cost of the services can range from $5 (hiring someone for a gig on Fiverr) to tens of thousands of dollars. Pricing here is subjective based on the complexity of the design, the experience, and skill of the designer.
The conceptualization and design of the digital asset are the first steps in NFT creation. And let's face it, the fun part is the design! This is your chance to unleash your imagination and create something wholly original.
To create an NFT, you have the option of creating the asset yourself or commissioning a digital artist or designer to realize your idea. Another alternative is to create an entire NFT collection. A group of non-fungible tokens (NFTs) that are connected in some way, such as being made by the same artist or being a part of the same subject or series, is known as an NFT collection.
According to NFTgators, NFT collections typically correspond to the same artistic style, with minor differences between each token. also include various digital assets, such as digital art, music, films, virtual real estate, and more. While these may seem overwhelming for someone creating their first NFT, you need not to worry—working with a pro doesn't have to be expensive.
There are many brilliant designers or NFT artists who can create on any budget. Additionally, when you see your work come to life as an NFT, the effort will be worthwhile in the end. 
2. Expenses incurred in producing the digital asset
The cost of creating the digital product itself is another expense that NFT creators have to take into account. This can include the cost of any software, equipment, or other costs associated with producing the asset. Luckily for you, you don't need the most expensive tools or software to produce amazing work. 
You can create an NFT that is absolutely exceptional if you put some effort and ingenuity into it. Also keep in mind that the cost of creating the asset is a one-time investment that will pay off in the future once you can make money off of it as an NFT. Depending on the complexity of the digital artwork, the expenses may range from relatively low to quite high.
B. Legal Considerations
1. Costs associated with creating a smart contract
Prepare at least $2,000 if you are hiring a developer for this part!
It's crucial to confirm that the smart contract and any other required legal documentation are in place before minting NFT. But you'll do just fine, as you don't need to be an expert in law to create an NFT and get through this procedure. 
To help you create the smart contract and make sure that everything is legal, you can employ a lawyer or legal team. Although it may seem like an extra investment in the NFT creation process, the security and protection it offers are worth the cost.
Additionally, starting out with everything in order positions you for long-term success. Compliance expenses like KYC/AML verification may also need to be considered as part of the legal considerations for your NFT.
2. Costs related to compliance, such as KYC/AML verification
Anywhere from a few cents to a couple of dollars is the range for verification. Many NFT marketplaces nowadays have built-in compliance verification mechanisms, so the cost here can be brought down to 0.
Before minting NFT, compliance fees like KYC/AML verification may also need to be taken into account.  According to the verification platform Sumsub, the KYC (Know Your Customer) process aims to gather data about a customer and confirm their identity, and is one component of the Anti-Money Laundering (AML) program. AML is a set of steps taken by financial institutions and other regulated organizations to stop financial crimes.
These measures are designed to make sure the procedure complies with rules and to stop illicit actions like money laundering. They are also in place to safeguard you, your clients, and the overall integrity of the NFT space and are considered the industry standard. 
Moreover, keeping things organized and in compliance with laws is usually a smart idea. Consider it a little investment in the future prosperity of your NFT. There are many legal experts and resources available to help you through the process if you have any questions or concerns. 
Production Costs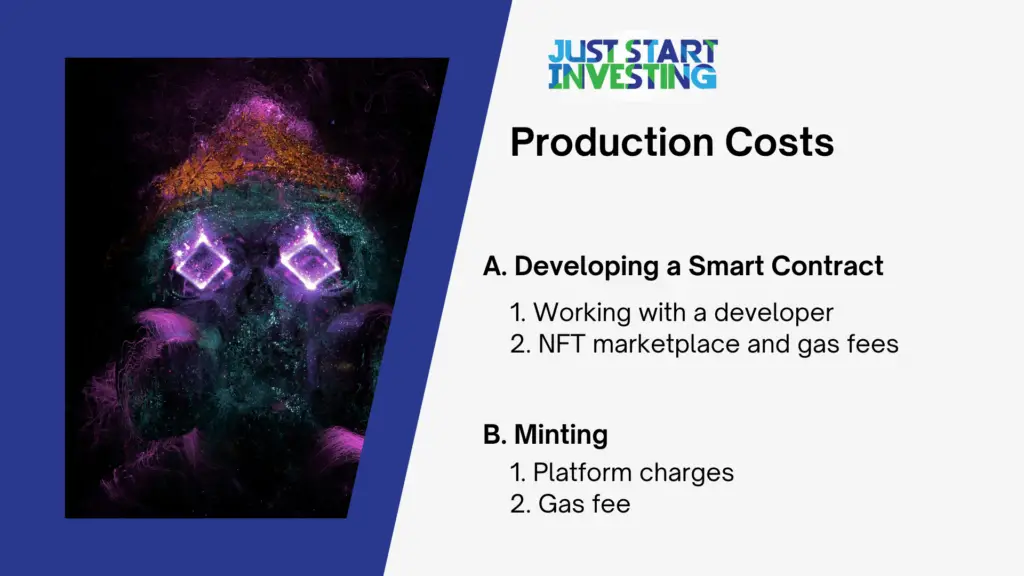 A. Developing a Smart Contract
1. Working with a developer
One of the most important steps in NFT creation is to hire a developer to design the smart contract for your NFT. The precise functionality you require for your NFT can be coded by these developers, who are experts in blockchain and smart contract creation, making sure that it is secure and dependable. 
This means that you don't need programming experience to fully grasp this procedure. In order to make sure that your NFT is exactly what you imagine, these developers will collaborate closely with you.
The price for this service will change based on the developer's qualifications and experience, as well as the complexity of the smart contract. And although costs may vary, keep in mind that hiring a developer is beneficial for the security and peace of mind that a well-designed smart contract offers. 
2. NFT marketplace and gas fees
Typically these are 2%-5% of the NFT sale price. If i.e. your NFT goes for $1,000, you're going to owe between $20 and $50 for NFT Marketplace fee and less than $1 for gas fees (gas fees vary depending on the blokchain network)
The NFT marketplace and gas fees connected with installing the smart contract on the blockchain are an additional expense to take into account to create an NFT. Depending on the blockchain network being utilized and the amount of processing power required for the transaction, these fees change.
NFT marketplace and gas fees are required to guarantee that your NFT is registered on the blockchain network and that the smart contract is effectively carried out. 
Consider it a modest investment in the long-term viability and credibility of your NFT. These expenses are also probably going to go down in the long run thanks to developments in blockchain technology. 
B. Minting
Minting fees, consists of two main fees to consider – platform charges and gas fees (which we partially covered before). In total on Ethereum, one of the most expensive blockchains, the average cost to mint an NFT is currently between $0.38 and $0.46 USD, but this is just one example things vary vastly between the different platforms and prices can go up significantly.
1. Platform charges
The platform charge for the minting process on the blockchain platform is one of the expenses related to the production of an NFT project or NFT art. Your NFT must be recorded on the blockchain and be able to be tracked and exchanged, hence this charge is necessary. 
The good thing is that there are many platforms for NFT minting that are available, and therefore minting fees may differ, so it's important to conduct some research to locate the most affordable choice for your requirements.
This is because NFT minting costs largely depend on your chosen blockchain. It is also worth noting that the price of creating one NFT may vary even inside the same blockchain. The cost estimation may be impacted by factors such as data volume, transaction volume, blockchain demand, time of minting, project quality, and gas fee.
However, don't let this deter you; NFT minting cost is a one-time expense that is worthwhile given the potential value and earnings your NFT project can provide in the near future. 
2. Gas fee
Gas fee—which is a small price to pay for the security and authenticity your NFT offers—is the fee paid to the network of nodes that process and confirm the transaction. Remember that gas fee is necessary to guarantee that the NFT is issued and recorded accurately on the blockchain.
Gas fees are normal for the sector and while some expensive blockchain platforms like the Ethereum blockchain requires users to pay higher gas fees, others offer a more affordable option for minting NFTs, like the Avalanche, Tezos, WAX, or Solana blockchain.
Another alternative is the Polygon blockchain, which uses the lazy minting function that allows artists to create NFT for free, until their NFT sells. This way, according to Alchemy, an NFT is only minted after a purchase takes place, making the creation of NFT accessible and fair for creators.
These expenses are also probably going to decrease over time due to emerging trends in blockchain. Furthermore, keep in mind that minting fees are a one-time payment that is justified by the potential value and revenue your NFT can generate. 
Post-Production Costs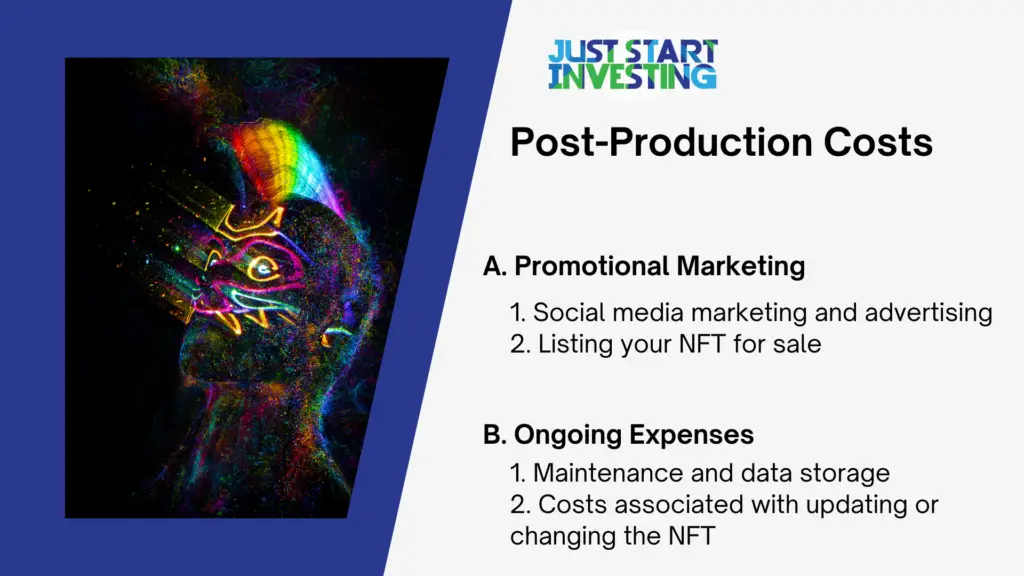 A. Promotional Marketing
1. Social media marketing and advertising
The cost of marketing and promotion is one of the expenses to be considered following NFT creation. And this is where it gets exciting — this is your time to draw attention to your project and present it to the world as an NFT creator. 
This can include listing fees for popular NFT marketplaces where your NFT can be sold, as well as marketing on social media to raise awareness of and interest in the NFT.  
These expenses must be taken into account in order to properly market and sell your own NFT. Success in this area may guarantee profit and recognition as a result of a good marketing campaign. Additionally, there are many tools and communities that can assist you with the promotion process, thanks to the NFTs' rising popularity. 
2. Listing your NFT for sale
The listing fee for NFT marketplaces is another expense for post-creation. NFT marketplaces give creators a great chance to market and sell their own NFT creation to a large audience. 
The costs associated with listing on popular NFT marketplaces can vary, but they are justified by the possible profits and exposure that come with doing so. 
It's critical to compare your alternatives and determine which NFT marketplace is the most affordable and appropriate for your needs. However, don't let the listing charge put you off—your earning potential can more than make up for it once your NFT sells. 
B. Ongoing Expenses
1. Maintenance and data storage
These costs, which might change depending on the platform utilized for storage and the amount of storage required, are necessary to guarantee that your NFT is correctly kept and preserved on the blockchain. 
The expense of storage and upkeep is a negligible fee to pay considering the future worth and possible earnings of your NFT. These expenses must be taken into account when calculating the upkeep of an NFT, as well as figuring out how much an NFT will cost to acquire and maintain over the long term.
2. Costs associated with updating or changing the NFT
The cost of upgrading and maintaining the smart contract related to the NFT is another continuous expense that is considered by NFT artists. This might be required for the NFT to operate correctly and securely, and it might involve upgrading the smart contract to solve faults or add new capabilities. 
Rest assured that these updates and upkeep are routine in the industry and implemented to guarantee that your NFT is constantly secure and functioning properly. 
Conclusion
1. Key takeaways
In conclusion, there are expenses involved in building non-fungible tokens (NFTs) at various phases, including design conceptualization, legal and considerations, the creation of smart contracts, minting, marketing and promotion, and continuing storage and maintenance. You should expect to pay anywhere from $1 to $150 for this, although, during peak hours, fees have been known to reach as high as $500.
It's crucial to keep in mind that these expenses are required to guarantee the NFT's legitimacy, security, and appropriate upkeep. But there's no need to fret about the cost to create, either; over time, your NFT creations' earning potential can more than cover them. 
Also keep in mind that the NFT market is still developing and growing, so prices and profit margins could change. When deciding whether or not to engage in creating an NFT, it's critical to do your study, comprehend the costs involved, and take those prices into account.
Don't hold back, though; NFTs are a great way to present your work and perhaps even make some money. Not to mention, the future's looking good for the NFT market today. 
2. Additional resources for those interested in setting up an NFT
The worth of your NFT is another vital element. The market demand, rarity, and originality of an NFT all affect its value. When deciding when to sell your NFT, this can change over time, therefore it's critical to monitor the market. 
Additionally, the state of the NFT space as a whole may have an impact on the value of your NFT. It's crucial to keep in mind that investing in NFTs can be risky and not ideal for everyone, but that doesn't mean you should avoid them. 
NFTs are a terrific way to present your work and possibly make some money, but it's vital to do extensive research and speak with professionals before investing. And keep in mind that there are endless possibilities because the NFT space is still expanding and changing.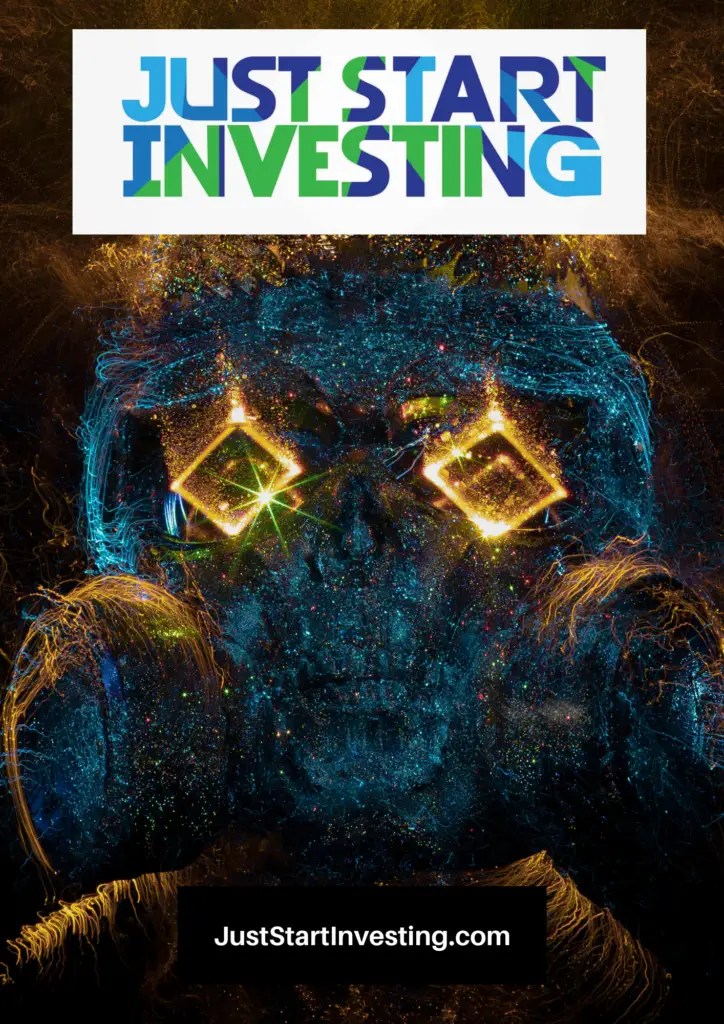 Just Start Investing is a personal finance website that makes investing easy. Learn the simple strategies to start investing today, as well as ways to optimize your credit cards, banking, and budget. Just Start Investing has been featured on Business Insider, Forbes, and US News & World Report, among other major publications for its easy-to-follow writing.