Before you learn about IDO crypto, let's start by improving your knowledge and understanding of the fundraising concept via token sales.
If a company wants to create a new budget for building new products and services or expanding its business, it has numerous options and choices. The standard and most used option are to go for financial loans or investments from banks.
However, since the success of cryptocurrencies Bitcoin and Ethereum, more companies have used it as a tool for raising funds via token sales. Companies create crypto tokens and release them to the general public in exchange for Bitcoin, Ethereum, and other cryptocurrencies. This process is called fundraising through token issuance.
There exist different methods to make token sales. 
Initial Coin Offering (ICO), Security Token Offering (STO), Initial Exchange Offering (IEO), and the newest way are Initial Dex Offering (IDO). With this article as a guide, you'll learn everything you need to know about IDO.
So, let's get started!
What Is An Initial Dex Offering (IDO)?
By opening up a new method of fundraising in the crypto space, an Initial Dex Offering (IDO) is the most recent and exciting type of decentralized platform that raises a tiny amount of money from a broad group of people, which is a method called crowdfunding.
An IDO is a project that launches a coin or token through a decentralized liquidity exchange. This type of crypto asset exchange depends on liquidity pools where traders can exchange tokens, including crypto coins and stable coins whose value is constant.
IDO's are an excellent choice for projects eager to launch a token and access direct funds because they offer better and immediate liquidity at different prices.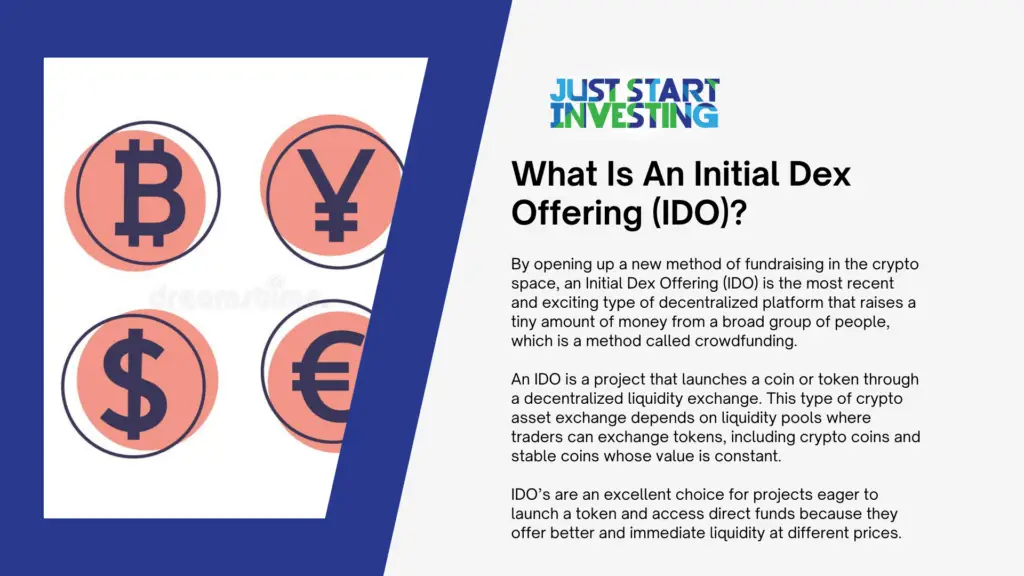 What Is The Difference Between Crypto IDO and IEO/ICO/STO
What makes IDO distinct from the other fundraising methods in the crypto space?
In the case of the Initial Coin Offering (ICO), which has many similarities with the Initial Public Offering (IPO) process, issuers manage all responsibilities. While in Initial Exchange Offering (IEO), this is done by a centralized exchange host. Therefore, when we compare an IDO with the other two, we realize it is a combination of ICO or IPO and IEO. 
The only difference is that the IDO replaces the centralized exchange (CEX) with a DEX (decentralized).
Security tokens support the investment contract in a Security Token Offering (STO). Additionally, STO deals with assets that offer monetary profits. Furthermore, STO complies with government regulations, whereas rules are yet to be fixed in the latter.
Initial Exchange Offering (IEO's) and IDO's are very similar. In either case, agencies may exchange tokens directly with investors or individuals.
In IDO, you do not need to pay an exchange fee as you need to in IEO. In addition, IDO solves several problems and difficulties that appear in IEO, where issuers are not permitted to list tokens with competing exchanges which is not the case with IDO.
Issuers also have to pay a large token stack or a considerable sum to list the token in exchange. Also, the parameters of fundraising are not manageable by the issuers.
What Are Some Of The Benefits Of The IDO Model?
Continue reading and learn some of the many benefits of choosing the IDO model for token exchange.
Open And Fair Fundraising
In the token trade method, private investors often buy a large number of tokens for a lesser amount of money as quickly as they go public. Then, they will resell these tokens to the general public for a much higher price gaining a considerable amount of profit. 
Companies don't need a centralized exchange and authority to start fundraising with the Initial Dex Offering approach. Also, anyone can organize or take part in IDO, not only private investors.
Fast Trading
A different advantage of IDO is that its coins can be traded instantly. This way, investors can purchase their tokens easily and quickly when it is launched and later resell them at a higher price. 
Immediate Liquidity
By definition, liquidity means the ability to buy or sell quickly on the market. Therefore, the access to immediate liquidity in the IDO benefits the token value.
Most Popular IDO's
Participating in a successful IDO is so rare. It is like hitting the jackpot. So, let's find the best upcoming IDO's to keep an eye on.
BlockSwap Network
BlockSwap network aims to deliver products with constant income to DeFi via its yield farming and proof of stake assets. In addition, its token works as a getaway to access demo products and collect incentives rewards.
BENQI
BENQI intends to build a market protocol for users to stack their idle crypto assets to earn interest or obtain credit through over-collateralized loans. 
Depositors can start earning a passive income in the form of yield-bearing tokens. In addition, tokens that are then borrowed and locked into other DeFi protocols, ultimately generating additional yield, can also be received.
BENQI token is named QI, and token holders manage the entire ecosystem and will be able to vote on matters that will steer the course of the protocol.
TeraBlock
TeraBlock is a crypto trade automation exchange that personalizes users' investment experience through machine learning.
TeraBlock enables users to use bank cards to buy cryptocurrencies without significant risk. By doing this, the technology clarifies the process of people entering the crypto ecosystem while promoting DeFi services alternatively to traditional finance.
By the time TeraBlock has launched its TBC token that helps decrease the exchange fees, it has completed a $2.4 million funding.
Don-Key
Don-Key Finance uses an automated platform to determine the best risk-reward rate of different crypto markets to provide the best probable outcomes.
Don-Key solves the difficulties of this industry, including those who are not experienced in creating their yield farming strategies or know how to choose their crypto assets.
It offers an economical and efficient way for investors to pool their liquidity by adopting the strategies and approaches of skilled traders.
How To Launch An IDO?
Start with a strategy and plan and enhance your token offering over a decentralized exchange (DEX) by creating an innovative product with a design in the IDO that benefits users. Then, to attract investors to back you up and support your concept, describe your idea to them, making them see the potential in your project. Finally, launch your IDO coin to start raising money right away.
Increase the value of your token by giving utility services to people who want to utilize it in the market. For example, create governance tokens and distribute them as a reward for the users who can contribute and improve your platform.
After following and completing all these steps, you can start successfully providing your services with advanced characteristics of blockchain technology to enhance the value of your token.
And if you have any questions along the way, don't hesitate to contact us.
Where Are IDOs Headed in the Future?
IDO's are the newest approach for crypto projects to get their tokens out to the public, but just like with ICO's, IEO's, and STO's, developments are yet required. 
With IDOs, although a decentralized exchange, a control mechanism is deficient. Therefore, when it comes to fundraising, it's essential to control over changing token prices or having KYC regulations, which are seen in ICO's, IEO's, and STO's.
Another improvement that the focus should be on is scalability. Right now, only decentralized finance (DeFi) projects have gained profit through IDOs. However, that does not mean that some of the different projects within the crypto space can't start using this form of crowdfunding. 
But, of course, for these projects to succeed, they'll need some interest from existing DeFi users to invest in a project's token. 
The reason is simply that using DeFi platforms is a learning curve, which may be a barrier to the average crypto trader. Therefore, another improvement would be to increase awareness and education of DeFi as this industry grows.
The concept behind crypto is to open the doors of finance by making it decentralized. Unfortunately, IDO's are one step away from making this a reality. Consequently, it's difficult to tell if a particular coin is worth a certain amount.
One other thing to keep in mind is the fact that despite the rising interest in IDO's, centralized exchanges such as Binance or Coinbase still control the market. This is why investors aren't asking when the following IDO listing is taking place. Right now, it is in their interest when Coinbase is going to list a specific coin. But, of course, over time, this will most likely change as recognition increases around decentralized exchanges (DEX's).
The future of IDO's could have a lot of potential, but it needs more awareness. Additionally, DeFi users are only a tiny part of the market as it's still relatively new. Keeping that in mind, IDO's are unlikely to replace ICO's or IEO's anytime soon. 
They're bringing a new model of crowdfunding, even if it needs some improvement.
Conclusion
IDO's promise to change the current fundraising process, making it more straightforward for developers and investors to operate. While the tech is still in development and has some weak points, it steers towards a different alternative fundraising process that could potentially disrupt the current model. 
Contact a company like JSI to take advantage of this new kind of financing and construct your IDO. We can learn about your needs and offer you the finest solutions for your business and brand.
Want to learn more about investing? Check out the post on index investing!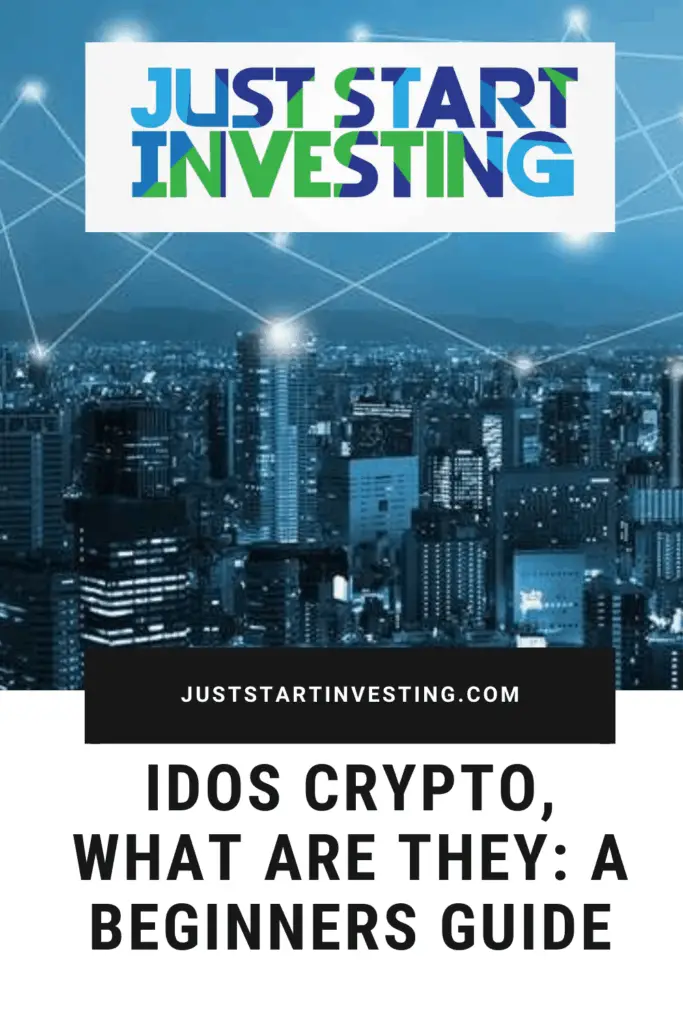 Just Start Investing is a personal finance website that makes investing easy. Learn the simple strategies to start investing today, as well as ways to optimize your credit cards, banking, and budget. Just Start Investing has been featured on Business Insider, Forbes, and US News & World Report, among other major publications for its easy-to-follow writing.