The prospect of an Instacart IPO is becoming more prevalent. Following a meteoric rise, the firm has one of the most anticipated IPOs in 2022. Furthermore, the firm has recently submitted a confidential filing with the SEC. That being said, the company may be in over its head.
The IPO of Instacart provides an opportunity for investors to get a piece of the action on a business that directly runs grocers' delivery and pickup. In addition, Instacart has been referred to as a "pandemic stock" that gained a lot of value during the height of the Covid-19 pandemic. So it makes sense why Instacart wants to take advantage of its recent success and popularity by going public to raise money.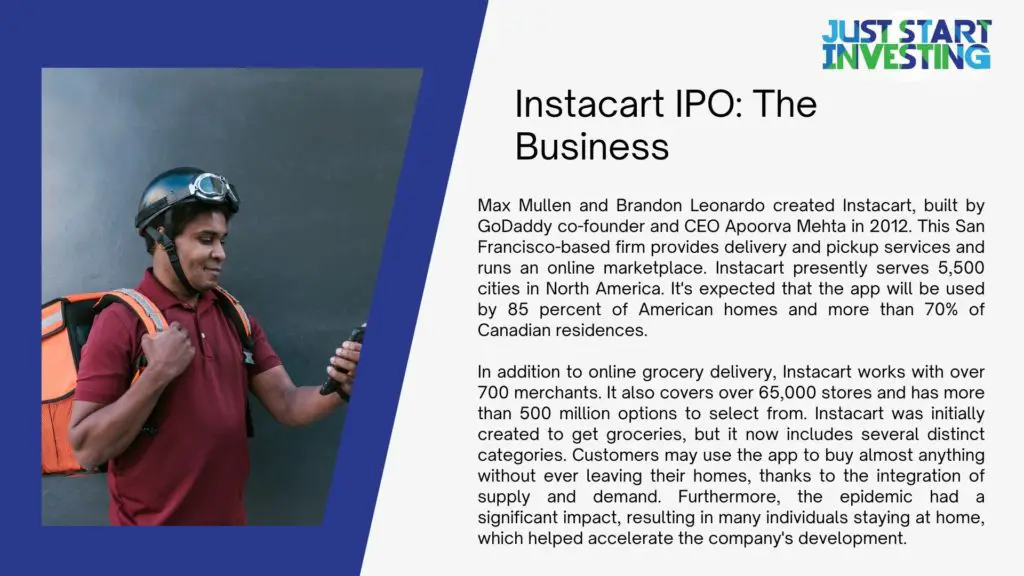 Instacart IPO: The Business
Max Mullen and Brandon Leonardo created Instacart, built by GoDaddy co-founder and CEO Apoorva Mehta in 2012. This San Francisco-based firm provides delivery and pickup services and runs an online marketplace. Instacart presently serves 5,500 cities in North America. It's expected that the app will be used by 85 percent of American homes and more than 70% of Canadian residences.
In addition to online grocery delivery, Instacart works with over 700 merchants. It also covers over 65,000 stores and has more than 500 million options to select from. Instacart was initially created to get groceries, but it now includes several distinct categories. Customers may use the app to buy almost anything without ever leaving their homes, thanks to the integration of supply and demand. Furthermore, the epidemic had a significant impact, resulting in many individuals staying at home, which helped accelerate the company's development.
Instacart IPO: What do we know about the Instacart IPO?
Finally, Instacart has taken a significant step toward going public. However, the firm's business is declining, and the challenging market conditions have fallen amid historical hyperinflation, making an IPO seem increasingly unlikely.
According to recent statistics from the Second Measure, In the first quarter of 2022, Instacart's revenue decreased 4% year over year, continuing a downward trend that began in early 2021. As a result, Instacart reduced its own valuation by nearly 40 percent, to roughly $24 billion, after having a high $39 billion value for the past year.
Following a period of rapid growth early in the epidemic, when Instacart announced and hired hundreds of thousands of workers, acquired new merchants, and had millions of customers relying on its delivery service.
Filing confidentially for an IPO allows the firm flexibility in when and if it decides to go public. However, the information provided during the public company process is not available to anybody else until approved. To attract investors and other tech companies must wait to learn if their IP or patents are part of a company's sales strategy. This period also aids in the formation of or preventing competing firms from learning about a firm's financial data as regulators examine the filing.
What is Instacart IPO?
Instacart is a grocery delivery and pickup firm based in the United States that allows clients to purchase from authorized merchants using its website and mobile app.
The company was founded in 2012 by Apoorva Mehta, a serial entrepreneur who previously worked at Amazon. It was backed by a Y Combinator accelerator, providing $120,000 in seed money. The company's growth was aided by Mehta's network of Silicon Valley contacts which helped it establish itself as a faster-based grocery delivery alternative than its competitors, who also provided same-day deliveries.
Instacart's second $2.3 million and $8.5 million funding rounds followed, allowing it to expand its presence in 20 cities within two years of inception and ink deals with major players such as Whole Foods and PepsiCo. As a result, the ccompany's2021 earnings are expected to be around $1.8 billion increasing $0.3 billion from the previous year.
How much is Instacart worth?
As of May 2022, Instacart is valued at $24 billion, having dropped its valuation from $39 billion in 2021 after the home delivery business was flourishing during the Covid pandemic. The firm has received over $2 billion in venture capital funding across more than 14 rounds. Its worth soared from $3.4 billion in 2017 to $7.6 billion in 2018 to $17.7 billion in 2020 before settling at $39 billion for a brief period during March 2021.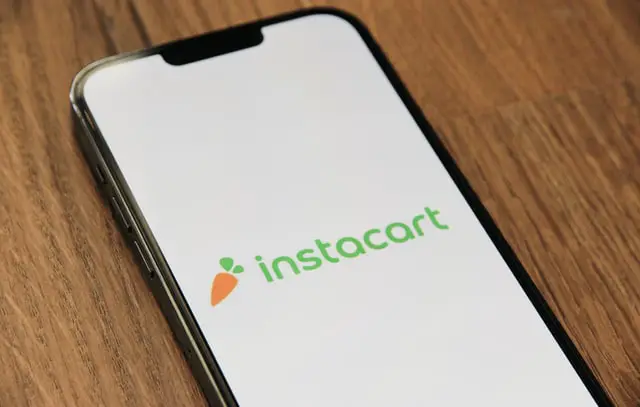 Should You Invest in the Instacart IPO?
There's doubt that digital grocery purchases will continue to grow in popularity. The issue is: How much of a difference will Instacart make?
If the firm continues to thrive in a post-pandemic world, buying into the Instacart IPO may be wise. On the other hand, as the stock market debut continues to drop and investors are becoming more cautious, you might be able to get in on the Instacart IPO at a great price.
While some analysts express doubts, others are more bullish. For example, eMarketer expects Instacart'sgrocery sales to surge 50% to $35 million by 2023 compared with 2020. However, Instacart's share of those sales is likely to drop from 21.5% to 20%. While individuals may increasingly purchase bananas utilizing their phones, they may do so in various ways.
Instacart said it plans to boost digital advertising revenue to diversify its operations. It also attempted to improve its core fulfillment service by increasing the speed: it plans to deliver your meal to your home between 15 and 30 minutes after placing your order.
However, whether or not it can meet those goals in a meaningful way and whether doing so would significantly increase its profitability remains to be seen. As a result, investors should be cautious with initial public offerings (IPO) and pre-IPO firms. Even if Instacart stumbles out of the gate before ultimately succeeding, you'll need to have the resolve to stick it out.
What is Instacart's business strategy?
The company's aim has always been to make it as simple as possible for customers to order online, and now that goal is being achieved. From the start, Instacart's objective made ordering food online easier so that many consumers could benefit from home delivery of their purchases and help smaller stores succeed in the internet arena.
In 2016, Instacart secured delivery of Whole Foods' items through a collaboration. This didn't last long because Amazon's subsequent acquisition of Whole Foods nipped the Instacart-Whole Foods connection in the bud. But as supermarkets grew concerned that Amazon would undercut their profits, many rushed to join forces with Instacart. So instead of being a disadvantage, the breakup with Whole Foods has turned out to be a significant boost for the online company. Two hundred retail partners became 350 following the break.
Instacart files confidentially for IPO
The news is a long-overdue development for the San Francisco-based company, which has not provided further information on its prospective offering.
Dive Brief:
In other news, Instacart has filed a confidential draft registration statement with the Securities and Exchange Commission for a possible initial public offering.
The company revealed no further information about its message in a personal filing, allowing regulators to examine the firm's plans for an IPO in private. According to Bloomberg, the company could be listed this year.
The news is a long-awaited moment for Instacart, which saw growth during the epidemic but has recently seen declining income.
Dive Insight:
Finally, Instacart has taken a significant step toward going public. However, the company's business is declining, and the stock markets are plummeting amid historical inflation, making an IPO something of a gamble.
According to data from Bloomberg Second Measure, Instacart's sales decreased 4% in the first quarter of 2022 compared with the same period last year, continuing a downward trend that began in early 2021. In addition, Instacart cut its value by almost 40% in March, bringing it down to around $24 billion after announcing a $39 billion valuation last year. Following the epidemic's debut, Instacart rapidly employed hundreds of thousands of people, enrolled new merchants, and had millions of consumers depending on its delivery service.
Filing confidentially for an IPO gives the firm more significant control over when and if it chooses to go public. A company's financial disclosures are subject to review by the SEC and other government agencies. This period is crucial because it allows competing firms to avoid seeing their financial data while the filing is examined. If Instacart does choose to go public, it will have to submit an S-1 registration several weeks before the offering.
FAQs
Who owns Instacart?
Various people and private institutions own Instacart, then CEO Apoorva Mehta, the company's founder, and T. Rowe Price and Sequoia Capital, among others.
Is Instacart profitable?
According to a leaked document, Instacart reported its first profitable month in April 2020 after suffering $25 million in losses every month. No information on the company's profitability since 2020 is available, but the $265 million funding round completed in March 2021 may have helped offset any losses incurred after that.
How does Instacart make money?
Instacart earns money through delivery fees charged on each of its groceries and pickup purchases. For purchases over $35, you will be charged a $5.99 fee, with delivery costing at least $7.99 for orders above $35. Customers who desire quicker delivery or more time slots may be charged higher costs. Instacart also allows brands to promote on the platform, boosting expenses.
Customers may also pay $9.99 per month for a monthly membership or $99 per year for an annual subscription. You may save money on delivery fees and other costs by paying with cash and a more flexible pricing structure during busier hours.
Is Instacart a profitable company?
In 2020, the San Francisco company's efforts paid off. According to a company spokesperson with knowledge of the firm's operations, Instacart earned $1.5 billion in revenue and was not profitable by typical accounting standards, even though it generated more money than it was spending.
Instacart is now flourishing its business like never before, thanks to an effective shoppers script and outstanding client service. As a result, many entrepreneurs seek to develop an Instacart clone script to start their own business.
How do I invest in Instacart?
If you're thinking about investing in Instacart when it starts trading on a stock market, you can buy it with any broker that allows personnel to trade the stocks. But, first, make sure you have a brokerage account set up and learn about any account requirements, such as minimum balances, that may apply.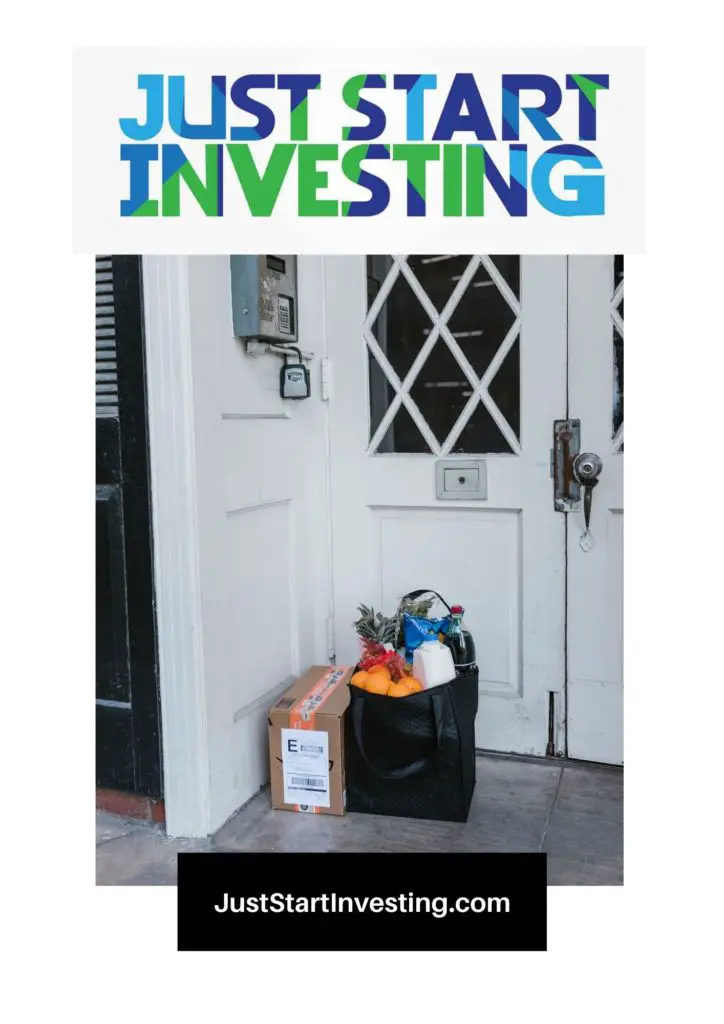 Just Start Investing is a personal finance website that makes investing easy. Learn the simple strategies to start investing today, as well as ways to optimize your credit cards, banking, and budget. Just Start Investing has been featured on Business Insider, Forbes, and US News & World Report, among other major publications for its easy-to-follow writing.