Investors are sometimes trapped between a rock and a hard place. Perhaps they initially signed up for an investing app only to discover it was unsuitable.
Fortunately, the procedure of moving stocks and changing brokerage accounts is straightforward. You may be thinking about switching from Robinhood to Webull. Many novice traders start their investing journey on Robinhood, but they discover it lacks in the research and analysis area.
Webull is the newest, most advanced commission-free trading app on mobile devices. With it, you can do technical analysis and fundamental research to help make better decisions when investing your money! In addition, they have unique characteristics, such as paper trading not available on Robinhood. They also provide retirement accounts, which Robinhood does not currently offer.
How to Transfer a Robinhood Account to WeBull
Robinhood offers in-kind stock transfers to another broker, but you must use an ACAT Transfer (Automated Customer Account Transfer Service). Your Robinhood belongings will be transferred in kind to the receiving dealer.
It would be best to verify that Webull supports the assets you want to transfer after obtaining all of the necessary gather transfer information from Robinhood. For example, Webull does not accept bonds, mutual funds, pink sheets, and penny stocks on the over-the-counter market.
However, Robinhood does not accept them either. Therefore, you are very unlikely to find non-Webull-approved assets on Robinhood. Both versions support transfer stock and options trading for equities listed on the NYSE and NASDAQ.
Even though both Webull and Robinhood accept cryptocurrency trading, you cannot currently send crypto assets. So to move assets from Robinhood to Webull, you'll need to sell them for cash, withdraw the money to your bank, and transfer stocks back to Webull.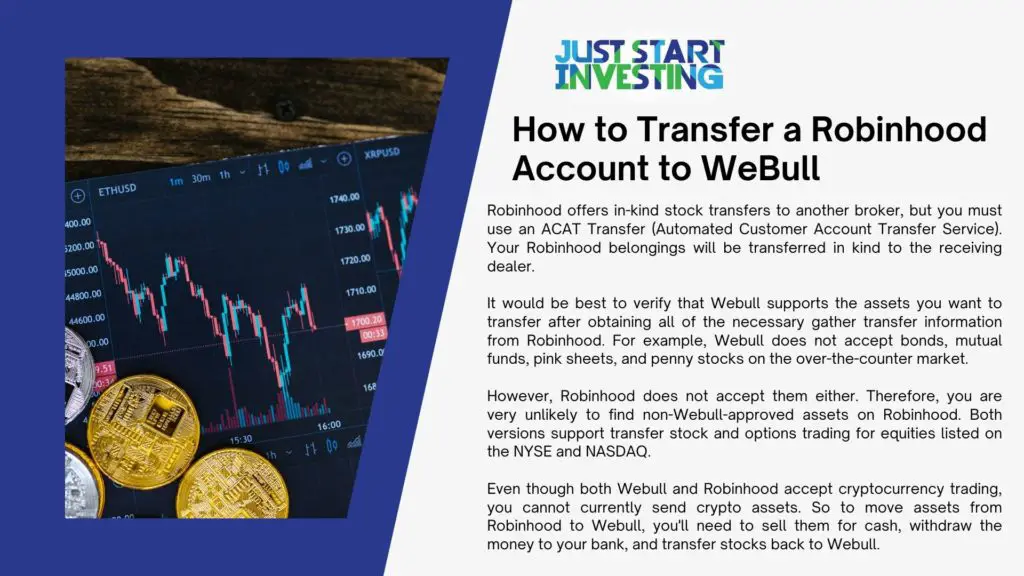 Step 1: Collect All Required Information
The essential information you'll need is your Robinhood account number. This can be found by tapping the "Account" icon in the lower right corner of the app. Next, click "Investing," and your account number will appear at the top of your screen.
If you have a new account, Webull may request your most recent statement, including all of the information they'll need, such as your account number. Robinhood sends these messages to you electronically, but they may be retrieved from the app or the internet platform with ease.
Step 2: Get Rid of the Account Restrictions
Robinhood is a stock trading app that allows users to trade cryptocurrency through investments involving risk accounts. The company's monthly service, Robinhood Gold, provides investors with a margin, among other features. However, if you don't have a cash balance to reimburse the transfer fee, your account transfers may have a negative balance.
Due to banking issues, it's also feasible to have a Robinhood account deficit. While your money is being sent, you get a free loan with Robinhood's instant deposit page feature. If there are any issues, they might result in your account being in bad standing.
Before transferring from Robinhood to Webull, you must first verify that there is no account deficit and that your Robinhood account is in good standing. If not, the residual transfer period procedure might be delayed. Next, look at the app's notifications to see whether you're getting any responses.
Step 3: Begin Transfer 
It's time to move on to Webull once you've gathered all of the information you need from Robinhood. To begin, you must create an account with Webull.
If the account type and name on the existing Webull account are not identical to those on the new Webull account, Transfer will not be completed until they are. To move your Robinhood account to Webull, you'll need to open a taxable brokerage account with them.
You must supply them with your employment information, social security number, and other relevant information. In addition, because this is a brokerage account, the IRS requires them to obtain and record data for verification purposes and report trading activity to the IRS.
The Differences Between a Full Transfer and Partial Transfer
It's critical to comprehend the distinctions between these two transfer alternatives so you can choose which one is right for you.
A complete transfer requires moving your entire portfolio from Robinhood to Webull before closing your account. When you make a complete account transfer, your Robinhood crypto accounts are hampered during the process. You'll be able to see your assets to ensure that nothing has changed, but you won't be able to trade or rebalance your account.
A partial transfer is a little more detailed. Simply put, you're allowing for the initial transfer of a certain amount of your assets. Residual dividends and unfulfilled orders are charged to your Robinhood account, which remains functional and accessible. Any assets included in the move will have limits placed on them.
Partial transfers may be a viable option for investors who want to buy into a different brokerage but don't want to commit their money and funds fully. You could discover that Robinhood has particular possibilities not available with Webull. In this scenario, keeping your Robinhood account open may be more convenient.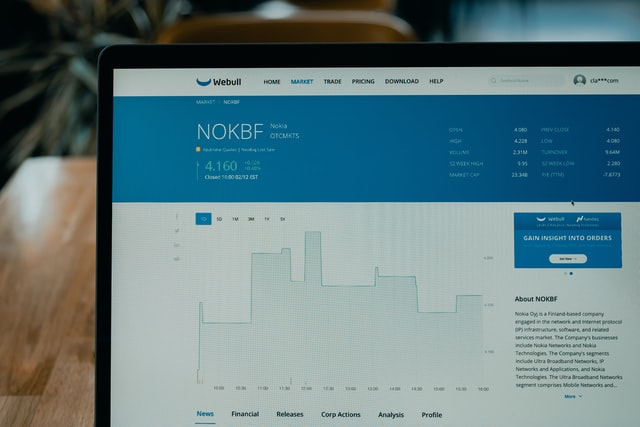 Tips to Ensure a Successful Transfer
Check the details of the transfer process:
When you're ready to transfer your money, it's essential to check the details of the process so that everything goes smoothly. Make sure you know the exchange rate and any fees that may apply. Additionally, it's essential to understand any associated interest rates and terms. For example, some issuers offer low introductory rates, but these may increase after a certain period. 
Check Webull's policies:
The most important thing to consider is the policies. It's essential to know the details and policies of the transfer process. You'll also need to ensure that the account numbers and routing numbers are correct. Once you have all the information, the transfer process is pretty straightforward.
Complete your trades before you initiate a transfer:
When it comes to transferring stocks in your trades, it's essential to ensure that you complete all of your transactions before initiating the Transfer. This will help to avoid any potential problems during the transfer process and will also help to ensure that your new broker has all of the information they need to provide you with the best possible service.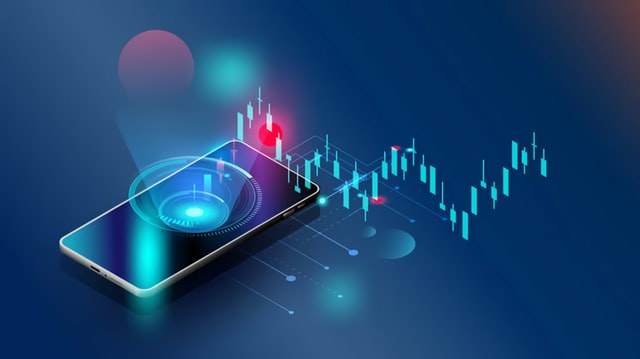 FAQs
What If the Account Transfer Fails?
A Financial company will acquire the assets and accounts of a brokerage if it goes bankrupt. With little disruption, the new custodian will take over the firm's assets and records. The federal government also covers up to $500,000 in securities or $250,000 in cash management kept at a brokerage firm through the Securities Investor Protection Corporation, or SIPC.
What Is The Fee To Transfer Stocks Out Of Robinhood?
Note that there is a $75 transfer cost to withdraw your money from Robinhood, whether part or all of your funds. If your account transfer request, make sure any outstanding debt or account restrictions have been resolved before performing it. Your Transfer may be delayed if you don't do so.
What happens after I initiate a full transfer?
Your account assets will be restricted to ensure that the transaction runs smoothly when you start a partial transfer. While the move is in process, you won't be able to conduct any trades on assets being requested, including options in the underlying asset, and your portfolio will not reflect that change. You'll still own the securities or positions while this time passes, and they'll update the app to show their current market value. Once the initiated Transfer is complete, any remaining place will be unrestricted, and you'll be able to resume trading that asset.
Can you move stocks between brokers without selling?
You can easily migrate your assets to the new broker using an out-of-kind or ACAT transfer process, which allows you to keep your investments with the original broker and merely move them over.
How much will it cost to transfer from Robinhood to Webull?
There is a $75 fee if you're moving stocks or cash from your Robinhood crypto account to an external broker, which will be deducted from your account's remaining cash balance. If your Robinhood cash balance is insufficient to cover this cost, it will be removed instead from your external brokerage account.
How long will the Transfer from Robinhood to Webull take?
The stock transfer usually takes 5-7 business days to complete. However, delays may occur if your outgoing account type differs from your Webull account. Delays can also be caused by any activity in your outgoing stock transfer account ( unsettled stocks, ACH transfers, etc.).
Bottomline
Webull and Robinhood are excellent alternatives for the mobile-first investor who wants to easily trade equities, ETFs, fractional shares, and cryptocurrencies.
Webull is a low-cost alternative ideal for individuals who want to get technical information at their fingertips or don't mind paying a commission. On the other hand, Robinhood offers instant deposits and has an easy-to-use trading platform appealing to investors wanting to keep things simple.
Because both firms charge no fee and provide full-featured applications, the best alternative is a question of which user interface works better for you. In addition, Robinhood supports both full and part transfers. With a complete transfer, all of the assets in your account would be moved, and the performance would be closed after.
Only positions you choose are shifted out in a partial transfer, leaving your Robinhood account intact. When you start a complete transfer, your whole account is locked (so you can't buy or sell) to assist the process go as smoothly as possible. A partial transfer restricts only the stocks or options being transferred. The remainder of your account is unaffected.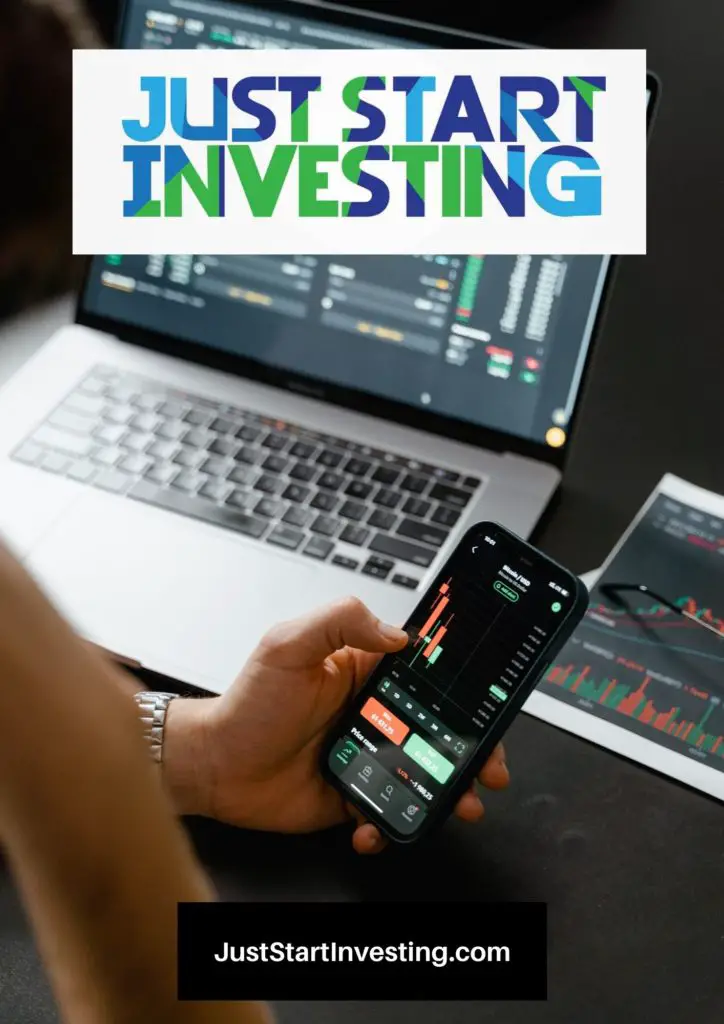 Just Start Investing is a personal finance website that makes investing easy. Learn the simple strategies to start investing today, as well as ways to optimize your credit cards, banking, and budget. Just Start Investing has been featured on Business Insider, Forbes, and US News & World Report, among other major publications for its easy-to-follow writing.