Many institutional investors were quite skeptical about Bitcoin in its early days, citing its high volatility as a severe threat to profitability. However, times have quickly changed with mainstream financial institutions and investors now at the helm of Bitcoin adoption. Nevertheless, their reluctance gave several industry leaders and individuals enough room to accumulate significantly ahead of the rest. If you are interested in investing in Bitcoin, you may consider visiting a reputable trading platform like bitcoin code app
Bitcoin is undoubtedly the world's first successful cryptocurrency, with an estimated market cap of about $747.34 billion as of April 2022. The launch of its first-ever exchange-traded fund (RTF) in October 2021 has pushed it to new all-time highs. However, Bitcoin had created several new millionaires even before the launch of its ETF. The following are some of the names credited with significant Bitcoin holdings today.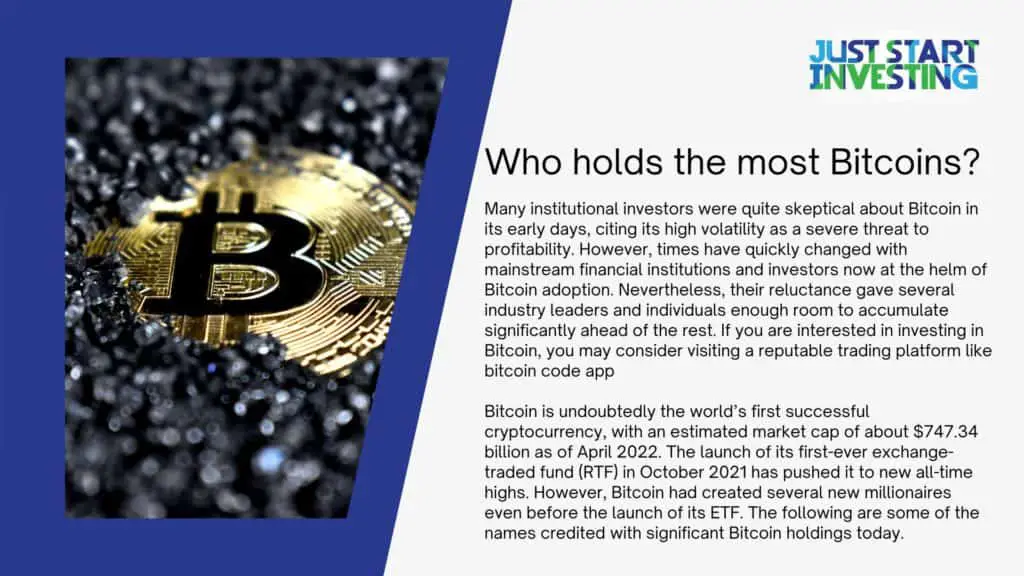 Changpeng Zhao 
Changpeng Zhao is the man behind the world's most significant crypto trading volume, Binance. The Bloomberg Billionaire Index estimated Zhao's net worth to be about $96 billion as of January 2022. However, his fortune could be much higher since the estimate does not consider Zhao's crypto wealth, including his Bitcoin and Binance Coin holdings. Forbes estimated Zhao's net worth at $1.6 billion. 
Zhao is a Canadian-based Chinese immigrant who joined Bitcoin through a poker game. After that ordeal, he reportedly invested more of his fortunes into Bitcoin, even selling his apartment for Bitcoin in 2014. His platform, Binance, handles transactions worth billions of dollars daily. It generated an estimated $20 billion in revenues in 2021. 
Sam Bankman-Fried 
Sam Bankman-Fried is the founder of a popular crypto exchange platform, FTX, whose ascension to the crypto billionaires list has been relatively rapid. Forbes estimated his wealth to be worth $26.5 billion in October 2021. Unlike most crypto exchanges that only deal in significant cryptocurrencies, FTX offers various innovative products not available on other crypto exchanges. Their mix includes digital tokens of physical assets, pre-IPO contracts, and sophisticated derivatives. 
Bankman-Fried came into the limelight in 2020 when he donated more than $5 million to U.S President Joe Biden's campaign. The vegan California native is a self-proclaimed altruist. 
Brian Armstrong
Brian Armstrong co-founded North America's largest crypto exchange by trading volume, Coinbase. According to Forbes, the former Airbnb software engineer owns a 19% stake in Coinbase, with an estimated net worth of about $10.4 billion as of January 2022. On the other hand, Bloomberg put his net worth at $9.69 billion. Coinbase went public in 2021 and had a total market cap of about $41.736 billion as of April 2021. 
Tyler and Cameron Winklevoss
Tyler and Cameron invested the millions they earned from a lawsuit against Facebook into Bitcoin, becoming the first crypto billionaires after the surge in Bitcoin prices in 2017. Forbes estimates their wealth at $5 billion each. The twins also started a crypto exchange, Gemini, valued at $7.1 billion after raising funds worth $400 million in 2021. They also own a platform for buying and selling NFTs called Nifty Gateway. 
Michael Saylor
Michael Saylor is the CEO of MicroStrategy Inc., a software firm that started accumulating crypto in 2020. They first acquired Bitcoin worth $250 million, saying the firm needed to make better use of its cash holdings. Saylor has increasingly advocated for the adoption of Bitcoin and often appeared at news and crypto conferences to promote its benefits and applications. The firm's Bitcoin holdings had increased to $3.5 billion by December 2021, surging its stock prices by more than 337%. Forbes estimates Michael Slayor's wealth at $2.2 billion, attributed to his big bets on Bitcoin. 
Overall, Bitcoin has created several millionaires and billionaires worldwide since its inception. While all the above individuals boast the most significant Bitcoin holdings, it is complicated to pinpoint who has the maximum Bitcoin amount.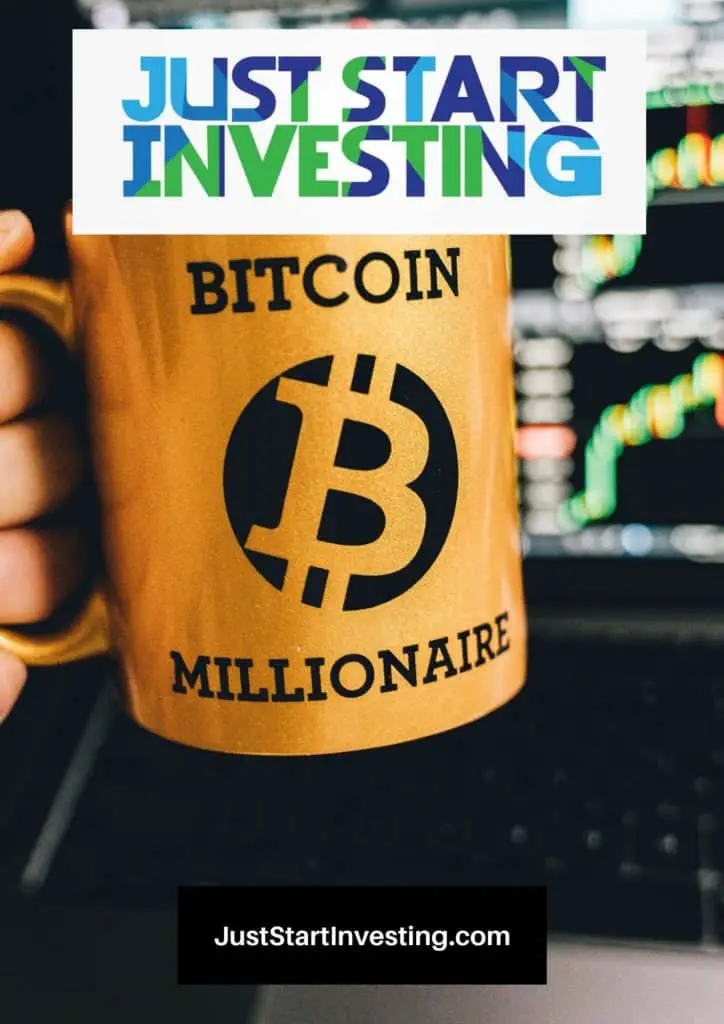 Just Start Investing is a personal finance website that makes investing easy. Learn the simple strategies to start investing today, as well as ways to optimize your credit cards, banking, and budget. Just Start Investing has been featured on Business Insider, Forbes, and US News & World Report, among other major publications for its easy-to-follow writing.