A 401(k) is one of the most popular investment accounts available, but many of us are not utilizing it to its full potential. That's where Blooom comes into play, and I've got a full Blooom review of this 401(k) optimization company below.
Get Started Today:
Get your
free 401(k) analysis
from Blooom today, and make sure you are in good standing.
Look, I get it, there are a lot of things that are more fun than optimizing your 401(k). I'm sure you'd rather be:
Okay, maybe not so much the last one, but that's important too!
The good news is Blooom (yes, 3 O's) created a service to help everyday investors get the most out of their 401(k). It's definitely worth learning more about them, including the 100% free analysis that they provide, which can help answer questions like:
In a matter of minutes, you can learn all of this and more.
---
Try the Blooom Free Analysis Today:

---
Blooom also offers a paid service that will manage your 401(k) for you, but more on that later. First, we'll dive into some 401(k) basics and then come back to the full Blooom review.
What is a 401(k)?
A 401(k) is a type of investment account that is offered by your employer.
They way it works is that you contribute a percentage of your paycheck (income) into this account, and it is automatically deducted and invested for you (based on your pre-selected investment vehicles). It's a highly automated process as long as you take the time to set it up.
The biggest benefit of a 401(k) is that your income is taken from your paycheck pre-tax. Which means you can invest with tax free or tax deferred income.
Like most things, this is best explained through an example.
401(k) Example:
Let's say you normally face a 25% tax on your $60,000 taxable income, and you and want to invest 10% of what you make.
With a 401(k): You would contribute $6,000 ($60,000 x 10%). You get to contribute and invest your money before getting taxed at 25% by Uncle Sam!
With a brokerage account: You would only contribute $4,500 ($60,000 x 75% x 10%). You first have to pay taxes before you can invest, and that costs you.
On top of this tax break, oftentimes your employer will provide a 401(k) match. A 401(k) match is when your employer also makes contributions to your 401(k) on your behalf.
How about that!
The most common example is when a company matches the first 50% of the first 6% you contribute (though, this can and does vary by company). It's not as complicated as it sounds, here are a couple examples to help illustrate the 50% match up to 6%:
Example 1: You contribute 2%, employer contributes 1%. Total = 3%.
Example 2: You contribute 6%, employer contributes 3%. Total = 9%.
Example 3: You contribute 10%, employer contributes 3%. Total = 13%.
You should always max out your employer contributions (at least getting to example 2), this is free money!
With that said, there are a few rules that apply to your 401(k) to be aware of as well.
401(k) rules:
Withdrawal Rules: Money withdrawn before age 59.5 is subject to a 10% additional tax.
Max Contributions: The max contribution for any individual is $19,500 annually, while the max contribution for the individual + employer is $58,000 annually.
Mandatory Withdrawals: Similar to Traditional IRAs, you must start withdrawing from the plan starting at age 72 (if you were born after June 30, 1949)
Why Your 401(k) Matters
Your 401(k) matters just like any other investment account. If it is littered with funds that have high fees, it'll eat into your long term returns and negatively impact your financial goals.
On top of that, for most people, a 401(k) makes up the majority of their retirement savings. One of the worst things that can happen is for you to wake up 40 (or 10, or 20, or 30) years from now and realize that you're not prepared for retirement.
So why do most of us set up our 401(k) the first day of work and never look at it again?
I don't know.
But I think it's about time we all take a quick peek under the hood and make sure everything is working as it should. So without further ado, let me introduce Blooom – a financial services company that can help you better prepare for your financial future.
What is Blooom and How Can They Optimize Your 401(k)?
Blooom was started a few years ago by a few Wall Street guys… but don't let that scare you. They founded the company because they were fed up with the status quo and what Wall Street was currently offering (or not offering) to the everyday investor..
But here, take it straight from them (the video is 3 mins and worth a quick watch):
So Blooom was created, and provides two main offerings:
Free 401(k) Analysis
Ongoing 401(k) Management
Update: Blooom now works with a number of different retirement accounts and retirement plans, including IRAs.
Free 401(k) Analysis
Blooom can hook up to your 401(k) to review your account and provide recommendations on how to optimize your 401(k).
Price: Free.
Expense Ratio: None. No hidden fees.
Account Minimum: $0
Services: 401(k) analysis, which provides:

Diversification and asset allocation recommendation.
Fee check up – ensuring you are in the lowest fee funds possible.
Obvious watch outs, like being invested in company stock.
Retirement planning and tracking snapshot.
Ongoing 401(k) Management
Blooom offers ongoing 401(k) management, so you can take a more hands off approach and let them take the wheel. Similar to what Betterment and other robo-advisors do.
Price: Flat $10 monthly fee.
Expense Ratio: None. No hidden fees.
Account Minimum: $0
Services: 401(k) management, which provides:

The free analysis detailed above.
Automatically investing you in the right funds based on your risk profile and retirement goals.
Rebalancing your 401(k) as time passes, keeping you on track for retirement.
Update on IRA Management: Blooom can now also manage your Individual Retirement Account (IRA)! This means they can now analyze your Roth IRA or Traditional IRA as well as your 401(k).
Blooom Review 2021: The Pros and Cons
The biggest benefit of Blooom is that offers a free analysis. Obviously, from there, they want you to sign up for their ongoing 401(k) management services, but that choice is yours.
Depending on how much time you want to spend managing your 401(k), and how much money you have in it, could determine if the ongoing 401(k) management is right for you.
For example, if you only have $1,000 in your 401(k), the $120 annual fee is 12% of your portfolio. Which, to be frank, would be absurdly high investment fees.
Though, if you have $100,000 in your existing retirement account, the fee is only 0.12%, which is much more reasonable. And will only get lower as your retirement account size grows, which is different from most financial advisors and robo-advisors who charge a percentage of your account ongoing (usually 0.25% or more).
We'll save the review of the ongoing 401(k) management for another day. Below, you'll find the pros and cons of the free analysis.
The Pros of The Free Analysis
It's Fast: You can get your free analysis is as little as 10 minutes.
The Set Up is Easy: Blooom asks straightforward questions during the onboarding process and makes it easy for you to get started with them.
It's Free: Obviously, Blooom's free analysis is… free. They could easily charge money for this, but they take the approach of first showing you the value they can provide in the hope that you eventually sign up for their ongoing 401(k) management (which costs $120 annually). It's a much better option than diving straight into paying a financial advisor.
It's Actionable: Blooom provides you real advice that can save you money. For example, if you are unnecessarily invested in funds with high fees, Blooom will point them out and show you better alternatives.
Customer Service: Blooom offers solid customer service and the ability to live chat with a member of their team as needed.
The Cons of The Free Analysis
No Free Ongoing Management: Blooom gives you recommendations for free, but it stops there. If you want them to implement the recommendations for you then you have to pay their management fee ($120 annual fee).
Lack of Details: There is a tradeoff for every investing company between overwhelming investors with questions and information, and keeping things simple. Blooom leans on the side of keeping things simple. Which makes things easy, but also provides room for error in their analysis, so be sure to take that into account hwen reviewing your results.
How to Get Started with Blooom
Getting your free analysis with Blooom is easy.
First, head over to their site. From there, you'll be walked through 3 simple steps:
About You: Answer some basic questions.
Link Account: hook up your 401(k).
Analysis: Get your results!
1. About You
Blooom will start by asking you some basic questions to understand your risk profile. They use this data (coupled with your current age and retirement age) to make a recommendation on your portfolio diversification.
They'll ask about things like your investing experience: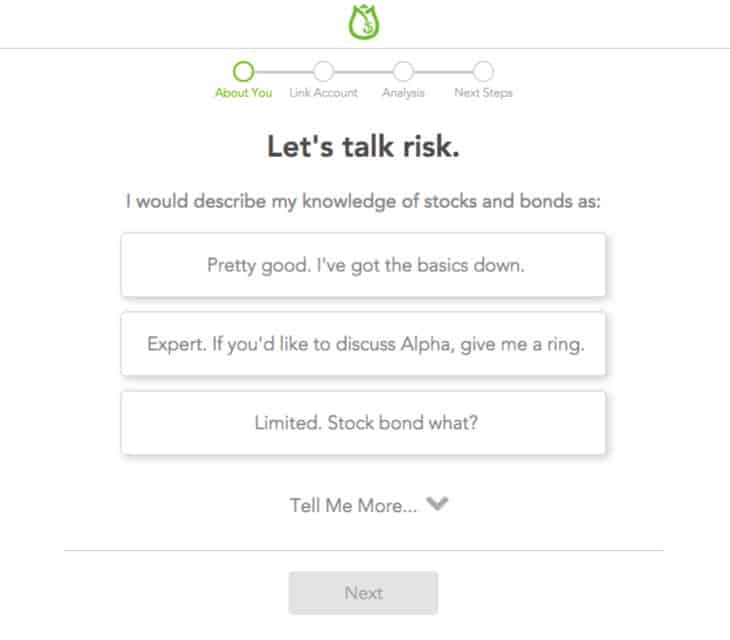 And about more seemingly random topics:
At the end of the. day, they're trying to understand how risk averse you are.
At the end of this section, they will provide a recommendation on your stock and bond mix. You can override their selection here before moving forward and eventually getting your free analysis.
2. Link Account
Once you complete the About You section, it's time to hook up your 401(k).
First, select the company that your 401(k) is set up with.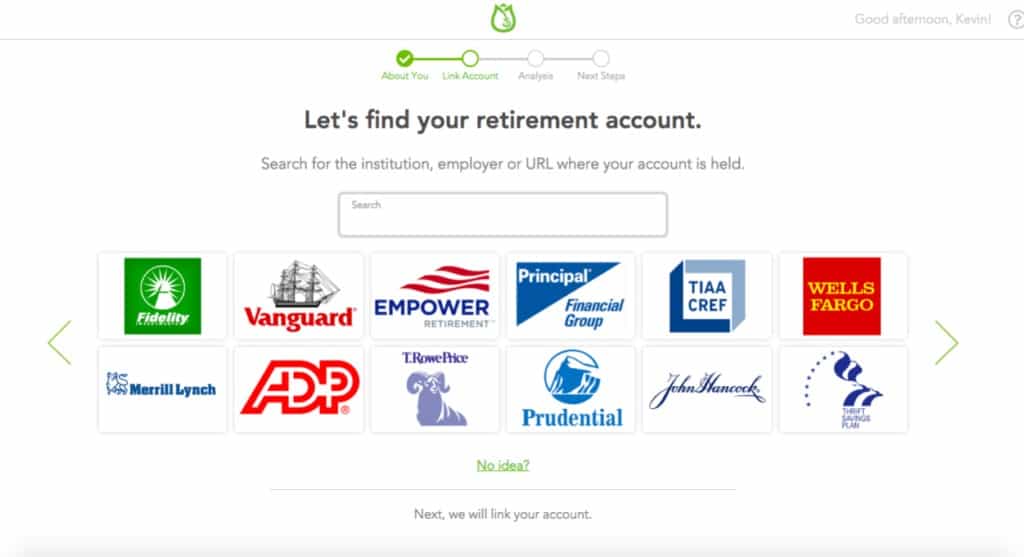 Then, you'll be asked to enter your username and password so that Blooom can see how you are currently utilizing your 401(k).
3. Analysis
Once your account is linked with Blooom (which may take a few minutes), they will provide your free analysis.
Blooom provides a dashboard view that ranks how you are currently performing and where you need optimizations.
Blooom also provides more details for you to review so that you can easily take action. Like the below details on diversification.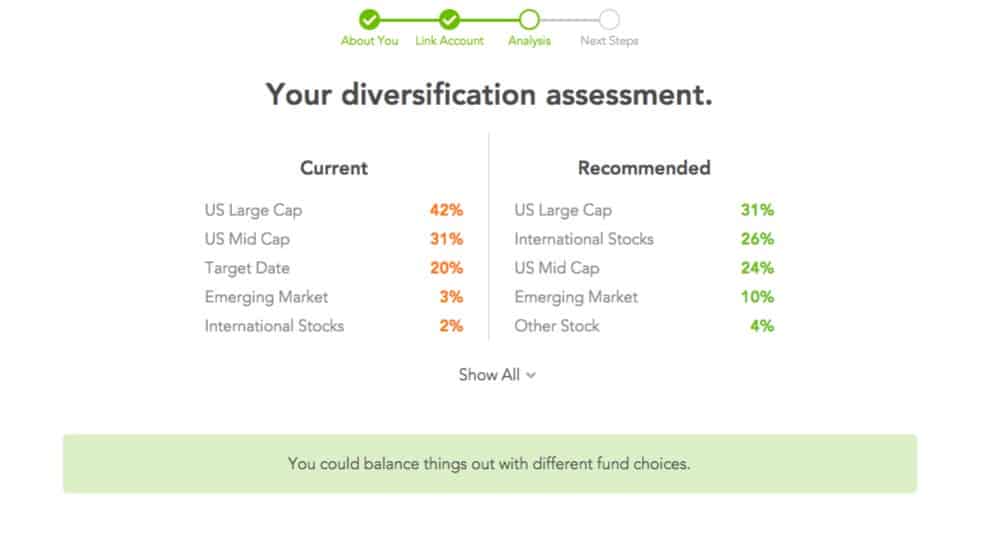 Plus, Blooom provides feedback on if you are on track for retirement. Though, keep in mind that if you have other accounts this will not tell the full picture.
Next Steps: Ongoing 401(k) Management
Last, you'll get asked to sign up for Blooom's ongoing 401(k) management, which costs either $30 a quarter ($120 total) or $108 annually.
At this point, it's totally up to you if you want to take action and make changes from the free analysis yourself, or if you'd like Blooom to take the reigns.
Blooom Review: Final Thoughts
Ready to give Blooom a shot after reading our review? You can do so below.
---
Check in on Your Retirement Plan with Blooom:

---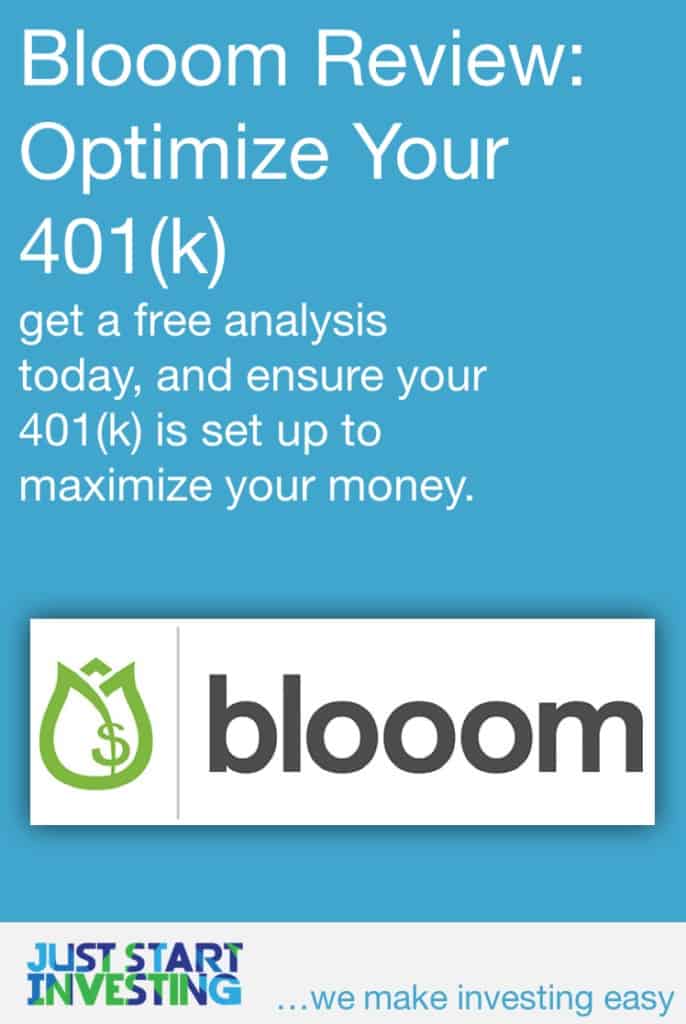 Overall, the Blooom free analysis is a great first step for someone looking to optimize their 401(k). Or for anyone who has not looked at their 401(k) since day 1 of their job!
Just Start Investing is a personal finance website that makes investing easy. Learn the simple strategies to start investing today, as well as ways to optimize your credit cards, banking, and budget. Just Start Investing has been featured on Business Insider, Forbes, and US News & World Report, among other major publications for its easy-to-follow writing.