Figure Loans is an online lending service designed for borrowers with good credit scores. The Fintech company uses the FICO scoring system, meaning they accept borrowers with a FICO credit score of 680 or better. Figure offers several services to borrowers. One of their most popular services is the home equity line of credit. With this service, homeowners can take out a fast loan on their mortgage – usually within minutes. The borrowers will have the funds available in their bank account in a few days.
In this Figure loans review, we will look over the company's key features, the drawbacks, and the types of mortgage loans they offer.
Figure Loans Company Overview
The North-Carolina based Fintech company was founded in 2018. Their standout service is the home equity line of credit. With a home equity loan, borrowers can use the money for home improvements and renovations, debt consolidation, and financing major purchases.
Figure Loans offers its services across 41 states. The service is revolutionary because it uses blockchain technology to speed up the application and funding process. Figure Loans has become an American leader in the home equity lines of credit. Here is what you need to know about the company's key features and drawbacks.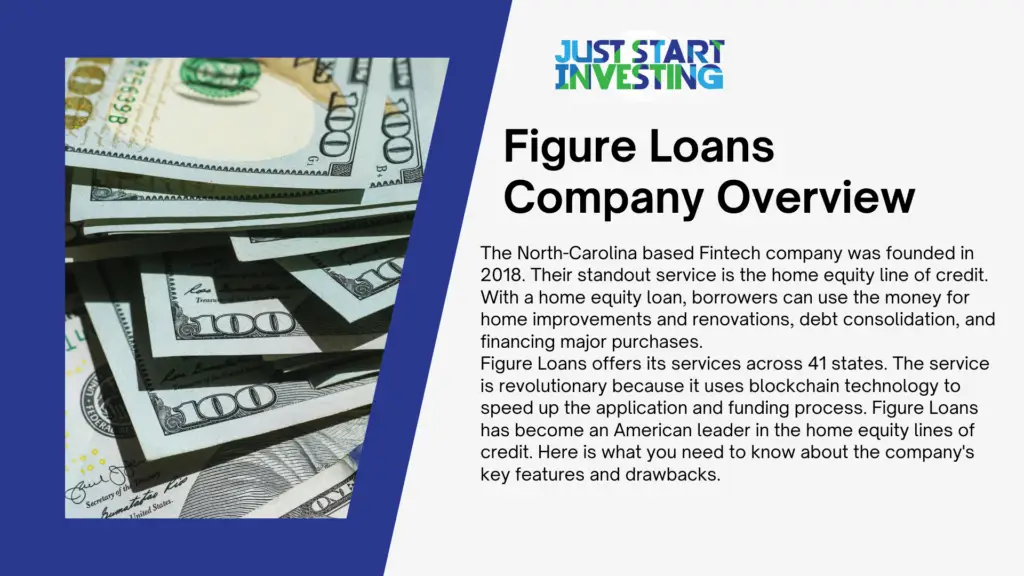 Figure Loans Features and Drawbacks
Below is a table that lays out the key features and drawbacks of Figure Loans.
| | |
| --- | --- |
| Features | Drawbacks |
| Loan limits between $15,000 and $250,000  | The loan requires a minimum FICO credit score of 620 – 680 are deemed the most desirable |
| No prepayment fees or appraisals | Origination fee between 0% to 4.99% |
| Fast approval and funding – up to 5 days | $300 subordination fee |
| Ideal for borrowers with a good FICO credit score | Requires property insurance |
| Loan term of 5, 10, 15, or 30 years | Varying interest rates – base interest rate starts at 2.88% |
| Loan refinancing terms of 15 or 30 years | Only available in 41 states |
What Types Of Morgage Loans Does Figure Loans Offer?
Figure Loans offer two types of mortgage loans. Those are the home equity loan and the mortgage refinancing loan. The home equity loan comes with a fixed rate, but the rate can change depending on several factors such as credit score change, occupancy status, and the loan-to-value ratio.
Figure home loans allow customers to take out a minimum home equity line credit amount of $15,000. In Alaska and Wisconsin, the minimum is $25,000. The maximum loan amount is $250,000. The home equity loan comes with varying terms. Borrowers can take up a loan and repay it in 5, 10, 15, or 30 years.
Figure lending also offers refinancing services. There are three refinancing plans, the standard home refinancing term, jumbo, and cash-out mortgage refinancing plan.
In the table below, borrowers can see what each refinancing plan offers.
| | | |
| --- | --- | --- |
| Standard Refinancing Option  | Jumbo Refinancing Option | Cash-Out Refinancing Option |
| 15 or 30-year refinancing term | 15 or 30-year refinancing term | 15 or 30-year refinancing term |
| Up to $250,000 limit | Up to $2 million limit or 80% of your home's value | Up to $500,000 limit |
| Fixed-rate | Fixed-rate | Fixed-rate |
How To Qualify For A Loan With Figure Loans?
To qualify for a loan with Figure Loans, borrowers need to fulfill a series of requirements. Below is the list of requirements.
Minimum FICO credit score of 680. Figure loans might make an exception to borrowers no less than 620 FICO credit score.
Maximum debt-to-income ratio of no more than 60%. Figure Loans says that the average ratio with their borrowers is 39%.
Must be a U.S. citizen or a foreign citizen with permanent residency and over 18.
Must be employed and show proof of minimum monthly cash flow of $1,000. This number excludes income and expenses.
Steps To Take When Applying For A Home Equity Line With Figure Loans
To apply for a home equity line with Figure loans, you need to go over a couple of steps. All steps can be done online – hence why Figure Loans holds a reputation for fast loan approval. Here are the steps you need to take.
Add your FICO credit score and credit history
Add the value of your property
Specify the condition of your property
Specify your income
Add other income assets such as investments
These steps will determine if you are eligible for a loan. If approved, borrowers need to go through another series of steps to finish the loan applications. Those are:
Your legal name, date of birth, email address
Property address and property type
Your annual gross income, your partner's annual gross income, or any other property co-owner
Total income from investments, rentals, or similar income sources
It's important to mention that applicants will receive an answer in no less than five minutes from the moment they sent the application. Through Figure Loan's fast and reliable system, you will be given the rates and terms of the loan. If you are eligible for a loan, there is one final step to take. This step includes the following:
Identify confirmation
Connecting financial accounts to verify incomes from salary and other investments.
Figure personal loans perform these actions automatically. You don't need to go to the bank and you can close the loan online. After that, borrowers will receive the money in the next five days.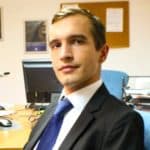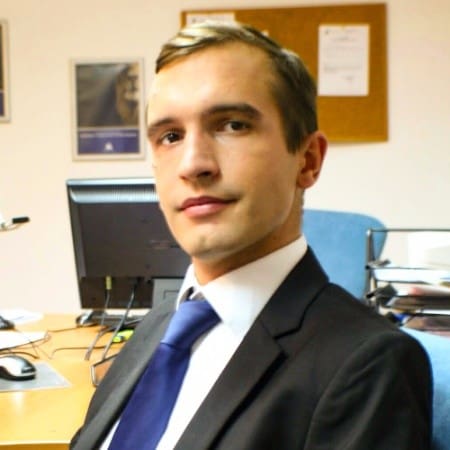 Partner at Vega Capital Management - a private funds management company.
An experienced portfolio manager with 10+ years of proven and reputable track record in investment management and financial analysis. Currently, a partner at one of the fastest-growing private fund management companies in southeast Europe, Kiril has been tending to a loyal international base of client-investors and partners. When he is not crunching numbers and increasing his client's wealth, he reminisces about his Michelin-star restaurant cheffing years and fondness of the culinary arts.