Flexport is dedicated to being at the forefront of a more globalized and interconnected future. They believe that China's opening up to the West will be their primary source of income. In a world where supply chains are more connected and intricate, Flexport allows clients to cut through the clutter. As a result, customers may focus on the signal rather than the noise by ignoring it.
Flexport's goal is to revolutionize and repair the freight forwarding business. Consider the firm a global trade operating system. In 2013, the firm was born as a solution to an issue. In 2013, Founder Ryan Peterson recognized the potential to revolutionize freight forwarding after seeing how inefficient, international delivery was.
The freight logistics and transportation sector are worth more than a 1 trillion dollar industry. Furthermore, it encompasses a wide range of international trade issues. For example, the coordination of shipping, packaging, loading, and hand-offs is part of freight forwarding. As a result, products can go through several stages before reaching the customer or being sold.
Flexport at a Glance
Ryan Petersen and Susanne Schöneberg founded Flexport. Petersen, currently the company's CEO, was formerly the founder and leader of Flexport.org, now known as Flexport's impact arm.
Flexport.org is a social and environmental initiative that works with NGOs delivering items to areas of need, corporations with excess products to donate, and businesses searching for new ways to reduce carbon emissions.
Peter Petersen has a bachelor's degree in economics from the University of California, Berkeley, and an MBA from Columbia University. Schöneberg holds a bachelor's degree in economics from the Humboldt University of Berlin and an MBA from the University of California, Berkeley.
Before launching Flexport, Petersen worked as the CEO of ImportGenius.com, a company that provided data-as-a-service to shippers worldwide. Schöneberg's background is entrepreneurial; his mother was a biochemist, and his father was a computer programmer, and they ran a food safety firm together. Before starting Flexport, Schöneberg had Transportation and Logistics expertise as the Founder and Leader of the Next Generation Think Tank.
The main objective of Flexport was to improve the user experience in international trade. Initialized Capital provided them with an undisclosed amount of investment in a seed round. When the firm was founded in 2013, the freight sector primarily relied on paper and faxes. Flexport sought to modernize and simplify the process by making it more convenient, straightforward forward and error-free for businesses trying to include freight forwarding costs into their budget. By 2018, Flexport had over 700 clients in 64 countries, and three years later, the firm already boasted nearly 1,000 partners. By adding freight financing, chartering its planes, and running its warehouses, Flexport has extended vertical partnerships by two more. According to the WTO, freight financing is used by over 80% of global supply chains, which was an essential addition for the firm. They currently serve 10,000 customers in 200 countries.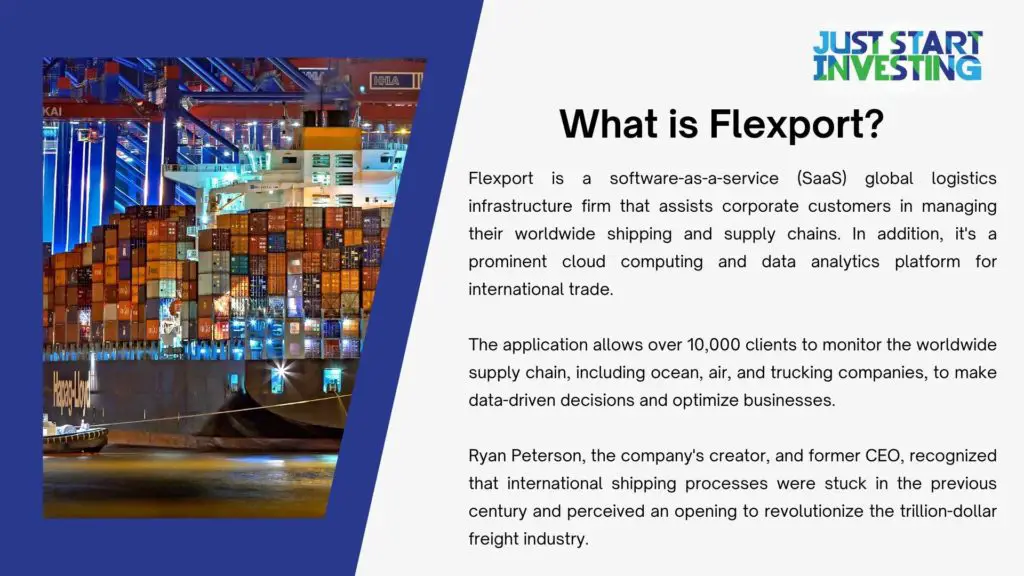 What is Flexport?
Flexport is a software-as-a-service (SaaS) global logistics infrastructure firm that assists corporate customers in managing their worldwide shipping and supply chains. In addition, it's a prominent cloud computing and data analytics platform for international trade.
The application allows over 10,000 clients to monitor the worldwide supply chain, including ocean, air, and trucking companies, to make data-driven decisions and optimize businesses.
Ryan Peterson, the company's creator, and former CEO, recognized that international shipping processes were stuck in the previous century and perceived an opening to revolutionize the trillion-dollar freight industry.
What is Flexport Stock?
Flexport is a digital customs brokerage account and freight forwarder that bills itself as the "operating system for global trade." Flexport's platform links all players in a transaction, including importers, exporters, truckers, ocean carriers, airlines, and customs authorities.
Customers can use the service to track their cargo in real-time, create alerts, obtain quotations, and get inventory visibility, according to the firm. In addition, through its Freight Forwarders, the firm offers client service to assist customers in navigating shipping and ensuring that goods arrive on time.
What is the Flexport Stock Symbol? Flexport Ticker?
Because this firm is still private, Flexport does not yet have a traditional ticker symbol. 
Flexport IPO: The Latest Updates on Flexport Stock
The Flexport IPO is generating a lot of interest among Flexport investors. The firm's automation and cutting-edge modern logistics platform technology are essential to the freight forwarding industry.
Flexport IPO Filing Details
There have been no public statements or plans from the firm regarding its planned IPO. The company has not yet filed an initial registration statement with the Securities and Exchange Commission (SEC) to begin the IPO process. On the other hand, some investors anticipate a possible public debut in the near future.
According to the recent Flexport serves CNBC story, the firm isn't planning to make a public debut soon. However, Petersen said he received internal pressure during this year's market volatility and price increases.
What is the Flexport Stock Price?
Flexport has benefited from several funding round, and CrunchFunded has kept track of them. This can help you forecast the stock's price.
A $3 billion Series D was raised by Flexport a year ago, putting the firm's valuation at $1.3 billion. "Because it uses cutting-edge digital technologies rather than old-fashioned methods, the firm can transfer shipping containers full of goods between manufacturers and customers, unlike its rivals."
In the past, Softbank has been accused of overvaluing firms; WeWork is the most well-known example. Nevertheless, they have made several suitable investments that have produced returns approaching 10x.
Path to the Flexport IPO
With a $3.2 billion valuation, Flexport became a unicorn in 2019. Flexport did not appear to be preparing for an IPO as recently as 2020. 'I'm just having fun,' CEO Petersen said in a TechCrunch article published in April 2020, adding that he was unsure if the company would go public or stay private. One of the advantages of an IPO is a large influx of cash that may be used to expand services, infrastructure, or both. The analysts are divided about whether Flexport's only option for continuing its successful development would be an IPO.
When is Flexport's IPO date?
Flexport hasn't yet filed for an IPO. They haven't made any publicly traded statements regarding the possibility of one. Founders Fund of San Francisco, CA; Softbank Vision Fund of London, England; DST Global of Hong Kong Island, Hong Kong; and SF Express of Jilin, China are some firms that have invested in Flexport.
What should investors know about the Flexport IPO?
Investors need to know that all ventures have risks if they decide to go public shortly. So let's look at some potential difficulties investors may face if a Flexport IPO date occurs. Regulators and vendors are two big ones. Flexport must deal with more than 43 separate trade regulations in the United States alone. In addition, it has connections with at least 20 other businesses worldwide. As it travels through all of these different regulatory agencies, there's a chance they'll have difficulties keeping up with the complexity of their operations.
Another problem is that Flexport uses other firms' transportation methods, such as planes, trucks, and ships. Flexport's ability to keep its clients happy will be jeopardized if a supplier has a poor track record or an issue. This occurred when they had a four-year contract with Western Global Airlines beset by numerous mechanical issues and repair delays. In the end, Flexport sued WGA and terminated the agreement.
Final Thoughts
Flexport has successfully navigated the global pandemic and is well-positioned to benefit from present demands for freight forwarding and future predicted trends toward greater efficiency. Of course, Flexport faces the same risks as all businesses, but if it continues to create an operating system that helps its clients solve every freight forwarding issue, there is a chance for profit.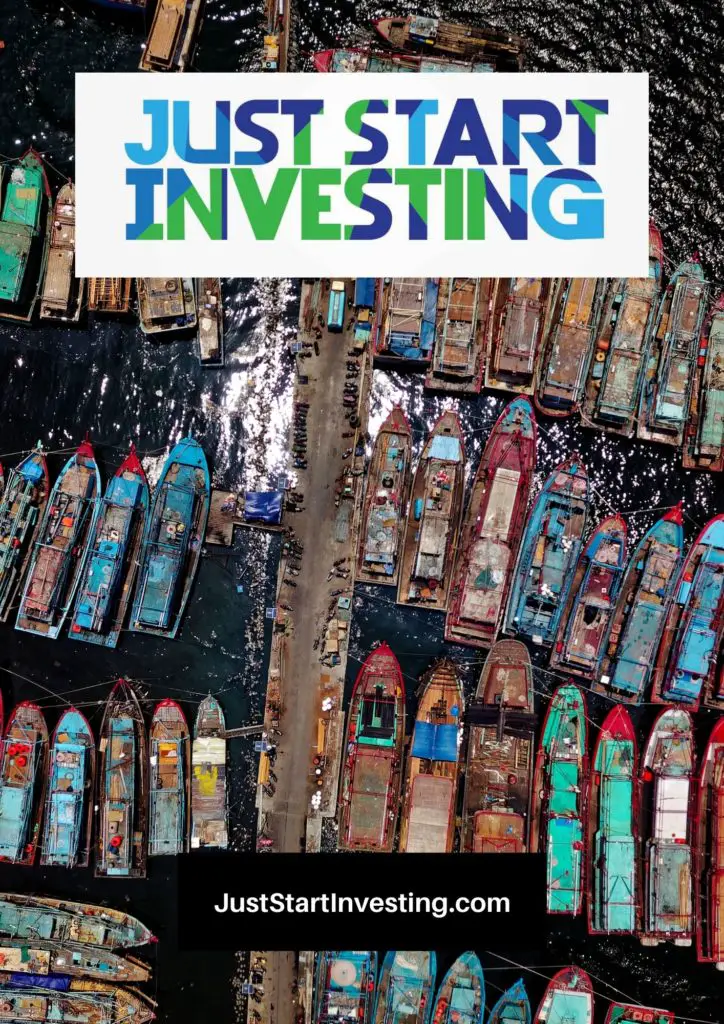 Just Start Investing is a personal finance website that makes investing easy. Learn the simple strategies to start investing today, as well as ways to optimize your credit cards, banking, and budget. Just Start Investing has been featured on Business Insider, Forbes, and US News & World Report, among other major publications for its easy-to-follow writing.