To become successful in any field of work, you must develop skills that pave the way for a six-figure salary. Ultimately, developing high income skills is a necessity in this day and age. Whether you're looking at a career change or focusing on personal development, certain high income skills will help you achieve that.
With the help of our guide, you'll be able to earn a much bigger salary than what you're currently making. If your goal is to bank a bigger paycheck, here is how to develop high income skills. As a side note, we'll also dive a bit deeper into the most in-demand high income skills on the marketplace.
So with all that out of the way, let's start.
What Are High Income Skills?
A guide would be pointless if it doesn't answer the main question. In our case, what exactly are high income skills? Is it a combination of soft and hard skills, or is it something else entirely? While you'll find all kinds of explanations on the World Wide Web, high income skills are essentially a set of skills that help you land a much better paying job.
With the rise of remote work, we can develop certain high income skills without degree. Some skills are more in demand, while others are;t as much. But that doesn't change the fact that high income skills help you land a six-figure salary. We should also mention that you can learn most of the skills on this list online. So how exactly do you develop them? Now that you know what high income skills mean, let's look at how to become a master.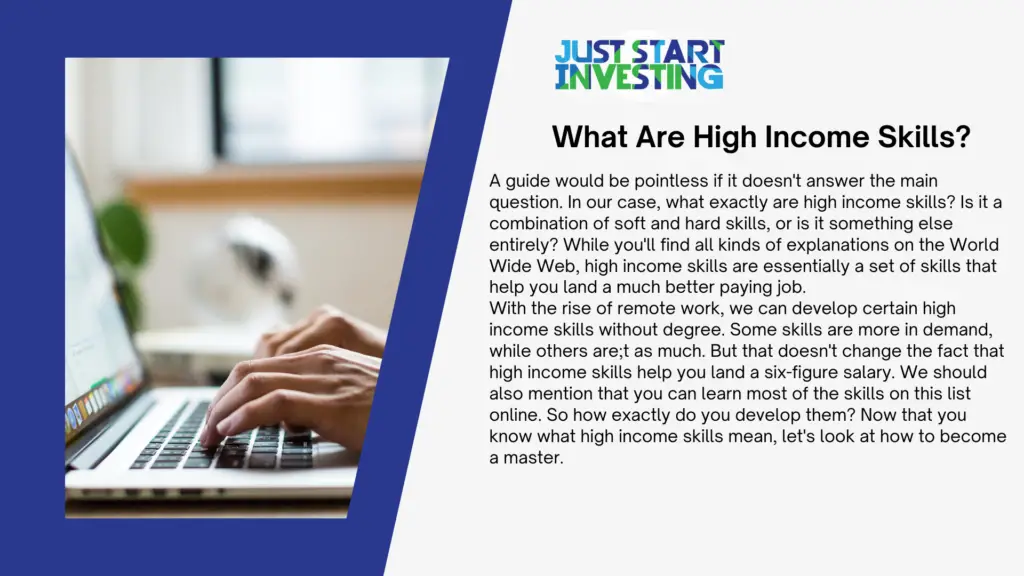 How To Develop High Income Skills
Work On A Particular Skill
The World Wide Web is vast and full of all kinds of information that you can get for free. When you're thinking of a career change, the motivation is money. Despite what many believe, we cannot survive without money. This is why you need to develop yourself to land a better-paying job. But what's the right way to develop yourself?
There are two ways to approach this dilemma. You can focus on one particular skill or become a jack of all trades. You might think developing multiple skills at the same time is more beneficial, but don't forget the old saying – A jack of all trades is ultimately a master of none. In a highly competitive marketplace, it sounds better to be good at multiple things. But that doesn't change the fact that there will be people better at a single skill than you.
So what we recommend is you work on a single skill. This skill needs to be something you're good at, passionate about, and even have a love for. That will help you easily develop it as it will be more interesting to learn it.
Look To Solve A Problem
The reason why in demand skills exist is that they solve problems. These problems are big and real enough that people make tons of money from them. So naturally, a solution that brings an employer lots of money will naturally cost more.
Let's look at a very popular and highly in demand skill as an example;  Search Engine Optimization. SEO is an art. You're reading this article because there is a very talented SEO expert that does research and gathers data to formulate a strategy that brings a website lots of organic traffic. SEO is one of the most lucrative skills to develop in 2021. Not only that, SEO will probably appear on most high income skills 2022 lists. When you do your research on potential high income skills to develop for the future, we have no doubt that SEO will be right up there.
The demand for SEO specialists is huge. Hence why the job pays so well. While we will talk a bit more about SEO and other high income skills, later on, you need to remember that SEO solves a very real problem in today's age of free information.
Attend Seminars, Conferences, and Trade Shows
It doesn't matter if you want to kickstart a freelance career or look for full-time employment; one of the best ways to develop high income skills in 2022 is to attend seminars, conferences, and trade shows. Make no mistake about it; not every seminar, conference, or trade show is worth your time. You'd be surprised to find out just how much scamming goes around these events.
You might be putting your last dollar into buying a ticket for an online seminar about affiliate marketing. But what you're forgetting is that you're the one who's being sold a product. Avoid seminars, conferences, and trade shows that promise a six-figure salary; they don't exist. So with all that said, isn't this something you should be actively avoiding?
Not necessarily. You need to find events with real value. These events will not promise you a treasure trove of knowledge. Instead, they will focus on a very specific topic and have a panel of successful speakers. The whole point of these events is to be a mode of learning. They give you ideas on how to develop yourself, allow guests to ask questions, and they're the best way to network.
Never Stop Learning
Times have already changed. Desk jobs are becoming more and more worthless. One of the biggest reasons why people change careers is that they're looking for more income opportunities. As a matter of fact, a person will change up to 12 jobs during their life, and nearly 1/3 of Americans aren't even working what they've studied for in college.
So a career change is normal. You might study to be a mechanic, but end up working in IT. It's natural because we as humans are meant to evolve. Considering that certain jobs are becoming obsolete as time goes by, you need to change with the times. So another way to develop high income skills is to never stop learning. This is especially important when developing high income skills without a degree.
These fields are constantly changing. Web design twenty years ago looks nothing like web design today. A marketing specialist uses different tools today than ten years ago. All that time, you need to learn how to move with the times. Otherwise, you'll end up stuck in a middle ground that is very difficult to get out of. So before you work on developing high income skills without a degree, do know that you're never meant to stop learning new things.
Use the Internet
We've alluded to the fact that the World Wide Web gives you access to all kinds of free information. Digital literacy is a skill that won't necessarily land you a six-figure salary, but it is essential for developing these high income skills. Digital literacy is even more important when developing high income skills in 2022.
But how is digital literacy defined? Digital literacy means knowing how to communicate information through digital means. This information can mean anything from text, images, audio, and any other information by using technology. Even warehouse workers need to have some degree of digital literacy. The more you're digitally literate, the easier it is to develop high income skills.
But what's the correlation between digital literacy and high income skills? If you look at what the most popular and in demand skills are, you'll likely come to the conclusion that these skills require you to use a computer. Whether it's software engineering, digital marketing, sales, SEO, or even project management, part of the job is to use a computer.
If we exclude trade jobs such as a plumber, electrician, mechanic, home inspector, etc., most of the skills do require some degree of digital literacy. Nearly 1 in 3 US workers lack digital skills to work from home due to the pandemic. This means that 1 in 3 workers is at risk of being laid off because they can't perform their jobs from home.
If you know how to use a computer, you'll have a much easier time developing high income skills. From watching YouTube tutorials to reading online books, the internet can give you all the means to develop these skills from home.
High Income Skills To Develop in 2022
Now that we've laid out how to develop high income skills, let's look at some of the best ones to help you reach a six-figure salary.
Search Engine Optimization
Everything you do on Google, every search result you get back after typing something, all has to do with Search Engine Optimization. SEO has become highly in demand, for reasons we discussed earlier. The reason why we've added SEO as the very first high income skill is that it pays very well. What's even more interesting is that SEO is one of those high income skills without a degree. You don't need any prior knowledge to learn SEO. What you need to do is constantly learning new things.
SEO changes all the time. What worked a few years and even months isn't viable now. This can be problematic in some cases, but fear not; not every SEO specialist knows what Google will do next. The goal of every SEO expert is to bring in organic traffic to websites. What this means is that people will be actively searching for the answers you have.
As an SEO expert, you can start by freelancing on freelance platforms such as Fiver, Upwork, and many others. If we look at ZipRecruiter's statistics on the salary SEO expert makes, it can go from as low as $22,500 to $154,500 annually. The national average an SEO consultant makes in the United States is $69,499 annually.
Software Development / Website Development
Coding skills are some of the most in demand skills out there. Everyone with a website, a product, or a company requires the services of software developers and website developers. While there is a huge difference between developing software and websites, the use of code is what makes them so similar.
We won't get into too much detail about what software developers and website developers do, what we will say is that both are high income skills. Software development pays better, with the median salary being $109,000 in the US. It can be as low as $74,000 and high as $160,000.
Website development, on the other hand, pays on average a salary of $89,700 a year. The maximum salary as a website developer is $131,000, while the lowest is $61,000. But don't let these numbers full you. Website development is still a high income skill that can transform your life.
Video Editing
In an increasingly digital age, video editors are more and more in demand. Video editing is a high income online skill that anyone can master. The name of this skill outlines what the job is. As a video editor, your job will be to piece together videos to create a comprehensive story. Depending on the industry you'll be working in, your job will vary a lot. Video editors that work on movie sets perform a different role than video editors that work for a real estate agent.
Anyone from YouTubers to companies requires the services of video editors. While you'll most likely freelance at the beginning, that will not stop you from making anywhere between $40 and $150 an hour! While it's difficult to achieve a $ 150-hour rate as a beginner, you'll up your prices as you become more skilled. According to Glassdoor, video editors make an average of $55,140 a year. If you manage to be the very best in the industry, you can make as much as $95,000 a year.
Real Estate Agent
A real estate agent is a job, not a skill. But much like every skill on this list, you can develop into a brilliant real estate agent without a degree. With that said, becoming a real estate agent requires you to be proficient in communication, social skills, teaching skills, negotiations skills, and more. The role of a real estate agent in our society is an important one. Real estate agents are tasked with helping people buy and sell properties.
As such, real estate agent makes their money through commissions. According to RedFin, real estate commissions are between 5% -6% of the total value of the property. Selling a $300,000 house will land you $15,000. The very best real estate agents are millionaires. As such, we can't really put a salary on it if you're working solo. But employed agents make $67,000 a year on average excluding commissions.
Trade Skills
Trade skills are necessary for society to function. Imagine if there were no plumbers, handymen, electricians, construction workers, etc. Without tradespeople, we wouldn't be able to solve our housing problems. As such, trade skills are some of the most in demand skills on the market.
Where trade skills differ from all the other skills on this list is that you can't develop them online. You need to develop these skills on the field and probably work as an apprentice at first. But be good at it and you can very easily set up your own business. As such, developing trade skills requires a different approach from many other digital skills. Also, you will most likely have to get certified in the field you specialize in.
You might find it difficult to compare the salary of a plumber with the salary of a software developer, but tradespeople who work for themselves can easily make six figures a year.
Finishing Thoughts
There are many ways to develop high income skills in 2022. You can do it online and you can attend conferences, trade shows, and seminars. But regardless of what high income skill you go for, remember to work and become a master at it. With plenty of free resources to get you started, our list of the five income skills will hopefully guarantee a bigger paycheck.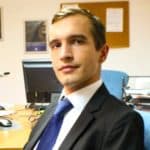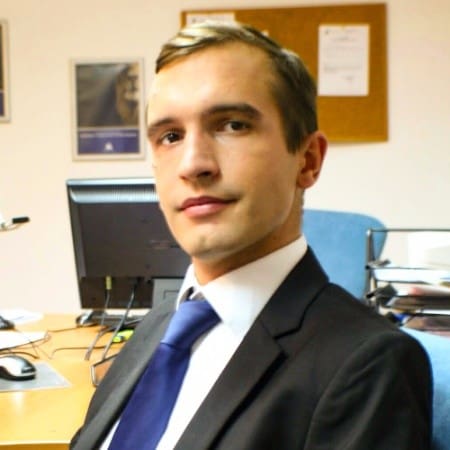 Partner at Vega Capital Management - a private funds management company.
An experienced portfolio manager with 10+ years of proven and reputable track record in investment management and financial analysis. Currently, a partner at one of the fastest-growing private fund management companies in southeast Europe, Kiril has been tending to a loyal international base of client-investors and partners. When he is not crunching numbers and increasing his client's wealth, he reminisces about his Michelin-star restaurant cheffing years and fondness of the culinary arts.