When deciding if you should rent or buy a house, many people don't consider the hidden costs of home ownership. Yes, there are closing costs and home insurance to think about, but also smaller expenses that can add up fast.
A dead fridge here, a burst pipe there – it isn't usually just one specific thing, either. You know the saying – when it rains, it pours.
What happens if you're not prepared for the downpour? What if your furnace and washing machine stop working too?
Is there anyway to prepare?
Well, there a few ways.
You could build up an emergency fund, budget money each month for these expenses, or turn to a home warranty. Below, we'll dive into what a home warranty is and when one could be worth it for you.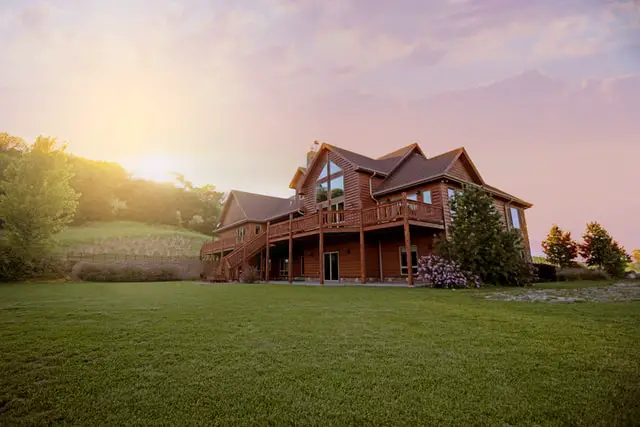 What is a Home Warranty?
In general, a home warranty protects assets within your home that aren't typically covered by typical home insurance. This includes things like:
Kitchen Appliances
Washers/Dryers
Electrical Systems
Etc.
The way a home warranty typically works is:
You pay an annual fee, somewhere between $200-$1,000 on average, for coverage
If anything goes wrong during the year, you call your home warranty company and they will send out someone to repair or replace whatever is not working
You pay a small service fee whenever someone comes out to fix or replace whatever is broken (around $100, but varies)
The home warranty company covers the rest of the cost
There is a lot of fine print when it comes to home warranty companies, which we'll get into later. The biggest downfall is if you pay the annual fee, something breaks, and then you find out it's not covered under your plan. That's why it's important to know your coverage in detail, so you can avoid situations like that one.
Also, note that each home warranty can be slightly different in home it operates. The above just gives a general sense of what one might offer.
Watch Out for Home Warranty Scams
I won't sugarcoat it – some home warranty firms are downright crooked. Choice Home Warranty is one prominent example (according to homewarrantyreviews.com). Over the past decade, this New Jersey-based company has proved they are not reliable.
Most recently, Arizona's attorney-general has sued Choice Home Warranty for intentionally misleading customers. The basis of the suit: Arizona is alleging claims made in Choice Home Warranty advertisements mask the reality of their contracts.
Arizona isn't alone, either.
In 2015, the state of New Jersey took Choice to court and won a settlement of $780,000. In that case, the charges were more serious. According to court briefings, they made requests of applicants that made it impossible for most to get claims approved (for example, asking for years of maintenance records).
However, they aren't the only ones who have been abusing the trust of customers. Firms like Secure Home Warranty (who went out of business in 2017) have also engaged in bad faith tactics, among others.
All of this is to say, thanks to their actions, the entire industry has a black eye!
Sadly, this means that legitimate businesses draw unfair criticism. It's always important to do your research and due diligence as a consumer, but you also can't let a few bad actors skew your entire perception on an industry or service.
Why Honest Companies Can Get a Bad Reputation
Look at the reviews for any home warranty firm, and you'll find rants from upset customers. It's inevitable in any product or service market these days, and as established in the last section, some complaints are well-founded.

However, not all home warranty firms are pure evil.
In fact, some are even helping people right now. Every day they approve thousands of claims that save people time and money.

Here's the distinction many people often miss – having a home warranty does not absolve you from performing preventative maintenance. It doesn't entitle you to mistreat your appliances (for example, routinely overloading your dishwasher).
Most importantly, having a home warranty doesn't mean you can get free repairs for an already damaged appliance/system.

It's super important to read the fine print of a home warranty contract. Businesses need to make money, which is why they build exclusions and coverage caps into contracts. So as a consumer, it's your job to make sure the contract makes sense for you too.
Sure, if a homey warranty firm refuses to cover something they're contractually obligated to fix, you have a case to get mad and fight back.

But, if you're mad your home warranty firm won't cover something because you ignored the fine print, then that's on your as the consumer.
When Home Warranties Can Be Worth It
As mentioned, homeowners have claims approved by their home warranty firms every day. In some cases, they can end up spending less overall.
So, how can someone make sure a home warranty is worth it?

Here's a quick example comparing "average Americans" who don't have a home warranty vs those who do:
No Home Warranty: According to stats clearinghouse Statista, Americans spend an average of $168/month on home maintenance and repairs. Over one year, that amounts to $2,016.

With Home Warranty: Per Homeadvisor, premiums on a home warranty amount to about $886/year. Assuming three service calls per year, at about $100 each, brings that total to just under $1,200.
Using the averages above, it appears a home warranty would be worth it. Though, not every American is average, and their are other things that need to be taken into account.

For one, coverage caps mean you'll potentially have to pick up part of the repair bill that the home warranty company typically covers.
Second, back to the fine print, if you get caught with a repair that is not covered by your warranty you could take a huge hit.

In general, reviewhomewarranties.com believes that if you're in a pre-owned home more than 20 years old, you'll likely save money with a home warranty.
Even if you break even, home warranties still add value by making repairs and replacement costs a predictable expense. In addition, you don't have to take the time to find someone to repair it, as the home warranty company usually handles that for you too.
How to Choose a Home Warranty that is Worth It
Recent controversy doesn't change the fact that home warranties can be a valuable product. However, like any other sector of the economy, there are dishonest operators.
There are good mechanics and bad mechanics.
There are good car dealerships and bad car dealerships.

And, of course, there are good home warranty firms and bad home warranty firms.

So, the next question is: How do I find a good home warranty provider that makes it worth it for me?
Start with review sites like ReviewHomeWarranties.com.
Review Home Warranties did all the research for you and offers an easy way to compare and contrast home warranty firms. By checking their reviews, you'll see the good and the bad on dozens of companies, including "Amazon home warranty"!
From fine print to consumer feedback, it's all there on their site.
Then, perform your own due diligence.
Prepare a shortlist of companies you like, and ask each for a quote. Check out their contracts, and comb through their terms & conditions line by line.
Most importantly, note their cancellation terms. If they make it exceedingly expensive or difficult to part ways, that's a usually red flag.
In Summary: Protecting Your Biggest Asset
You likely already have homeowner's insurance. In the eyes of your mortgage broker, having this policy is a must so that you can cover large expenses.

So, why do we think it's okay to go through life unprotected on the small things? Whether through an emergency fund, budgeting strategy, or home warranty contract, make sure you've got a plan for when things go wrong!

By doing your homework, it is possible to find a reputable home warranty company that is worth it.
Just Start Investing is a personal finance website that makes investing easy. Learn the simple strategies to start investing today, as well as ways to optimize your credit cards, banking, and budget. Just Start Investing has been featured on Business Insider, Forbes, and US News & World Report, among other major publications for its easy-to-follow writing.