Jennifer Garner Net Worth 2021: $80 million.
Jennifer Garner is best known for being a successful actress, but many people don't know that Jennifer Garner is also an accomplished film producer, entrepreneur, and spokesperson. Looking at her track record, it's no surprise that Garner has made a considerable fortune from her business ventures and acting career!
---
| Net Worth: | $80 Million |
| --- | --- |
| Born: | April 17, 1972 |
| Source of Wealth: | Actress, Producer, Entrepreneur |
| Nationality: | United States of America |
| Last Updated: | 2021 |
---
Garner leveraged her early success in TV to land multiple leading movie roles, from which she would make tens of millions of dollars, while also using her influence to succeed as an influencer, activist, entrepreneur, and spokesperson.
As of 2021, Jennifer Garner's reported net worth is $80 million. Below is a summary of how she built her wealth, as well as some things we can learn from her success.
Measure Your Net Worth:
You can create your own financial plan for free in just 5 minutes with
Savology
and start tracking your net worth.
Early Life and Personal Life
Jennifer Anne Garner was born on April 17, 1972, in Houston, Texas. When she was 3, Garner and her family moved to Charleston, West Virginia. Jennifer's mother was a stay at home mom who eventually took up teaching while her father was a chemical engineer.
After graduating from George Washington High School in 1990, Garner would enroll in Denison University, a college in Granville, Ohio. It was here that Garner would study chemistry for three years before eventually changing her major to theatre and participating in theatre productions while in college.
Jennifer moved to New York City to pursue acting after graduating from college with a Bachelor's degree in Fine Arts.
Jennifer Garner has been married twice. First to Scott Foley, and second, to Ben Affleck, with whom Garner has three children together. However, Garner and Affleck have been divorced since 2018.
Jennifer Garner Career and Journey to Wealth
Starting Out
Garner began acting as a college student. Like most actors and actresses, Garner's career wouldn't begin to gain traction until she moved to Los Angeles.
That happened in 1997 when Garner snagged some decent roles in minor movies and TV shows.
Acting Career
Garner's career reached its first major breakthrough when she was cast in a supporting role in Pearl Harbor and later as Sydney Bristow in J.J Abram's ABC show Alias in 2001.
While working on Alias, Garner's pay would eventually grow to a reported $150,000 per episode, but that was towards the end of the series. Garner would also go on to win a Golden Globe award in 2002 for her performance as Sydney Bristow, as well as a Screen Actors Guild Award.
Building off of her TV success, Garner was able to transition to major Hollywood films relatively seamlessly. Steven Spielberg cast Garner for Catch Me if You Can in 2002, and this was another major turning point for her.
Shortly after starring in Catch Me if You Can, Garner would go on to star in Daredevil in 2003 and then land her first lead role in 2004 with the movie 13 Going on 30. The latter would go on to gross $96 million in the box office worldwide.
Garner continued acting in television series and movies, eventually working with Matthew McConaughey in Dallas Buyers Club in 2013, for which she earned considerable critical acclaim.
Jennifer Garner earned a star on the Hollywood Walk of Fame in 2018 and continues her acting career to this day.
Spokesperson
In 2007, shortly after the show Alias came to an end after five seasons, Garner began diving into another line of work as a spokesperson.
First, she became a spokeswoman for the skincare brand Neutrogena. Later on, in 2013, Garner would become a spokesperson for the fashion brand Max Mara.
And one year after that, in 2014, she would sign on to be a spokesperson for the Capital One Venture Air Miles credit card. Not a bad rewards credit card, if you ask me.
Entrepreneur
And if all of the above wasn't enough, in 2018, Jennifer Garner founded the company Once Upon a Farm with business partner John Foraker.
Garner is the chief brand officer of the organic baby food company.
Jennifer Garner Net Worth of $80 Million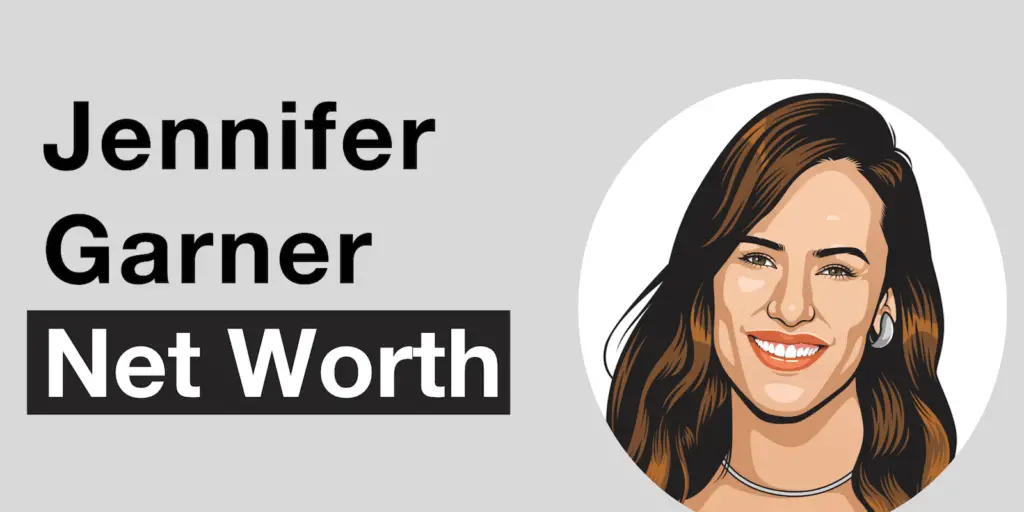 Jennifer Garner's net worth of $80 million compounded mostly thanks to her acting career. Though, she certainly has multiple streams of income contributing to that wealth.
Garner has intelligently leveraged her fame and success to maximize her earnings, giving her a sizable net worth of $80 million. What's unique about Garner's net worth is that while the majority of her income is from film and TV acting, all of her money doesn't come from one place. She was able to diversify in multiple areas of business.
There is a lack of data available regarding the exact numbers for Jennifer Garner's earnings except for her salary while working on Alias. We know that this was about $40,000 per episode to start, and towards the end of the show, about $150,000 per episode.
The show ran for 105 episodes, and assuming an average salary of $100,000, we can reasonably assume Garner made $10 million from the show alone.
Is $80 Million a Good Estimated Net Worth?
Without knowing the exact details of Garner's movie salaries, it's hard to estimate if $80 million is a good figure or not.
However, given Garner's big roles as an American actress and movie star, her multiple brand partnerships, and business, I'd assume that $80 million is on the low end of her potential net worth.
3 Lessons from Jennifer Garners's Path to Wealth
Likely, none of us will amass the massive net worth that Jennifer Garner has been able to, but we can still learn important lessons from her financial journey.
1. Leverage Your Strengths
Jennifer Garner is an accomplished actress, but she didn't just act in films and TV shows and call it a day. Garner took advantage of her situation by utilizing her popularity to extend her talents into different areas of business like entrepreneurship, being a spokesperson, and more.
It's essential to be able to recognize when you're in a good position, but even more important to be able to realize how to get to an even better position from there.
2. Follow Your Passion
Lesson #2 may sound cheesy or a bit like a no-brainer, but there's not much better advice out there. Garner was originally majoring in chemistry while she was in college, but she switched to theatre during her last year and pursued a career in acting, never looking back to her days as a chemistry student.
Doing something that you're passionate about allows you to dedicate your time and efforts to something you genuinely believe in, and you're far more likely to succeed when following your passion.
Does this mean we should all quit our day jobs and move to Hollywood?
No, probably not. But it doesn't hurt to try to find an occupation that you enjoy.
3. Trust the Process
Just like the Philadelphia 76ers, Jennifer Garner has taught us to trust the process.
When she first began acting, Jennifer Garner made just $150 a week as an understudy for a small production. However, slowly and over time, her efforts and dedication to her craft began to pay off. She started earning more and more money for her roles and began to see a lot more success and recognition for her performances.
Garner is an excellent example of why it's vital to have faith in the path that you're on. Even if you know you've set yourself down a suitable pathway, such as improving your career or investing, it can be hard not to give up when you don't see immediate results.
It's crucial to remember that your hard work will pay off over time with patience and dedication.
Favorite Jennifer Garner Quotes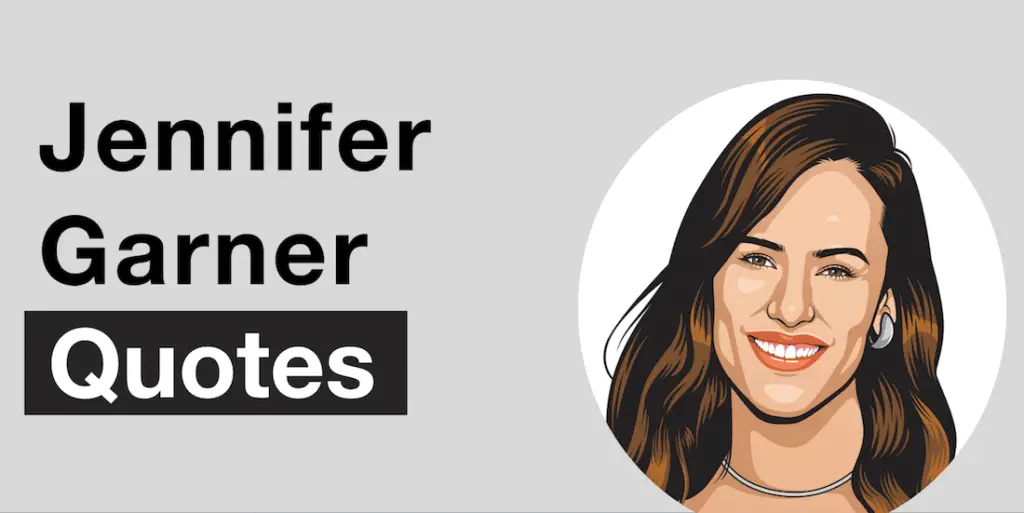 As someone who has been in the acting industry for almost 30 years now, Jennifer Garner has many interesting things to say about her career and her success, here are some of my favorite quotes from her.
---
"I've often said to J.J. Abrams, the creator [of Alias], "I don"t know why you cast me in this role. I don't know why you thought I could do it. I know I was good in Dude, Where's My Car?, but seriously…I can't thank you enough!" – Jennifer Garner
"Well, you can't be trying to achieve success of any kind in this business without accepting that there's going to be a flip side to it." – Jennifer Garner
"I'm still really close with everyone at home and their parents – and their brothers and sisters. I was so, so, so lucky to grow up as part of a community and I don't take that for granted. I try very hard to stay part of it." – Jennifer Garner
---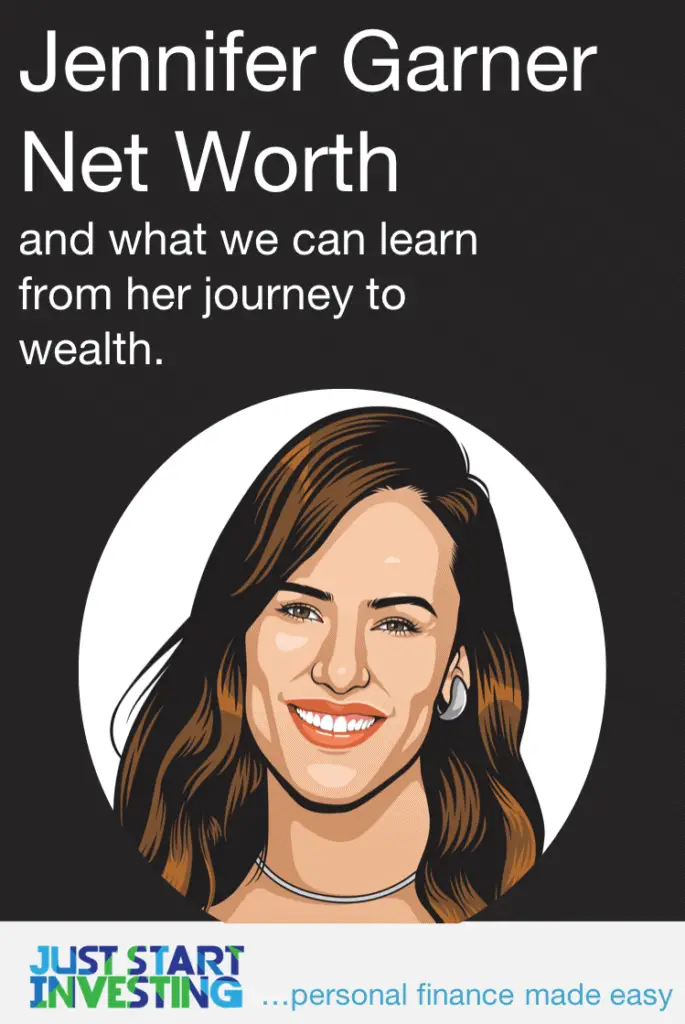 Summary: Jennifer Garner Net Worth and What We Can Learn
Jennifer Garner Net Worth: $80 Million
I hope you've enjoyed learning about Jennifer Garner's financial success and how she was able to get to the position that she's in today.
Measure Your Net Worth:
You can create your own financial plan for free in just 5 minutes with
Savology
and start tracking your net worth.
Jennifer Garner started at square one and was able to build a successful life for herself.
Looking back on her path to wealth, we can see what helped her get to where she is, and we can become a little more successful ourselves by applying this knowledge to our personal finances, careers, and life. So, remember:
Take advantage of your situation
Follow your passion
Trust the process
These are lessons that we can all use to accomplish our own goals and create financial success.
Just Start Investing is a personal finance website that makes investing easy. Learn the simple strategies to start investing today, as well as ways to optimize your credit cards, banking, and budget. Just Start Investing has been featured on Business Insider, Forbes, and US News & World Report, among other major publications for its easy-to-follow writing.