Kanye West Net Worth 2021: $1.6 Billion
There are people who know how to make money in their own industry. And then, there's Kanye West, who gains hefty profits even outside of the industry he originated from. It's no wonder the hip-hop artist turned clothing and footwear tycoon now reached billionaire status. 
What is Kanye West's net worth?
| | |
| --- | --- |
| Net worth: | $1.6 Billion |
| Born: | June 8, 1977 |
| Source of Wealth: | Record producer, Rapper, Singer, Songwriter, Businessman, Fashion designer, Endorsement deals |
| Nationality: | United States of America |
| Last Updated: | 2021 |
When Kanye West gained recognition as a music producer in his early career, he was determined not to stop there. Eventually, he pursued his true aspiration — to be a rapper. From there, he worked his way up to be a fashion designer and a businessman. 
As of 2021, the Grammy Award-winning musician and entrepreneur is now reportedly worth $1.6 billion. Read on to learn more about Kanye West and how he turned his early struggles into financial success. 
Measure Your Net Worth:
You can create your own financial plan for free in just 5 minutes with
Savology
and start tracking your net worth.
Early Life and Personal Life
Kanye Omari West was born in Atlanta, Georgia, in 1977. His father, Ray West, was active in the Black Panther Party (BPP), a political organization that demanded equal rights for black people. After that, he became a photojournalist for the Atlanta Journal newspaper. 
On the other hand, West's mother, Donda West, was a professor at Chicago State University's English department. Later on, she retired to serve as Kanye's manager until her death at the age of 58. The passing of his mother would greatly affect Kanye West musically. 
Kanye's parents got divorced when he was just 3 years old. After that, he moved to Chicago with his mother but spent summers with his dad. At the age of 10, West moved temporarily with Donda to China, where she served as a teacher as part of a foreign exchange program. 
Kanye was the only foreigner in his class, but he had no problems settling in. After his return to Chicago, West befriended producer/DJ No I.D., who eventually became his mentor. 
Kanye eventually dropped out of college at 20 to pursue music. 
At first, his mother wasn't pleased by this act. Little did they know, this event would later heavily influence the musician's first solo album, which earned him early commercial and critical success. 
Kanye West Career and Path to Wealth
Early Production Career
In 2000, West began serving as a producer for artists on Roc-A-Fella Records. A year later, he got his big break when he received early acclaim for his production work on rap mogul Jay-Z's album, The Blueprint. 
Needless to say, this feat quickly cemented his reputation as a producer. West would go on to produce records for other exceptional artists, including Beyonce, Alicia Keys, Janet Jackson, and Ludacris, among many others. 
Despite the success he achieved in his production works, however, Kanye was not content in being just behind the scenes. Instead, he wanted to be the main act. And being the main act, he achieved — although it wasn't easy at first. 
In fact, West initially found it hard to be taken seriously as a rapper. He would plead with several record companies to sign him, only to be ignored after. In 2002, he was eventually signed by then-label head Damon Dash, but mainly out of fear of Kanye transferring to another label.
That same year, Kanye got his first fuel of inspiration from an unfortunate event. While driving home after working late, he got involved in a serious car crash. The accident left him with a shattered jaw.
But he didn't let the crash stop his creative juices from flowing. Instead, he wrote a song about the experience entitled, "Through the Wire." He even recorded the song with his jaw still wired shut following surgery. The song ultimately fueled him to write the remainder of his debut album while he was recovering. 
Studio Albums
Kanye West's debut album, The College Dropout, was leaked online before its supposed release date. But the rapper used the opportunity to revise, rewrite, and remaster the songs, causing its release to be delayed at least three times. 
Finally, The College Dropout was released in 2004, and it quickly became  a huge success. The debut album managed to earn him:
Critical acclaim from music critics
10 Grammy nominations
Best Rap Album award
Best Rap Song for "Jesus Walks"
Triple Platinum certification
From there, Kanye never stopped working his way up. His succeeding studio albums include:
Graduation (2007)
808s & Heartbreak (2008)
My Beautiful Dark Twisted Fantasy (2010)
Yeezus (2013)
The Life of Pablo (2016)
Ye (2018)
Jesus is King (2019)
Donda (2021)
Kanye West Net Worth of $1.6 Billion
Kanye West's net worth of $1.6 billion was accumulated from a combination of his music catalog, sales from his footwear and apparel brand, Yeezy, and other investments. 
Music Catalog
So far in his career, Grammy-award winning rapper and record producer Kanye West has released the following:
Studio albums: 10
Live albums: 2
Collaborative studio albums: 3
Compilation albums: 3
Live albums: 1
Video albums: 1
Mixtapes: 4
Overall, West has sold 21 million albums and 100 million digital downloads around the world. Bloomberg estimates that his music catalog is worth almost $110 million. 
Yeezy
West makes the majority of his money from his streetwear brand, Yeezy. The brand's partnership with Adidas began in 2013, which has since then raked in millions of revenue for the hip-hop superstar. 
Thanks to the consecutive successes of his sneaker releases, in 2016, Adidas announced a long-term partnership with West on a deal that gives the rapper more creative control over the products.
In 2020 alone, Yeezy sales reached $1.7 billion. This has earned West an estimated $191 million in royalties. It is also important to note that Kanye West is the sole owner of Yeezy.  
Skims
Skims is Kim Kardashian West's shapewear company. And although things have been rough lately for the couple, Kanye still owns a significant share of Skims. Forbes estimates that the rapper makes around $64 million from these shares. 
Real Estate
Thanks to the millions he made from Yeezy and his albums, West has now spent millions on properties across the United States. According to public records, he owns more than $100 million worth of real estate. Some of these luxurious properties include:
A mansion in Hidden Hills, California – $20 million
Monster Lake Ranch in Wyoming – $14 million
Bighorn Mountain Ranch in Wyoming – $14.495 million
A 320-acre parcel of land in Calabasas – $16 million
Lessons from Kanye West's Path to Wealth
Have the Courage to Pursue Your Dreams 
Even when he wasn't initially accepted as a rapper, Kanye West didn't give up on his dream. He saw his success in music production as a stepping stone to achieve his ultimate goal. 
And even though no one expected him to make his mark, he silenced his skeptics by courageously taking the first step.
Become a Jack of All Trades
Being a jack of all trades means being adaptable enough to engage in a variety of different skills. As someone who is largely interested in fashion, Kanye didn't stop at producing or rapping. 
And through this interest, Yeezy was born — and to this day continuously earns him the majority of his wealth. 
Favorite Kanye West Quotes
Kanye West's life is practically an open book. With that said, aside from his controversial tweets, it's also impossible to miss some of his inspirational words. 
"I was never really good at anything except for the ability to learn." – Kanye West
"I refuse to accept other people's ideas of happiness for me. As if there's a 'one size fits all' standard for happiness." – Kanye West
Summary: Kanye West and What We Can Learn
How much is Kanye West's net worth? – $1.6 Billion

Through his natural gifts in music and his deep interest in fashion, Kanye West was able to build his fortune. I hope you have enjoyed reading about the rap and fashion mogul's story, which came with the following lessons:
Have the courage to pursue your dreams.
Become a jack of all trades.
Now, you are left with two options: use these learnings on getting your financial life together — or even better — apply them in your life as a whole.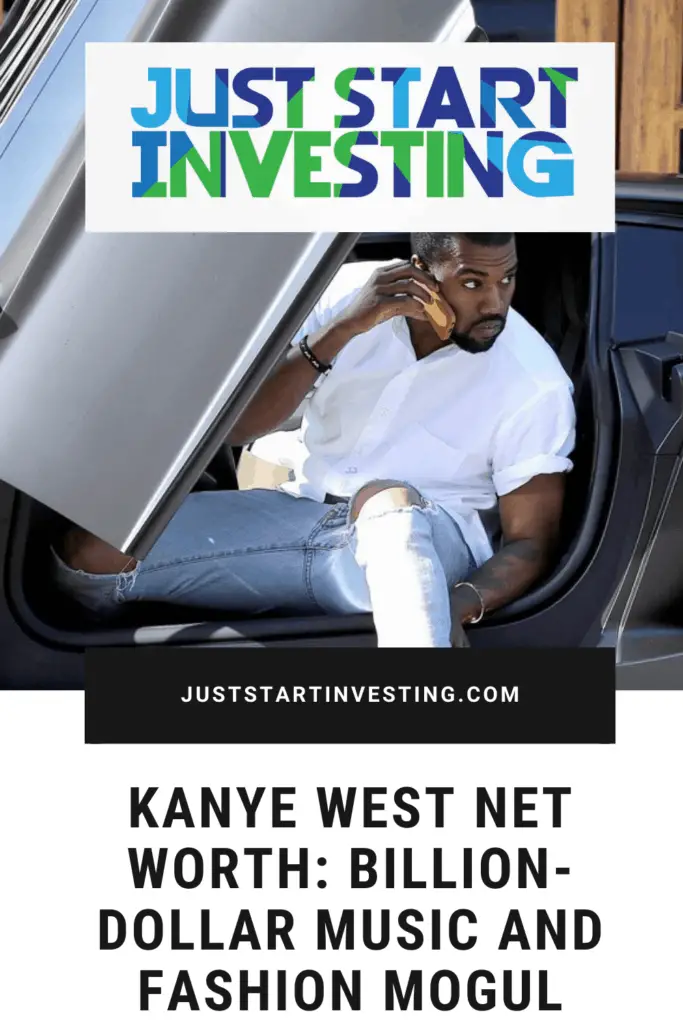 Just Start Investing is a personal finance website that makes investing easy. Learn the simple strategies to start investing today, as well as ways to optimize your credit cards, banking, and budget. Just Start Investing has been featured on Business Insider, Forbes, and US News & World Report, among other major publications for its easy-to-follow writing.