Investors eagerly anticipate the Lacework IPO. The cybersecurity firm has stated that it is looking at several options for a public offering.
About Lacework Stock
The Lacework Cloud Security Platform, powered by Polygraph, is a data-driven security platform for the cloud. Our clients can innovate quickly and safely thanks to the Lacework Cloud Security Platform, powered by Polygraph, which automates cloud security at scale. Lacework can collect, examine, and accurately link data across an organization's AWS, Azure, GCP, and Kubernetes environments to prioritize significant securities incidents. Customers worldwide count on Lacework to generate revenue, develop products faster and safely, and bring point security solutions into a single platform. Lacework is a San Francisco-based company founded in 2015. It is funded by prominent investors such as Sutter Hill Ventures, Altimeter Capital, D1 Capital Partners, Tiger Global Management, Counterpoint Global (Morgan Stanley), Franklin Templeton, Durable Capital, General Catalyst, XN, and Coatue. In addition, Dragoneer investment group, Liberty Global Ventures], and Snowflake Investments.
Lacework IPO: About the Business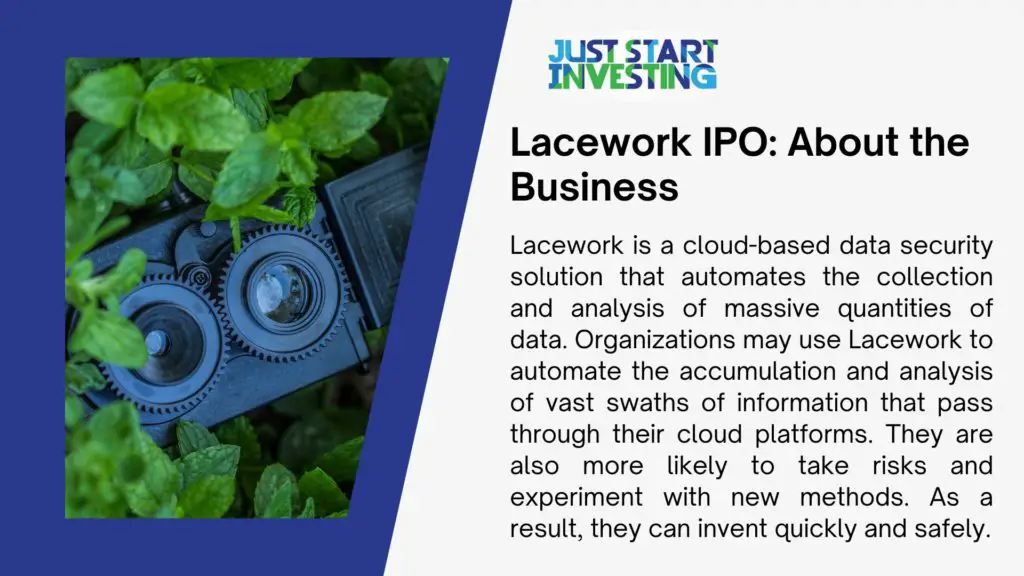 Lacework is a cloud-based data security solution that automates the collection and analysis of massive quantities of data. Organizations may use Lacework to automate the accumulation and analysis of vast swaths of information that pass through their cloud platforms. They are also more likely to take risks and experiment with new methods. As a result, they can invent quickly and safely.
The Polygraph Data Platform is a cloud-based data protection solution that covers everything from infrastructure to investigations and forensics.…
Identify all assets and locate misconfigurations in a cloud security posture and compliance. It enables the monitoring of multi-cloud environments to identify compliance breaches.
Vulnerability management – Early detection of host and container vulnerabilities, from development to runtime.
Threat assessment – Identify hostile activity while it is happening. Continually search the cloud for anomalies in user and entity of malicious behavior.
Since its inception in 2015, Lacework has expanded considerably. It's the only firm to provide automated anomaly threat detection across Amazon Web Services, Google Cloud, and Microsoft Azure. This is a once-in-a-lifetime opportunity for investors.
Furthermore, several major companies rely on its security tools. In addition, the firm is catching the attention of major investors as sales climb year over year.
Lacework IPO Filing Details
Lacework is looking at various ways to go publicly traded. The company's co-CEO David Hatfield informed Reuters that it is considering a conventional IPO or a direct offering. However, the firm has yet to settle on a date for its public debut.
There has been no official news of the Lacework IPO. Cybersecurity unicorn, on the other hand, is one of the most anticipated IPOs in 2022. So, investors should get prepared to buy the stock. You may learn more about going public in this step-by-step tutorial. Make sure you do your homework before investing. IPOs can be dramatic for the first few months, and share prices constantly fluctuate.
Funding History
In the first quarter of 2021, Lacework secured $525 million in new investment. It was the largest-ever funding round in the security sector at the time. As a result, Lacework achieved a billion-dollar valuation.
The company's post-acquisition price skyrocketed, and the venture capital firm's cash vanished. After that, the business and its investors blasted past the prior round. Lacework raised $1.3 billion, one of the largest venture funding rounds in the United States in 2018. In less than a year, the unicorn's second record-breaking investment occurred in December 2017, when it raised $1.7 billion at a valuation of $8.2 billion from Google, Fidelity, and others. In addition, the firm's value grew by more than eight times to $8.3 billion due to this funding round.
This fresh funding will allow the business to expand across the world. It wants to do so by increasing product creation and making key acquisitions.
Investors Curious for Lacework IPO Amid Rapid Growth
In a September press release, Lacework announced that it had tripled revenue and expanded its client base by 5x. In the first three months of 2021, the firm has increased its headcount by almost 300% compared to last year's period. Furthermore, it continued to grow into the second quarter, when it reached ten additional countries.
Finally, the firm's funding rounds dwarf those of other businesses. For example, Lacework recently secured one of the year's most significant venture investments in the United States. And investors wonder about the company's intentions for an eventual IPO after witnessing its considered highly speculative expansion.
Why is Lacework's announcement important?
Today, Lacework, the cloud security firm, announced a worldwide expansion into Europe's EMEA region. The Lacework Polygraph is a groundbreaking approach to addressing security as a data problem that has helped make it one of the world's most innovative software companies. Its fast expansion is a testament to the company's inventive strategy of addressing data security as a data issue through the Lacework Polygraph. As a result, customers are turning to Lacework to obtain a unique perspective on all entities in a data center, including applications, users, networks, containers, and processes.
Lacework IPO on the cards?
On February 2, California-based cloud security firm Lacework revealed that it has partnered with Google Cloud to create the Lacework Polygraph® Data Platform.
It appears that investors have taken notice of this development since the cloud security firm made it.
Lacework IPO or direct listing?
As the firm has released no official statement, it's unclear whether Lacework will go through an IPO or a direct listing. However, according to multiple sources, nothing is set in stone, and anything could happen when the firm decides to go public.
A direct listing has different routes from an IPO because investment banks do not need to underwrite the offering. Private companies may issue stock on a stock exchange without calling investment banks, as with an IPO. Franklin Templeton, in addition to Counterpoint Global (Morgan Stanley), became the new investor after the previous round.
It looks like interested investors will have to wait some more time because IPOs haven't received a positive response from buyers in 2022, seeing the market's current condition.
In 2015, LACEWORK was formed as private equity and is still operating. The firm automates the analysis and collection of massive amounts of data flow via its clients' cloud platform.
Bottom line
Since its US$ 1.3 billion funding round closed last year, stock market investors have searched for Lacework's IPO plans. Lacework has established itself as a cloud computing leader, offering security solutions to several clients, including data warehouse firm Snowflake.
The firm may go from strength to strength as a 2021 Markets, and Markets forecast predicts that the cloud computing industry will flourish in the following years.
According to a recent forecast, the cloud computing industry will expand from US$ 445.3 billion in 2021 to US$ 947.3 billion by 2026.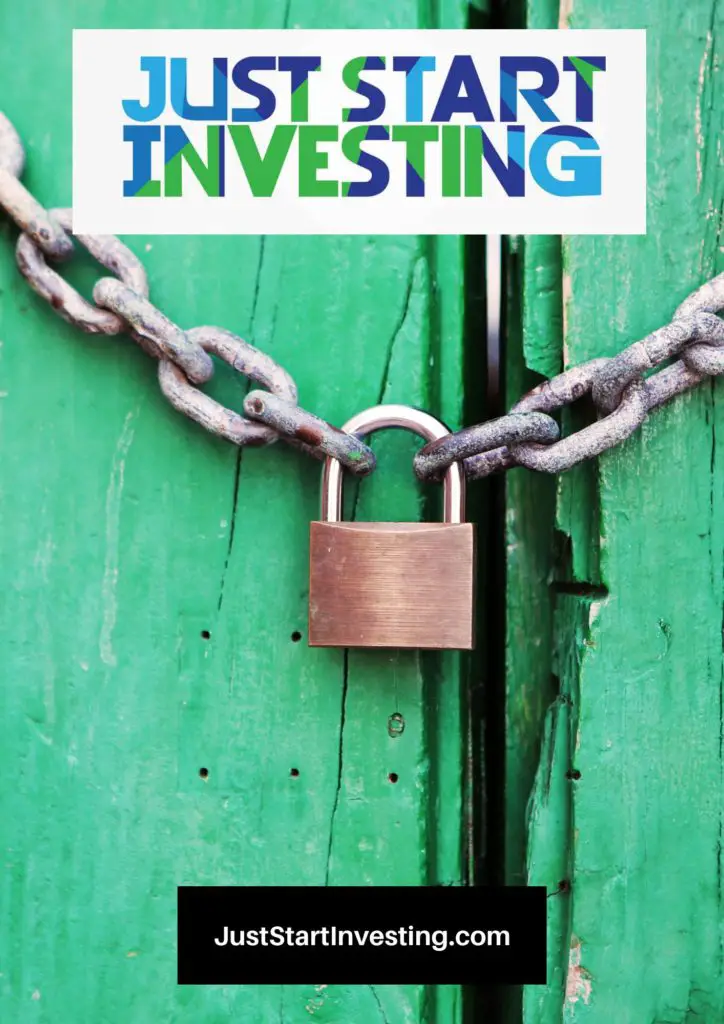 Just Start Investing is a personal finance website that makes investing easy. Learn the simple strategies to start investing today, as well as ways to optimize your credit cards, banking, and budget. Just Start Investing has been featured on Business Insider, Forbes, and US News & World Report, among other major publications for its easy-to-follow writing.