Non-Fungible Tokens (NFTs) have swept the art market, changing the way digital works of art are bought and sold forever. Using NFTs, artists can now verify and market their works as one-of-a-kind, singular digital assets, enhancing accessibility and security for art ownership more than before. 
Yet it's crucial to view NFT art critically, just as you should with any new technology. Knowing how to validate NFT photos is essential because as NFTs expand in popularity, the possibility of fraud also rises. 
In this article, we'll examine methods for examining the veracity of NFT photographs and delve into the area of NFT art authenticity. Also, we'll go through typical mistakes to avoid and offer advice on how to stay safe when purchasing and reselling NFT artwork.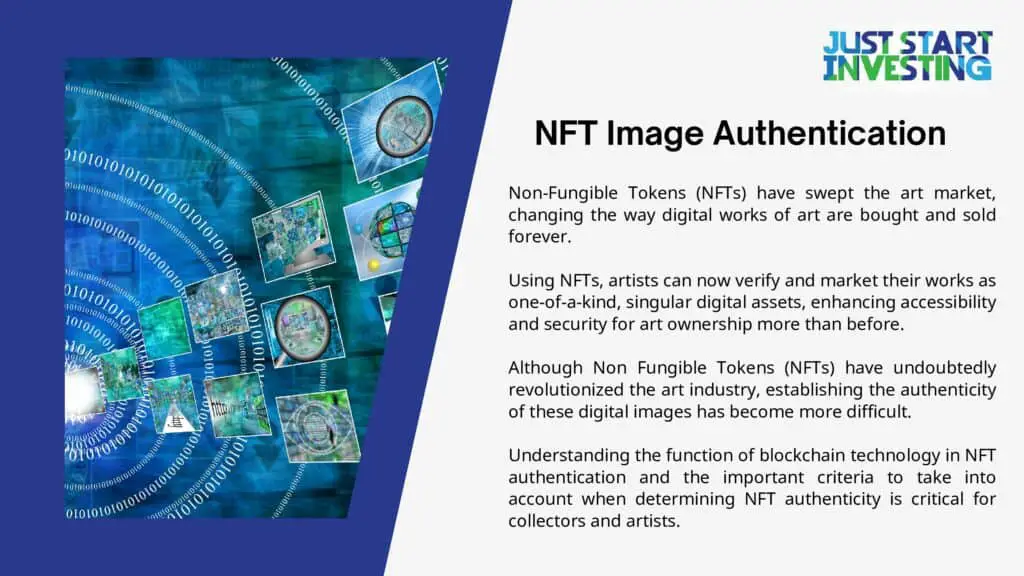 Understanding NFT Image Authentication
Although Non Fungible Tokens (NFTs) have undoubtedly revolutionized the art industry, establishing the authenticity of these digital images has become more difficult. 
Understanding the function of blockchain technology in NFT authentication and the important criteria to take into account when determining NFT authenticity is critical for collectors and artists. 
In this section, we'll examine methods and tools you may use to be sure you're purchasing or offering genuine NFT artworks. We'll also look more closely at NFT picture verification. So let's get started!
The Role of Blockchain Technology in Verifying NFT Images
NFTs' use of blockchain technology to validate the authenticity of digital photographs is one of their most novel features. According to Simplilearn, a blockchain is a decentralized, public ledger that securely and openly logs transactions. 
The foundation of the NFT market is this technology, which offers a safe and transparent way to confirm the legitimacy of a digital asset. 
An NFT is produced by an artist who issues a special token on a blockchain network like Ethereum. This token provides a record of ownership, the artwork's origin, and other pertinent information. 
A permanent and unchangeable record of the authenticity of the artwork is created thanks to the blockchain technology, which guarantees that this data is safely preserved, that it cannot be changed, and that anyone can't just fake NFT ownership. When a collector buys an NFT, they get a digital certificate of ownership with the specifics of the token. 
This certificate may be sold, purchased, or transferred, and the blockchain platform records all transactions. This makes sure that the ownership and provenance of the artwork are always transparent and traceable.
Key Factors to Consider When Evaluating NFT Authenticity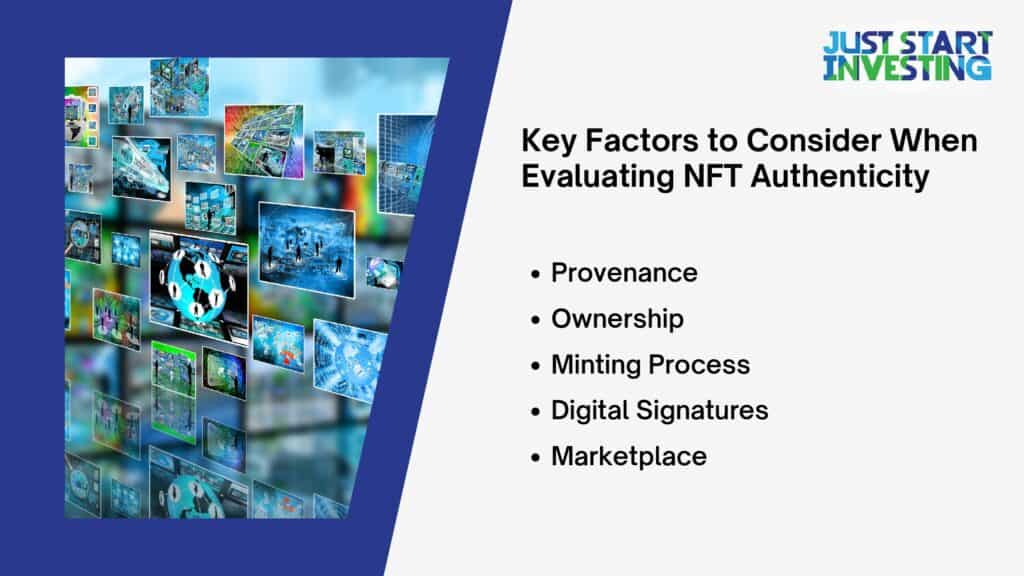 A vital step in purchasing or selling NFTs is to confirm their authenticity. The key factors to consider when evaluating NFT authenticity are listed below.
Provenance
It's crucial to take into account an NFT's provenance, or the story of who had it when it was made, while assessing it. To confirm the legitimacy of the piece, look up the artist, the past owners, and the online auction houses where it has been sold.
Ownership
NFTs are visible and verifiable, hence it's crucial to verify ownership. Verify the current owner's address on the blockchain platform to determine if it corresponds to the minting address.
Using Etherscan is an additional approach to verifying NFT ownership. Etherscan is a popular blockchain explorer for the Ethereum network. It lets users look through token transactions, addresses, and smart contracts on the Ethereum blockchain.
The ownership of each NFT is connected to the ownership of the Ethereum address associated with that token since each NFT is produced as a distinct token on the Ethereum blockchain. You may view the Ethereum address that owns the particular NFT token and any related transactions by searching for it using a blockchain explorer like Etherscan.
This is a crucial step in verifying NFT ownership since it gives buyers a chance to confirm that the vendor is the NFT's legitimate owner before parting with their money.
By entering the seller's public wallet address or transaction hash, you can search for it on Etherscan's user-friendly interface. Note that you can obtain the same information by entering someone else's wallet address.
Once you find your desired NFT, you can see its Ethereum address and many other various details, such as block confirmation, tokens transferred, gas limit, gas price, and the smart contract details. Most importantly, you can verify the seller's claim of possession by checking the Ethereum address linked with the NFT.
Minting Process
An NFT's minting procedure is a key aspect in evaluating its legitimacy. According to ARTESSERE, "minting" an NFT means publishing a unique version of your token on the blockchain in order to make it tradeable. Make sure that the artwork is authentic and that the minting process was carried out on a reliable blockchain platform.
Digital Signatures
A digital signature from the artist may be present in some NFTs, adding another level of credibility to the piece. Look for any digital signatures or other distinctive identifiers that can prove the integrity of the artwork.
Marketplace
Finally, it's crucial to think about the marketplace in which the NFT was bought and sold. Make sure the platform is reliable and has a history of offering real NFTs for sale. Look out for any warning signs, such as unapproved marketplaces or website addresses.
Techniques on How to Verify NFT Authenticity
Verifying the legitimacy of modern artworks is now more crucial than ever because of the emergence of NFTs. Fortunately, there are numerous methods and resources you may utilize to confirm the legitimacy of NFT photos. 
In this part, we'll look at some of the best ways to check NFT photos and make sure you're purchasing or selling authentic works of art. So let's get going!
Reverse Image Search Tools to Detect Potential Plagiarism or Duplication
Utilizing reverse imaging search tools to look for possible plagiarism or duplication is one method of confirming the integrity of NFTs. These resources can assist you in figuring out whether an NFT is unique or has been copied or plagiarized from another source. 
You can try pasting the URL of the image into the Google search bar, or you can upload an image of the NFT to a reverse imaging search tool like Google Images or TinEye, according to Cryptopolitan. Following that, the tool will look for duplicate or related images on the internet. 
The NFT may not be authentic or has been copied if the image appears in multiple places or is exactly like another image. 
This method is crucial because it can prevent you from buying a fake or counterfeit NFT. It's common for scammers to use images from the internet without permission or to produce NFTs that are exact replicas of other works of art. 
Researching the Artist and Their Previous Work
One method for confirming the legitimacy of NFT is to research the artist and their prior work. You can more accurately assess whether the NFT is authentic by learning about the artist's reputation and genuineness. 
To begin using this technique, look up the name of the artist and examples of their prior work. Seek out details regarding their prior NFT sales, exhibitions, or other accomplishments. You can also browse reviews, comments, and referrals from other collectors to learn more about the artist's standing in the world of digital artists. 
This method is crucial since it can assist you in determining an NFT's legitimacy and prevent you from buying a fake or counterfeit piece of art. You can find out if an artist has a reliable track record and a reputation for producing unique, high-quality artwork by investigating them and their prior works. 
Using this technique can give you insightful information about the NFT's overall quality and value as well as the artist's themes, styles, and subject matter. It can also assist you in making decisions about the NFT's future potential for growth or resale value.
Cross-Checking With the NFT Marketplace Where the Artwork Was Sold
Cross-referencing with the NFT marketplace where the artwork was purchased is a useful method to confirm the legitimacy of an NFT. You can verify an item's authenticity and be sure you're buying a genuine piece of art by looking at the sales history and the specific NFT's transaction data. 
Start by comparing the NFT's information with the marketplace where it was purchased before using this procedure. Check for specifics regarding the NFT's past, such as its creation date, the blockchain it was founded on, and the sale's transaction information. You can also check if the seller is a confirmed user on the platform. 
This procedure is essential because it can prevent you from buying a fake or counterfeit NFT. You may verify that the NFT was duly minted, transferred, and sold on the ledger by doing a cross-check with the market. The seller's ability to transfer ownership of the NFT can also be confirmed. 
Moreover, cross-checking with the marketplace can supply you with vital information about the NFT's value and potential for appreciation. By reviewing the NFT's sales history, you can determine if it has increased in value over time and how it compares to similar artworks in the market.
Navigating NFT Image Verification Challenges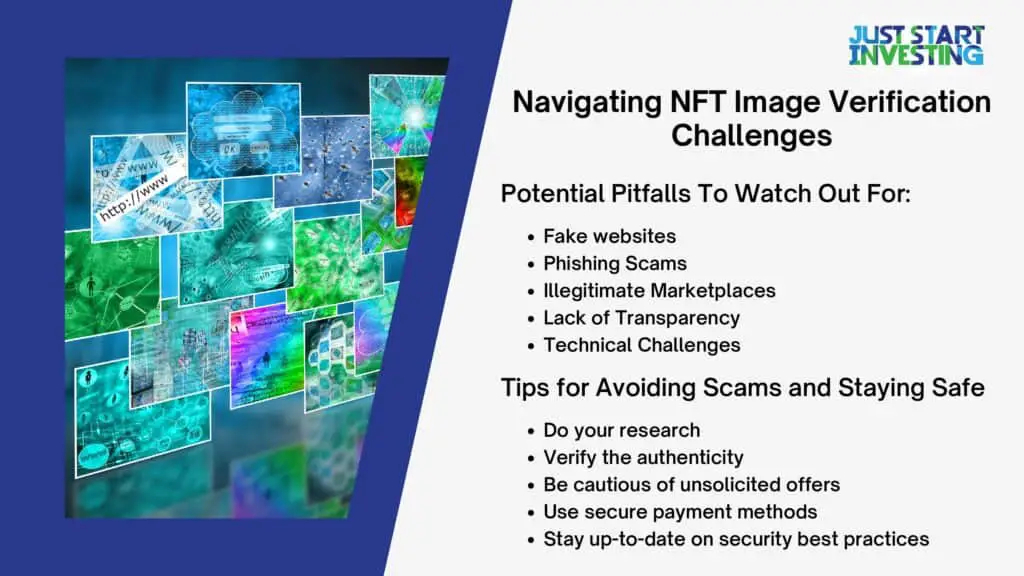 NFT image verification problems don't have to be difficult. As the market for NFTs keeps on expanding, so too does the need for effective approaches and strategies to verify their legitimacy. 
In this subsection, we'll look at some of the difficulties you can run into when checking NFT photos and we will give you some advice and ways to help you overcome them.
Potential Pitfalls To Watch Out For
Here are some things that could go wrong when checking the legitimacy of an NFT image: 
Fake Websites: Some con artists produce bogus websites that closely resemble authentic NFT marketplaces, making it challenging to distinguish between the two. These fraudulent websites could be created to offer bogus NFTs or steal user information. To avoid this trap, you should make sure the website is real before you buy something from it.
Phishing Scams: According to Imperva, phishing scams are social engineering attacks that collect user data such as usernames, passwords, and credit card numbers. To steal personal information, scammers may create phony social media or email accounts that seem to be affiliated with trustworthy NFT sites or artists. It's important to only enter personal information on safe websites and to exercise caution when opening emails or messages from unidentified senders if you want to avoid falling victim to this trap.
Illegitimate Marketplaces: It might be challenging to confirm the legitimacy of NFTs because some NFT marketplaces might be illegal or ungoverned. These marketplaces could be used to sell phony or counterfeit NFTs, or they might have shoddy security measures that put the privacy of customers at risk. To avoid this trap, it's necessary to only buy NFTs from trustworthy marketplaces that have a history of selling real and safe items.
Lack of Transparency: It's possible that certain NFT marketplaces or artists withhold information about the provenance or legitimacy of their work. This may make it challenging to confirm the legitimacy of an NFT and may result in misunderstandings or disagreements following a purchase. Only buy NFTs from sellers who can establish their artwork's provenance to avoid this common pitfall.
Technical Challenges: As was previously indicated, it can be technically difficult to confirm the legitimacy of an NFT. The fact that some NFTs may have been generated on different blockchains, for instance, can make it difficult to trace their history and verify NFT ownership. Be aware of these technological issues and seek expert advice if needed.
Tips for Avoiding Scams and Staying Safe
Here are some pointers for avoiding scams and remaining secure when purchasing and offering NFT art: 
Do your research: It's crucial to do your homework and confirm that the marketplace or platform you're utilizing is reliable and secure before purchasing or offering NFT artwork. Check that the platform has enough security measures in place to secure your personal information and your NFTs by reading reviews and comments from other users.
Verify the authenticity: It's essential that you verify the artwork's authenticity before acquiring it to make sure you aren't getting a fake or replica. Check for evidence that demonstrates the artwork's validity, such as certificates of authenticity, blockchain NFT transaction logs, and confirmation from the artist or their agents.
Be cautious of unsolicited offers: Be careful with unsolicited offers to buy or sell NFT art, as they could be scams or attempts to get your personal information. According to MUO, con artists will pretend to be well-known NFT artists and will attempt to charge people far less for fake reproductions of well-known NFT artworks. Never transmit money or any personal information without first confirming the legitimacy of the offer from the person or business offering the artwork.
Use secure payment methods: Some platforms may charge a transaction fee for escrow services or other secure payment methods. Use secure payment options that safeguard your personal information and guarantee the transaction's security while purchasing or selling NFT artwork. This will help safeguard both the buyer and the seller.
Stay up-to-date on security best practices: As the NFT market develops, new security risks and frauds could appear. Keep up with emerging security best practices and be alert to frauds and threats that may be directed at NFT merchants and buyers.
Conclusion
So there you have it – a detailed approach to determining the validity of NFT photos! Understanding the main elements to take into account while confirming the legitimacy of NFTs is essential given the continued rise in their popularity. 
You can help confirm that you're buying and selling genuine NFT artwork by using methods like reverse imaging searches, looking up the artist, and cross-checking with NFT markets. 
However, bogus websites and phishing schemes are risks that must be avoided. You can take full advantage of the fascinating world of NFTs with confidence and peace of mind by following our advice for avoiding scams and remaining secure.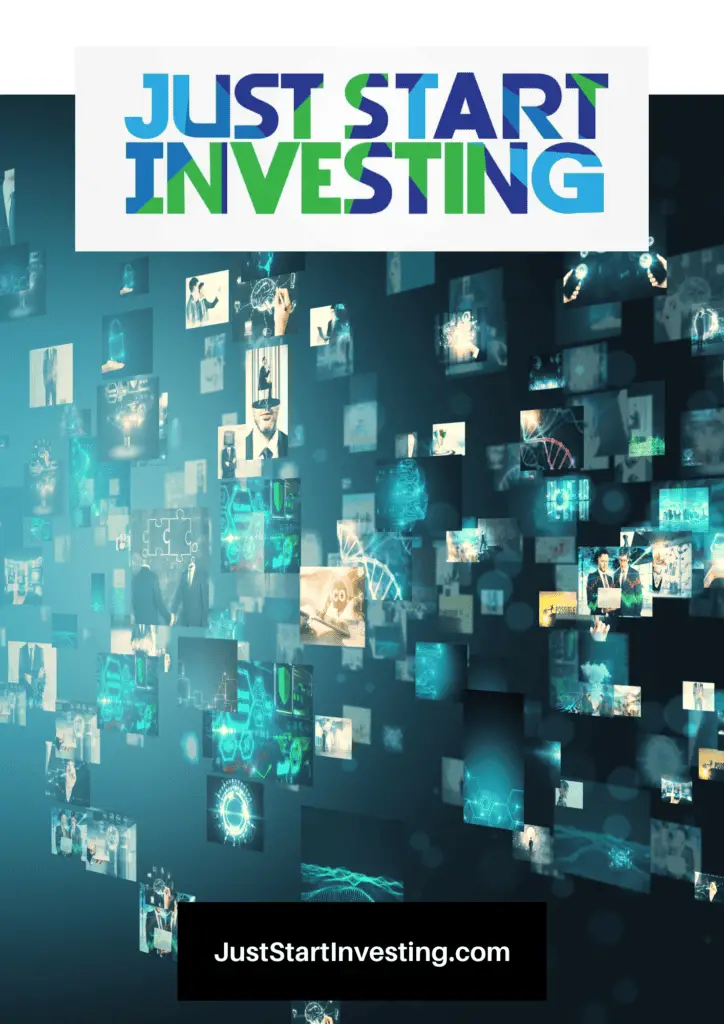 Just Start Investing is a personal finance website that makes investing easy. Learn the simple strategies to start investing today, as well as ways to optimize your credit cards, banking, and budget. Just Start Investing has been featured on Business Insider, Forbes, and US News & World Report, among other major publications for its easy-to-follow writing.