NFTs, or non-fungible tokens, have recently swept the art world by storm, giving creators, buyers, and collectors of digital art a new means of production, exchange, and ownership. 
NFTs are distinctive digital assets that have their ownership and authenticity verified by blockchain technology. In other words, they offer a means of confirming that a digital file is unique and belongs to a certain person. 
The influence of NFTs in the art world has increased along with their popularity. This article will examine the use of NFT photos in the art world as well as the benefits and issues with this new technology. We'll also address how NFTs might influence the future of art and look at case studies of successful NFT art sales. 
Prepare to learn how NFTs are revolutionizing the art world for creators, collectors, and art enthusiasts alike. This article will teach you about the interesting world of NFTs in art, whether you're a seasoned art lover or a curious newcomer.
The Advantages of NFTs in Art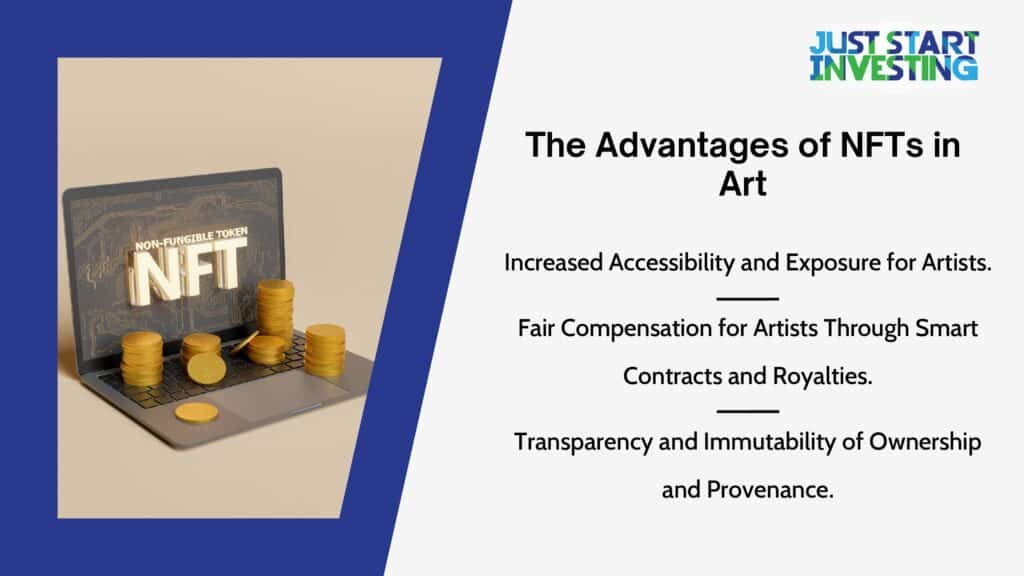 NFTs have several fascinating benefits for producing, acquiring, and selling art. Non fungible tokens offer a fresh platform for artists to distribute their works while also bringing a level of accountability, security, and payment that traditional art markets frequently lack. 
Artnet News adds that NFTs can guarantee that artists receive just pay for their work and maintain control over their creations by utilizing smart contracts and blockchain technology. Moreover, NFTs can boost artists' accessibility and exposure, enabling them to easily connect with a global audience. 
In this section, we'll examine the benefits of NFT photographs in art in more detail and consider how this cutting-edge technology is changing the landscape of the visual arts.
Increased Accessibility and Exposure for Artists
NFTs are a new way for artists to show the world their work. They  may now share their works with a global audience more easily than ever thanks to the growth of digital art. Digital artists can also increase the visibility and accessibility of their work to potential customers who might not have found them otherwise by employing NFTs. 
Emerging artists may benefit from this improved accessibility and exposure as they battle for success in the cutthroat art market. Also, because NFTs are digital, they are simple to share and exhibit on a variety of venues, such as social media, galleries, and online art markets. 
As a result, artists can reach a larger audience without the use of conventional art sales channels or actual displays. Ultimately, the greater accessibility and exposure that NFTs provide artists is a big plus because it can help gifted creators get noticed, grow their fan bases, and make money.
Fair Compensation for Artists Through Smart Contracts and Royalties
Many artists struggle to earn fair compensation for their work. But now that NFTs have taken off, artists can gain from smart contracts and royalties, which guarantee that they are fairly compensated for their creations. 
A smart contract that distributes a portion of the sale price back to the digital artist as a royalty fee automatically initiates when an NFT art is sold. This implies that even after their work has been sold, artists can still make money from it. 
NFTs also enable artists to maintain ownership of their creations and guarantee that only with their permission is it sold or replicated. In conventional art markets, where artists could lose control over their creations after they have been sold, this level of control is frequently lacking.
Transparency and Immutability of Ownership and Provenance
Other important benefits that NFT photographs provide to the art scene are transparency and immutability of ownership and provenance. Tracking the ownership and provenance of works of art in a traditional art market can be difficult, which can cause problems with authenticity and value. 
Fortunately, according to Forbes, this is now possible with blockchain, which is a technology that NFTs utilize to trace the ownership and provenance of digital artworks in a secure and open manner. A permanent and unchangeable record of ownership and the complete history of the artwork is provided through the creation of an NFT, which is then registered on the blockchain. 
As a result, prospective buyers can be certain of the authenticity of an NFT art and know they are purchasing a special and priceless work. 
NFTs also make sure that artists get credit for their work and that ownership disputes can be settled more easily because they are open and clear. Overall, NFTs' transparency and immutability are key benefits that contribute to preserving the quality and worth of digital artwork.
Criticisms of NFTs in Art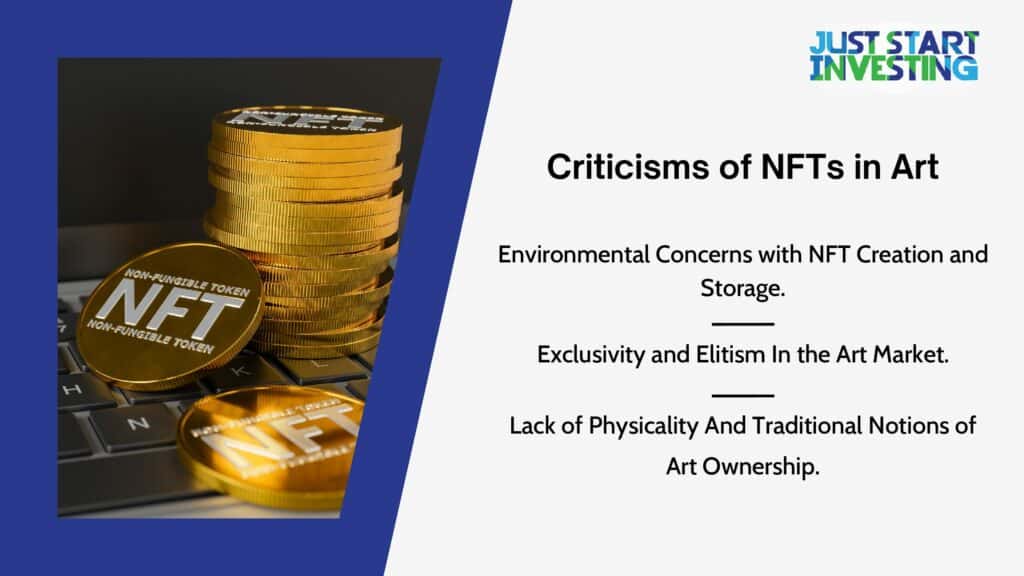 NFTs have many benefits for the art world, but this new technology is not without its detractors. The use of NFTs in art is surrounded with worries and criticisms, as with any new innovation. 
The environmental impact of NFTs, the possibility for fraud, and the exclusivity of the digital art market are all challenges that need to be addressed. Since NFTs have the potential to completely transform the scene, it's critical to consider both the positive aspects and drawbacks of this technology. 
The future of the art industry will be discussed in this part as we examine some of the criticisms of NFTs in art in further detail.
Environmental Concerns with NFT Creation and Storage
The possible environmental impact of NFTs in art is one of the most important accusations leveled against them. There are worries about NFTs' carbon footprint because producing and storing them needs a lot of energy and computing power. 
Particularly, it has been discovered that "mining" for cryptocurrencies, which are frequently used to buy NFTs, consumes enormous quantities of energy and generates enormous amounts of carbon emissions. 
In fact, minting a single NFT using a proof-of-work blockchain consumes the same amount of electricity as an ordinary American household uses in around 47 days, according to Digiconomist.
There is no doubt that NFTs have an effect on the environment, but it is important to remember that not all NFTs are the same. Several blockchain networks, like Ethereum, are attempting to use less energy by switching to a more energy-efficient consensus method.
Additionally, several artists and art platforms are using programs like tree planting and renewable energy credits to offset their carbon emissions. 
Notwithstanding these initiatives, there is still more that needs to be done to lessen NFTs' negative environmental effects. It's critical that we keep looking for ways to make NFT production and storage more sustainable as the technology develops and is deployed more widely.
Exclusivity and Elitism In the Art Market
The worry that NFTs might promote the art market's exclusivity and elitism is another critique of them in the art market. According to others, the exorbitant costs attached to NFT art may restrict access to these pieces to just the wealthiest art collectors, exacerbating already-existing disparities in the art scene. 
It's crucial to remember that NFTs have given new chances for budding artists to present their work and reach a wider audience, even though it's true that some NFT artworks have sold for significant amounts of money. 
Bypassing the conventional gatekeepers of the art world, NFT marketplaces like OpenSea and Nifty Gateway have given artists a platform to sell their digital works directly to buyers. 
Furthermore, by enabling artists to maintain ownership over their work and get just compensation for their contributions, NFTs' transparency and accessibility can contribute to the democratization of the market. 
In this approach, NFTs have the potential to upend the traditional art market and give a wider spectrum of artists more chances to flourish. Concerns about exclusivity and elitism in the NFT art market are real. 
However, it's vital to keep in mind that NFTs are still a new technology and their impact on the art world is constantly expanding. It's critical that we make efforts as technology advances to ensure that it helps both collectors and artists, fostering more access and inclusivity in the sector.
Lack of Physicality And Traditional Notions of Art Ownership
The absence of physicality and conventional ideas of art ownership associated with these digital assets is another critique leveled at the NFT art industry. Some contend that NFTs lack the cultural and aesthetic significance of conventional art items because there is no actual artwork to show, own, or trade. 
NFTs do not have the same physical presence as conventional art objects, but they do have a number of other advantages that make them significant assets in and of themselves. For instance, NFTs can make digital artworks, which are frequently generated and shared online, more accessible. 
In addition, according to NFTCulture, they provide an innovative approach for digital creators to earn money from their work. Likewise, the absence of conventional ideas of art ownership can be considered a benefit for NFTs. 
NFTs are maintained on a blockchain, allowing for easy tracking and verification of the ownership and provenance of the artwork. This lowers the possibility of fraud and boosts transparency in the art scene.
This offers a level of security and confidence that isn't necessarily available in the traditional art market, where it can be challenging to track down origins and spot frauds. 
In conclusion, it's critical to acknowledge the distinctive advantages that this cutting-edge technology has to offer, even though the lack of physicality and conventional concepts of art possession connected with NFTs are reasonable criticisms. 
NFTs give artists a new option to make money from their digital work and make the art industry more transparent. It's crucial that we look at ways to maximize the potential of technology while simultaneously addressing its limitations as it develops.
NFTs And the Future of Art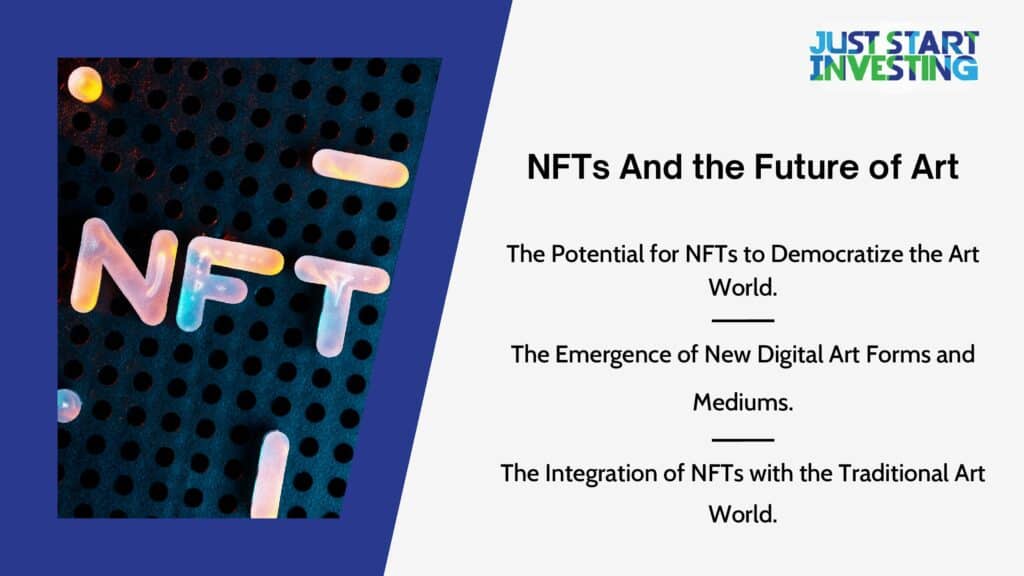 NFTs, or non fungible tokens, have completely revolutionized the art world by giving creators a new opportunity to market their digital works and attract a larger audience. Many people are curious about what the future of art will look like in the NFT era as technology advances. 
Will digital assets kept on the blockchain eventually replace physical works of art as we know them today? Or will NFTs only present a fresh means for artists to share their creations, coexisting with more conventional forms of art? 
We'll look at how NFTs might affect the art world in this part and speculate on what the future may hold for creators, collectors, and art enthusiasts.
The Potential for NFTs to Democratize the Art World
The potential of NFTs in the art world to democratize the sector and make it more open and inclusive for both artists and collectors is one of their most fascinating features. 
Emerging artists may find it difficult to acquire visibility and recognition for their work in the conventional art scene due to the high costs associated with creating and presenting tangible art. 
In a similar way, collectors may be priced out of the market because they can't afford the high prices that established artists and galleries charge.
These obstacles can be significantly minimized using NFTs. More artists are able to join the market since digital artworks are easier to develop and distribute than conventional physical art. 
The option to sell fractional ownership of NFTs also makes valuable works of art more accessible to a wider spectrum of collectors by allowing them to purchase a share in them without having to pay the whole price up front. 
Collectors can also get a stake in a rare artwork without paying the entire price by buying fractional ownership of NFTs. 
NFTs have the ability to democratize the business and establish a level playing field for both artists and collectors by dismantling some of the old power structures that have historically ruled the arts. 
Ultimately, NFTs could contribute to the development of a more dynamic, inclusive, and diverse art sector in the years to come by lowering entry barriers, raising transparency, and offering new opportunities for artists and collectors.
The Emergence of New Digital Art Forms and Mediums
New and fascinating kinds of digital art have also been made feasible by the rise of NFTs in the art world, pushing the frontiers of what is possible with technology and imagination. Digital art forms are continually developing and increasing, offering creators and audiences alike a new perspective on the world around us. 
These forms range from interactive installations to virtual reality experiences. These new digital art forms' accessibility is one of its benefits. Online sharing and interaction with digital art is simple, allowing it to reach a wider audience than conventional art forms would be able to. 
A level of interactivity and engagement that is frequently not achievable with static artworks is also made available by these new media, giving spectators a more immersive and interesting experience. 
The rise of NFTs has also created new avenues for artists to market their digital asset, perhaps providing a cash stream that was not before available. 
Artists may reach new audiences and make money in a safe, transparent, and equitable manner by producing original, one-of-a-kind digital creations that can be sold on the blockchain.
The Integration of NFTs with the Traditional Art World
NFTs are usually associated with digital art, but they can also be used to represent physical art. This gives consumers and vendors of traditional art new ways to buy and sell it. 
The greater transparency and security that the blockchain offers is one of the main benefits of combining NFTs with conventional art markets. By making a record of ownership and origin that can be checked, NFTs can help fight problems like art fraud and forgery and build trust and confidence in the industry. 
Also, by reaching new audiences who might be more accustomed to digital technologies, the usage of NFTs has the potential to increase the market for conventional art. NFTs can give collectors a more dynamic and interesting experience by fusing the physical and digital facets of art ownership, providing new opportunities for appreciating and displaying artworks. 
The combination of NFTs with traditional arts may present some difficulties, however, due to the requirement for technological education and awareness as well as the possibility for the market to become unduly speculative. 
Like with any new technology, it will be crucial to integrate NFTs with established art markets in a careful and ethical way.
Case Studies of NFT Art Sales
As NFTs gain popularity, more digital artists are using them to promote their work and attract new audiences. 
In this section, we'll look more closely at some of the most successful NFT art sales to date and talk about how they've changed the art scene. 
From sales that broke records to new art forms that changed the world, these case studies show how exciting and quickly changing the world of NFT art is.
Successful NFT Art Sales and Their Effect On the Art Industry
NFTs have had several successful art sales in recent years, with some works selling for millions of dollars and generating substantial art attention. The industry has been significantly impacted by these sales, which have helped legitimize NFTs as a legitimate art form and given artists additional platforms to exhibit their work. 
The artist Beeple's "Everydays: The First 5000 Days" sale in March 2021, which brought in a record-breaking $69 million at Christie's auction house, was one of the most well-known NFT art sales to date, according to The Verge. 
This sale not only broke previous records for digital art, but it also signaled a shift in the public's perception of NFTs as valid artistic expression. 
Some significant NFT art sales include the $1.36 million sale of a single pixel by artist Pak and the $101,593 sale of a digital artwork by artist Trevor Jones. These transactions have shown how NFTs have the ability to develop new markets and sources of income for artists, as well as new venues for them to exhibit their work and interact with collectors. 
NFT art transactions have not only affected the art industry, but they have also sparked debate about the future of art possession and the place of technology in the art world. It will be intriguing to see how NFTs affect the market's future and what new options they open up for both collectors and artists as they continue to gain acceptance.
Conclusion
NFTs' entry into the art world has given artists, collectors, and fans new opportunities. NFTs have the ability to fundamentally alter the way we think about art possession and distribution, from improved accessibility and exposure for artists to equitable pay through smart contracts and royalties. 
The success of NFT art sales and the rise of new digital art forms and mediums show that this is a quickly expanding field with unlimited potential, despite the criticisms and worries that surround the technology. 
As NFTs grow and integrate with established art markets, creators and patrons may expect more exciting changes and opportunities. NFT art has a promising future, and we're interested to see where this technology will lead us next.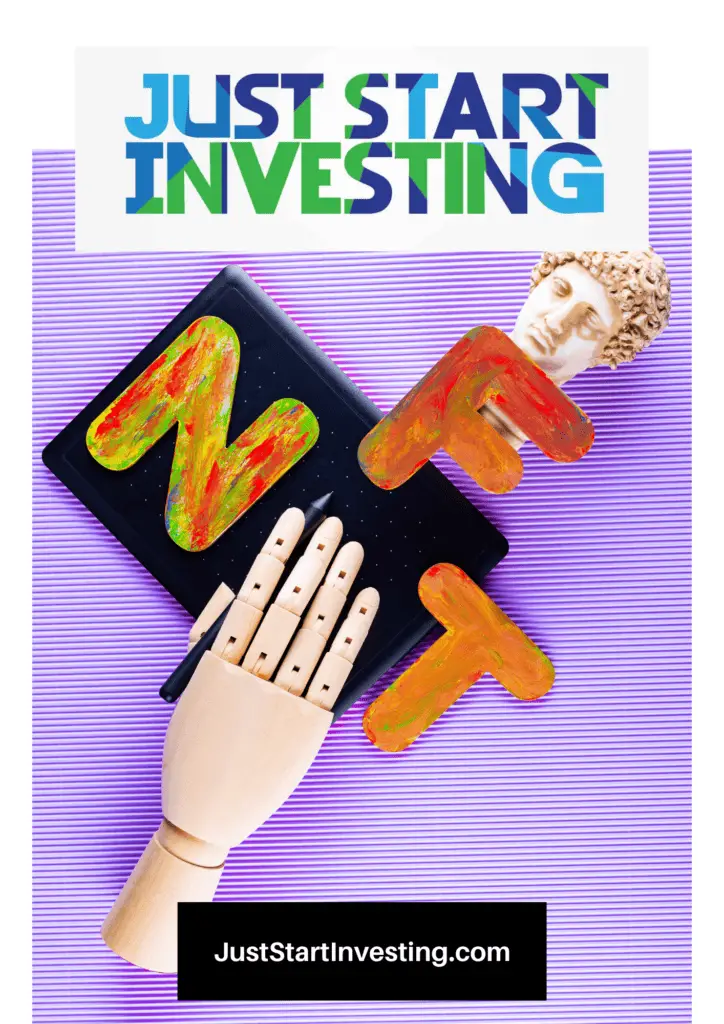 Just Start Investing is a personal finance website that makes investing easy. Learn the simple strategies to start investing today, as well as ways to optimize your credit cards, banking, and budget. Just Start Investing has been featured on Business Insider, Forbes, and US News & World Report, among other major publications for its easy-to-follow writing.