"I'd put my money on the sun and solar energy. What a source of power! I hope we don't have to wait until oil and coal run out before we tackle that." – Thomas Edison
Apparently, the time Edison once spoke of is, unfortunately, getting closer! So, is it time to put your money on the sun now? 
There is no doubt that renewable energy stocks are the future of our planet. The question is, are they profitable or not?  To determine if this investment will be a success, let's look at the data.
Our global shift toward a more sustainable future has begun. Therefore, in order to stay up to date, our guide will provide a comprehensive overview of the top renewable energy stocks this year, which will help you make smarter investments.
You'll learn about the challenges and potentials of investing in renewable energy stocks, and hopefully, decide if this market is worth it!
What Are Renewable Energy Stocks?
Renewable energy stocks are shares in a company with a primary focus on renewable energy production or sales.
All around the world, governments are building more solar parks, wind farms, and hydroelectric power plants to generate power. Moreover, as global warming and climate change continue to take center stage, we see investors increasingly interested in renewable energy industries and stocks. 
By costs coming down, and green policies rising, succeeding in this field becomes more and more likely as time goes on. But not all countries have the same potential to harness clean, renewable energy or the right environment for certain energy infrastructure.
China, the U.S., and Brazil are among the leading countries with renewable energy production capacity. But at the same time, it's no surprise that all these top countries are also the world's biggest energy consumers. For example, more than 75% of Norway, New Zealand, Brazil, and Colombia's energy production is renewable.
Taking a Look at Renewable Energy Over the Years – Why Start Investing?
Renewable energy advances are an excellent opportunity for the environment, as investing in these stocks can create new industries and make a living more sustainable and affordable.
Globally, we are striving for a greener future which increases the chance of success after investing.  To get involved in the green revolution, consider investing in renewable energy stocks.
Many people likely invest in renewables for personal or ethical reasons. However, the chance to help the planet isn't the only benefit of incorporating renewables into your portfolio. Diversifying your investments through alternative energy can be beneficial. In instances of oil and natural gas volatility, renewable investments may help stabilize the market. 
Based on research results, we can observe the dramatic growth of renewable energy technologies in the United States over the last few decades. For example, in comparison to 2005, the amount invested in 2019 was $59 billion as opposed to $11.3 billion. 
Renewable energy is rising in the United States due to the green stimulus programs and uncertainties around renewable tax credits. For green technology companies, venture capital and private equity have also been major funding sources in the United States.
Small-scale solar and utility-scale renewable energy technologies are also prominent in the United States. The total investment in clean energy worldwide in 2019 was $301.7 billion.
Clean energy investment in China and the United States is among the world's largest. Moreover, the number of investments into developing countries has risen dramatically in the past few years, surpassing their investment into developed nations in 2015. 
The renewable energy capacity worldwide is currently 2,838 GW, and it's mostly installed in China.
Around the world, the most money is invested in solar and wind technologies. However, since the cost of wind and solar technologies has decreased, it has been possible to purchase the equipment at a lower price.
Increasingly, electricity utilities recognize the importance of renewable energy, and they have even set goals to make these investments. Additionally, these resources are becoming cheaper, making them more attractive to investors and potential buyers. 
Contributing to this market can significantly increase the dependency on these energy sources, which is a positive sign for the entire world. If you're considering joining the green world movement, there is tons of data to dig through to find the right opportunity for you.
Top 5 Renewable Energy Stocks – Keep an Eye Out by The End of 2021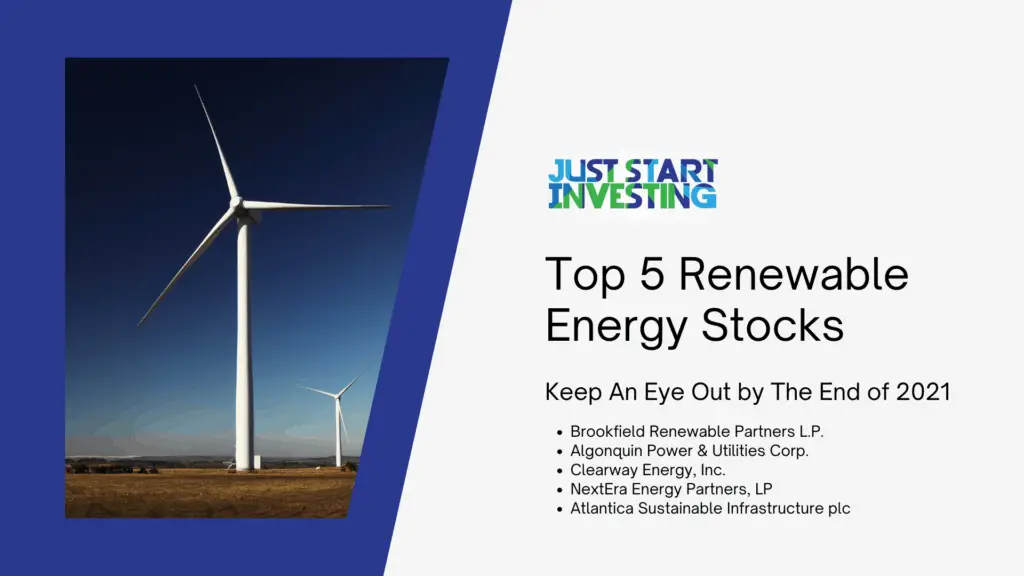 Based on research provided by investment analysts, we have compiled a list of the Top 5 Renewable Energy Stocks to buy this year. 
According to Google Finance, current statistics show that these are the best investment opportunities when it comes to the topic of renewable energy.
Brookfield Renewable Partners L.P.
Algonquin Power & Utilities Corp.
Clearway Energy, Inc.
NextEra Energy Partners, LP
Atlantica Sustainable Infrastructure plc
Brookfield Renewable Partners L.P.

Brookfield Renewable stands out as an industry leader despite the many companies supporting the transition to renewable energy.
The company has facilities in North America, Colombia, Brazil, Europe, India, and China that generate renewable energy. In addition to hydroelectricity, Brookfield Renewable Partners L.P. also uses wind, solar, and biomass to generate electricity. It provides renewable energy to over 21 GW of the world's grid, and it possesses the largest development pipeline in the sector at 31 GW. In the coming years, the company will grow briskly since it has the assets and expertise to help companies reach their goals. There's that upside potential that makes it unique.
A highlight of Brookfield's second-quarter results was its partnership with other companies to help them decarbonize. Apple, Amazon.com, and Trane Technologies are among those companies.
Having power purchase agreements allows Brookfield to secure electricity for its existing and upcoming facilities. As a result, it has a secure cash flow and better predictability of future growth.
Through 2025, the company believes it can grow its funds from operations (FFO) per share organically by 6% to 11%, driven by:
Increased inflation on existing contracts (up to 1-2% in added profit annually), an increased rate of power purchase agreements (which adds 2% to 4% to its annual FFO), and investments in its pipeline (increases FFO by up to 5% annually). 
Furthermore, new acquisitions will lead to an additional 9% growth in FFO per share. The total suggests Brookfield could increase its FFO on an annual basis of 20% through 2025, almost twice its rate during the last decade.
Brookfield is increasingly being tapped to help companies reduce their carbon footprint and ensure a greener global future. Its success increases the probability it can generate high-end growth in the coming years.
As part of its strategic initiatives, the company made great progress during the second quarter of 2021. This justifies its top ranking, so keep an eye on this one if you're interested in investing by the end of the quarter! 
(See detailed stock charts here!)
Current Price: $40.55
Market Cap (USD): 11.1B
Algonquin Power & Utilities Corp.

A growing renewable energy company, Algonquin Power & Utilities Corp. holds over $16 billion of assets worldwide.
Offering water and energy solutions for more than 30 years, Algonquin demonstrates its unwavering commitment to excellence. As their business groups have grown, both regulated utility services and renewable energy have expanded into different geographies and commodities, but their purpose remains the same – Sustaining Energy and Water for Life.
The company provides electricity, water, and natural gas utility services to more than 1 million customers mostly in North America via its operating business (Liberty). They also currently have more than 4 GW of operating and under construction wind, solar, hydro, and thermal energy generation capacity.
See why this is one of the best renewable energy stocks to buy in 2021 by taking a more in-depth look at the stock information provided on their website!
Current Price: $15.74
Market Cap (USD): 9.8B
Clearway Energy, Inc.

Clearway Energy, Inc. is a renewable energy company based in the US. As of March 2021, the company had installed approximately 4,200 MW of wind and solar projects, which were complemented by 2,500 MW of natural gas. 
The quarterly dividend for Clearway Energy, Inc. in May 2021 was $0.329 per share, up from $0.324 last quarter. The new dividend has a forward yield of 4.76%. With revenue of $237 million, Clearway Energy, Inc. beat EPS expectations by $0.4, with earnings of $0.03 in the first quarter of 2021. Since last year, shares have increased 15.46%.
24 hedge funds have held Clearway Energy, Inc. out of the 866 tracked at the end of the first quarter of 2021. Their stakes were worth approximately $232 million. There were 22 hedge fund investors in the previous quarter with total stake values of around $286 million. In addition to all the others doing well in this field, Clearway Energy Inc. is a runner-up to consider investing in.
Current Price: $31.27
Market Cap (USD): 6.2B
NextEra Energy Partners, LP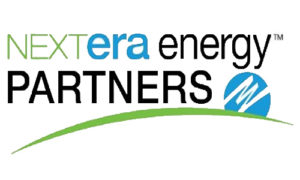 As a distributor of electricity in North America, NextEra Energy, Inc. supplies electricity to retail and wholesale customers. Energy sources such as wind, solar, nuclear, and other sources are used to generate the electricity sold by the company.
As a result of the extension of the investment and production tax credit, NextEra Energy, Inc. is among the clean energy stocks that will benefit. Following its dividend announcement at the beginning of 2021, NextEra Energy, Inc. generated a yield of 2.07% with a dividend of $0.385.
The company generated revenue of $3.73 billion and earnings per share of $0.67 in the first quarter of 2021, beating estimates by $0.06. Since last year, the company has enjoyed a 21.89% success rate.
A total of 63 hedge funds owned stakes in NextEra Energy, Inc. at the end of the first quarter of 2021. Their stakes totaled approximately $2.72 billion. In contrast, 61 hedge funds were holding approximately $3.07 billion in stakes during the previous quarter.
These numbers show why we put NextEra Energy on our Top 5 List, and why we think it's one of the top renewable energy stocks to watch during this quarter!
Current Price: $79.25
Market Cap (USD): 6.1B
Atlantica Sustainable Infrastructure

A sustainable infrastructure company whose major business revolves around renewable energy assets. As enablers of the transition to a clean energy mix, their portfolio of renewable assets is complemented with storage, efficient natural gas, and transmission infrastructure assets. Similarly, they are present in the infrastructure assets of the water sector, an integral part of sustainable development.
Investing and managing sustainable infrastructure support a more sustainable world and create long-term value for future investors and others.
Atlantic's portfolio includes 34 assets with a combined generation capacity of 2,018 MW of renewable energy (about 71% of which is solar), 343 MW of natural gas-fired generation capacity, 55MW of district heating capacity, and 1,166 miles of electric transmission lines. 
North America, South America, and EMEA are among the regions they operate in.
Organic growth and investments in new assets are their strategies for growing their business and dividends to shareholders.
The performance chart of their stock contributes to their high ranking!
Current Price: $38.59
Market Cap (USD): 4.3.B
The Future of Renewable Energy
As we become more aware of the ways we contribute to our world, we begin to understand the importance of sustainability and cutting dependency on one-time-use resources.
Fortunately, we are also making progress towards this type of improvement. And one secure way to contribute to this change that is beneficial for everyone is investing in these renewable energy stocks.
It is expected that the renewable energy market will grow even further over the next few years, reaching 1.1 trillion dollars by 2027. The numbers that predict the future for this market are no surprise after all, and only show that it is a smart move to start investing today.
Looking for investment guides? Check out the following: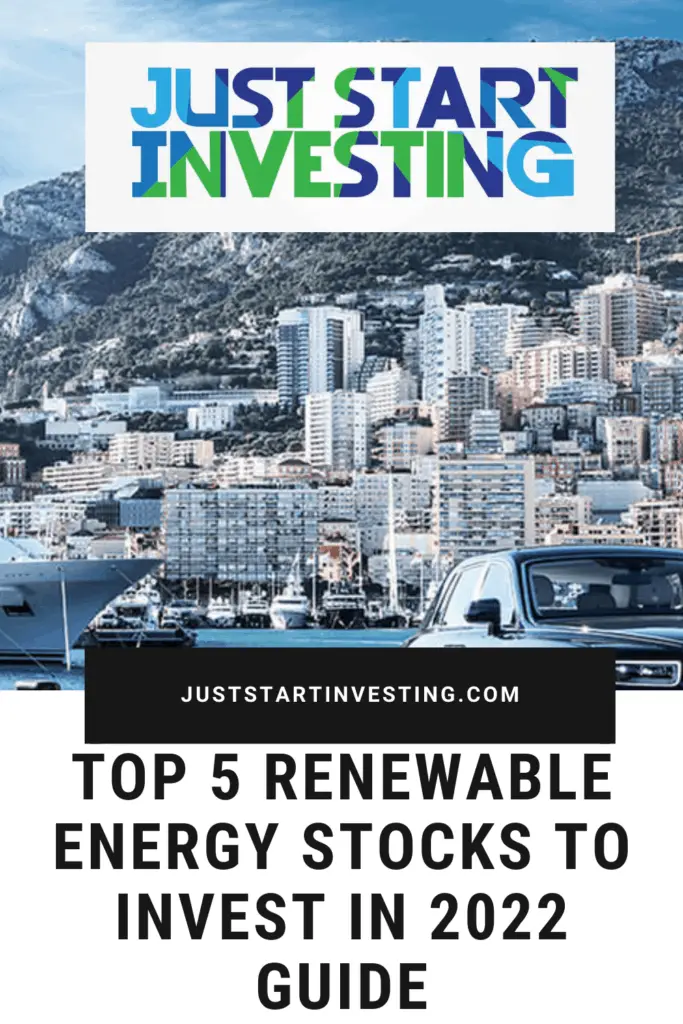 Just Start Investing is a personal finance website that makes investing easy. Learn the simple strategies to start investing today, as well as ways to optimize your credit cards, banking, and budget. Just Start Investing has been featured on Business Insider, Forbes, and US News & World Report, among other major publications for its easy-to-follow writing.