We're into the new year, and that means it's time we give you our stock market prediction 2022. But this time, we'll focus more on what experts across the industry have to say. While our initial research tells us to expect more of the same, is 2022 a year of huge or slow market changes?
The stock market is booming. We're still in January, and the S&P 500 looks healthy. While that's largely down to five major companies (Apple, Microsoft, Google, Tesla, and Amazon), it's a great indicator of how markets adapt to the new year.
But is the S&P 500 index growing specifically because of these few companies, or are other factors at play? Let's see what the experts around Wall Street have to say about the stock market 2022 forecast.
Inflation Is the Biggest Stock Market Prediction Concern for 2022
Most Americans are well aware that inflation is on the rise. If Americans know this, then investors certainly do. Inflation is such a topic of discussion that Bloomberg likes to go into heavy details about it. The Manhattan-based media company has done a series of market predictions, citing quotes from investment managers and CEOs. They found that most interviewees are concerned with inflation. AXA's in-house Investment Manager was quoted to be "very concerning" about inflation in 2022.
Inflation could prove to be difficult to overcome in 2022. It might be the single biggest concern since the stock market crash concerns of 2021. What fuels these concerns is the latest Covid-19 variant sweeping the nation – the omicron variant. Experts are concerned that the disruption in local supply chains, global supply and demand, and new rounds of lockdowns could exacerbate inflation.
Inflation is already passing the 2% rate. This could have a major impact on several key factors. Factors such as interest rates, tax changes, and the Build Back Better Act are heavily dependent on steady inflation. If inflation rises more, it could have massive effects on the stock market. But investors should also be wary of the financial implications of the Build Back Better Act. Since the act aims at taxing wealthy individuals and corporations, a significant shift in corporate earnings could be a catastrophic move. The Fed says that any future of the stock market hinges on corporate earnings.
The Stock Market Might Face A Tough Year, But There Are Plenty of Opportunities
Despite some inflation concerns, there's still more bad news on the horizon. How the market behaves largely depends on the Build Back Better Act. But that's not the only factor worth considering. The omicron variant has taken a huge toll across Europe and North America's markets. With more lockdowns announced across European countries, it could prove yet another challenge for the stock market to navigate.
But what investors should be looking for is plenty of investment opportunities. Wells Fargo expects the GDP to grow by 4% in 2022. IHS Markit is even more bullish, at 4.5%. But even so, early GDP analysis expects a loss of 0.5 – 1.5% from the previous year. What about the S&P 500 index? While five companies are dominating the market, experts are predicting a 9% increase in 2022. For those who've been keeping tabs on predictions since late 2021, that's nearly a 35% decrease. Even so, the expected increase is well above the 5% average prediction for 2022.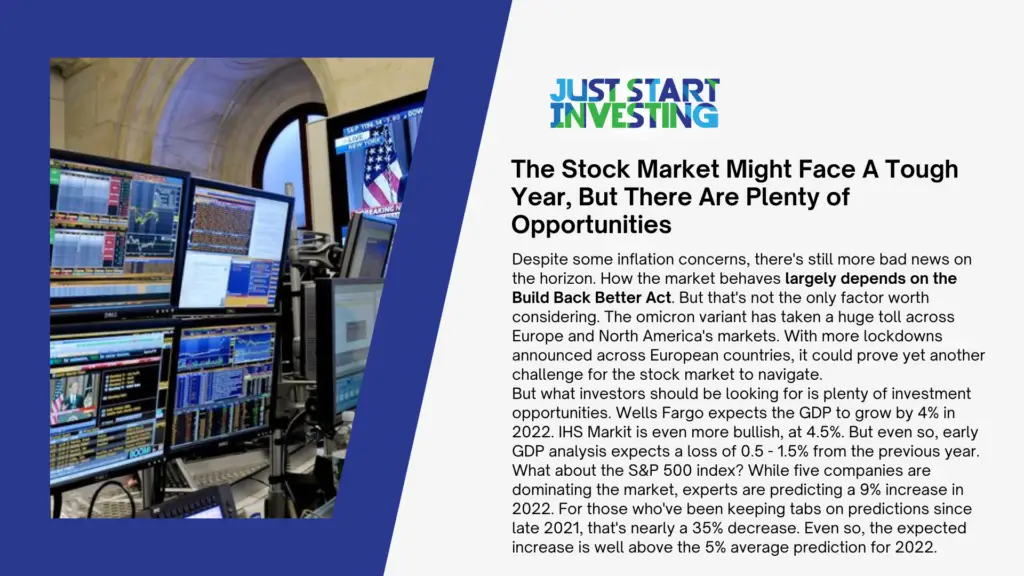 So even if markets face a tough year, there is still plenty to be optimistic about. For example, the energy sector presents a huge opportunity for investors. Experts at Wells Fargo are expecting a 34% surge in energy earnings. Extraction companies are projecting an increase of 12% in earnings. While no doubt the supply-chain disruption is a concerning issue, the omicron variant might die off in the coming months. With relative normality on the horizon, sectors are looking to pick up where they left. Some experts are predicting sector profit margins as much as 15%.
Bullish Calls on the S&P 500
For investors looking at making profits for 2022, the S&P 500 index looks like a real winner. We mentioned that most stock market projections are expecting the S&P 500 index to grow. Companies like Apple, Microsoft, Google, Tesla, and Amazon are already making huge gains.
According to experts at FactSet, current estimates reflect a new record-high for the S&P 500 index. As more companies look to increase profits over 2022, that will only result in more growth. Nasdaq predicts an optimistic stock market forecast for 2022. It compares to 2021, where the S&P 500 index soared by 27%. While many experts over at Nasdaq are quite bullish, it seems impossible to emulate the success of the previous year. As such, investors should be bullish on the S&P 500 but also expect moderate returns.
Many are calling 2022 quite dull for the stock market. That shouldn't leave you pessimistic, as most experts are indeed optimistic. But the nature of where we stand makes it nearly impossible to expect grandiose returns. Being bullish on the S&P 500 is one thing, but being emotional is completely different.
Forbes Advisor Expects More Volatility
Stock market predictions for 2022 is a cat and mouse game. One side says one thing, while the other completely disagrees. Forbes Advisor expects moderate market gains, but they expect even more volatility. In their analysis department, they've taken into account predictions from Morgan Stanley and Wells Fargo. Both predictions are pretty wide-ranging.
While Morgan Stanley expects a 9% decline in the S&P 500 for 2022, Wells Fargo expects even stronger gains. Sandven tends to agree with the former. They say 2022 is going to be difficult and challenging to overcome. Their stock market prediction for 2022 is largely impacted by the strong performances in 2021. They say it's difficult to maintain the steady pace of growth from the previous year, and there are fewer margins for error.
As such, Forbes says investors should expect market corrections in the coming months before stocks ultimately pick up. Their analysis is also backed by statistical data. Since 1928, there has been a stock market correction every 19 months. And since 2020, there hasn't been one. While this is an anomaly in itself, it isn't an outlandish claim to expect corrections in the range of 10-20%.
Throughout the year, market volatility will make it difficult to achieve substantial gains. Investors will resort to pre-2020 market strategies if they want to achieve the same level of profits for 2022. As such, Forbes stock market 2022 forecast is largely volatile – as they predict the stock market to be itself.
Slow Start, Good End, Lot's Of Stock Picking
Given the much-anticipated market correction that experts are expecting for the 2022 stock market, we can look at historical data and come to a logical conclusion. Given that we're around 14 months since the previous big market correction, experts can draw from historical data and draw to a conclusion.
What history tells us is that the stock market starts slow each year. Nearly every Wall Street expert predicts this. So a 2022 stock market forecast is almost always a slow start. But what about a good end? Is the data right on this? Whenever the stock market isn't correcting, it goes up big. This usually happens at the end of the year, according to Co-Chief Investment Officer and Executive Chairman of Fisher Investments, Ken Fisher. When the market performs big, it's usually the S&P 500 companies. And these companies will have a good end of the year, says Fisher.
But another conclusion Mr. Fisher strongly believes in is that 2022 will be a year of stock picking. This means investors will have fewer examples to pick from when determining strong stock picks. Fisher's prediction is largely in pair with Forbes. His reasoning, however, is different as to why that's the case. Investor anxiety is a real issue and an even bigger cause for market volatility. But short-term market volatility is healthy. As 2022 comes to a close, markets will pick up. Few experts are predicting a strong stock market for 2022. For that largely might happen due to political stability.
Finishing Thoughts
Experts vary on stock market prediction 2022. With opinions ranging from overly positive to extremely negative, only time will tell what 2022 brings us. While the omicron variant has made the start of 2022 sluggish, things could pick up at the tail-end of the year. What's left is for you to plan your investments smartly and take into account severe economic factors such as the Coronavirus pandemic.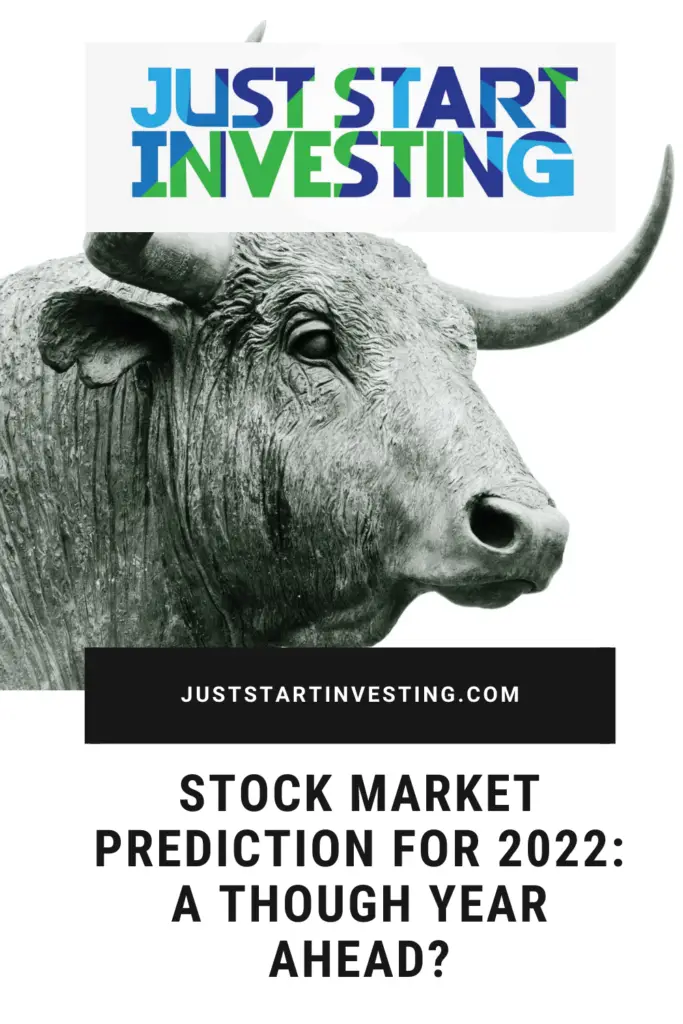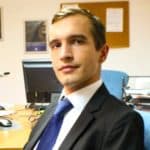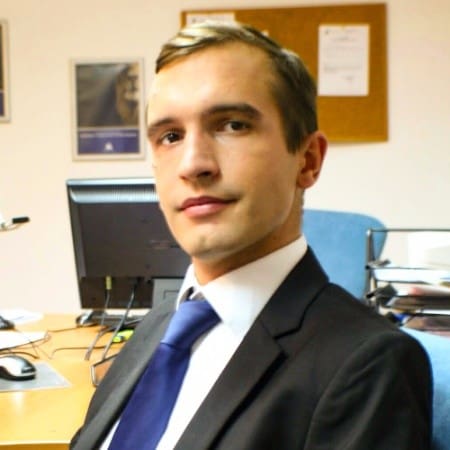 Partner at Vega Capital Management - a private funds management company.
An experienced portfolio manager with 10+ years of proven and reputable track record in investment management and financial analysis. Currently, a partner at one of the fastest-growing private fund management companies in southeast Europe, Kiril has been tending to a loyal international base of client-investors and partners. When he is not crunching numbers and increasing his client's wealth, he reminisces about his Michelin-star restaurant cheffing years and fondness of the culinary arts.