Index investing is my preferred investment strategy, but of course, that doesn't mean it's the only good strategy. Many investors have had success investing in cryptocurrency, real estate, and by actively selecting individual stocks.
Titan Invest is a new investment management firm that focuses on the last investment option mentioned above – actively selecting stocks. Its goal is to bring the benefits of hedge funds to everyday investors.
Below, we'll provide a full review of Titan Invest.
About Titan Invest

Titan Invest is not quite a hedge fund and not quite a robo-advisor. It's best described as an investment firm or investment manager that actively picks stocks to invest in for its clients.
Titan Invest was founded in 2017 by co-founders Clayton Gardner, Joe Percoco, and Max Bernardy. The founding team has experience working at hedge funds and was upset that the majority of the population was told to invest in mutual funds, index funds, and exchange traded funds (ETFs) while the ultra-wealthy got special treatment.
They created Titan Invest to provide a premier investment service for everyone.
Today, Titan Invest has nearly $500 million in assets under management (AUM) for over 25,000 clients. It also just finished its Series A funding round.
How Titan Invest Works
The Titan Invest investment platform works like a hedge fund, but isn't a hedge fund itself.
Titan Invest has lower fees, lower minimums, and more transparency than a normal hedge fund. Though it is still backed by people actively picking stocks that they think will outperform the market over the long run, similar to how a hedge fund invests.
One of Titan Invest's most incredible features is explaining the rationale behind the investments they make through their videos and newsletters. Whether you are an experienced investor or a completely new investor, Titan breaks down its decisions so you can be in the know with how your money is being deployed. All of this is provided on their sleek and easy-to-use mobile app.
Key Features
Investment Goals: Outperform the market by actively selecting 15-25 stocks and holding onto them for a long period of time (benchmark varies by investment strategy)
Fees: 1% annual fee when investing with over $10,000; $5 per month when you invest less than $10,000
Account Minimum: $100
Types of Accounts: Taxable brokerage accounts and Individual Retirement Accounts (IRAs)
Lock-ups: None (can access your money within a few days)
Customer Support / Investor Relations Team: [email protected]
Compared to a hedge fund, Titan Invest is an awesome alternative. Their minimum investment amount, fees, and lock-ups all beat typical hedge funds while the investing goal remains the same – beat the market.
However, keep in mind that investing with other robo-advisors like Betterment or M1 Finance could keep your fees between $0 and 0.40%.
How to Start Investing with Titan
Getting started with Titan Invest is easy.
First, you need to sign up for the app and provide some basic information, including your name and email address. After you sign up, you'll need to fund your account as well.
Second, you can choose which portfolio you want to fund and invest in. Right now, you have three options that are detailed below, and Titan will automatically invest your capital based on the strategy you select.
Titan Flagship
Titan Flagship was the first portfolio offered by Titan Invest and has the longest track record, dating back to February 2018. This strategy focuses on beating the S&P 500 by investing in large cap US growth equity.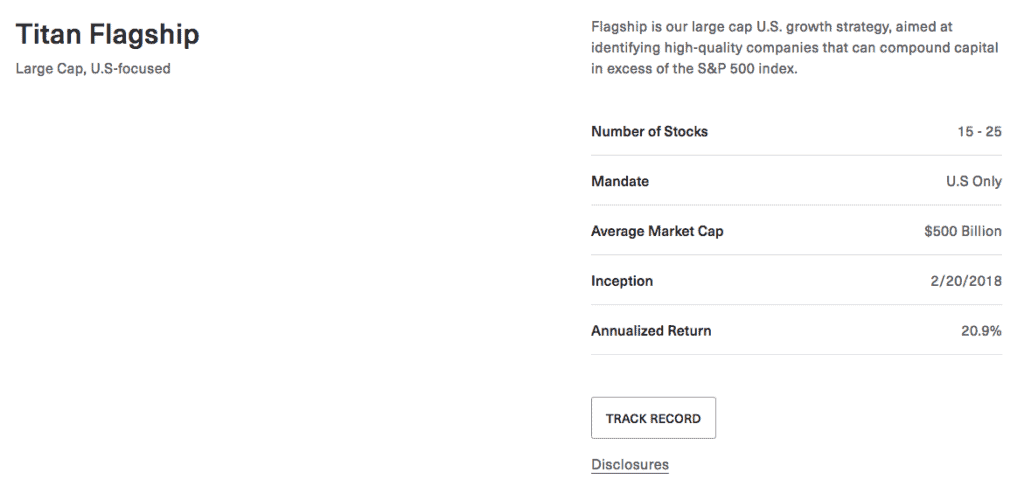 Titan Opportunities
Titan Opportunities started later in 2020 and focuses on small and mid cap US companies.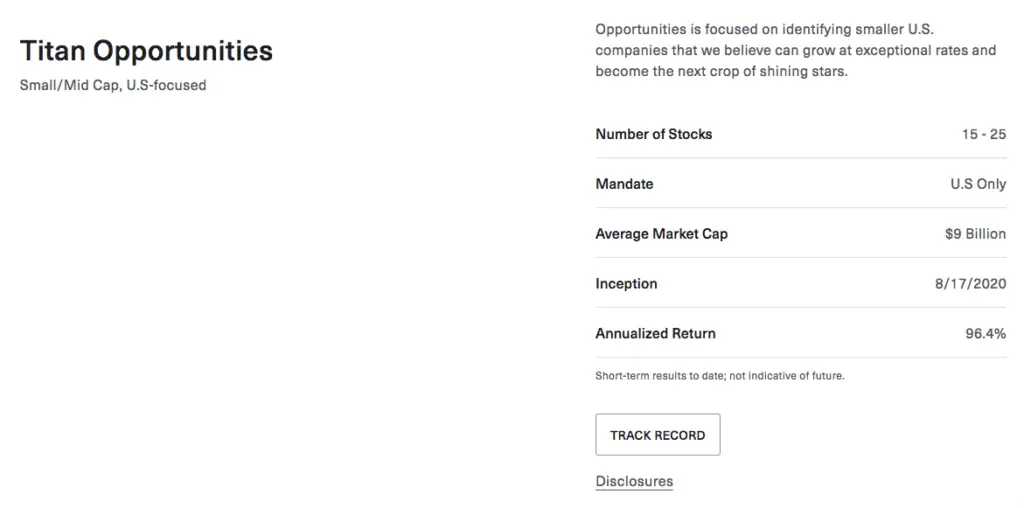 Titan Offshore
Titan Offshore is the latest strategy offered by Titan Invest. Titan Offshore's goal is to invest in international growth companies, both in emerging and developed markets.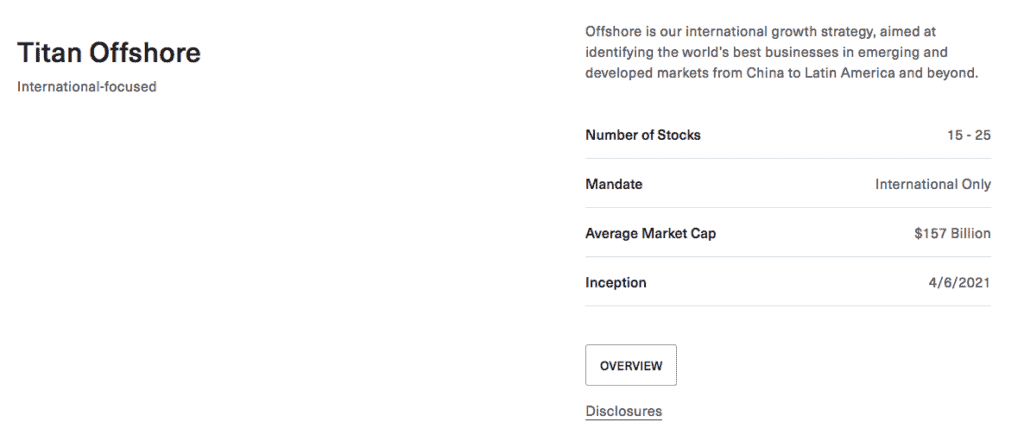 ---
And that's really it.
You, of course, can continue to add funds to your account as you see fit, and Titan does an excellent job of providing updates on your investments as well.
As a bonus step, you should check out Titan's referral program. Right now, they are offering to reduce your annual fee by 0.25% for every person you refer. If you can get four people to sign up with Titan, you could be investing for free!
Titan Performance
Titan Invest has a strong track record across its two strategies with some history – Titan Flagship and Titan Opportunities.
Titan Flagship Performance
Titan Flagship got off to a slow start in 2018, underperforming the S&P 500 by about 1%. Though, as you can see below, Titan Flagship has had strong performance since then, rallying to outperform the S&P500 by nearly 25% (or 5% per year) since its inception.

Titan Opportunities Performance
Titan Opportunities is benchmarked against the Russell 2000, and for the 9 months it's been around, has outperformed the index by about 10%.
---
Of course, in both cases above, the amount of data is limited by how long (or better said, short) Titan has been in business. Time will tell if Titan can keep up this strong performance, and while I am always skeptical of funds beating the market, I have to admit they are off to a hot start.
Titan Invest Review: Pros and Cons
Pros
Low Accounts Minimums: You only need $100 to start investing with Titan, which I love. It doesn't matter how much money you have; anyone can start investing today if they decide to! The one watch out here is that your titan Invest fees will be a substantially higher percentage of your capital until you reach the $10,000 mark and attain the 1% annual fee.
Solid Short Term Performance: As you saw in the section above, Titan Flagship has done a superb job beating the market over the past couple of years.
High Liquidity: Unlike many hedge funds, you can access and withdraw your money whenever needed.
Investment Education: One of the best features that Titan offers is its communication and education. When you join Titan, you join their community, including access to videos and newsletters explaining the rationale behind Titan's investment decisions.
Referral Program: The referral program offered by Titan is top-notch right now! Saving 1% in annual fees by referring four friends can save you thousands and thousands of dollars of your investing lifetime.
Cons
Short Performance History: Titan's track record is strong, but very short. It's hard to beat the market consistently over a long period of time, and we just don't know if Titan can sustain long term success yet.
High Fees: The 1% management fee is low compared to a traditional hedge fund, but high compared to investing on your own or through other robo-advisors.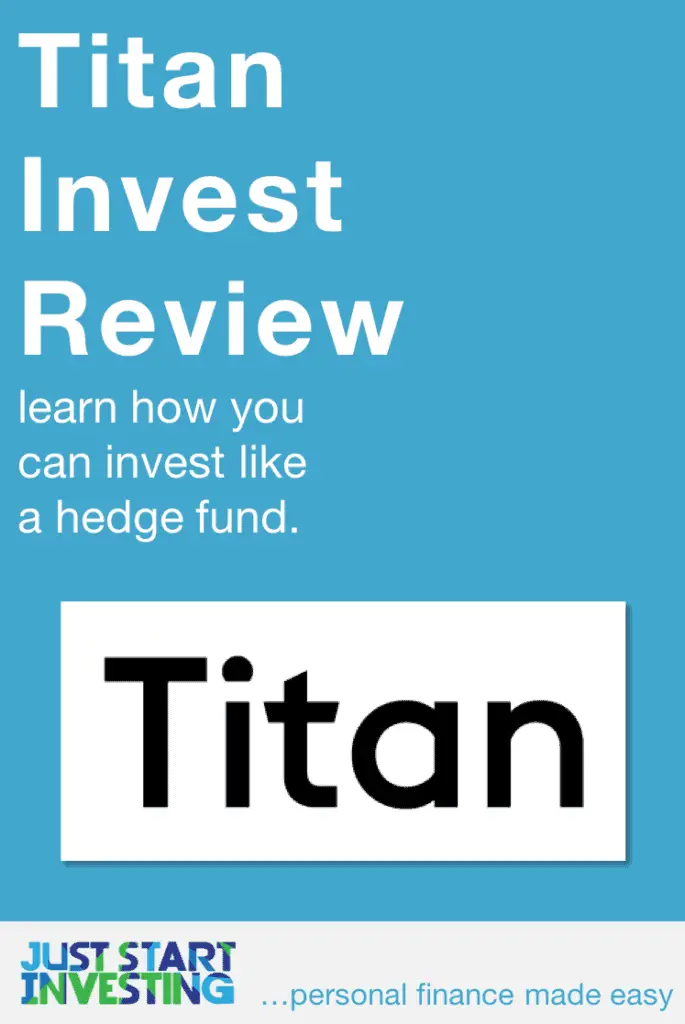 Titan Review Summary: Is Titan Invest Worth It?
To answer the question, "Is Titan Invest worth it?" I'm going to put myself in the shoes of three different types of people.
First, for new investors who are more interested in actively selecting stocks than simply investing in the entire market at once (through index funds), Titan Invest could be a good place to start. Not only will they pick stocks for you, but the experts at Titan will educate you on why certain stocks were selected, which can be a huge benefit for investors. Just remember, you won't get access to a financial advisor or 1-on-1 advice with this service.
Second, if you are someone who believes that the market can be beaten and have a higher risk tolerance, it might be worth placing a bet with Titan. They're off to a solid start, and there is a chance they can continue to do well. What's working in their favor compared to other hedge funds is their low fees – they only need to beat the market by 1%, whereas other hedge funds need to beat it by 2% or more.
Last, if you're someone who just wants to capture market returns with a set-it-and-forget-it strategy, then sticking to broad market and low-cost index funds and ETFs are likely your best option.
If you're interested in learning more about Titan Invest, you can do so here.
Just Start Investing is a personal finance website that makes investing easy. Learn the simple strategies to start investing today, as well as ways to optimize your credit cards, banking, and budget. Just Start Investing has been featured on Business Insider, Forbes, and US News & World Report, among other major publications for its easy-to-follow writing.