As the summer is gradually coming to an end, cryptocurrency investors are still keeping an eye out for potential altcoins opportunities. The altcoin market currently shows a positive outlook for investors as on-chain data shows crypto whales investing millions in high-cap tokens that rank among the top 50 crypto rankings. These moves set the ground for a season of altcoins, and this might just be the right time to consider investing in altcoins. Let's take a look at some of the top altcoins to consider investing in.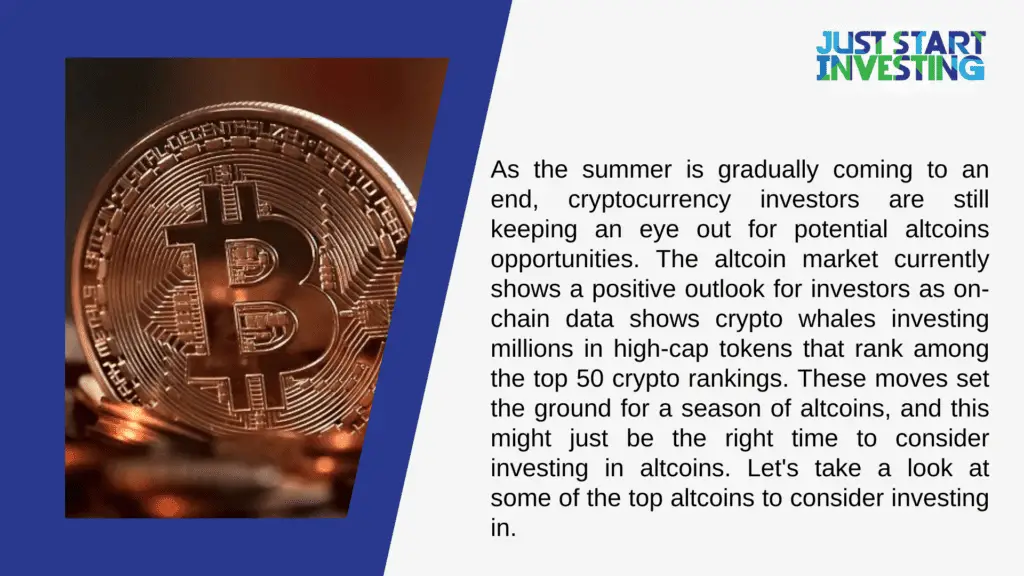 Solana (SOL)
Solana was created for powering smart contracts, decentralized apps (DApps), and decentralized finance (DeFi) uses. It runs on a special hybrid proof-of-history and proof-of-stake mechanism for processing transactions securely and quickly. Solana's native token SOL powers the platform.
After its launch in 2020, the price started less than a dollar and at current writing time, it has a price of $24.51. A look at Solana price history tells analysts that there is the possibility of a bullish run in the coming months. This claim is further increased with the coins standing even after the recent Solana-based cypher protocol experienced an exploit.
Worldcoin (WLD)
For the past month, the Open AI founder Sam Altman has been in the headlines for his innovative crypto project Worldcoin (WLD). Worldcoin (WLD) aims to address the problem of online identity in an advanced AI world. The Worldcoin (WLD) just launched in July, but some analysts are optimistic about the coin. They predict the coin could average a price of above $3 in August and go further if the coin could create a decentralized and secure online identity, since that would result in a huge bull run.
Dogecoin (DOGE)
The top meme coin Dogecoin (DOGE) has always been at the forefront of the altcoins market and the coming months aren't any different. Since Elon Musk commented on X.com (formerly Twitter) that the coin could someday have a role in the platform, Dogecoin (DOGE) has had several breakouts. Even last July, its breakout saw the coin rise by 20%. If Twitter developments continue, major announcements can lead to another rally for the Dogecoin (DOGE) coin, especially if it's about scheduled payments on X.com
XRP (XRP)
One of the top altcoins in terms of profit in recent months is Ripple (XRP) as it almost doubled after the SEC lawsuit vs Ripple Labs. Since last month's rally, Ripple (XRP) has lost some of its gains, reducing by about 15% in the past two weeks. Since SEC couldn't give the Ripple (XRP) token sales as a security, there has been reduced interest in the token.
However, some analysts like Shannon Thorp, a Wells Fargo Manager have predicted the token to hit $100 in the coming six months. Even though the rally post-lawsuit has reduced, Ripple (XRP) remains one of the most debated altcoins and surely, a taken that every crypto investor should have in their portfolio.
Endnote
There is no doubt that cryptocurrency is here to remain. As you decide the cryptocurrency to invest in, you should keep certain things in mind. Cryptocurrency is very volatile and is not a get-rich-quick scheme. Consider it a long-term investment, and don't forget to always do your research.
Just Start Investing is a personal finance website that makes investing easy. Learn the simple strategies to start investing today, as well as ways to optimize your credit cards, banking, and budget. Just Start Investing has been featured on Business Insider, Forbes, and US News & World Report, among other major publications for its easy-to-follow writing.