UNest is an app that helps you save for your child's future.
When UNest was founded, it focused on 529 Savings Plans, a common type of tax-advantaged account designed to help you save for future college expenses on behalf of a beneficiary. However, while 529 plans offer a lot of tax advantages, they are restrictive.
That is why in 2020, UNest made the switch from offering 529 plans to Uniform Transfers to Minors Act (UTMA) accounts.
These types of accounts still offer some tax benefits but provide more flexibility on how money can be used in the future.
What is a UTMA and UGMA Account?
UTMA stands for Uniform Transfers to Minors Act, and UTGA stands for Uniform Gifts to Minors Act.
Both are very similar and allow for a custodian to manage an account on behalf of a minor until they are of age (and no longer a minor, which will be between ages 18 and 25 depending on your state). The UTMA is slightly broader reaching, though. It allows for the gift to comprise of cash and securities (like the UGMA), and also things like art, real estate, and more.
The largest benefit of a UTMA account is that the gift can be given to a minor tax-free or with some tax benefits, up to a certain amount. The latest rules that apply here are:
Contributions: Up to $15,000 can be contributed free of the gift tax.
Earnings: Up to $2,100 in annual earnings can receive some tax benefits. The first $1,050 in earnings are tax-free, and the next $1,050 in earnings are taxed at the kid's income tax rate. Anything beyond $2,100 in earnings gets taxed the same as trusts and estates (usually between 20% and 40%).  
Arguably the biggest benefit to UTMAs is that you don't have to use the money for college expenses. Similar to a trust or simple brokerage account, the money can be used more broadly – like to buy a car, for a down payment, or in other ways.
UTMAs vs. 529 Savings Plan
A 529 Plan is a tax-advantaged plan that allows you to save and invest for a beneficiary's future education expenses. It is much more restrictive than a UTMA (it has to be used for education), but offers better tax benefits. Like a Roth IRA, all earnings are tax-free.
A UTMA account's earnings only see a tax benefit on the first $2,100 earned per year. But in return for this smaller benefit, you can use the money however you see fit (not just on college education).
The flexibility can come in handy if your kid gets a scholarship or decides secondary education is not the right path for them.
UNest Overview
UNest was Founded by Ksenia Yudina, an investment veteran with over ten years of experience in the financial industry. Notably, Mike Van Kempen joins the team as COO and brings experience from four years at Acorns.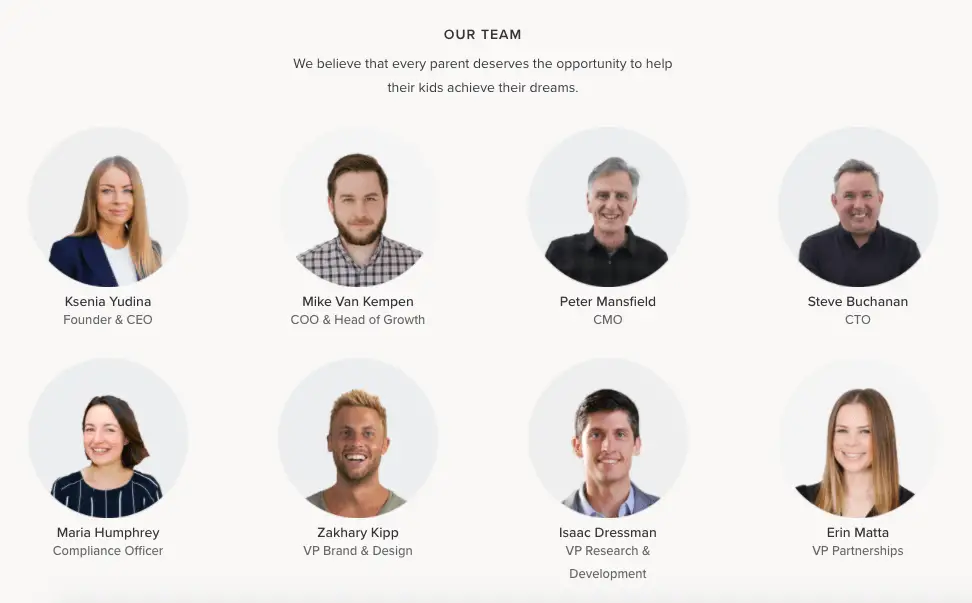 Although UNest is a young company, they have an ambitious mission:
To help all parents build a better future for their kids.
The mission is broader than just saving for a kid's future college education… the mission is to help them achieve their dreams no matter what that entails.
They do this by offering UTMA and UGMA accounts to their customers on an easy-to-use mobile platform. Of course, you have to pay a fee for this user experience, but for someone looking for an easy way to navigate the confusing world of investing for your kid's future, you likely will find the fee worth it.
Below are some key features of UNest:
UNest Key Features
Price: $3-$6/month (plus small underlying fees)
Speed: Can get started in just 5 minutes
Accounts Supported: UTMA / UGMA
Minimum Contributions: $25/month
Investments Offered: Five different low-cost Vanguard ETFs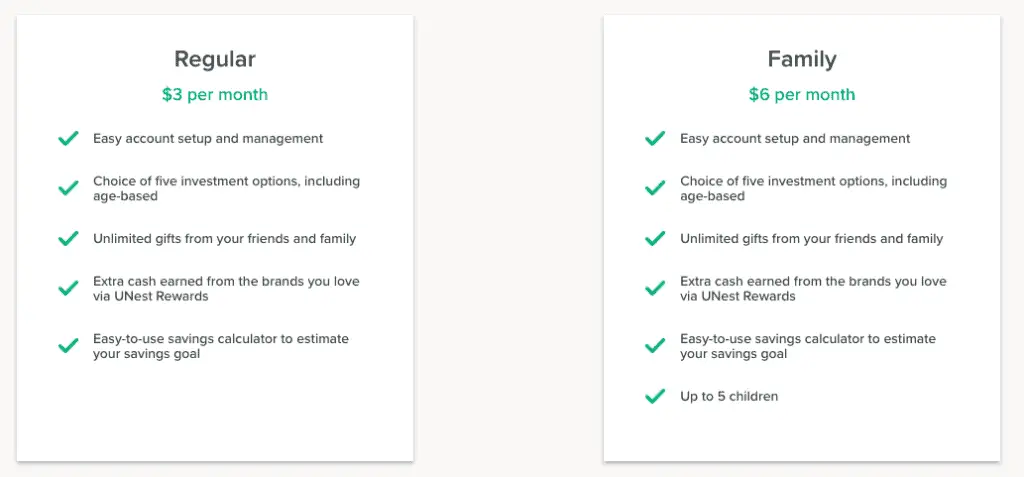 How to Get Started with UNest
Getting started with UNest is easy and can be done in three steps.
Step 1: Download the UNest App and Open an Account
This whole process should take about 5 minutes. To open an account, you will need the following information for both you and your child:
Legal name
Date of Birth
Social Security Number or ITIN
Address of residency
U.S. Citizenship or legal residency information
Step 2: Set Up Your Monthly Contributions
You will need your bank account information to complete this step.
The minimum monthly contribution for UNest is $25 – so you will need to be saving at least $300 per year for your kid to use UNest. UNest also provides a savings calculator to help you determine what the right amount to be saving could be.
In this step, you'll also choose which investment plan is right for you. UNest offers five investment options that are all comprised of Vanguardexchange-traded funds (ETFs):
Conservative Option: Fixed income and bond ETFs.
Aggressive Option: 100% Equity ETFs.
Three Age-Based Options: These range from conservative to aggressive and shift the asset allocation as the child gets older.
Step 3: Track Your Savings As You Go
UNest makes it easy for you to manage your savings and investments, and make adjustments as needed!
An remarkable feature UNest offers is the ability to receive gifts from your friends and family. We'll get into more details on this below.
Additional UNest Features
On top of the core offering of UTMA and UGMA accounts, UNest does provide a few other services for its users.
UNest Gifting
UNest offers the ability for friends and family to gift money into your child's account. This is an excellent way for people to give a meaningful birthday, holiday, or graduation gift.
Gift can be sent by credit card, debit card, or ACH, and the minimum gift amount is $25 (the same as the minimum monthly contribution).
However, the one downfall here is that UNest charges a "gifting fee" of 3.5% + $0.99. So if a family member wants to send a $50 gift, it will actually cost them $52.74 (with $2.74 going to UNest).
UNest Rewards
UNest also offers a Rewards program in its app. If you shop through their app at some of their partner brands and companies, you can earn rewards that go straight into your account.
Some of the featured brands include: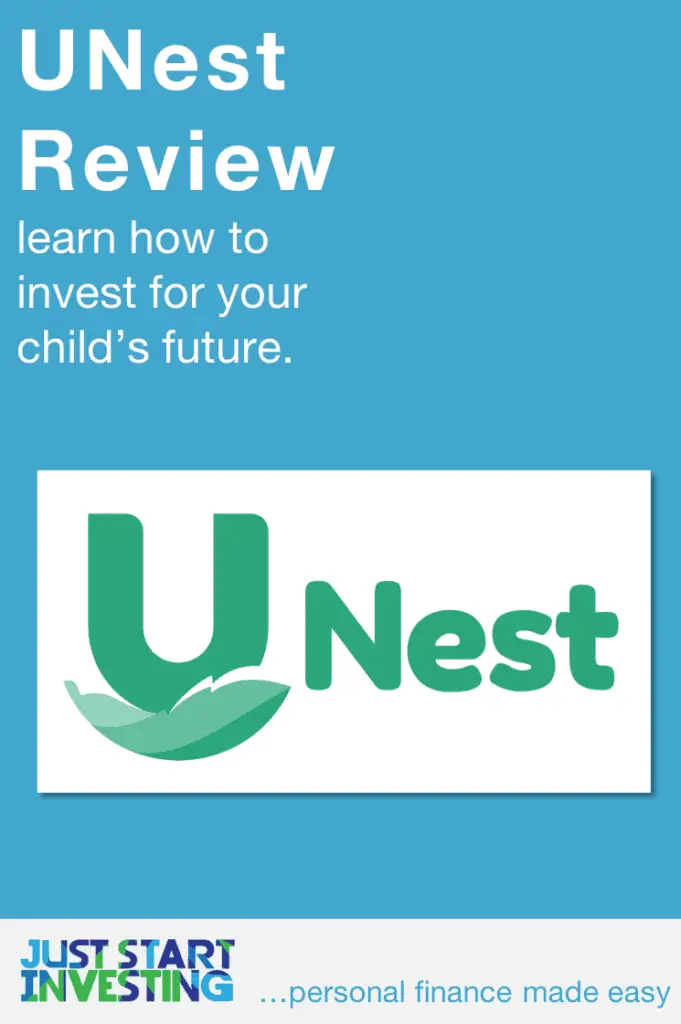 UNest Summary: Is it Worth It?
UNest makes it easy to use a UTMA to save and invest for your child's future with flexibility.
There are a lot of pros to using UNest and saving in a UTMA account, including:
Flexibility: Money can be used broadly, and not just on education.
Ease: UNest's mobile app makes it easy for parents to save and invest.
Tax Benefits: While the tax benefits aren't as strong as a 529 savings account, there are still some tax benefits.
However, you do have to balance these pros against a few cons:
Cost: UNest charges $3 a month to use its app, which is a small number ($36 per year), but can be a high percentage of your account value if you are just starting out and investing $25 a month (12% in year 1!). Plus, you'll be on the hook for the ETF fees as well.
Tax Benefits: While there are tax benefits with a UTMA account, they are not as strong as a 529 plan.
New Company: Like with any fin-tech startup, you are betting (and hoping) that UNest will be around for a while.
At the end of the day, if you are looking for an easy and flexible way to invest in your child's future, UNest is probably worth checking out!
Just Start Investing is a personal finance website that makes investing easy. Learn the simple strategies to start investing today, as well as ways to optimize your credit cards, banking, and budget. Just Start Investing has been featured on Business Insider, Forbes, and US News & World Report, among other major publications for its easy-to-follow writing.