NFTs, or non-fungible tokens, have gained popularity as a fresh method for artists to make money off of their digital works. Due to the use of blockchain technology, these special tokens are one-of-a-kind and simple to authenticate. 
So what factors into the worth of NFT pictures? 
Both artists and collectors must comprehend the worth of NFT pictures. This information can be used by artists to produce NFTs that are likely to be in demand and bring in a sizable sum of money. On the other hand, collectors can make wise investment choices based on their knowledge of the variables affecting the value of NFT photos. 
The main elements that affect the value of NFT pictures as well as the market trends and influences that may have an effect on their value will be discussed in this article. 
Understanding the worth of NFT images is crucial whether you're a creative wanting to create NFTs, a collector interested in purchasing digital art, or simply intrigued about this new phenomenon. So let's get started!
Factors That Determine the Value of NFT Pictures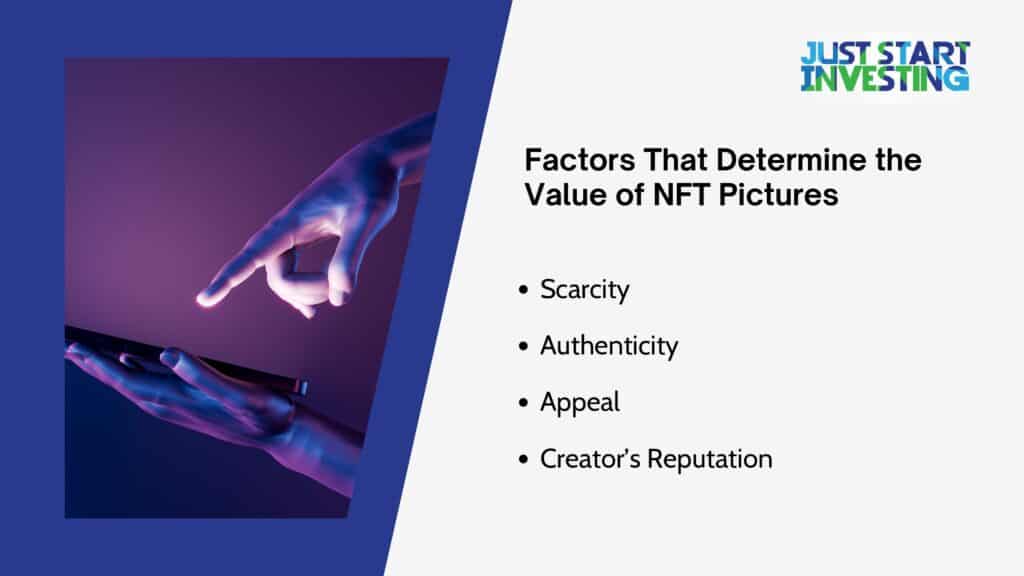 NFT photos have revolutionized the art market by giving creators and collectors a brand new means of producing and profiting from one-of-a-kind digital assets. But how are the prices of these digital collectibles determined? 
The main elements that influence the value of NFT pictures, such as scarcity, authenticity, appeal, and the reputation of the artist, will be addressed in this section.
Scarcity
A significant element that affects the value of NFT images is scarcity. According to The Octalysis Group, this is a unique trait of NFTs that keeps them away from being copied.
Simply put, an NFT image gets more valuable the more rare it is. This is due to the fact that scarcity fosters a feeling of exclusivity and uniqueness that may increase demand and price. 
To boost the rarity and possible worth of their digital artwork, artists can purposefully produce fewer NFT images or construct one-of-a-kind pieces that cannot be duplicated. Moreover, there can be limitations on how many images can be created in some NFT marketplaces, which can add to the overall dearth of images. 
It's crucial to remember that value is not necessarily determined by scarcity alone. The image's inherent beauty and quality continue to be crucial factors in judging its value.
Hence, although scarcity can influence the value of NFT photos in a positive way, it's only one of several things to take into account when estimating their overall value.
Authenticity
The value of NFT photos is significantly impacted by authenticity. It guarantees that the digital file is distinct and that it cannot be copied or altered. The legitimacy of the image is further supported by the safe and open verification procedure offered by the blockchain technology used to create NFTs. 
It is simple to confirm ownership and validity thanks to the use of a distinctive digital signature that is connected to the NFT in this verification procedure. All About Photo also states that As a work sold in the form of an NFT cannot be a fake, NFTs function like a certificate of authenticity by allowing authors to add a virtual signature to their digital works. The digital asset's validity can have a big impact on the value of NFT photos. 
NFT images that have been authenticated command a higher price because they guarantee the uniqueness of the artwork and serve as ownership documentation. Also, genuine NFTs are frequently regarded as more valuable and reliable, which may increase demand and price. 
NFT images may undergo several levels of scrutiny during the verification process, including evaluation by professionals or independent verifiers, to ensure their validity. 
We may anticipate that as the NFT market develops, the value of authenticity will only increase, making confirmed NFTs more and more desirable in the eyes of investors and collectors.
Popularity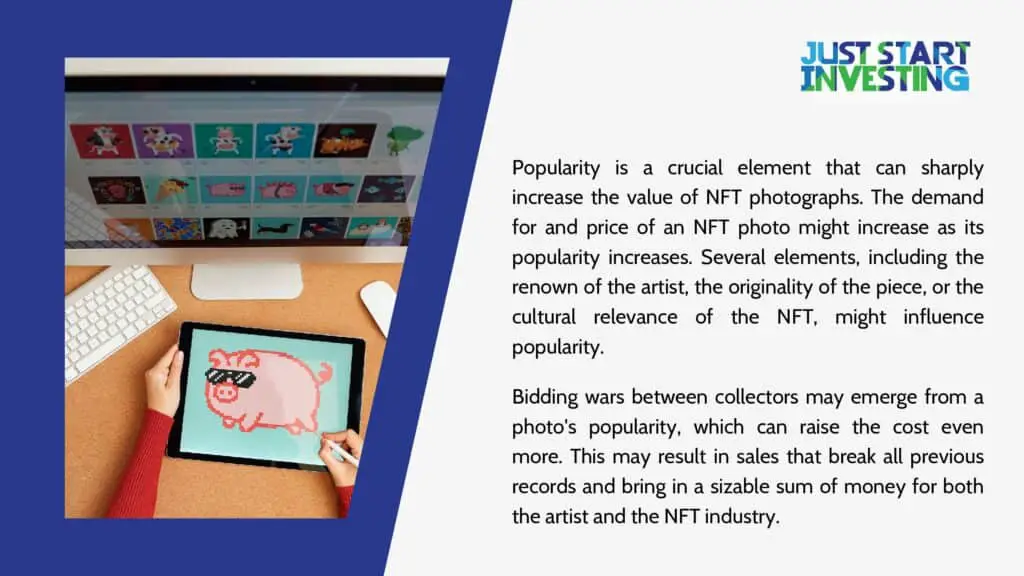 Popularity is a crucial element that can sharply increase the value of NFT photographs. The demand for and price of an NFT photo might increase as its popularity increases. Several elements, including the renown of the artist, the originality of the piece, or the cultural relevance of the NFT, might influence popularity. 
Bidding wars between collectors may emerge from a photo's popularity, which can raise the cost even more. This may result in sales that break all previous records and bring in a sizable sum of money for both the artist and the NFT industry. 
A photo's popularity can also have a snowball effect, meaning that the more well-liked an NFT becomes, the more valuable it becomes and the more interest it attracts from purchasers. This may set off a cycle of rising NFT photo demand and cost. 
Future collectors and investors will probably keep looking for popular and in-demand NFT photos since they have the potential for a significant return on investment.
Creator's Reputation
The value of photography NFTs can be significantly influenced by the creator's reputation. A creator's reputation develops over time based on the caliber and distinctiveness of their work, their standing in the art world, and their record of achievement. 
Snapshots taken by a reputable amateur or professional photographer may draw a huge audience of customers and raise demand for the digital asset. Potential buyers may be more confident in the authenticity and value of the digital image due to the creator's reputation. 
Together with the reputation of the artist, the value of the artwork may also be influenced by the reputation of the NFT marketplace where it is sold. Customers might be more likely to buy NFTs from well-known, trustworthy marketplaces that have a history of selling expensive NFTs. 
It's crucial to remember that other factors, including a creator's reputation, affect how much an NFT image is worth. Even if a creator has a solid reputation, the NFT photo still needs to be distinctive, excellent, and in demand in order to fetch a high price. 
Collectors and investors will likely continue to seek out NFT images created by credible artists and sold through trustworthy marketplaces as the NFT world evolves.
Market Trends and Influences
It's vital to take into account all the variables that can affect the value of NFT photos in order to fully grasp their worth. The general market demand for digital art is a significant aspect that may have an impact on the value of NFT photographs. 
In this section, we'll look at how the larger movements and trends in the art world may affect the market price of NFT photographs. Many factors can affect the value of digital photos in the present market, from the rise of digital art to blockchain-based technology.
Current Market Trends for NFT Photography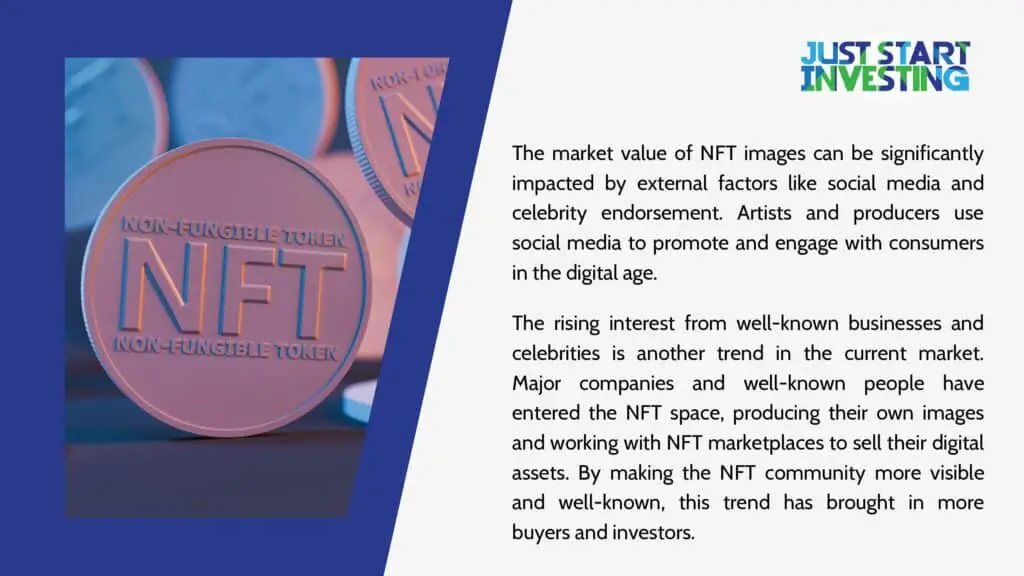 As more artists and collectors get involved, NFT photography has become wildly popular in recent years. The increase of high-value NFT sales has garnered media attention and investment interest in the NFT market. 
Many NFT images have sold for millions of dollars in the last year, and record-breaking purchases continue to occur often. The originality and cultural value of the artwork, the renown of the author, and the market's overall demand for NFT photographs have all contributed to this trend. 
The rising interest from well-known businesses and celebrities is another trend in the current market. Major companies and well-known people have entered the NFT space, producing their own images and working with NFT marketplaces to sell their digital assets. By making the NFT community more visible and well-known, this trend has brought in more buyers and investors. 
Also, we are noticing a growing market emphasis on environmental sustainability. Concerns over the carbon footprint of the sector have been highlighted due to the high energy requirements for the production and trading of NFTs. 
Because of this, new programs and technologies are being made to reduce the damage that NFTs do to the environment. This may have an effect on the market in the future. 
Overall, the NFT market is a fascinating and quickly developing industry, with new trends and advancements appearing frequently. We can anticipate much more innovation and fascinating options for creators, collectors, and investors as the market develops and grows.
The Influence of External Factors on NFT Photo Values
The market value of NFT images can be significantly impacted by external factors like social media and celebrity endorsement. Artists and producers use social media to promote and engage with consumers in the digital age. 
A new era of art consumption has evolved from this, with social media sites like Instagram and Twitter acting as effective marketing tools for NFT creators. Investopedia adds that because you can now display your NFTs on these platforms, you need to look for a digital wallet that supports these sites as well.
The value of an NFT photo can also be significantly affected by a celebrity endorsement. A well-known celebrity's endorsement or investment in an NFT might raise awareness of the piece of art and improve its marketability. The value of the NFT may rise as a result of the increased exposure, which may spark a surge in buyer demand. 
Also, the interest in NFT images has brought some well-known artists and collectors to the space, which has made NFT photographs even more visible and valuable. In turn, this has led to more coverage in the mainstream media and a flood of new buyers and investors entering the market. 
Although social media and celebrity endorsement can have an impact on the value of photography NFTs, it's crucial to remember that these factors do not always determine an NFT's value. 
The overall worth of NFT photos is also significantly influenced by other elements like rarity, genuineness, and the reputation of the photographer. 
The Role of Technology in Determining the Value of NFT Photographs
Technology is a significant factor for deciding the value of NFT photographs. The technology supporting NFTs can have a substantial impact on their value, from the underlying blockchain system that gives them their uniqueness to the usage of smart contracts and decentralized marketplaces. 
This section will examine the impact of technology on the cost of photography NFTs as well as its place in the market. We can better appreciate the distinctive characteristics and worth of these digital files if we comprehend the underlying technological forces.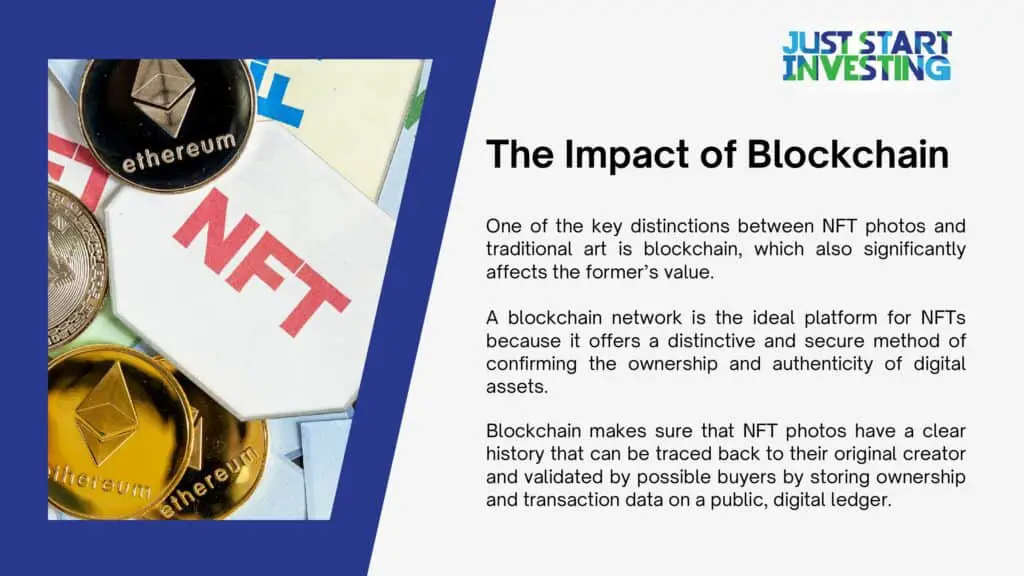 The Impact of Blockchain
One of the key distinctions between NFT photos and traditional art is blockchain, which also significantly affects the former's value. A blockchain network is the ideal platform for NFTs because it offers a distinctive and secure method of confirming the ownership and authenticity of digital assets, as stated by nft now.
Blockchain makes sure that NFT photos have a clear history that can be traced back to their original creator and validated by possible buyers by storing ownership and transaction data on a public, digital ledger. 
This degree of immutability and transparency fosters faith in the worth of NFT photographs. It guarantees that customers can be certain they are buying an original, one-of-a-kind work of art and not a clone or replica. 
This is crucial in the digital age since it's simple to make and distribute copies of artwork without the owner's consent. Moreover, the adoption of blockchain may increase the rarity and uniqueness of NFT images, increasing their market value. 
NFTs are intrinsically rare because they are produced using blockchain technology and there is only one original piece of art that is present on the decentralized network. When paired with the other elements that define the value of NFT images, this scarcity might result in greater pricing and demand.
How Smart Contracts Affect NFTs
Another modern innovation that significantly affects the value of NFTs is smart contracts. Blockchain-based smart contracts have the ability to be designed to automatically carry out certain activities when certain criteria are satisfied. 
A smart contract can automate the transfer of ownership of an NFT between parties. This is especially helpful for purchasing and selling photos as NFTs because it offers a safe and transparent method of carrying out transactions without the need for middlemen. 
Additionally, smart contracts can also contain particular terms and conditions that have been agreed upon beforehand by the buyer and seller. 
A smart contract might stipulate, for instance, that the NFT's original author receives royalties each time it is resold in the future. This feature gives NFT images an additional layer of value by giving authors a method to profit from continued resale of their creations, according to crypto.news. 
When purchasing and selling photos as NFTs, a smart contract adds an extra layer of security and transparency and enables the inclusion of customized terms and conditions.
As a result, buyers and sellers can feel confident in the legitimacy of the transaction and the agreement's terms, which can increase the value of NFT pictures.
The Use of Decentralized NFT Marketplaces in Transactions
Decentralized NFT marketplaces are a new but increasing NFT trend. Unlike traditional marketplaces, which are often run by a single entity, decentralized NFT marketplaces are built on the blockchain. Because of this, they are decentralized and anyone can join if they want to. 
Decentralized markets offer a more democratic and open atmosphere for selling your photos, which is one of its main advantages. There is no centralized authority that can manipulate prices or impose access restrictions on the market because these markets are not governed by a single institution. 
Moreover, smart contracts are frequently used in decentralized NFT marketplaces to automate transactions and add more security and transparency. This means that buyers and sellers can execute transactions with confidence since the blockchain will automatically enforce the conditions of the agreement.
The Future of Digital Images as NFTs And Their Potential Value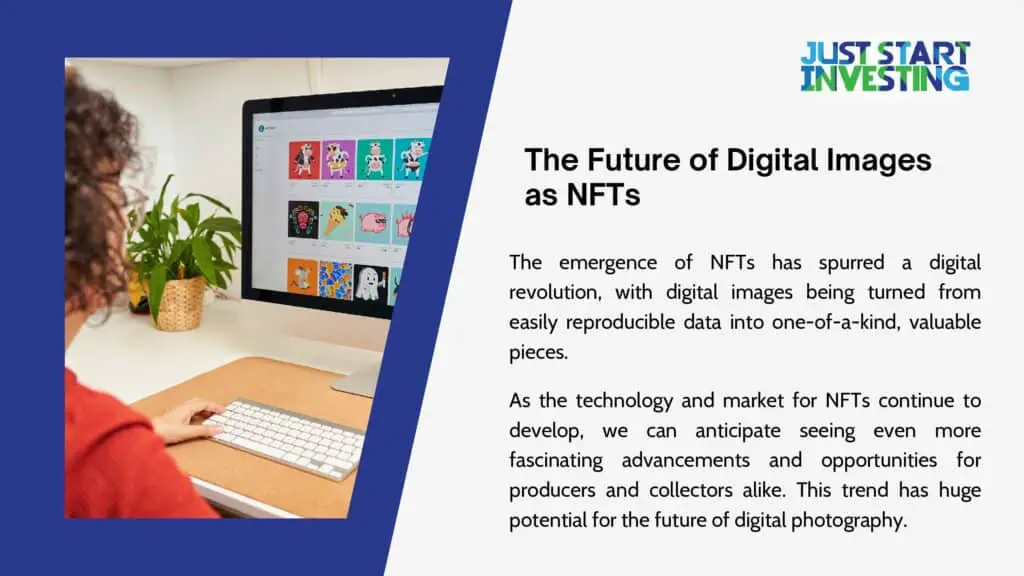 The emergence of NFTs has spurred a digital revolution, with digital images being turned from easily reproducible data into one-of-a-kind, valuable pieces. 
As the technology and market for NFTs continue to develop, we can anticipate seeing even more fascinating advancements and opportunities for producers and collectors alike. This trend has huge potential for the future of digital photography.
Trends and Predictions For the NFT Photography Market
The market for NFT photography has experienced rapid expansion in recent years, and this pattern is anticipated to last for a very long time. We may anticipate an increase in the supply of high-caliber NFT photographs as more and more photographers and artists become aware of their potential. 
One of the main things driving growth in the NFT photography market is the growing number of platforms and marketplaces that let you buy and sell photos as NFTs. 
As more established businesses and investors start to understand the possibilities of NFTs, this trend is expected to keep going. 
The rising popularity of NFT art and the rising demand for distinctive, one-of-a-kind artwork are further factors boosting the growth of the market. 
As more advanced tools and technologies for making and selling NFTs as pictures become accessible, we may expect even more unique and creative uses of the technology in the future.
Overall, there is much potential for NFT photographers and artists to produce and distribute distinctive and priceless works in the vibrant and dynamic NFT photography market. 
Emerging Use Cases for NFTs
NFTs are already having a significant impact on the digital world, but they offer a wide range of potential applications. We are seeing an increasing number of new use cases that take use of the distinctive qualities of these digital assets as the technology and market for NFTs continue to develop. 
The gaming industry is one new use for NFTs. NFTs can be used to represent in-game objects, such as weaponry or rare virtual assets, that have a real-world value as blockchain-based games and virtual worlds become more prevalent. 
This has the potential to develop completely new gaming economies where players can use NFTs to purchase, sell, and exchange expensive virtual goods. 
In the field of collectibles, NFTs are finding new applications. Collectors have always appreciated distinctive and limited-edition items, from sports cards to expensive footwear. NFTs offer a means of producing digital collectibles that can be exchanged and sold on blockchain-based marketplaces and are just as uncommon and distinctive as physical ones. 
The music industry could undergo a change thanks to NFTs. Artists and other creators can sell their products directly to fans by using NFTs to represent ownership of everything from single tracks to complete albums. This enables artists to keep ownership over their creations and get paid directly for their work. 
Finally, the world of real estate and other physical assets can benefit from the deployment of NFTs. NFTs can facilitate the purchasing and selling of physical goods by representing ownership of these items, like real estate or valuable works of art, on the blockchain. 
We may anticipate seeing even more cutting-edge uses for NFTs as their use cases develop and increase. NFTs have the ability to radically alter the way we think about ownership and value in the digital era, whether it is in the gaming, collectibles, music, or other industries.
Potential Challenges And Opportunities
NFT photography has chances and problems as they continue to acquire popularity in the art world and beyond. 
Making sure the technology is usable and accessible for both makers and consumers is a challenge. There is still a learning curve for individuals who are not familiar with cryptocurrencies and the underlying technology, even if the blockchain-based marketplaces for NFTs are getting more efficient. 
Concerns have also been raised about how the energy-intensive blockchains used to produce and sell NFTs may affect the environment. On the other hand, NFT photography has a lot of promising future prospects. 
We should expect to see even more imaginative solutions for photographers and artists to monetise their digital creations as NFT use cases develop. NFTs give photographers a chance to safeguard their creations and guarantee that they are properly acknowledged and compensated for their labor. 
The potential for new markets and audiences presents another opportunity for NFT photography. Photographers can sell their NFTs to collectors and fans worldwide thanks to the global accessibility of blockchain-based marketplaces, possibly opening up new cash sources and exposure. 
In general, the future of NFT photography is both difficult and full of possibilities. The prospects for photographers to monetize and protect their work in new ways are too enormous to ignore, despite the fact that there are still obstacles to entry and worries about the technology.
Conclusion
In conclusion, NFT photography is a fascinating and quickly developing market for both photographers and artists as well as collectors. Many variables, such as scarcity, authenticity, popularity, reputation, and outside variables like social media and celebrity endorsements, affect the value of NFTs. 
Decentralized marketplaces give creators a new way to monetize and protect their digital works, while blockchain and smart contracts are essential in maintaining the security and authenticity of NFTs. 
We can anticipate seeing even more cutting-edge solutions for photographers and artists to safeguard and monetize their digital files as the use cases for NFTs continue to grow. 
Although there are issues and worries with the technology, there are too many advantages for NFT photography to ignore. NFT photography is a fascinating new frontier in the fields of photography and digital art with the possibility for new markets, audiences, and revenue sources.   
It will be interesting to observe how photographers and artists continue to adapt to and succeed in this new digital ecosystem as the market for NFTs develops.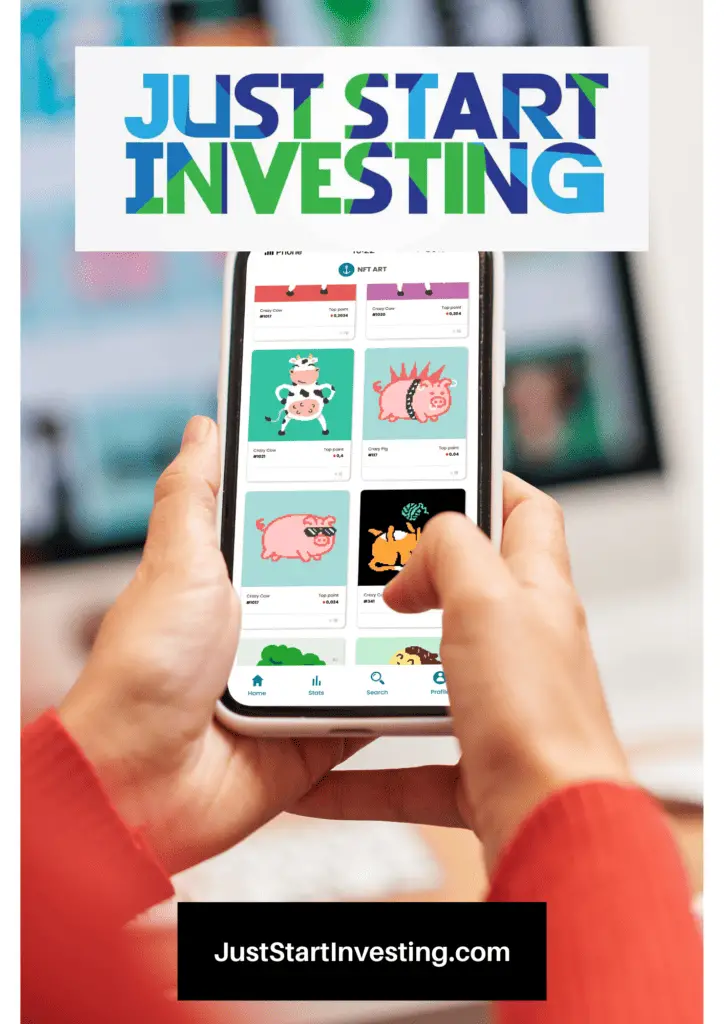 Just Start Investing is a personal finance website that makes investing easy. Learn the simple strategies to start investing today, as well as ways to optimize your credit cards, banking, and budget. Just Start Investing has been featured on Business Insider, Forbes, and US News & World Report, among other major publications for its easy-to-follow writing.