Digital artworks known as NFT (non-fungible token) visuals are sweeping the art world. These are one-of-a-kind digital assets that are kept using blockchain technology, making it simple to confirm their authenticity. Digital paintings, graphics, animated gifs, and even 3D sculptures can all be used in NFT pictures. 
NFT pictures have gained popularity recently and some have sold for millions of dollars. They have created new opportunities for digital artists, allowing them to market their works as valuable, original assets rather than as cheap copies. 
Because there is a rising market for original digital art, producing and selling NFT pictures might be a successful option. As a result, a new market for digital art has emerged, luring investors and collectors who see NFTs as a significant asset class.
Also, the usage of blockchain offers a safe and open marketplace for purchasing and selling NFTs, which has contributed to the increase in their popularity. 
All these offer a potentially fruitful chance for digital artists to demonstrate their abilities and make a sizable sum of money.
What are NFTs and How Do They Work?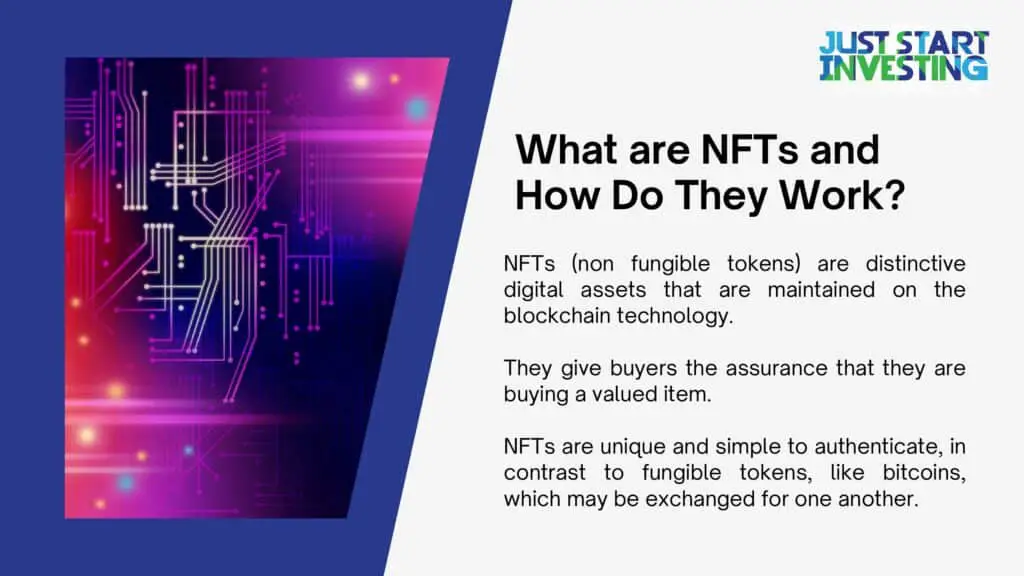 NFTs (non fungible tokens) are distinctive digital assets that are maintained on the blockchain technology. They give buyers the assurance that they are buying a valued item. NFTs are unique and simple to authenticate, in contrast to fungible tokens, like bitcoins, which may be exchanged for one another. 
The ownership of digital objects like music, art, and even tweets is represented by NFTs. The usage of blockchain, says Analytics Vidhya, also makes NFTs safe and impervious to tampering, and its transparency makes it simple for buyers to confirm the legitimacy of the NFT and the ownership history.
Different Types of NFTs And Their Uses
In the digital world, non fungible tokens (NFTs) come in a variety of forms and have diverse purposes. Here are a few examples: 
Art NFTs – The most prevalent kind of NFTs, art NFTs represent digital artworks like paintings, illustrations, and photographs.
Music NFTs – Songs, albums, and soundtracks are all examples of digital music assets that are represented by these NFTs for music. They give artists and composers a way to market their works as unique commodities that can be desirable to both collectors and listeners.
Gaming NFTs – In the gaming business, these NFTs are used to signify ownership of in-game objects like weapons, characters, and skins. They let gamers buy, sell, and exchange uncommon products, therefore establishing a new market for gaming fans.
Collectible NFTs – NFTs for unique digital treasures like trading cards, virtual animals, and even tweets are referred to as collectible NFTs. They give collectors a way to acquire precious, uncommon digital things that will eventually increase in value.
Domain Name NFTs – On the blockchain, these NFTs indicate ownership of domain names. They offer a safe, decentralized method for purchasing, selling, and transferring domain names—valuable assets in the online world.
Why are NFTs Valuable And How Do They Differ from Traditional Artwork?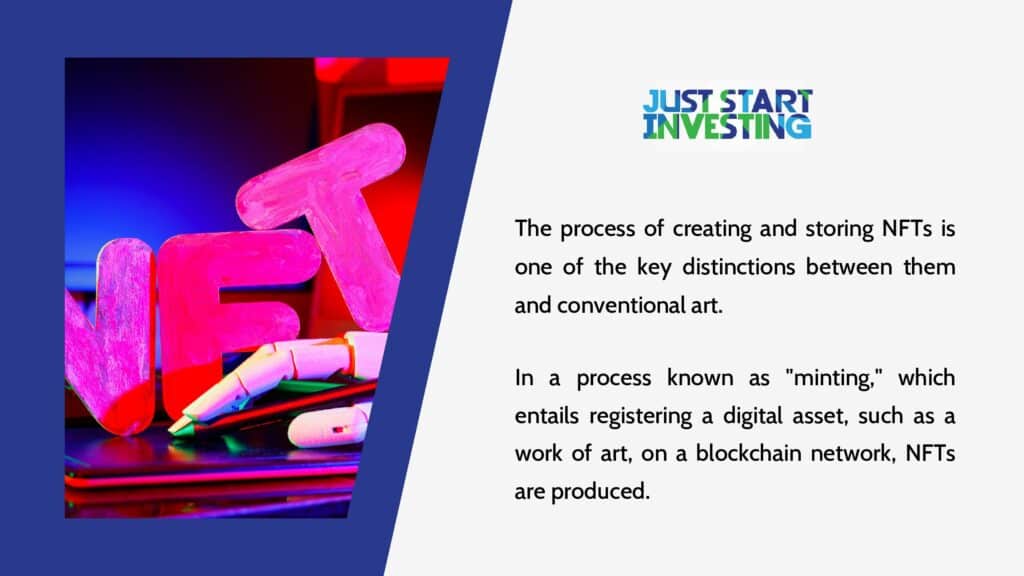 NFTs are valuable because they reflect ownership of distinct digital files that are impossible to copy or duplicate. NFTs are unique digital assets that can be validated as legitimate and are held by only one person, unlike traditional artwork, which can be duplicated or printed. 
According to Binance, an NFT's value is frequently influenced by its scarcity, originality, and market demand. NFTs can increase in value over time, much like traditional works of art, making them a potentially profitable investment. 
The process of creating and storing NFTs is one of the key distinctions between them and conventional art. In a process known as "minting," which entails registering a digital asset, such as a work of art, on a blockchain network, NFTs are produced. 
This generates a special digital signature that serves as the asset's ownership certificate. Buyers may easily confirm the legitimacy and ownership history of the NFT because of the blockchain network's guarantee of its security and transparency. 
On the other hand, traditional art is produced using tangible techniques like painting or sculpture. Although the value of traditional artwork can also rise over time, it can be more difficult to determine its authenticity and ownership history, which makes it a riskier investment.
Creating NFT Photos
Producing NFT photos is a thrilling opportunity for artists and creators to demonstrate their artistic abilities and attract potential buyers. The method necessitates careful consideration of the technological requirements, design, rarity, and digital NFT art media.
Selecting the Best Digital Art Medium  
There are numerous possibilities when it comes to selecting the best digital art medium for NFTs. The following factors should be taken into account while selecting the best media for your NFT: 
Compatibility: Ensure that the medium you select is compatible with the blockchain platform you intend to use for your NFT. For you to generate and mint your NFT, some blockchain systems may have particular specifications or file formats that you must adhere to.
Quality: The worth of your NFT will be impacted by the caliber of your medium. To ensure that the digital file you produce is both visually appealing and original, employ high-quality tools and software.
Authenticity: The format you select must enable you to produce a one-of-a-kind, distinctive digital artwork that cannot be copied or duplicated. Your NFT will become more genuine and valuable as a result.
Personal preference: You should select a medium that you feel at ease working with and that supports your artistic goals. You'll be able to do this to produce original, genuine artworks that showcase your sense of style and artistic vision. 
Digital painting and illustration tools like Adobe Photoshop and Procreate, 3D modeling tools like Blender and Maya, and even generative art tools like Processing and Unity are some of the more well-liked digital art media for NFTs. 
Your own tastes, artistic vision, and the particular specifications of the blockchain platform you intend to use will ultimately determine the media you use. You can select the best digital art medium to produce distinctive and priceless NFTs by taking these things into account.
Planning and Designing Your NFT Photo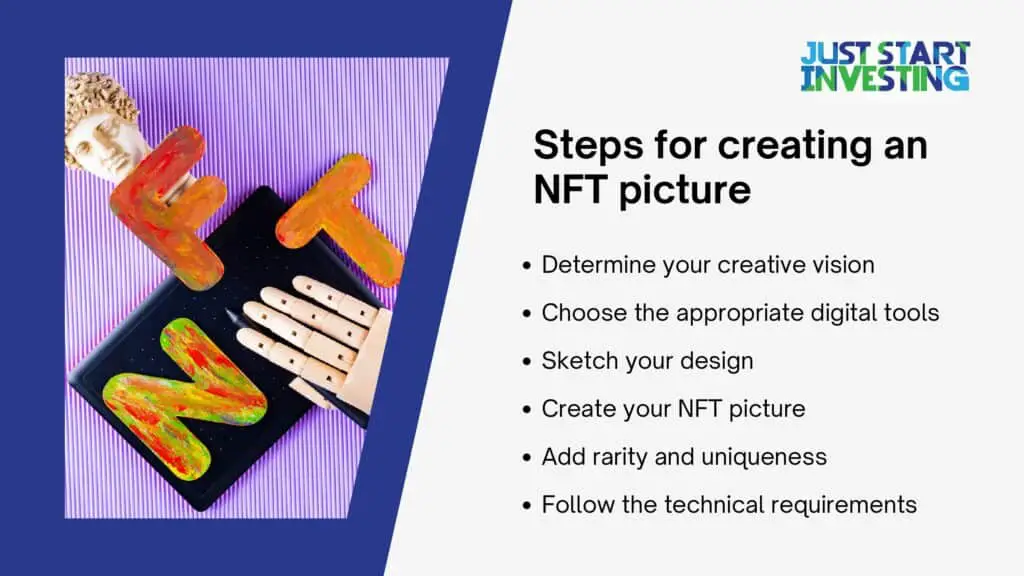 An exciting and creative process, planning and producing an NFT photo gives artists the chance to express their individual vision, try out new materials and techniques, and get recognized and paid for their efforts. 
The steps for creating an NFT picture are as follows: 
Determine your creative vision: Before you start designing your NFT picture, consider your creative vision. What do you want the NFT image to stand for? What tone or mood are you trying to convey? Designing an NFT, according to nft now, helps artists focus on producing something that more closely resembles their creative vision.
Choose the appropriate digital tools: Use tools that let you produce top-notch, original artwork and that are compatible with the blockchain platform you intend to employ.
Sketch your design: Start by drawing your idea on paper or using a computer. Before starting the final design, this will let you visualize your NFT photo and make any necessary revisions.
Create your NFT picture: Make your NFT image by utilizing the digital tools of your choice. To make your NFT picture stand out, think about utilizing vivid colors, minute details, and original designs.
Add rarity and uniqueness: Consider employing techniques like layering, motion, or making limited edition NFT images to increase the rarity and uniqueness of your NFT image.
Follow the technical requirements: Make sure your NFT photo is correctly minted and can be traded on the blockchain platform you intend to utilize by adhering to its technical criteria.
Enhancing Your NFT Photos with Unique Elements  
There are a number of particular features that may be added to your NFT photos to make them stand out and appeal to potential purchasers. These are some factors to take into account: 
Rarity: Consider producing a limited edition, a one-of-a-kind piece, or a collection of linked artworks that are all individually one-of-a-kind to make your NFT images uncommon.
Animation: Animated NFTs can add value to the entire artwork by producing a fascinating and eye-catching impact.
Interactivity: Giving an NFT photo the ability to be clicked on or otherwise interacted with can give the piece of art a new dimension.
Layers: The use of layers can give your NFT image a sense of depth and intricacy that will help it stand out.
Sound: Including music or sound effects in your digital image might turn it into a more interesting multimodal experience.
Unique designs: By combining odd shapes, patterns, or colors, you may make your NFT picture stand out from other pieces of art. 
Eventually, creating something that is both aesthetically pleasing and distinctive is the key to making an NFT photo stand out. You can raise your NFT picture's overall worth and appeal to customers by including one or more of these components.
Where And How to Buy and Sell NFT Photography
NFT photographs can be sold on several internet marketplaces that specialize in NFTs. Using these platforms, photographers may post and sell their works to clients all over the world. Artists can increase their chances of success in the NFT market by picking the best marketplace and setting a reasonable pricing. 
Finding the Right NFT Photography Marketplace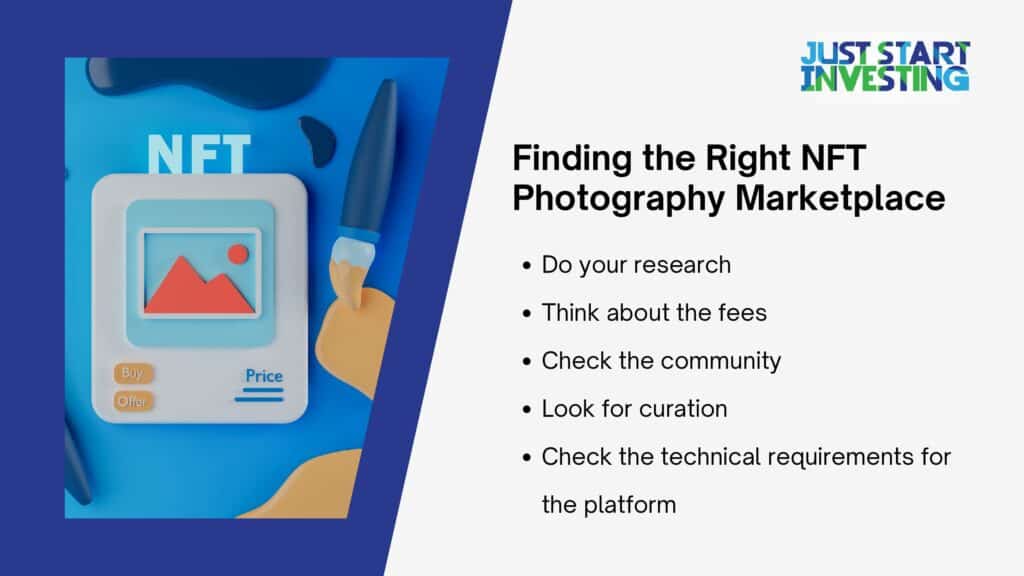 Finding the right NFT photography marketplace is essential for reaching a large audience and boosting your sales potential if you're trying to sell your photographs. The following advice can help you choose the best NFT photography marketplace: 
Do your research: Perform research t o find the NFT marketplace that best meets your needs, take your time exploring the many options. Search for online markets with a solid reputation and a sizable user base of buyers and sellers.
Think about the fees: The fee structures for listing and selling NFTs vary depending on the platform. As recommended by The Crypto Times, take into account the costs associated and how they will affect your earnings while selecting a platform.
Check the community: Have a look at the marketplace for NFT's buyer and seller community. Do they participate and act? Do they provide constructive feedback and assistance to each other?
Look for curation: To guarantee quality and uniqueness, certain NFT photography marketplaces curate their offerings. This can make sure that serious collectors and enthusiasts notice your photo.
Check the technical requirements for the platform: Different NFT marketplaces have various technical requirements for uploading and minting NFTs. Make sure you are aware of these specifications and possess the technical expertise required to meet them. 
Ultimately, finding the best venue to sell your NFT photos requires time and study. You can make an informed choice and increase your chances of making sales by taking into account the costs, communities, curation, and technical needs of each platform.
Leading NFT Photography Marketplaces 
Leading the way for the digital revolution are several NFT marketplaces, which are easily accessible for photographers wishing to sell their images as NFTs. Here are a few of the best online marketplaces for NFT photography: 
OpenSea: One of the biggest NFT marketplaces, OpenSea enables artists to sell a variety of digital goods, including NFT photography. The platform's user-friendly design and vibrant seller and buyer community have made it well-known.
SuperRare: SuperRare is a curated NFT marketplace with a focus on original, high-quality digital art, which includes NFT photos. The platform is famed for its group of devoted collectors and its emphasis on creating an environment that is encouraging for artists.
Nifty Gateway: Nifty Gateway is an easy-to-use NFT marketplace that emphasizes readily available and reasonably priced NFTs, including photos. The limited-edition releases and celebrity collaborations make the platform remarkable for its users.  
Foundation: Foundation is another carefully chosen online store that emphasizes innovative and high-quality digital products. The platform is particularly known for its community-driven methodology and dedication to forging enduring bonds with artists.
KnownOrigin: KnownOrigin is a platform with a presence in the UK that is lauded for its emphasis on artists and dedication to supporting and paying creators fairly. 
Take into account elements including the platform's costs, community, curation, and technological needs while selecting an NFT marketplace to sell photos.
You may increase your revenue and expose your NFT photography to a market of customers all around the world by conducting your research and picking the proper platform.
How Much Should Your NFT Photos Cost? 
Pricing NFT photos can be a challenging task, but with a bit of research and technique, you can decide a reasonable and lucrative price for your digital artwork.
First, perform research to have an idea of what customers are ready to pay for your kind of work. To do this, take a look at the costs of comparable photography NFTs on other online marketplaces. This could serve as the basis for your pricing approach.
Next, analyze your expenses: Consider the time and resources you invested in taking the images, as well as any costs related to minting and selling them on a marketplace. Make sure your pricing approach takes these expenses into account.
The third step is to choose a minimum price. Choose the lowest cost that you are willing to pay for your photographs. This will assist you in avoiding undervaluing your labor and ensuring that you get paid adequately for your efforts.
Then, factor in demand. Consider the demand when choosing your pricing for your work. If you have a large following or have previously sold NFT photos, you may want to do so.
Lastly, think about your long-term objectives. According to 500px, you might want to think about pricing your work at a lower price point to make it more accessible to customers and develop a fan following if your goal is to establish yourself as an NFT photography artist and build a long-term career.
Increasing Exposure of Your NFT Images through Promotion 
In order to optimize their visibility and improve your chances of selling them, you must actively promote your NFT images. Here are some pointers for maximizing visibility while promoting your NFT images:
Use social media: To exhibit your images and spread the word about your marketplace, use social media sites like Twitter, Instagram, and TikTok. To expand your reach, use pertinent hashtags and interact with your fans.
Work together with other creatives: Promote each other's work by collaborating with other NFT photographers or influencers. This will help you reach their audience and raise your profile.
Participate in online communities: Join NFT photography communities on Discord, Reddit, or other online forums to share your work and meet prospective customers. Interact with other community members and share insightful information to position yourself as a subject matter authority.
Provide incentives: To boost sales and instill a sense of urgency, offer early purchasers of your images exclusive discounts or promotions.
Attend events: Attend photography-related NFT events or conferences to meet other photographers and buyers and to present your work. This might increase your visibility and help you interact with potential customers.
Strategies for Producing Marketable NFT Images 
For artists and photographers, the creation of NFT images can be a thrilling and rewarding opportunity. Navigating the marketplaces, pricing tactics, and technological constraints, however, can be intimidating. Here are a few recommendations for producing and marketing NFT images.
Developing a Strong Brand and Reputation 
In this cutthroat market, developing a solid brand and reputation as an NFT photographer is essential for success. Here are some pointers to help you become known and appreciated as an NFT photographer: 
Consistency is key: Create a recurring theme, style, or speciality for your photos to establish an identifiable brand. As a photographer, consistency may help you stand out in a crowded industry and draw in a devoted audience.
Engage with  your audience: To build a relationship with your audience, interact with your followers, reply to comments, and solicit feedback. You may promote your photographs and increase your exposure by creating a community of fans.
Keep high standards: Make sure your images adhere to high standards for resolution, format, and presentation. Your ability to consistently produce high-caliber work will help you establish a solid reputation as an NFT photographer.
Join the community: Share your work and interact with other NFT photographers and collectors by joining online forums, Discord servers, or social media groups. Participating in the community can help you become recognized as an authority and raise your profile.
Be transparent: Build confidence with your customers by being upfront about your pricing, the quantity of editions, and the minting procedure. You may build a reputation for honesty and integrity by being upfront.
Keeping Up With the Most Recent NFT Trends and Technologies 
In this ever changing business, being current with the newest NFT trends and technology is essential for success. One way of accomplishing that is to follow experts and influencers in the NFT community on social media platforms, blogs, and forums to keep yourself posted with the newest news and trends. 
Attending virtual and physical gatherings and conferences to hear from professionals and network with other NFT artists, photographers, and collectors is another method to stay informed. To connect with other NFT aficionados and remain up to date on the newest news, you may also join online communities like Discord groups or Telegram channels. 
Most importantly, to stay on top of the game, keep an open mind and keep investigating new platforms, technologies, and trends in the NFT industry.
Conclusion
Producing and selling NFT pictures can be a thrilling and successful prospect for both artists and collectors. You can establish a strong brand and reputation as an NFT artist by adhering to the best practices described in this article, such as selecting the appropriate digital art media, designing your NFT picture for maximum impact, and advertising your work for maximum visibility. 
To guarantee that the NFT market grows and thrives in a sustainable and ethical manner, it's also critical to keep up with the most recent trends and technology while keeping ethical issues in mind.
We hope that these pointers will give you the confidence you need to explore the world of NFTs and produce and market your own digital works.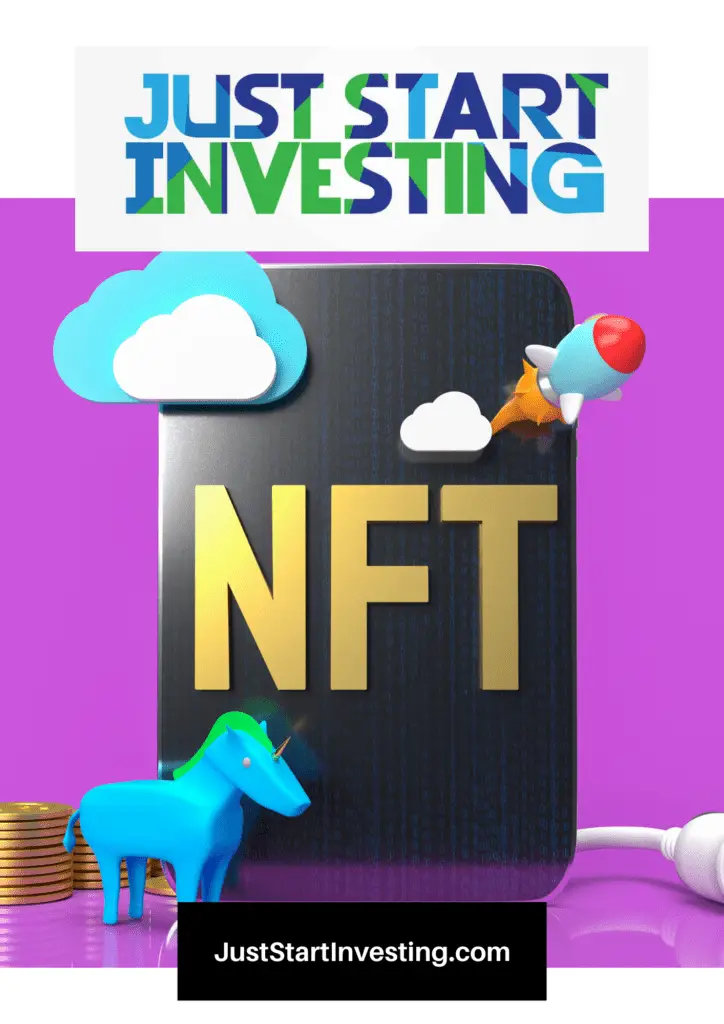 Just Start Investing is a personal finance website that makes investing easy. Learn the simple strategies to start investing today, as well as ways to optimize your credit cards, banking, and budget. Just Start Investing has been featured on Business Insider, Forbes, and US News & World Report, among other major publications for its easy-to-follow writing.