Non-fungible tokens, often known as NFTs, are a type of digital asset that serve as proof of ownership or validity for a particular good or piece of content. According to Simplilearn, due to their unique properties, NFTs are different from conventional cryptocurrencies like Bitcoin in that NFTs cannot be replaced or interchanged. 
Imagine you possess a valuable piece of signed sports memorabilia as an example. Since it is one of a kind, it cannot be changed to a comparable item. Similarly, NFTs certify the uniqueness and ownership of a particular item or piece of content, whether it be a digital work of art, a collectible, or even virtual real estate. 
NFTs are essentially the digital version of rare, expensive collectibles. As with physical collectibles, the scarcity and uniqueness of NFTs determine their value. 
Unquestionably, NFTs are sweeping the tech, gaming, and art worlds and are gaining popularity daily. 
In this article, we will be having an in-depth discussion of what is an NFT, how it operates, and its potential uses. Additionally, we'll go over the benefits and drawbacks of NFTs so you can decide for yourself if they're a good fit. 
So let's get going! With the help of this guide, you'll quickly develop a thorough understanding of NFTs and dominate the market in no time.
What is an NFT?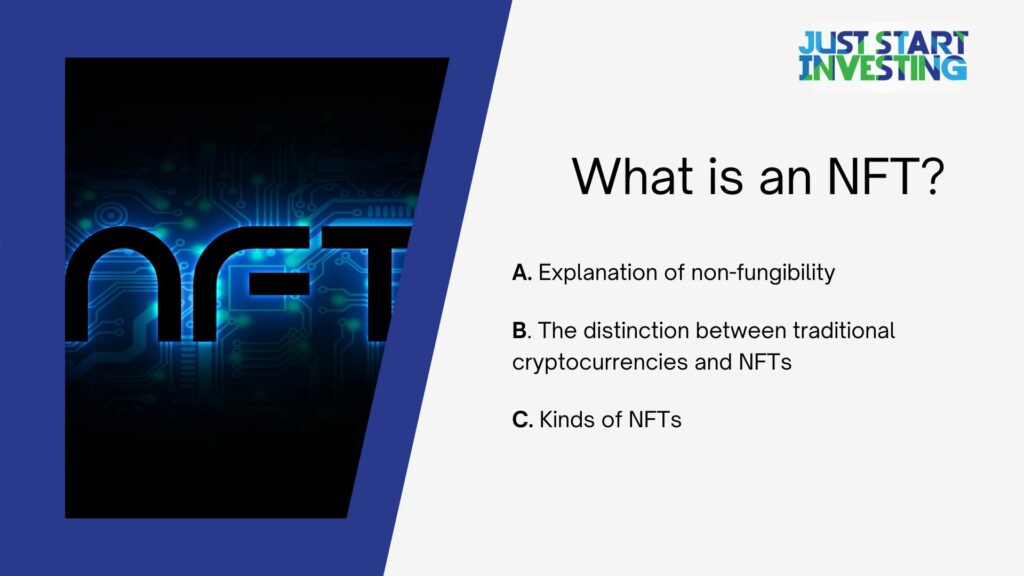 A. Explanation of non-fungibility
According to Investopedia, non-fungibility is the attribute of being distinct or one-of-a-kind and includes assets that cannot be exchanged. NFTs (non-fungible tokens) are distinguished from other cryptographic assets like Bitcoin by this important feature. 
Consider this: you can trade a $10 bill for two $5 bills or ten $1 bills if you have one. The bills are interchangeable and still have the same value. This is an illustration of fungibility, where each unit of the asset is interchangeable and of equal worth. 
With an NFT, on the other hand, each token stands for a distinct digital file that cannot be duplicated or traded for another token with a comparable function. Each NFT is special and has its own special worth. As a method of digital ownership and authenticity verification, an NFT is valuable and fascinating due to its non-fungibility. 
B. The distinction between traditional cryptocurrencies and NFTs
Blockchain technology is used by both NFTs and similar cryptographic assets like Bitcoin, but they differ in crucial ways! 
Traditional cryptocurrencies, such as Bitcoin, are fungible, which means that each unit of money has the same value and may be used interchangeably. One Bitcoin can be exchanged for another without changing in value. 
On the other hand, an NFT is non-fungible, which means that each NFT is distinct and has a distinct value. Each NFT stands for a unique asset, such as an artwork or collectible, which cannot be duplicated or traded for another NFT with a similar function. It is considered a valuable and desirable form of digital ownership and authenticity verification due to its non-fungibility. 
Therefore, Bitcoin and NFTs are fundamentally different, despite the fact that they both have fascinating applications.
C. Kinds of NFTs
NFTs come in a wide range of sizes and shapes, and because of their adaptability and distinctiveness, they represent an exhilarating new digital frontier. Some of the most well-liked NFT varieties are listed below: 
NFT Artwork: Digital artwork, like paintings and illustrations that are authenticated as one-of-a-kind on the blockchain. According to MasterClass, while anyone can purchase a reprint of a well-known NFT, the original NFT is a rare item because only one person has legal ownership of it.
Collectible items: Virtual collectibles with value, such as in-game items, trading cards, and other digital assets, are known as collectibles NFTs.
Music: Blockchain-verified and owned digital representations of music, including audio files, album art, and even event tickets.
Video clips: Individual, authenticated digital videos that are owned and traded on the blockchain, such as short films and video clips. 
Real estate NFTs: In virtual worlds, these include buildings and plots of land that can be owned and traded as special digital assets. 
These are merely a few of the numerous varieties of NFTs that exist. We are excited to see what inventive and creative uses people come up with next because the possibilities in the NFT world are endless.
How do NFTs function?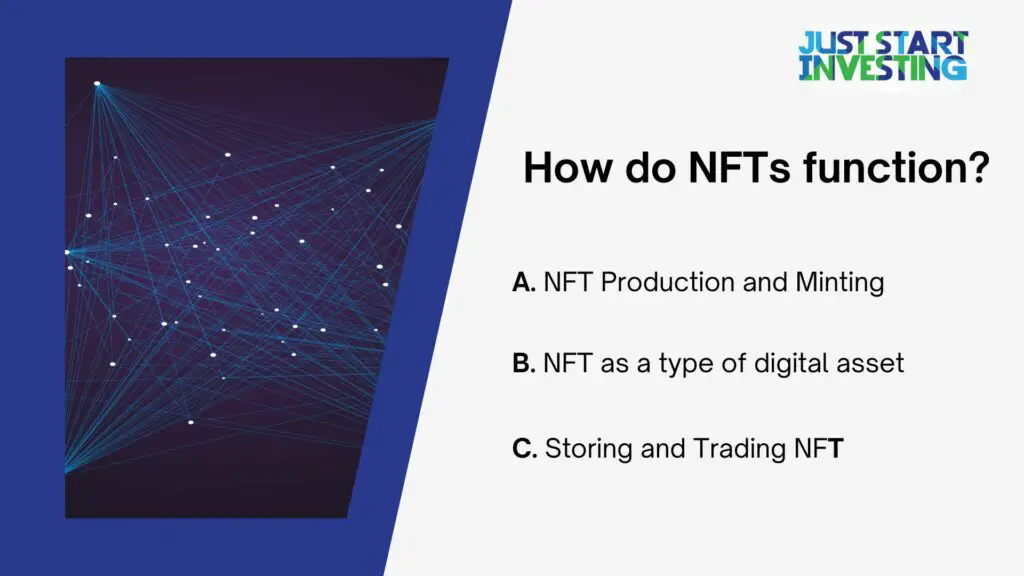 A. NFT Production and Minting
Making and minting NFTs is an innovative way to turn your assets into distinctive, one-of-a-kind products that you may trade. The following is how the production and minting of NFTs work:
The process begins with creating the digital material you want to turn into an NFT. Some digital objects that can serve as NFT examples include a piece of digital real estate, a digital collectible, or even a digital artwork.
The subsequent stage is to "tokenize" your project by converting it into an NFT on the blockchain. Giving the item a unique identification and saving it on any platform or system, such as the Ethereum blockchain, constitute this stage.
The final stage is to mint NFTs by creating a singular instance of the token on the blockchain. The end outcome is digital tokens that can be traded and uploaded to the blockchain.
That's all there is to it; you now have a unique, authenticated NFT that demonstrates your ownership of a digital asset and that you may trade for a nice sum. Along with being quick, easy, and pleasurable, the process also opens up a ton of new possibilities for digital creation and ownership.
B. NFT as a type of digital asset
The revolutionary new type of asset known as NFTs, or non-fungible tokens, is altering how we perceive value and ownership in the digital sphere. An NFT stands for distinct and authenticated digital content that may be purchased, sold, and exchanged in the same way as physical assets like works of art or collectibles. 
NFTs are genuinely one-of-a-kind assets due to the fact that each one is distinct and cannot be divided or replicated. They have more value and security since they are kept on the blockchain, which is a safe and distributed public ledger. 
For digital art creators and collectors, NFTs are a game-changer because they give digital assets a new level of ownership, authentication, and authenticity. NFTs offer a new method to express your creativity and interact with people in the digital world, whether you're an artist, gamer, or collector. 
C. Storing and Trading NFT
Thanks to the cutting-edge technology underlying NFTs, storing and trading them is easy and available to everyone. 
The blockchain, a distributed public ledger, is where NFTs are kept. Once you have your NFT, you can store it safely and access it from any location in the globe. 
When the time comes, you can trade your NFT on some of the largest NFT marketplaces, including OpenSea, SuperRare, and Rarible. You can advertise your NFT for sale on these blockchain networks and get in touch with prospective customers all around the world. Additionally, you can look through and buy extra NFTs to expand your NFT collections.  
Trading an NFT is just as easy as trading any other asset, with added security and advantages from blockchain technology. 
Top NFT Use Cases
A. Digital Art and Collectibles
NFTs, which are transforming the market for art and collectibles, allow for the ownership and trading of a unique piece in ways that were previously inconceivable. NFTs, according to Binance, helped to expand the market for digital collectibles even though the concept of collectibles is not new.
Both digital artists and collectors are beginning to realize the amazing possibilities of a non-fungible token. NFTs allow artists the chance to sell their digital creations as distinctive, valuable properties. Collectors have the chance to purchase unique, rare digital art that has been verified and certified on the blockchain thanks to NFTs.
Already, NFTs are used to sell everything from digital paintings and sketches to animations and even tweets! The art world is only now beginning to properly explore NFT's potential as a novel medium for expression and production.
B. Virtual Goods and Games
The virtual goods and gaming industries are shifting due to NFTs.
NFTs give gamers a cutting-edge way to buy, sell, and exchange rare, exclusive digital objects in the game of their choice. Whether it's a rare weapon, a virtual pet, or a limited edition in-game cosmetic, NFTs now make it feasible to own a special asset that is verified and sanctioned on the blockchain.
NFTs provide a new revenue stream and a way for game makers to communicate with their audience. Additionally, they let developers to directly sell users on-demand access to exclusive virtual products, creating new opportunities for player-driven economies and game-based investment.
C. Real Estate and Property
NFTs provide a new, safer, and more transparent alternative for investors and property owners to own and exchange real estate assets. It is now simpler to transfer ownership, track changes, and confirm ownership rights thanks to NFTs, which authenticate and validate property ownership on the blockchain. 
NFTs offer real estate developers a fresh method for making and offering virtual real estate assets. These digital files also enable the ownership and trading of distinctive virtual real estate assets that are validated and authorized on the blockchain, such as virtual land for a gaming world or a virtual apartment in a virtual city.
Benefits and Risks of NFTs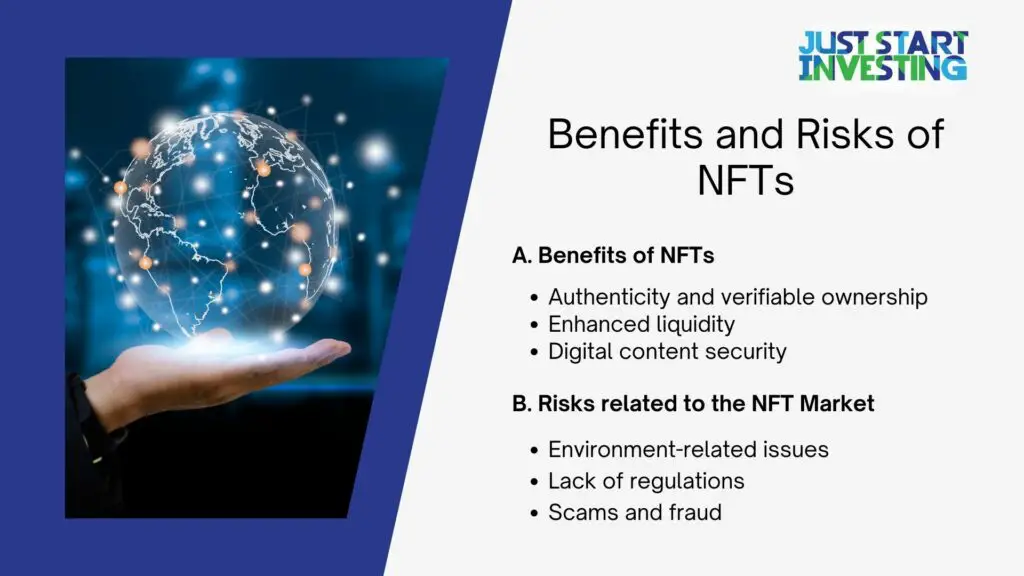 A. Benefits of NFTs
Authenticity and verifiable ownership
One advantage of NFT, as noted by CNBC, is that it offers a record of authenticity and ownership that is stored and verifiable on the blockchain. 
The days of doubt over ownership and validity in the digital world are long gone. NFTs give you the assurance that any of your digital materials are secure and traceable. Therefore, they are the best option for verifiable ownership of collectible artworks, virtual properties, or gaming products. 
Enhanced liquidity
You may trade and monetize your digital assets more quickly and easily because of NFTs' enhanced liquidity.  You may also rapidly and successfully sell your non-fungible token to a global audience thanks to decentralized NFT marketplaces and a rising demand for NFTs. You are no longer constrained by distance or faced with protracted waiting periods when selling your assets. 
For individuals wishing to trade their assets, NFTs offer a new degree of convenience. The capacity to transfer ownership quickly and easily without the use of middlemen is made possible by the usage of a blockchain network.
Therefore, NFTs offer the enhanced liquidity you need to swiftly and effectively monetize your assets, whether you're an artist trying to sell your digital artwork, a gamer looking to trade in-game items or the owner of virtual real estate. It is only wise to make use of the fresh possibilities that NFTs present. 
Digital content security
NFTs can offer digital content security, making them safe and secure. Your digital creations will be real and one-of-a-kind in the form of NFTs, and you can rest easy knowing that they cannot be copied or faked. 
NFTs are impervious to tampering and maintain a permanent record of ownership, so you never have to be concerned about someone claiming ownership of your works or stealing your NFT projects. This offers a means of preventing plagiarism and other types of online thievery. 
By giving you, the creator, total control over your digital art and how it is utilized, NFTs make sure that your labor of love is safeguarded and appreciated.
B. Risks related to the NFT Market
Environment-related issues
Due to the fact that minting and trading NFTs need a lot of processing power, it demands high energy consumption and a significant carbon footprint. This is proof that NFTs can have an adverse impact on the environment.
Moreover, digital artist Memo Akten estimates that a single Ethereum blockchain transaction has an average carbon footprint of 35 kWH. Consider that this is comparable to a resident of the EU using electricity for 4 days.
However, the NFT space is aware of these difficulties, too. In fact, a lot of NFT platforms are attempting to develop more environment-friendly NFTs by seeking new ways and technologies that can lessen their environmental impact, such as using renewable energy sources and improving their energy efficiency.
Some artists have also shifted to working with recyclable materials while others resorted to using virtual instruments to create their music. By using these ecologically friendly methods when creating their digital products, NFT developers are attempting to reduce their carbon footprint. 
Despite the likelihood that NFTs generate environmental concerns, the NFT community is actively working to reduce their impact and develop more sustainable alternatives. By being conscious of the environmental impact of our NFTs, we can ensure that they serve as a tool for positive change rather than endanger the environment.
Lack of regulations
The lack of regulation over NFT exchanges that occur on various platforms can have both positive and harmful effects. On the one hand, it permits more flexibility and imagination in the use and trading of NFTs in NFT marketplaces. However, this could also mean that NFT buyers and sellers are less protected and are at a larger risk of fraud or scams. 
In order to buy or sell NFTs in a hassle-free manner, NFT marketplace participants should conduct their due diligence and research. Furthermore, to increase stability and protect all participants, it is crucial for the NFT industry to take self-regulation and standardization into account. 
Scams and fraud
The NFT market is vulnerable to fraud and scams, just like any other young and expanding sector. NFT fraud includes, among other things, the sale of phony NFTs as real on an NFT marketplace, the sale of NFTs repeatedly to different customers, and the hacking or theft of NFTs. 
Scammers may also directly defraud victims of their money or obtain credentials to access a victim's digital wallet.
Before making a purchase, it is crucial to conduct extensive research about the NFT and the seller. It is also crucial to employ safe payment and storage methods. The NFT sector is still in its infancy, and as it develops and flourishes, more safeguards will probably be put in place to guard against and deal with fraud and scams.
Conclusion 
NFTs have the ability to fundamentally alter how we store and sell any form of digital assets since they offer verifiable ownership, increased liquidity, and security for digital content.
But it's important to be aware of its potential drawbacks, including potential environmental problems, a lack of regulation in the NFT market, the likelihood of fraud and scams, and other aspects, just like with numerous other things in the virtual world.
As the NFT space continues to evolve, it will be interesting to see how NFTs affect diverse businesses.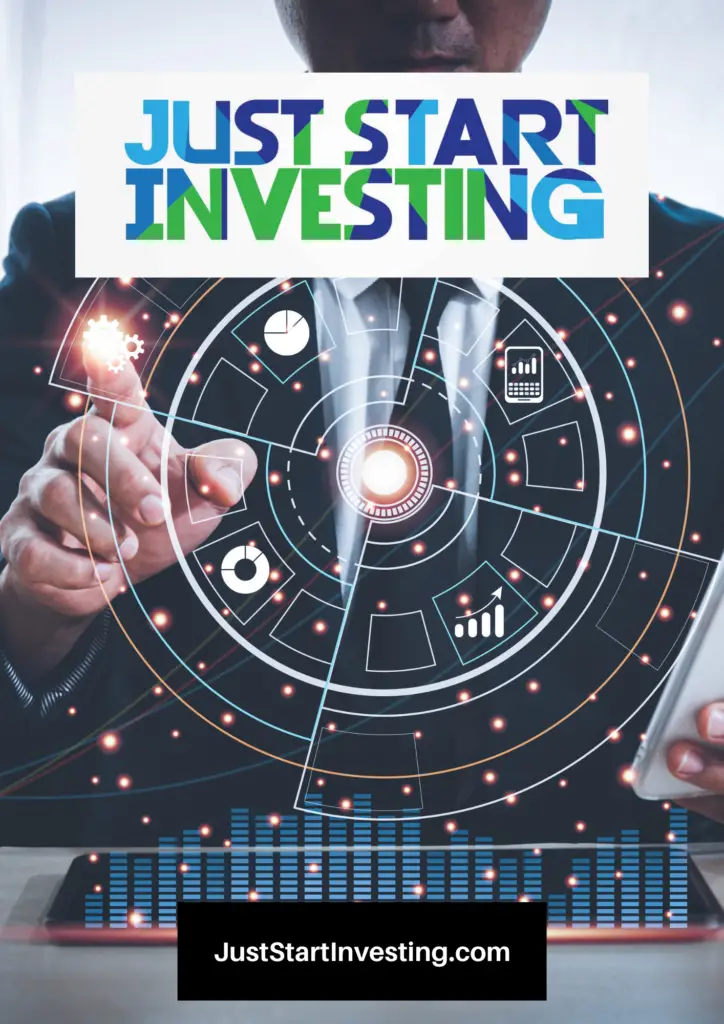 Just Start Investing is a personal finance website that makes investing easy. Learn the simple strategies to start investing today, as well as ways to optimize your credit cards, banking, and budget. Just Start Investing has been featured on Business Insider, Forbes, and US News & World Report, among other major publications for its easy-to-follow writing.