NFT minting is revolutionary for creators, collectors, and artists alike. It can be used to transform your digital assets, such as a piece of music, artwork, or even a tweet, into a unique, verified collectible. As a result, your works can now have a permanent home on the blockchain, along with genuine value and tangible ownership. 

NFT minting brings up new opportunities for collectors to invest in rare and unique digital assets in addition to giving artists and creatives a new source of income. NFTs are transforming the art market and giving makers and collectors new ways to interact. 
And the best part?
Minting NFTs is easily accessible to everyone. It has never been simpler to mint your own NFT thanks to the rise of user-friendly NFT platforms. All you need to create a valuable, collectible asset is an idea and the motivation to pursue it. 
So, why wait? Join the intriguing world of digital tokens by getting started with minting NFTs right away. Your works have greater value than ever, and there are countless opportunities!
Explaining NFT Minting for Beginners
The process of producing a non-fungible token (NFT) on a blockchain is known as NFT minting, Cointelegraph states. NFTs are distinctive digital assets that signify ownership of a particular item or piece of content, such as a work of art, a piece of music, a piece of video, or even a tweet.
The digital asset's developer can establish ownership and validity on the blockchain by minting an NFT, creating a permanent and verifiable record. 
Once your own NFT is minted, it can be purchased and traded just like any other collectible. Similar to traditional art, an NFT's ownership is tracked on the blockchain and is transferable from one person to another. This opens up new possibilities for creatives, artists, and collectors to profit from their labor and make investments in rare, priceless possessions.
How Does NFT Minting Work?
NFT minting works by leveraging blockchain technology to create a special, one-of-a-kind token that signifies ownership of a digital file. This could be a piece of music, artwork, film, or anything else that can be stored digitally. 
Everyone can easily and readily mint an NFT.  All you have to do is upload your NFT art and give a few informational facts, and done! Your NFT is prepared for global sale.
I. Select an NFT Platform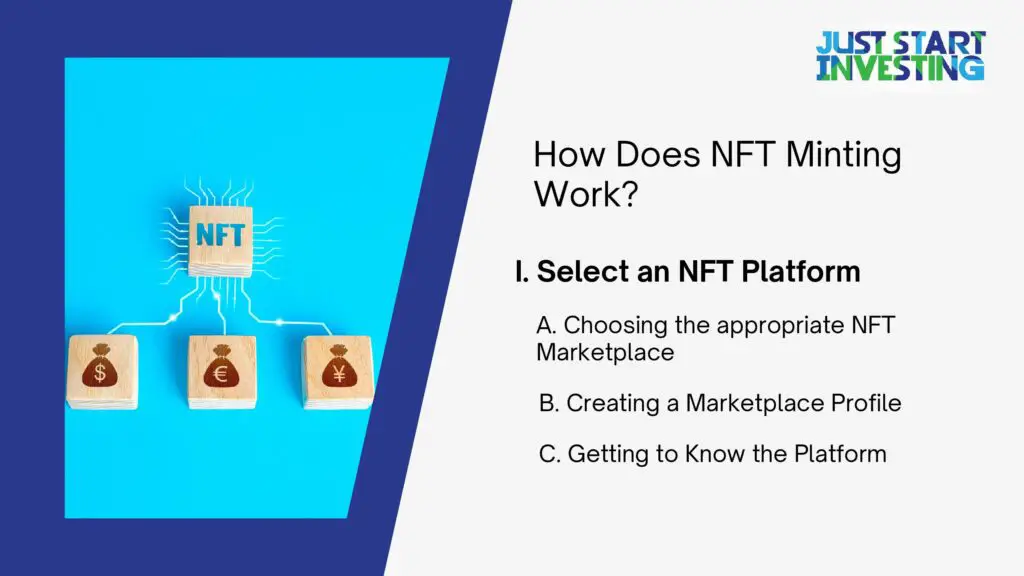 A. Choosing the appropriate NFT Marketplace
An essential initial step before you can produce or mint an NFT is selecting the appropriate platform, also known as an NFT marketplace. NFT marketplaces are venues where you can sell NFTs. Popular NFT marketplaces like OpenSea, Rarible, and SuperRare are all readily available. 
It's critical to conduct research and contrast each platform's features and costs before choosing one. Take into account elements like platform usability, transaction costs, community size, the NFT types it offers, and the blockchains it supports.
For instance, according to CoinDesk, OpenSea supports the Polygon, Solana, Arbitrum, Avalanche, Klaytn, Optimism, and Ethereum blockchain. While the Ethereum NFT blockchain is infamous for demanding exorbitant service costs, or "gas fees," OpenSea now offers a lazy mint option. 
This means that without having to pay for gas fees, the artist can upload their creation, "mint" it to their profile, and then put it for sale. The gas fees will then be covered by the collector when they buy it.
B. Creating a Marketplace Profile
You can make an NFT marketplace account and begin utilizing the platform in minting your NFT after choosing the one that best suits your needs. Typically, opening an account is simple and only requires basic information.
C. Getting to Know the Platform
After creating a marketplace profile, spend some time getting familiar with the platform features, such as finding out how to upload and maintain your own NFTs. This will simplify and speed up the minting process.
II. Create and Fund a Crypto Wallet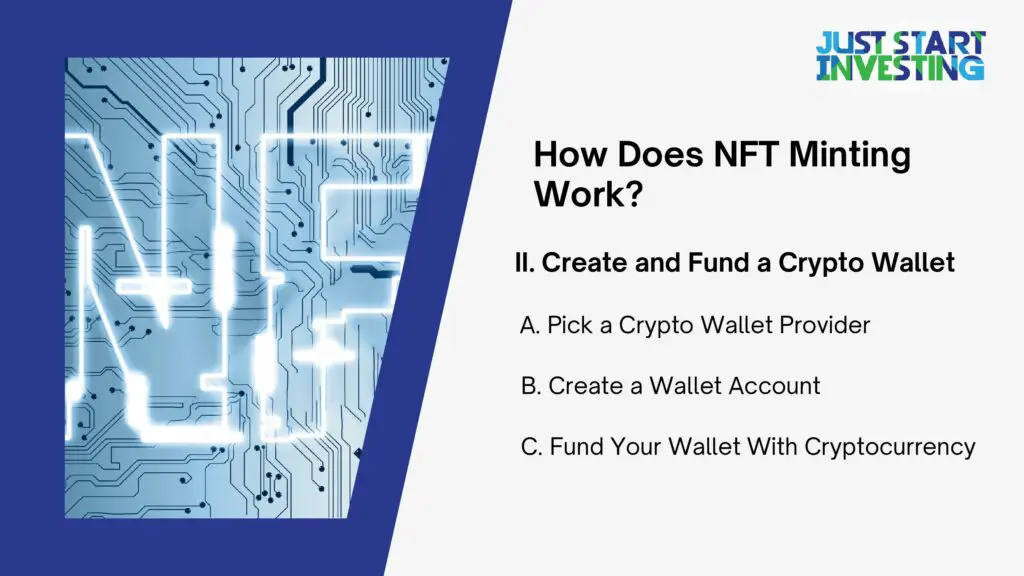 A. Pick a Crypto Wallet Provider
Compare and learn about popular bitcoin wallet services such as MetaMask, MyEtherWallet, and Trust Wallet. Make sure the wallet service you select delivers the highest level of security and satisfies your needs. 
It's vital to take into account the level of protection offered, how user-friendly the platform is, which cryptocurrencies are supported, and its reputation when selecting a wallet provider, according to Best Buy. You will then be able to choose a wallet provider that satisfies all of your requirements. 
It's time to open an account with your chosen wallet provider once you've decided your choice. This procedure ought to be simple for you to complete, and your new wallet will soon be operational. 
B. Create a Wallet Account
You must create a new account on the crypto wallet provider's website in order to get started. You can download the mobile app from the App Store or Google Play if the vendor makes one available. 
The wallet provider will walk you through creating a special seed phrase and configuring your new wallet. In the event that you misplace your wallet, you can retrieve it using this seed phrase. 
The most vital piece of information related to your wallet is your seed phrase, so it's critical to save it safely. According to Worldcoin, a seed phrase is a group of unrelated phrases that serves as a repository for the information needed to access or recover cryptocurrency from blockchains or digital wallets.You can either utilize a secure digital storage solution or write it down on a piece of paper and store it safely.
C. Fund Your Wallet With Cryptocurrency
Choose a crypto exchange with a solid reputation for security and dependability, supports the sort of cryptocurrency you want to buy, and offers the services you require. Binance, Coinbase, and Kraken are a few well-known exchanges. 
Following these steps will help you get started after selecting your exchange: 
Create an account by supplying personal and financial information, as well as confirming your identity.  
To connect your wallet, enter the exchange's public address for your cryptocurrency wallet. Your cryptocurrency will be transferred to this address. 
Transfer money to your exchange account from your bank account or credit card. Depending on the exchange and your bank, the transfer process could take a few minutes to a few days. 
Use your exchange account's funds to purchase the desired coin. The cryptocurrency will be automatically transferred to your associated crypto wallet after the purchase.
III. Get Your Digital Asset Ready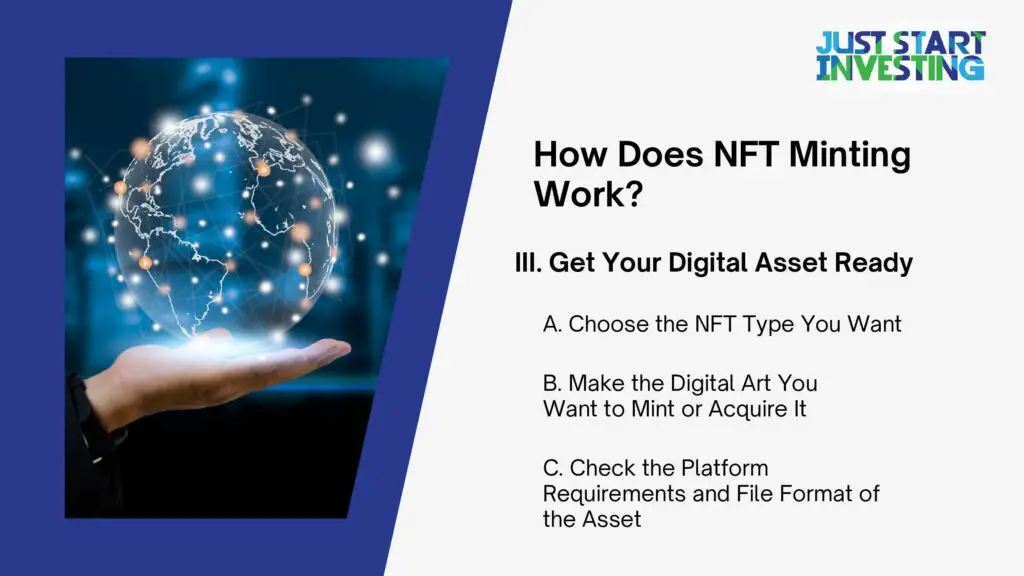 A. Choose the NFT Type You Want
It's time to get imaginative! Consider the kind of NFT you want to make first. Are you an artist looking to display your digital creations? Or perhaps you're a collector trying to bolster your NFT collection.
Oberlo states that NFTs are versatile, and you have a wide array of options for choosing the NFT type you want, including artwork, memes, ticket to events, games, virtual items, media, music, video files, and more.

The possibilities with NFTs are boundless, whether it be for individual or group digital artwork.
B. Make the Digital Art You Want to Mint or Acquire It
You have a couple alternatives to do this:
Create from scratch: If you are an artist, graphic designer, or have other digital creation talents, you can start from scratch when creating a digital file by using programs like Adobe Illustrator or Photoshop.
Hire an artist: You can hire an artist or digital creative to produce an NFT for you if you have an idea for one but lack the abilities to make one yourself. According to Graphicpie.com, you can find NFT designers you can hire from platforms like Upwork, Fiverr, Toptal, etc.
Invest in a pre-existing digital asset: You can buy pre-existing digital assets from a variety of NFT marketplaces and stock photo websites and then mint them as NFTs.
C. Check the Platform Requirements and File Format of the Asset
Make sure your digital asset is in a file format that the NFT platform you've chosen supports once you have it. To make sure your item complies with the platform's standards and regulations, review the guidelines. In this way, potential problems can be avoided.
IV. Mint Your NFT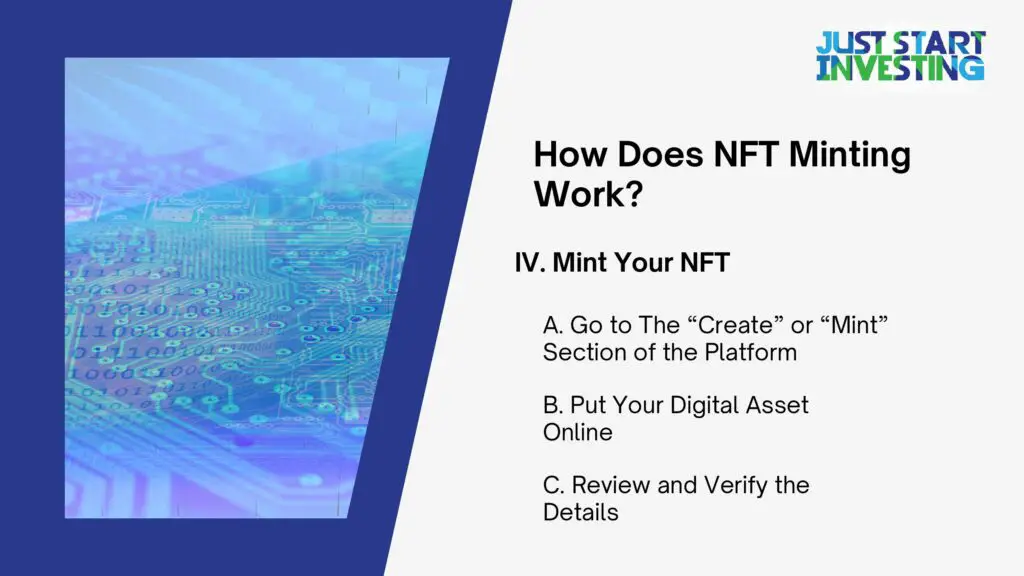 A. Go to The "Create" or "Mint" Section of the Platform
To proceed, navigate to the "Create" or "Mint" section of your preferred NFT marketplace. Once there , you must fill out the required forms, which ask for the name, details, and price of the NFT. Make sure to provide a thorough description that is both understandable and insightful. This will clarify your NFT's goals and unique selling points to prospective clients.
B. Put Your Digital Asset Online
It's now time to upload your digital asset. Make sure that your NFT is in a file format that is supported and that it complies with your chosen platform's rules. You can also enter additional information – like the NFT's scarcity – which may affect its overall uniqueness and value. 
C. Review and Verify the Details
Make sure all of the information you've supplied is accurate before pressing the "mint" button. When everything is to your satisfaction, proceed to pay the transaction fee to start minting your NFT. That's exciting, huh? 
Watch for the upcoming steps so you may showcase your NFT to the world!
V. Promote Your NFT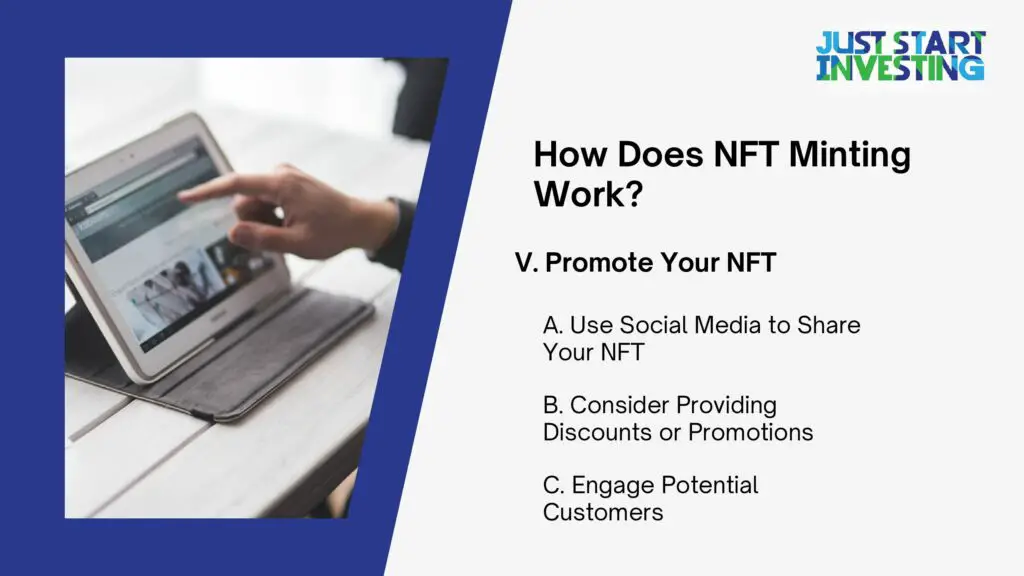 A. Use Social Media to Share Your NFT
You can be sure that promoting your NFT on social media and other online forums will increase interest in your initial NFT project. To display your NFT to potential customers and attract a broad audience, use websites like Twitter, Instagram, or Reddit.

Be inventive in how you present it; give viewers a sneak peek or a glimpse at how it was made. By disseminating it within your network, you'll raise awareness and perhaps draw in more customers. 
And keep in mind that the more you market your NFT, the more chances there are that others may come across it and fall in love with it. Cheers to sharing!
B. Consider Providing Discounts or Promotions
Offering promos or discounts to encourage early purchasers is a fantastic idea. This can be a one-time sale price reduction or a free gift that comes with the NFT. Whatever it is, it's a great approach to raise awareness of your NFT and entice customers to buy.
C. Engage Potential Customers
Once your NFT has been successfully created, posted on social media, and other online communities, it's crucial to interact with potential customers and address any queries they might have. 
Potential customers are more likely to make a purchase if trust and a connection are established through this. 
You can interact with potential customers by: 
Replying to messages and comments on social media. 
Taking part in NFT-related forums and online communities. 
Giving further details or insights about your NFT, such as its history or the inspiration behind it. 
Being open and honest about the specifics of your NFT, such as its availability and intended purpose. 
Keep in mind that the more you interact with prospective customers and address their concerns, the more likely it is that they will buy from you and support your NFT. So don't be reluctant to initiate contact with prospective customers and strike up a conversation!
VI. Track the Performance of Your NFT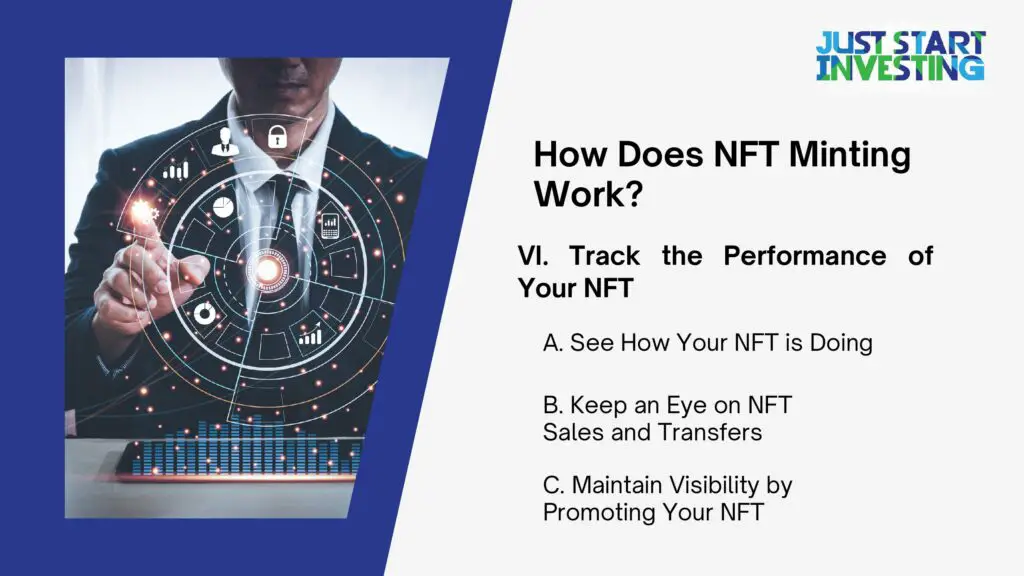 A. See How Your NFT is Doing
After successfully minting your NFT and disseminating it to the world, it is crucial to keep track of its progress on the NFT marketplace. You may better understand your NFT's popularity and determine whether there is anything you can do to make it better by keeping a watch on its performance. 
Simply locate your NFT in the platform to check its performance. You may view its current price, the number of views, and other pertinent details. Remember that this information may frequently change, so be sure to check back often to remain updated.
B. Keep an Eye on NFT Sales and Transfers
You may get a decent sense of how your NFT is being received by potential purchasers by monitoring any sales or transfer actions associated with it. You can use this information to guide your decisions on how best to market and maintain visibility for your NFT.

As a result, make sure to often check your chosen marketplace to monitor the performance of your NFT and any associated activities.
C. Maintain Visibility by Promoting Your NFT
An essential step for many NFT creators is monitoring their asset's performance. It's a good idea to frequently update its information and promote it to potential purchasers to make sure that your NFT remains visible and continues to generate interest. 
Here's how:
Ensure that the details about your NFT listing, including the name, description, and cost, are correct and up-to-date. 
To help prospective buyers better understand what your NFT is all about, think about including updated photos or videos in the listing for your NFT. 
Continue disseminating your NFT on social media and other online forums to reach more people. You might also think about giving deals or discounts to encourage more buyers.
You may ensure that your NFT continues to attract interest and is visible in the NFT market by updating and promoting it frequently. Good luck!
Key Takeaways
It's crucial to keep up with the most recent developments if you want to fully benefit from everything the NFT space has to offer. 
To make the minting procedure simple, start by picking the appropriate platform where you will open an NFT marketplace account and familiarize yourself with its functionalities. You then have to choose a crypto wallet provider, open an account with them, and then deposit money into the wallet to buy bitcoin using funds from a bank account or exchange.
The next step is to prepare your digital file, which entails choosing the sort of NFT you want, developing it yourself or hiring an artist to do it, and making sure it is in a format that is supported by the platform of your choice. 
You might also want to confirm that you are actively promoting your first NFT on various social media channels and are prepared to offer discounts in order to attract more customers. Always keep a watch on the NFT market, tracking the performance of your NFT as well as any sales or transfer transactions.
Making wise choices about how to promote your NFT in the future can be aided by this since it can provide you with insightful information about what is and is not working. Additionally, make an effort to interact with prospective customers, responding to their inquiries and providing additional details on your NFT.
You'll have the chance to interact with others who share your enthusiasm for NFTs, which can increase interest and sales. The most crucial factor is to enjoy yourself while continuing to mint NFTs. There is a place for everyone in the world of NFTs, whether you're an artist, collector, or just someone looking to express their creativity and form a new community.
So don't be averse to experimenting and trying new things as you embark on this fascinating trip. You'll be well on your way to making a significant contribution to the NFT world if you put in the effort and have the resolve.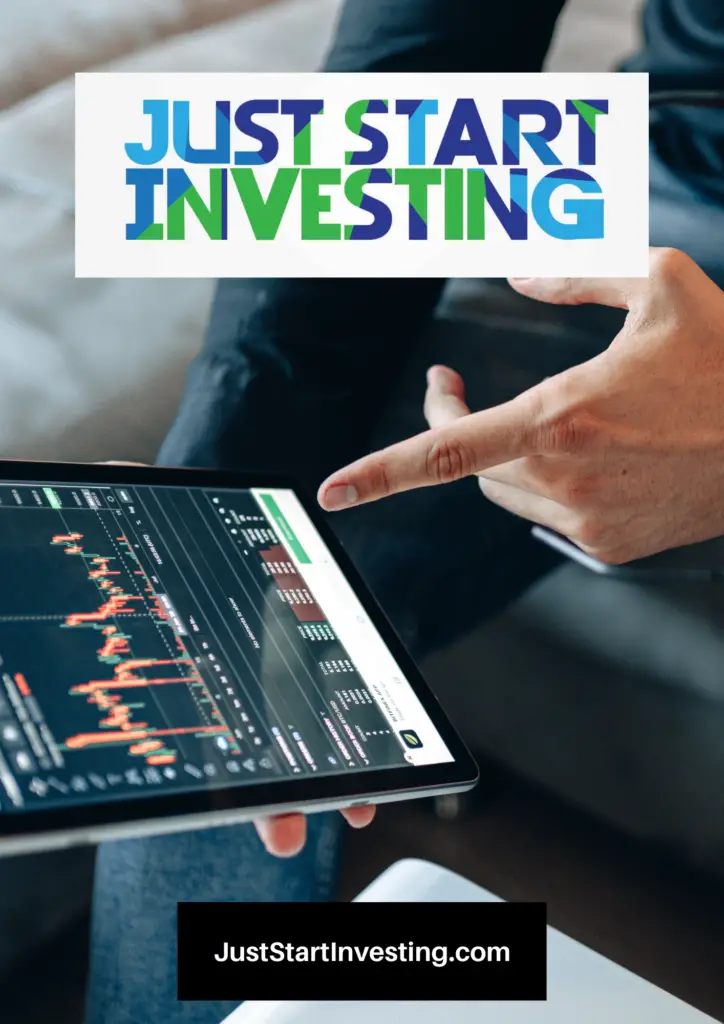 Just Start Investing is a personal finance website that makes investing easy. Learn the simple strategies to start investing today, as well as ways to optimize your credit cards, banking, and budget. Just Start Investing has been featured on Business Insider, Forbes, and US News & World Report, among other major publications for its easy-to-follow writing.