NFTs, or non-fungible tokens, have totally taken over the digital domain and are now beginning to resonate through the advertising and marketing industries. So what precisely are NFTs, and what opportunities do they present for marketers and brands?
In this post, we'll examine the intriguing applications of NFT pictures in marketing and advertising as well as their effects on the market.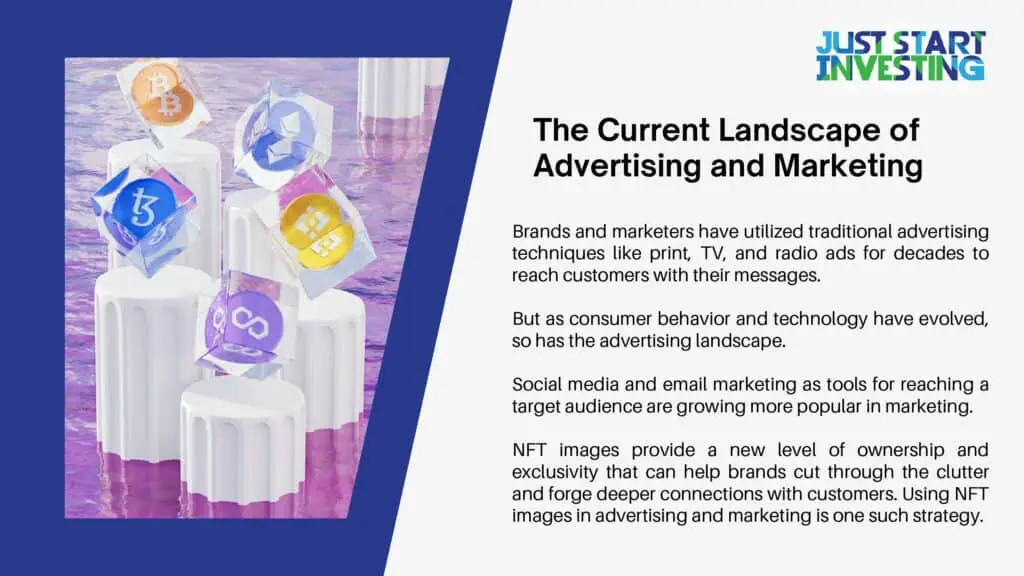 The Current Landscape of Advertising and Marketing
Brands and marketers have utilized traditional advertising techniques like print, TV, and radio ads for decades to reach customers with their messages.
But as consumer behavior and technology have evolved, so has the advertising landscape. Social media and email marketing as tools for reaching a target audience are growing more popular in marketing.
Of course, this change hasn't occurred overnight, and conventional advertising techniques haven't entirely been replaced. Print advertisements, TV spots, and billboards are still widely available.
Nonetheless, it is evident that the advertising and marketing sector is always evolving, with new technology and distribution methods appearing all the time. It's up to marketers and brands to keep up with industry changes and modify their tactics as necessary.
The Rise of Digital Advertising
Digital advertising has become a major force in the advertising and marketing sector as technology and the internet have grown. Social media, email campaigns, influencer marketing, and other digital channels now allow brands and marketers to reach their audiences. 
According to nibusinessinfo.co.uk, digital advertising's capacity to be highly targeted and individualized is one of its key benefits. Brands can precisely target the people they want to reach using data-driven targeting capabilities and modify their messaging accordingly. Higher conversion rates and a better return on investment may result from this degree of accuracy. 
Digital advertising also has the advantage of being more interactive and interesting. Companies now have the ability to develop interactive digital experiences that let customers engage with their goods or services in ways that were previously impractical using conventional advertising techniques. 
Digital advertising enables marketers to build experiences that feel more like a conversation than a one-way broadcast, from virtual try-ons to interactive quizzes.
Limitations of Current Advertising Methods
While both conventional advertising techniques and internet advertising platforms have benefits, there are also drawbacks to take into account. For instance, producing and distributing traditional advertising techniques like print, TV, and radio ads can be expensive, rendering them unavailable to many smaller firms. 
These methods can also be challenging to target because they rely on broad audience appeal rather than specific audience segmentation. While digital advertising has given brands and marketers new ways to communicate with customers, there are also restrictions to consider. 
With so much content readily available online, it's getting more and harder for brands to stand out and leave a lasting impact on customers. The scrutiny of digital advertising tactics has also increased due to worries about data privacy and ad fraud, so it's critical for businesses to take an ethical and transparent stance. 
Also, there is a rising perception among consumers that various forms of traditional advertising, including some digital ones, can feel invasive or disruptive. Instead of being inundated with one-way messages, consumers are increasingly looking for more genuine and meaningful connections with brands. 
Numerous businesses and marketers are looking into fresh and creative approaches to reach consumers in light of these restrictions.
NFT images provide a new level of ownership and exclusivity that can help brands cut through the clutter and forge deeper connections with customers. Using NFT images in advertising and marketing is one such strategy.
NFTs in Advertising and Marketing
You've probably heard of non-fungible tokens, or NFTs, if you follow crypto and blockchain technology. Recently, these unique digital assets have been making headlines for their potential to transform art, music, gaming, and sports. But did you know that the fields of marketing and advertising are now beginning to notice NFTs?
NFTs give companies and marketers a new way to interact with consumers by granting a level of exclusivity and ownership that is unmatched by conventional advertising techniques. Brands can use NFTs to build one-of-a-kind digital assets that are valuable in and of themselves and provide them as incentives or prizes to customers who participate in their campaigns or make purchases.
Yet, NFTs' potential in marketing and advertising goes beyond simple incentives and rewards. These digital files give brands a fresh method to communicate their story and establish a more meaningful connection with customers.
Brands can forge deeper connections with their audiences and set themselves apart from the competition by producing a digital asset that is aesthetically arresting and emotionally impactful. NFTs in advertising and marketing pose concerns and challenges, as with any new technology.
There is no denying, however, that this novel strategy has enormous promise for companies and marketers seeking to differentiate themselves in a market that is becoming more crowded and competitive.
How NFT Images Can Benefit Advertising and Marketing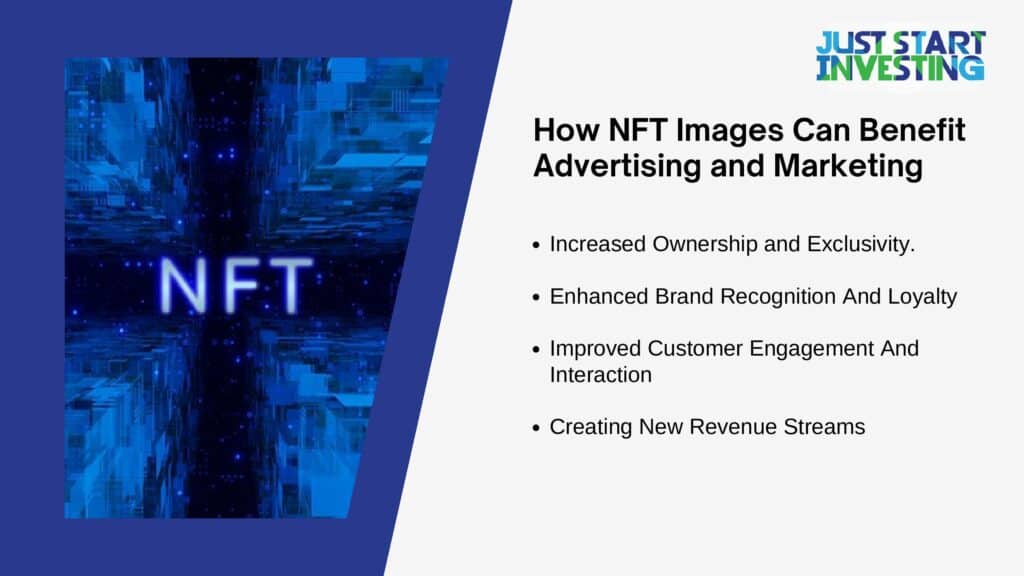 NFTs, also known as non-fungible tokens, are a hot topic in the advertising and marketing sector, and for good reason. Owning and controlling these digital assets gives companies an edge in a competitive market.
Brands may connect consumers in fresh and inventive ways while fostering brand loyalty by developing one-of-a-kind NFT projects. NFT images are positioned to play a significant role in the future of marketing and advertising, with the potential to revolutionize everything from incentives and rewards to storytelling and branding.
Increased Ownership and Exclusivity
The higher level of exclusivity and ownership that NFT photographs give is one of the main advantages of using them in marketing and advertising. SHARE states that NFTs are unique and one-of-a-kind, offering a sense of exclusivity and rarity that cannot be recreated, in contrast to standard digital assets that can be simply copied or shared.
For businesses and marketers trying to connect with consumers in fresh and creative ways, this level of possession and access may be tremendously beneficial. Brands may provide their customers more of what they want by making NFT photos and other NFT projects that are both eye-catching and meaningful.
NFT projects, whether they're rewards for campaign participants, special products for die-hard fans, or collectibles that exhibit a brand's ingenuity and invention, offer a new level of involvement that traditional advertising can't equal.
Additionally, the ownership and exclusivity that NFT photos offer can give customers a new degree of legitimacy and confidence. Brands may strengthen relationships and increase customer loyalty by developing original digital assets that showcase their dedication to honesty and integrity.
NFT photos offer a fresh method to stand out and build enduring connections in a time when customers are increasingly looking for genuine and meaningful connections with the companies they support.
Enhanced Brand Recognition And Loyalty
The potential to increase brand awareness and loyalty is another important advantage of NFT images in the brands and advertisements industries. Brands can build stronger connections with their audiences and long-lasting partnerships by developing an NFT project that appeals to customers.
By acting as a visual expression of a business's values and identity, NFT projects can increase brand recognition and loyalty. NFT graphics that are both aesthetically pleasing and evocative allow companies to convey their messages in new and captivating ways. This may aid in setting the brand apart from rivals and boosting overall brand recognition.
NFT pictures' exclusivity and scarcity can also encourage customer loyalty to a given company. Businesses can increase brand loyalty by offering NFT images as incentives for campaign participation or as exclusive items for devoted NFT fans.
Customers are more likely to feel a sense of pride and ownership when they own NFT images linked with a company, which can promote loyalty and advocacy.
Moreover, NFT initiatives can help marketers connect with fresh, younger audiences. NFT images provide a fresh method to interact with this demographic, which is becoming more and more significant to companies.
Brands may take advantage of the growing interest in blockchain and crypto culture by developing NFT projects that are distinctive and valuable in and of itself, as well as forging relationships with a new generation of consumers.
Improved Customer Engagement And Interaction
Brands can captivate customers and produce more immersive and engaging experiences by utilizing the best NFT advertising techniques. Businesses can, for instance, design an NFT calendar that enables customers to engage with their brand in novel and interesting ways.
By designing and advertising NFT projects that are interactive or gamified, brands may improve customer experience in new and engaging ways. This may encourage a stronger level of customer participation and the development of a sense of community around the brand.
NFT images may also present brand new chances for consumer customisation and personalisation. Brands may offer a more customized experience that connects with their audience by designing pictures that can be modified by the user. This may promote brand loyalty and raise general client satisfaction.
NFT images can also be used to give clients distinctive and worthwhile experiences. Brands can boost customer engagement and participation by offering limited-time-only NFT exclusive features, services, or events.
These can involve benefits like VIP entry to occasions, premium goods, or specialized experiences that are not accessible to the general public. An NFT art marketplace also gives businesses a unique way to sell NFT art and other NFT creations, which can help spread the word about their brand and get customers more involved.
Creating New Revenue Streams
The potential for new revenue streams to be generated by NFT photos in marketing and advertising is another important advantage. Brands can produce NFT art or other NFT projects that can be marketed in a variety of ways by utilizing the special characteristics of NFTs, opening up a previously untapped stream of income.
Galactic Fed states that the sale of exclusive digital content is one way that NFT photographs might generate new sources of income. Brands can provide distinctive and valuable assets that can be offered to customers by producing limited edition NFT images that are linked to certain goods or services.
This may involve things like limited-edition products, unique experiences, or exclusive goods that can only be obtained by buying the appropriate NFT.
NFT photos can be utilized on the secondary market to provide new revenue streams in addition to the sale of exclusive digital assets. NFT marketplaces like Nifty Gateway or OpenSea can be used to buy and sell NFTs because they are distinct and impossible to duplicate.
Because companies keep a share of the sale price each time their NFT is resold on NFT marketplaces, this means that brands might potentially earn ongoing revenue streams from the resale of their NFT photographs. To make commissions from NFT sales, firms can also set up an affiliate marketing program.
Case Studies: NFTs in Digital Marketing and Advertising
In this series of case studies, we'll examine some of the most imaginative and effective uses of NFT pictures in advertising and marketing. We'll also show how this cutting-edge technology may affect consumer loyalty, brand awareness, and overall corporate success.
So, these case studies will offer helpful insights and inspiration for utilizing NFTs in your own advertising and marketing strategies, whether you're a marketer trying to investigate new methods to engage with your audience or a business owner hoping to monetize your digital resources.
Following are some instances of effective NFT campaigns:
Taco Bell's NFT Collection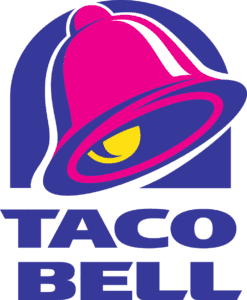 Taco Bell released its first NFT collection in March 2021, which featured digital art based on their menu staples. On the NFT marketplace Rarible, the collection immediately sold out, with some of the most sought-after products fetching prices of over $1,000.
The campaign's success illustrated the potential of NFTs as a source of income for businesses as well as its capacity to stir up interest and participation on social media.
The campaign also emphasized the significance of authenticity and creativity when it comes to NFTs; Taco Bell was able to draw in NFT fans and collectors by generating distinctive and humorous digital assets that connected with their audience.
Gucci's Aria NFT Collection

The Gucci Aria NFT collection, which includes one-of-a-kind digital art created as a result of the brand's most recent fashion show, was released in March 2021.
The collection was offered for sale on the NFT marketplace Arianee and quickly sold out, with some items fetching up to $25,000. The campaign's success illustrated the potential of NFTs as a means of establishing exclusivity and luxury in the digital sphere and enhanced Gucci's standing as an innovative and creative brand.
The ad also underlined how important partnerships and collaborations are in the NFT industry. Gucci was able to develop a really distinctive and priceless collection by collaborating with digital artists and utilizing their creative abilities.
Kings of Leon's NFT Album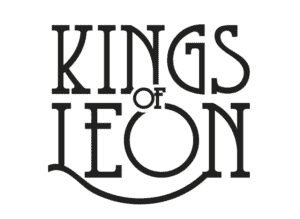 In March 2021, rock band Kings of Leon became the first band to release their latest album as an NFT. The NFT record, which included unique artwork and other digital content, produced over $2 million in sales when it was offered on the NFT marketplace YellowHeart, according to Forbes.
The campaign's success illustrated the potential of NFTs as a way to give fans value and exclusivity as well as a brand-new source of income for musicians and other creatives.
The band Kings of Leon was the first to release an NFT album, demonstrating their willingness to attempt new things and explore the potential of this developing technology. This campaign also emphasized the significance of experimentation and taking risks in the NFT community.
Potential Risks and Limitations of NFTs in Advertising and Marketing
NFT images have the potential to revolutionize marketing and advertising, but there are also dangers and restrictions to be aware of.
We'll discuss NFTs' potential drawbacks in advertising and marketing and how to overcome them in this part.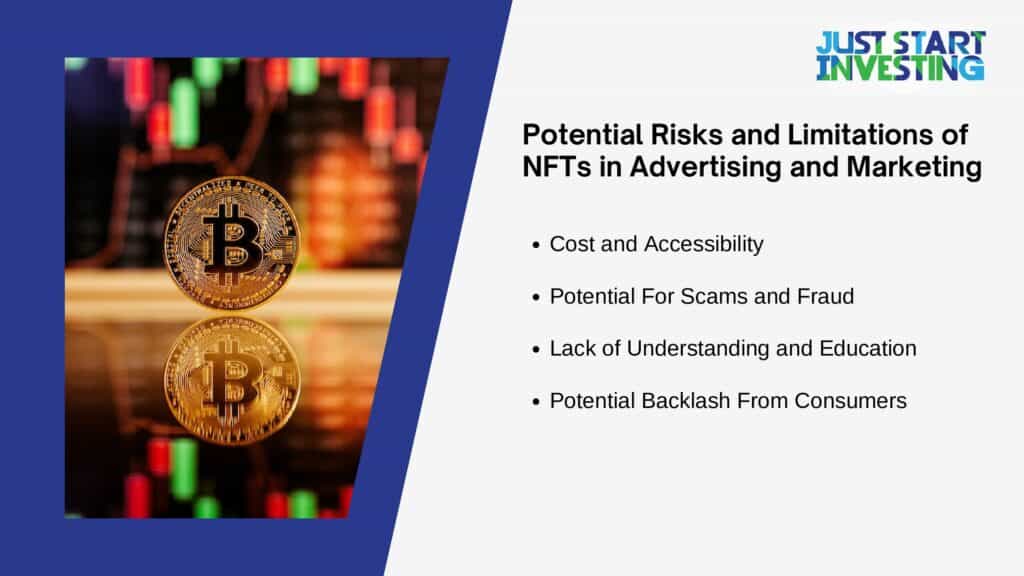 Cost and Accessibility
Cost and accessibility are two possible risks and restrictions of NFTs in marketing and advertising. Presently, it can be prohibitively expensive to create and acquire NFTs, especially for smaller companies with tighter resources.
NFT adoption can be difficult for some firms due to the complexity and expense of the infrastructure and technology needed to support them. However, not all consumers have the skills and resources needed to engage in the NFT market, which may restrict its usability and potency as a marketing tool.
For instance, some users could lack the technical skills necessary to download and utilize an NFT wallet or the resources necessary to bid in NFT auctions.
Businesses must carefully weigh the costs and benefits of incorporating NFTs into their advertising and marketing strategies in order to reduce these risks and limits. They should also take into account different approaches to involvement and engagement that are open to a larger audience, including gamification or social media competitions.
Moreover, collaborations with well-known NFT marketplaces or creative firms can lower expenses while assisting enterprises in overcoming logistical and technical challenges.
Potential For Scams and Fraud
Because NFTs are still new to the league and unregulated, dishonest individuals may take advantage of naive investors and enterprises.
Scammers, for instance, could manufacture phony NFTs or disseminate copies of real NFTs, possibly harming customers' finances and the seller's reputation. Phishing assaults, in which criminals pose as trustworthy NFT marketplaces or brands to steal sensitive data from customers, are another possibility.
To make sure that NFT creators and platforms are reliable and legitimate, businesses must be careful in their due diligence. To enable customers to make informed choices, they should also offer clear and comprehensive information about their NFTs, including information regarding their legitimacy, ownership, and provenance.
Security methods like two-factor authentication and encrypted payment gateways can further fortify your system against phishing and other forms of online fraud.
Lack of Understanding and Education
Lack of knowledge and education about the technology among customers and businesses is another potential risk of NFTs in marketing and advertising. Many individuals may not fully comprehend how NFTs function or how they might be used in marketing and advertising because they are a relatively new and complex technology.
Consumers may become confused and skeptical as a result of this ignorance, which may reduce their desire to participate in NFT-based marketing initiatives or buy NFTs. Similar to consumers, companies could be reluctant to invest in NFTs if they don't completely grasp the technology or all of its advantages.
Businesses must offer clear and understandable information regarding NFTs and how they are used in marketing and advertising in order to overcome this constraint. This could entail producing instructional resources that demystify the technology and show its potential advantages, like explainer films or blog entries.
It might also entail working along with reputable thought leaders or influencers who can help advance the use of NFTs and establish credibility in the market.
Increasing consumer and company trust can lead to increased adoption and success of NFTs in the advertising and marketing space. This can be accomplished through raising awareness of NFTs and educating people about them.
Potential Backlash From Consumers
There is always a chance that consumers will react poorly to NFT-based ads or would think of them as exploitative or misleading, just like with any new technology or marketing strategy. 
Customers may feel alienated or disgruntled if, for instance, a business exploits NFTs to feign exclusivity or scarcity. Similar to this, if companies utilize NFTs without clearly demonstrating their value to customers or giving them a compelling incentive to interact with them, the campaigns may be ineffective or come off as opportunistic. 
It's crucial for NFT marketing agencies to approach NFTs with openness and authenticity to reduce the possibility of consumer reaction. This can involve being transparent about the goals and advantages of NFT-based campaigns and making sure that customers feel they are receiving something of genuine value in return for their participation. 
The larger cultural and societal environment in which NFTs are being employed should also be taken into account. As NFTs are a relatively new and constantly developing technology, it is crucial to keep up with new trends and customer attitudes and be prepared to modify plans as necessary. 
Businesses may reduce the danger of backlash and maximize the potential benefits of this novel and exciting technology by applying careful thinking and planning to their NFT marketing strategy.
Strategies for Success
With the rise of non-fungible tokens (NFTs), digital creators, investors, and collectors now have a whole new market to work in. The marketing techniques used by companies to advertise their NFT initiatives change as the NFT market develops.
The numerous facets of NFT marketing will be covered in this section, along with the significance of comprehending the NFT niche, leveraging NFT marketing channels, and working with an NFT marketing agency.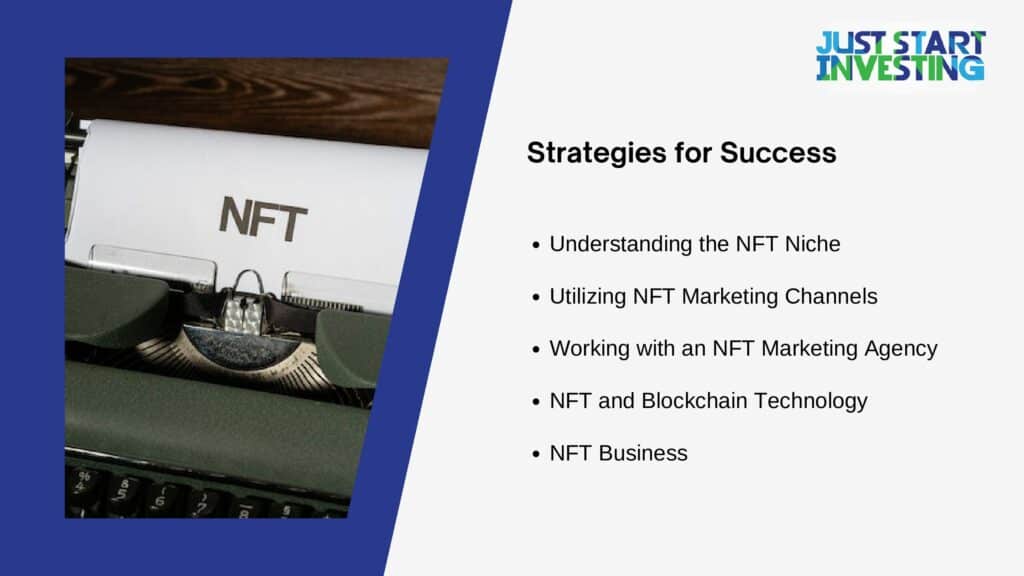 Understanding the NFT Niche
Understanding the niche market that NFT marketing targets is one of the essential elements of effective NFT marketing. In contrast to traditional marketing, which allows companies to target a wide audience, NFT marketing necessitates a thorough comprehension of the preferences and habits of NFT buyers and collectors, as stated by Colormatics. 
This entails spending the time to investigate and examine the NFT market, as well as the numerous NFT projects that have been successful and the elements that made them so.
Utilizing NFT Marketing Channels
Using the appropriate marketing channels to promote NFT projects is a crucial component of NFT marketing. Social media platforms like Twitter, Instagram, and Discord give businesses several alternatives.
To successfully reach the target audience, however, a thorough understanding of the specifics of each platform is required. For instance, whereas Instagram is ideal for showing NFT art, Twitter is perfect for establishing a community around a specific NFT project.
Working with an NFT Marketing Agency
Working with an NFT marketing agency can be a game-changer for companies trying to advance their NFT marketing. These agencies have developed and implemented NFT marketing services that range from defining the target market to producing interesting content and overseeing NFT sales.
Businesses can get the knowledge and resources required to prevail in the cutthroat NFT market by collaborating with an NFT marketing agency.
NFT and Blockchain Technology
The underlying blockchain technology that underpins NFTs is directly related to NFT marketing. Businesses that want to successfully traverse the NFT marketing landscape must have a solid understanding of blockchain.
This includes understanding the various blockchain networks—such as Ethereum and Binance Smart Chain—on which NFTs are created, as well as the numerous wallet choices available for storing and trading NFTs.
NFT Business
A business-oriented approach to NFT marketing is crucial as well. This entails knowing the economics of the NFT industry, including the factors that affect NFT prices, the value of creating a loyal client base, and the many revenue streams accessible in the NFT space, such as affiliate marketing programs and influencer marketing.
Conclusion
In conclusion, NFTs are transforming the advertising and marketing sector by providing a fresh method of connecting with customers and developing one-of-a-kind, original experiences. NFTs provide a number of advantages for brands to investigate, from greater customer engagement and involvement to increased ownership and exclusivity.
It is, however, crucial to recognize the potential drawbacks and risks of this technology, including its cost and accessibility, the possibility of scams and fraud, the lack of information and education, and possible customer backlash.
It is also essential to approach NFTs cautiously and thoroughly examine the potential impact on all engaged parties, as with any new technology. Brands may do this to maximize the benefits of NFTs while minimizing any risks.
NFTs will undoubtedly play a bigger part in the fascinating and dynamic environment of marketing and advertising in the future.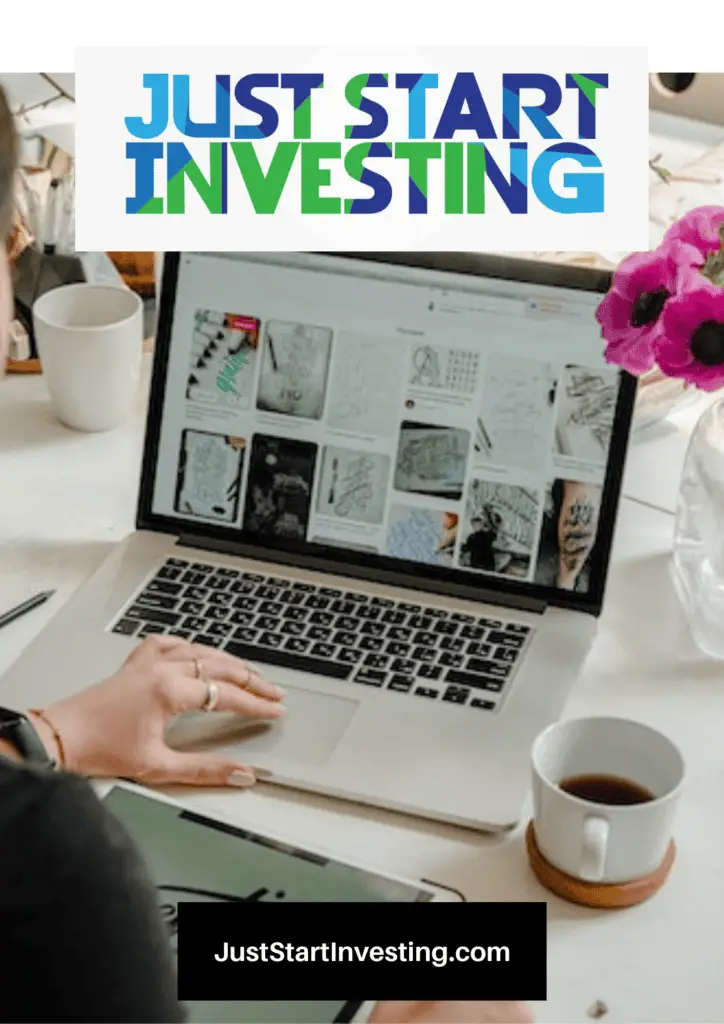 Just Start Investing is a personal finance website that makes investing easy. Learn the simple strategies to start investing today, as well as ways to optimize your credit cards, banking, and budget. Just Start Investing has been featured on Business Insider, Forbes, and US News & World Report, among other major publications for its easy-to-follow writing.