If you find yourself wondering what is short interest, it's not something to be feared. However, it is essential to know when looking at investment options or simply trying out a new investing technique and seeing if it is worth it. 
During rallies and bull markets, more and more investors recognize that shorting a stock has become an increasingly popular way of participating. 
Each investor wants to feel like they "made money off the table," as the saying goes, but with this active investing technique comes a series of risks and opportunities. Read on to learn more!
Short Interest Definition
Short interest represents an estimate of the volume of shares available for immediate delivery to investors that they do not currently own. This number shows the percentage of shares out of all the outstanding shares currently publicly held. The Securities and Exchange Commission (SEC) collects short interest data for all stocks, whether traded over-the-counter or on an exchange. 
Short interest data is required to be reported by brokerage firms to FINRA twice a month, once mid-month and once at month's end, for all customer and proprietary firm accounts held by them. 
Data on stocks listed on U.S. exchanges is provided by FINRA, which is responsible for making those data available to investors.
The short position is advantageous for investors who are willing to bet against a stock, which causes its price to fall. In understanding a company's short interest, you can gain insight into how other investors have viewed the company and how they intend to act on their opinions.
In addition to providing an insightful view of investor sentiment, short interest is one of the most accurate market sentiment indicators. Thus, providing an overview of all open short positions in stock on any given day, short interest is essential. 
There are various types of short positions, including loans, shares borrowed to sell, shares pledged as collateral for margin loans, and shares borrowed but not yet sold. A short interest figure can reveal a lot about what is going on with a particular stock. One of the most famous indicators, its significance cannot be overstated.
What Does Shorting a Stock Mean?
Short sales are a good starting point for understanding what is short interest.
Short sales are simply sales of stocks that an investor does not own. Short selling, or selling a stock short, is a bearish stock position, which means you sell a stock short if you believe the stock price is going to decline. 
Investing in short sales can result in two things. First, short-sellers can purchase stock at a cheaper price if their price drops, making a profit. Or, on the other hand, a short seller would lose money if the stock rose in price.
In short-selling, investors profit from the decrease in value of stocks or other securities. Investors who wish to sell short must borrow the stock or security from someone who owns it through their brokerage company. 
They then sell the stock, retaining the cash proceeds. Short-sellers hope that the price will decline over time, allowing them to buy back the shares at a lower price. When the short seller buys back the stock, anything left over is profit.
However, a margin account is required for this. To perform a short sale, the brokerage firm will search for shares to "locate" since the investor does not own any of them. 
In addition to the brokerage firm's inventory, margin accounts of other customers or other sources may also contain these shares. As a result, the investor will see the sale proceeds in their margin account once the trade is completed.
Still confused about what short selling is? Consider this example!
Say, for instance, you believe the stock price of Company XYZ is too high. Therefore, you borrow ten shares from your brokerage and sell them for $1,000 total to short the stock. Then, if the stock drops below $90, you can purchase the shares back for $900 and return them to your broker. This will net you a profit of $100. 
Process Of Shorting A Stock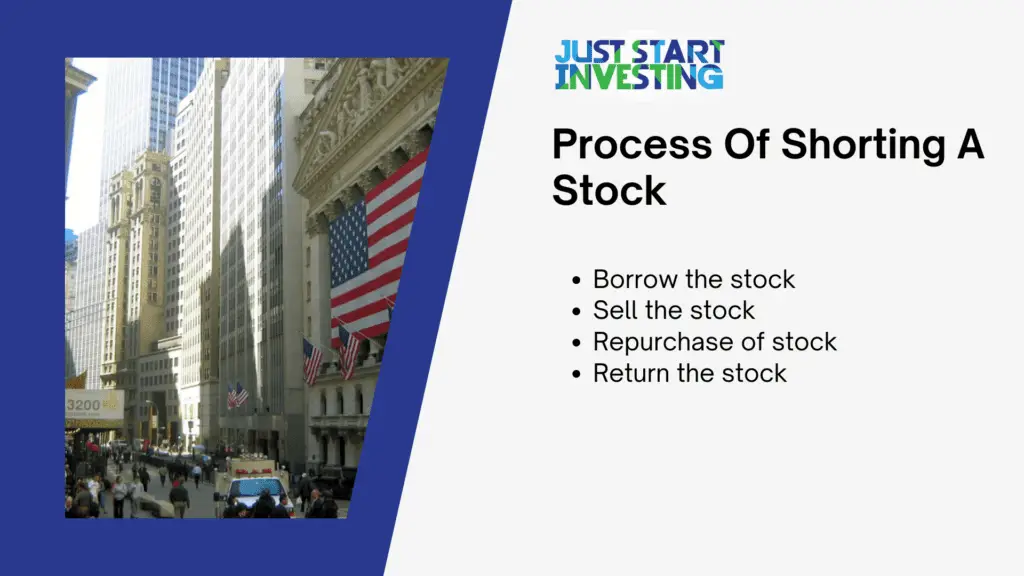 Previously, we learned that short interest is the number of shares that have been sold short but not yet repurchased or covered. As a result, short interest increases when more investors short a stock. For those curious about the process of shorting, here is how it works:
A trader typically contacts a broker, who then locates another investor with stock to lend the trader on the promise that the stock will be returned at a later date. In addition, stocks from the brokerage's equity holdings may also be loaned to the trader. In exchange for borrowing the stock, the trader pays the broker interest or fees.
Once the trade is completed, the stock will be immediately sold on the open market.
In a declining market, the trader will purchase the stock at a lower price as it loses value. The act of repurchasing a shorted stock is known as short covering.
After that, the trader returns the borrowed stock to the broker and makes a profit. Profit is the difference between what the trader receives when they sell the stock and what they must pay when repurchasing it. However, it is possible for the trader to incur a loss after selling short if the stock price rises after the sale.
Following the steps described above, the trader who has sold the stock but has not yet repurchased it creates short interest.
The formula for Short Interest
Interest can be expressed as a percentage using the following formula:
Short Interest = Number of Shares Short and Not CoveredShare Float
Want to see an example? Check out the following link, where they have provided an explanation where you can see the formula in action!
The Risks Of Short-Selling
If done correctly, a short sale can be profitable, but it carries more significant risks than a typical stock purchase.
In particular, when you short a stock, your downside risk is unlimited, but the profit potential is limited. On the other hand, buying a stock comes with a limited risk of loss but unlimited profit potential. Thus, the most you can lose when investing in a stock is the price you paid for it. 
In the event that the stock falls to zero, you won't lose more than that. In contrast, your profits are limitless if the stock soars. As a result, the long-term investment in stocks can often yield profits much higher than the initial investment. 
The dynamic, however, is reversed in short-selling. Your potential profit has a limit, but your losses are theoretically limitless. 
Take the example of shorting 100 shares of stock at $10 apiece. You would receive $1,000 from the sale. You will keep the whole $1,000 if the stock goes to zero. You will, however, have to spend $10,000 to buy back the 100 shares if the stock soars to $100 per share. Therefore, the net loss will be $9,000, or nine times what you received from the short sale. 
Nevertheless, even though short-selling is risky, it can still be a valuable tool for investors who know what they are doing. Although managing your risks is essential, when done in moderation, short-selling can allow you to diversify your investments and give you better returns than someone who only owns stocks.
Final Words
So you want to make a short-selling investment after having learned about its meaning? Before doing so, you should carefully examine and watch the change in stock prices, and of course, research all data available to you before making a big investment move!
Listed here are the companies with the highest proportion of outstanding shares currently sold short.
Initially, you may think that short-selling is just as common as owning stocks. This strategy, however, is used by relatively few investors.
This is partly due to market behavior in general. An investor's goal is to increase the value of their stocks, funds, and other investments. Over the long term, the stock market tends to rise despite short-term fluctuations. As a result, long-term investors have been better off owning stocks than shorting the entire market. The best use of shorting is as a short-term profit strategy. 
Occasionally, you will find an investment that you believe will drop in the short term. In those situations, short-selling is an excellent way to profit from a company's misfortunes. Even though short-selling is more complicated than buying a stock, you can benefit when others lose money on their investments.
Short-term interest can be significant to investors, but it should not override other criteria when making an investment decision.
So you may want to do your homework if this strategy appeals to you!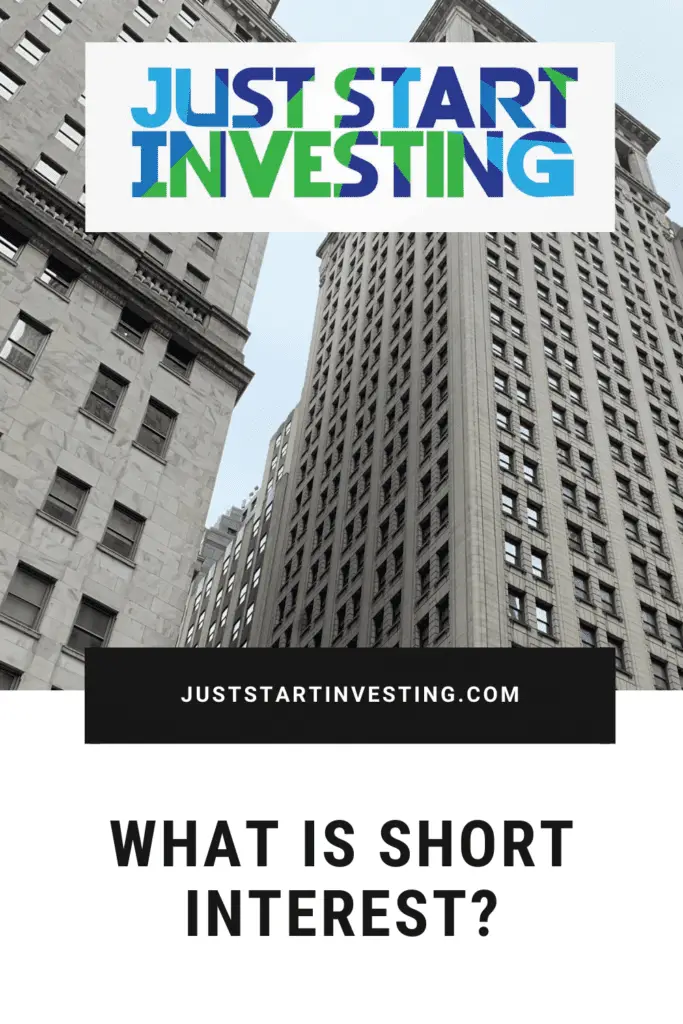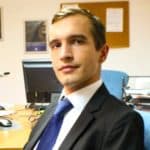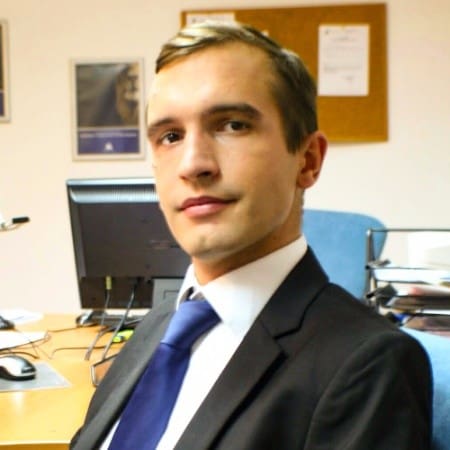 Partner at Vega Capital Management - a private funds management company.
An experienced portfolio manager with 10+ years of proven and reputable track record in investment management and financial analysis. Currently, a partner at one of the fastest-growing private fund management companies in southeast Europe, Kiril has been tending to a loyal international base of client-investors and partners. When he is not crunching numbers and increasing his client's wealth, he reminisces about his Michelin-star restaurant cheffing years and fondness of the culinary arts.