Imagine a world where you could sleep in until noon every day. Where you could watch Netflix for hours without feeling any guilt. Where you could eat all your favorite junk food, and not gain a pound. And, best of all, you could invest in lazy portfolios and still attain market returns!
Lucky for you, one of those is true!
Well, maybe they're all true depending on who you are (and how fast your metabolism is). But, for most of us, we face the unfortunate truth that in every day life being lazy has negative consequences.
However, in the investing world, being lazy can actually be a good great thing.
Building a lazy portfolio could help you get the stock market returns you are looking for without having to invest the time and money most people typically associate with Wall Street.
No stock picking. No options trading. Just simple, easy, lazy returns. Returns that over time, would make even this guy take a second look.
Okay, maybe not that guy, but 99% of Americans would likely be more than happy with the returns of a lazy portfolio! And below we'll show you exactly how to (and reasons why you should) make a lazy portfolio of your own.
What are Lazy Portfolios?
Lazy portfolios are investment portfolios that require very little effort to maintain. Hence their name.
They were popularized by Bogleheads – loyal followers of the founder of Vanguard and all things index funds, John Bogle. Thanks to Bogle and his invention of index funds, creating a lazy portfolio is actually possible.
Before Bogle, if you wanted to invest, you had to buy individual stocks or expensive mutual funds. With the invention of index funds, it gave us the ability to buy a huge basket of stocks (or bonds) without having to pay crazy fees to do it.
Bogleheads state that lazy portfolios, "are 'lazy' in that the investor can maintain the same asset allocation for an extended period of time, as they generally contain 30-40% bonds, suitable for most pre-retirement investor."
Makes sense to me. Except, I'm not sure that having a lazy portfolio means you have to keep 30-40% in bonds. What if you're an aggressive, 20-something year old who wants to invest only in equities because you know you're be investing for 30+ years?
Then you should probably invest only in equities.
That said, I think of lazy portfolios slightly differently. To me, what makes a lazy portfolio a lazy portfolio is it being:
Easy to set up.
Simple to manage.
Low cost.
More specifically, I look at it as something that has less than 5 investment vehicles and only needs to be adjusted once or twice a year. Oh, and of course its full of low cost index funds and ETFs.
How to Create a Lazy Portfolio
You already know creating a lazy portfolio is easy, and there are a few ways you can go about making your own: doing it yourself through an online brokerage account or letting a robo-advisor do the work for you.
Aka, the kind of lazy way and the very lazy way…
But before we get there, here are a few example of lazy portfolios you could create on your own if you did choose the "kind of lazy way" of using an online broker.
Examples of Lazy Portfolios
There are a lot of lazy portfolio examples out there, but two of the most popular are Rick Ferri's Two Fund Portfolio and Taylor Larimore's Three Fund Portfolio.
It doesn't get much lazier than only having to own 2-3 investments!
Rick Ferri's Two Fund Portfolio
This portfolio is as simple as it sounds, and consists of owning one World Equity Market Index Fund and one Total Bond Market Index fund. The split between the two is 60/40 in favor of the equity fund.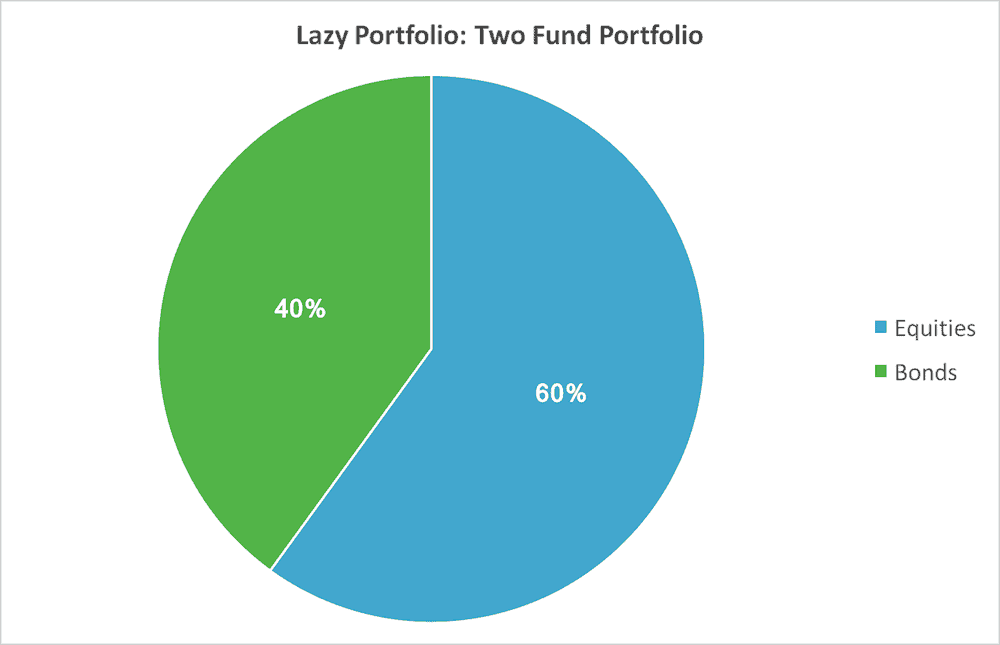 From Vanguard, it could be VTWSX and VBMFX.
From Schwab, it could be SWTSX and SWAGX.
Taylor Larimore's Three Fund Portfolio
Larimore really complicates things with his three fund portfolio…
…just kidding, obviously. This portfolio is still extremely simple, but instead of only having one equity index fund there are two – both a US Equity Index Fund and International Equity Index Fund.
From Vanguard, it could be VTSMX, VGTSX, and VBMFX.
From Schwab, it could be SWTSX, SWISX, and SWAGX.
The Kind of Lazy Way: Online Brokerage Accounts
To set up a lazy portfolio like one of the options above through an online broker, you of course first need to choose your online broker. Choosing the wrong online broker could handcuff you in terms of the investments available to you, which makes this first decision very important.
Charles Schwab and Vanguard are both great choices, which is why I provided examples of funds from each. But there are plenty of good options out there if you prefer a different online broker. Just do your research and ensure that they have a variety of low cost index funds or ETFs to choose from.
You can learn more about choosing an online broker here if interested.
Once you have an online broker selected, here are the four steps to getting started on your own:
Choose an account type: Like a personal brokerage account, Roth IRA, or other account type that fits your needs.
Deposit money into the account: Easy enough.
Research and Select Investments Vehicles: To match one of the above examples of a lazy portfolio, or a different portfolio that matches the criteria that we laid out above – simple and no more than 5 investment vehicles.
Set an Ongoing Strategy and Maintenance Plan: To rebalance your portfolio and contribute more funds.
You can get more details on some of these steps in our complete guide on how to start index investing here.
The Very Lazy Way: Robo-Advisors
Robo-advisors are online investing platforms that do 99% of the work for you – which is why they are the very lazy way to create a lazy portfolio!
Most robo-advisors start by asking you to complete a series of questions to get a sense for your risk profile, goals, and to gather some basic information. Then, the robo-advisor will automatically open an account and select investment vehicles for you based on your answers.
Behind the scenes, robo-advisors are employing an algorithm that buys and manages investments for you – optimizing and reallocating your portfolio to match your goals.
Betterment is a great robo-advisor when it comes to setting up and managing a lazy portfolio for you. You can get started with Betterment quickly and easily below.
We like Betterment because they have:
An easy to use online interface.
Automated investing (obviously…).
Tax optimization.
Reliable customer service.
Somewhat low fees.
And more…
---
Start Investing Today, The Lazy Way:

---
You can get our full review of Betterment here and learn if Betterment is worth it and right for you.
The Pros and Cons of Lazy Portfolios
Look, being lazy in not all roses and butterflies.
Yes, it's mostly roses and butterflies, which is why we titled this article "Why Lazy Portfolios Are The Best Way to Invest." But, like with all roses, there are some thorns you have to deal with.
Not my best analogy.
Pros of Lazy Portfolios
Lazy investing is the best way to invest, in my opinion. The 3 reasons below are the top 3 reasons, but not the only 3 reasons to strongly consider creating a lazy portfolio of your own.
Simplicity: Owning just a few handful of funds makes things easy on you every step of the way.
Low Cost: There is no need to pay active manager fees, trading fees, and many other fees. With lazy portfolios, you simple buy a few low cost index funds or ETFs, and that's it.
Diversification: You can get hundreds (if not thousands) of stocks and bonds under your belt with just a few investments! That's the power of index funds and ETFs.
Cons of Lazy Portfolios
Different from the pros of lazy portfolios, finding cons was pretty hard. But I do want to provide as balanced of a view as possible. Below are two things to consider before diving right in.
Tax Loss Harvesting: If you go with a robo-advisor like Betterment, this con actually does not exist. Betterment has a ton of tax efficiencies that they can execute on your behalf. However, if investing on your own with only 2 or 3 funds, you might miss out on some tax loss harvesting opportunities.
Customization: I'm not sure that this is a con, maybe more of a call out. You can't customize a lazy portfolio like you can other portfolios. But at the end of the day, that is the point of these types of portfolios – to keep it simple.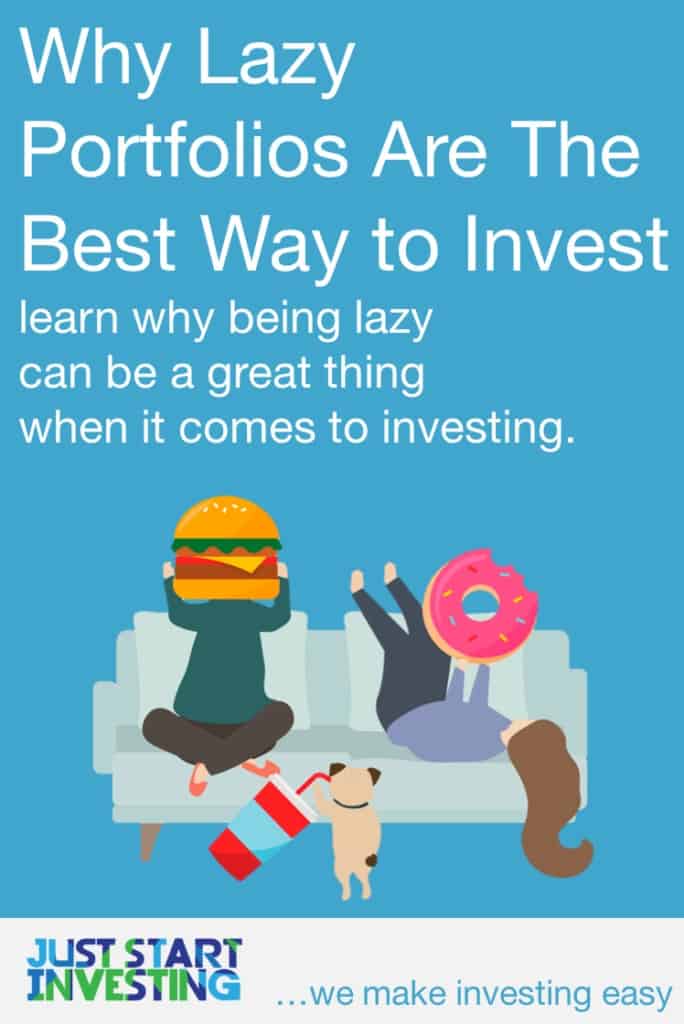 Lazy Portfolios: In Summary
Investing can be easy.
And with lazy portfolios, it is.
There is no need to have a bunch of complicated investments in your portfolio. Lazy portfolios break down the barriers that keep most people from investing (being too complicated, expensive, risky, time-consuming, etc.) while providing a diversified portfolio that is set up to match market returns.
It's why lazy investing is one of my favorite investing strategies!
Just Start Investing is a personal finance website that makes investing easy. Learn the simple strategies to start investing today, as well as ways to optimize your credit cards, banking, and budget. Just Start Investing has been featured on Business Insider, Forbes, and US News & World Report, among other major publications for its easy-to-follow writing.