Investing in farmland is similar to investing in real estate – you purchase property that (hopefully) appreciates in value and can collect rental income on a regular basis.
However, both real estate and farmland are more challenging to invest in compared to stocks and bonds, and that is where FarmTogether comes into play, the company we will review below.
FarmTogether is an online investment platform that makes it easier for investors to add farmland to their portfolios. They make it easy in a few ways, which we'll dive into in this article. First, I wanted to highlight in more detail why farmland, in general, has the potential to be a good investment.
Why Invest in Farmland?
There are two primary reasons to consider adding farmland to your portfolio.
The first is that farmland has yielded solid returns.
According to the NCREIF, over the past 10-20 years, annual returns have been above +10%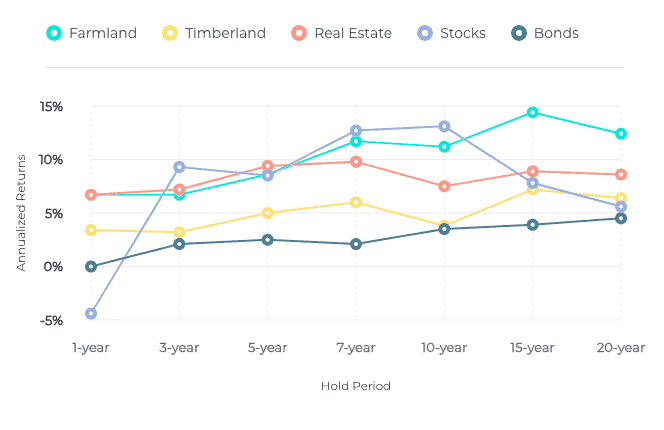 I also checked this against some data from Purdue University, which showed a +7% average annual return on farmland in Indiana. Not quite as high as the NCREIF data that looks nationally, but still a solid return on investment.
The second reason why investing in farmland can be beneficial is to diversify a portfolio of stocks and bonds.
As you can see in the table below, farmland has a slight positive correlation with real estate but a slight negative correlation with both the stock market and bonds.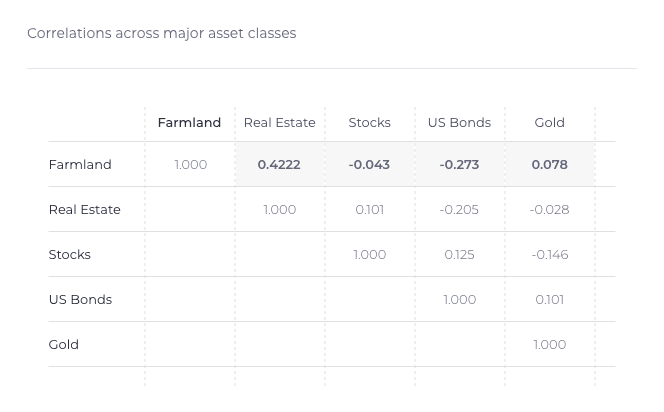 As a reminder, the way to read correlation coefficients is as follows
1.0 – Perfect Correlation (move in sync together)
0.0 – Not Correlated (no real relationship)
-1.0 – Negative Correlation (move in opposite directions)
The fact that farmland is not correlated with stocks and bonds is a good thing – it would help diversify your portfolio.
However, adding more asset classes to your portfolio also adds complexity, which is the tradeoff you need to consider.
Would you rather have a simpler, easy-to-manage portfolio, or a more diverse one?
Beyond those two primary reasons, there are also a few macroeconomic factors that make farmland an attractive potential investment:
Shrinking farmland supply – limited supply typically helps prices go up (assuming demand does not shrink and output does not drastically improve). Statista predicts that the amount of Farmland in the US will decrease to 252 acres by 2028, a 2.1% decrease since 2012.
Growing population – In 2015, there were 7.3 billion people on the planet. The UN expects this number to spike to 9.7 billion by 2050. In theory, this should keep the demand for food (and therefore farmland) high.
Like any investment, though, it's not all rosy, and there are certainly risks involved. We'll dive deeper into the pros and cons of investing in farmland further below, but first, it's time to introduce the company that makes investing in farmland easy: FarmTogether.
FarmTogether Overview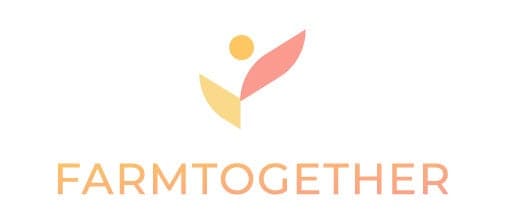 FarmTogether is an online investment platform that enables investors to invest in farmland for a fraction of the typical cost. Thanks to crowdfunding, FarmTogether can bring together multiple investors to go in on a piece of land together.
While you have to be an accredited investor in order to invest through FarmLand, their crowdfunding structure makes this alternative investment much more accessible. You can get in on some deals with as little as $15,000.
FarmTogether is a new company but has an experienced leadership team that vets the deals they invest in.
FarmTogether Mission
FarmTogether has a thorough and clear mission displayed on their website:
"Our team and partners are cross-industry professionals with over 70 years of experience across farmland investing, agriculture and real estate in the US and globally. Recognizing that farming is the single most vital industry on our planet, we want to drive sustainable and prosperous food systems that work for everyone in our globally connected world. Firmly believing that farmland is a safe, stable and attractive long-term investment for everyone, our mission is to fund our future by radically democratizing farmland investing. We meticulously review all investment opportunities and only pursue the properties we find attractive. We then partner with top quality local farmland operators to manage the land."
One of the best things I saw when looking into FarmTogether is that they invest in every deal alongside other investors. They state that if a deal is good enough for you, it's surely good enough for them too.
FarmTogether Founders
Artem Milinchuk, the current CEO, started FarmTogether.

All in all, FarmTogether has a team of 4 founders, including Artem. Each with various experience:
David Chan – COO
Olga Ayvazyan – Head of Retail & Business Product
Josiah Terrell-Perica – Director of Farmland Investing
Understanding the people behind this company is more important given FarmTogether's short history and track record. You can learn more about the entire team here.
FarmTogether Review: How FarmTogether Works
Now that we have a little background on the company, the next step in this FarmTogether review is to outline how to get started, which you can do in four relatively simple steps.
As I said up front, this investing platform's main benefit is that it makes it easy to invest in this alternative asset.
1. Education
Before even signing up, the first thing you should do is spend some time getting educated on both the platform and farmland investing risks.
FarmTogether has a relatively robust "learning center" on its website that contains blog posts and white papers with details on farmland investing. It's a great place to start to get educated, and I would also venture outside the platform to ensure you are getting the full, unbiased picture.
It's usually a bad idea to invest in something you don't understand.
2. Signing Up
Once you have a good baseline of knowledge on farmland investing, you can sign up on FarmTogether.
The big catch here is that you must be an accredited investor to invest through FarmTogether. Which, simply put, means that you need to either:
Earn an annual income of over $200,000 per year for the last two years ($300,000 per household) with the expectation of maintaining such level of income this current year
Have a net worth of greater than $1 million (individually or jointly), excluding the value of a primary residence
If you don't meet one of those two criteria, like most people in the US, then you currently cannot invest through FarmTogether (unless you meet one of the other, more rare criteria outlined like investing on the behalf of a company).
While not available now, FarmTogether says they are actively working to find ways to provide access to non-accredited investors and to contact them if you would like to learn more.
3. Picking an Investment
Once you are signed up, you can review the investments that are available on the platform. These are investments that the FarmTogether team has vetted and selected out of hundreds of potential investments.
Below, you can see the two current offerings: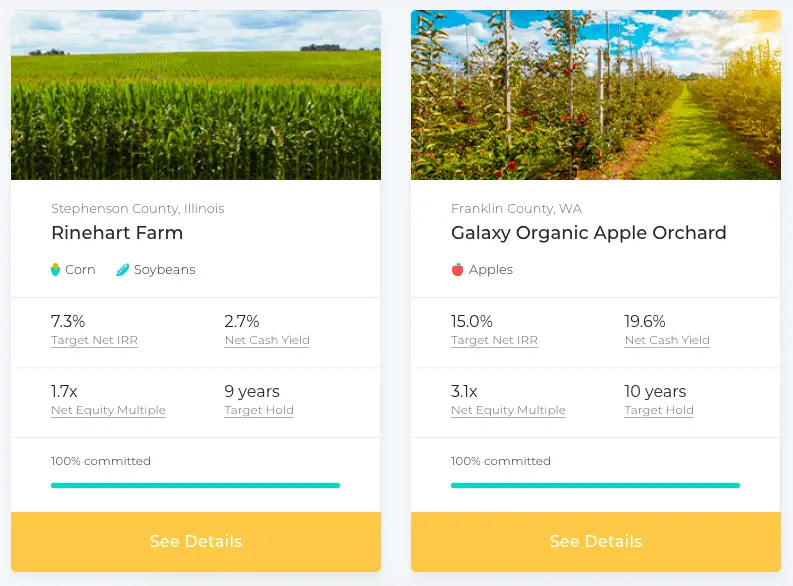 What I like about the process here is that FarmTogether does a lot of the heavy lifting to vet the top investments before putting them on the platform.
Each investment has a few important metrics to be aware of:
Fees: Each deal has its own fee structure, but it's typically 1% upfront and 1% ongoing in an ongoing annual management fee.
Account minimums: Again, this varies by the deal, but is usually $15,000.
Target Hold: How long FarmTogether plans to hold the property before selling it (and before you get all your money back).
Target Net IRR: Internal Rate of Return is a measure to estimate returns. Remember, this is an estimate, and typically a higher IRR is a riskier investment (though not always).
4. Monitoring Your Investment and Making Money
If you do invest through FarmTogether, the goal is to make money in two different ways:
Rent
Appreciation
Similar to a real estate investment, in most deals, investors receive a portion of the "rent" payment (or cash yields) that farmers pay to use the land that they are leasing. These payments get distributed to investors on a quarterly or annual basis.
Second, when FarmTogether ultimately sells the property down the line, you will get your share of the capital gains from that sale of the land.
Keep in mind, an investment in FarmLand is very illiquid. While FarmTogether states on their website that they will put in their best effort to help you get your money if you need to exit early, you should not plan to have access to this investment until the farm is eventually sold.
Pros and Cons of FarmTogether and Investing in Farmland
Not surprisingly, investing in farmland has its pros and cons. Some of the items on the list below will be unique to the FarmTogether platform, and others will be more general about investing in this unique asset.
FarmTogether Pros
Returns: Based on the NCREIF data mentioned at the top of this article, farmland has the potential for solid long term returns.
Diversification: Farmland is a good asset to diversify a portfolio of stocks and bonds.
Vetting: FarmTogether vets investment opportunities for you, one of the big perks of the platform if you trust the due diligence they perform.
Ownership Investment: FarmTogether principals also invest in the farmland alongside you, which should be comforting to know that they also have skin in the game.
Easy-To-Use Platform: The FarmTogether platform is intuitive and provides useful educational tools as well.
FarmTogether Cons
Accredited Investor: As of now, you need to be an accredited investor to invest through FarmTogether, which rules out a lot of everyday investors from being able to use the platform.
New Company: FarmTogether is a new and unproven company. While their leadership team has a lot of experience in the industry, this is still a risk associated with using this platform.
Illiquidity: FarmLand is a very illiquid asset, unlike traditional stocks and bonds.
Fees: While the fees are in line with other similar platforms that provide access to unique investment vehicles, they are still much larger than many index funds or ETFs.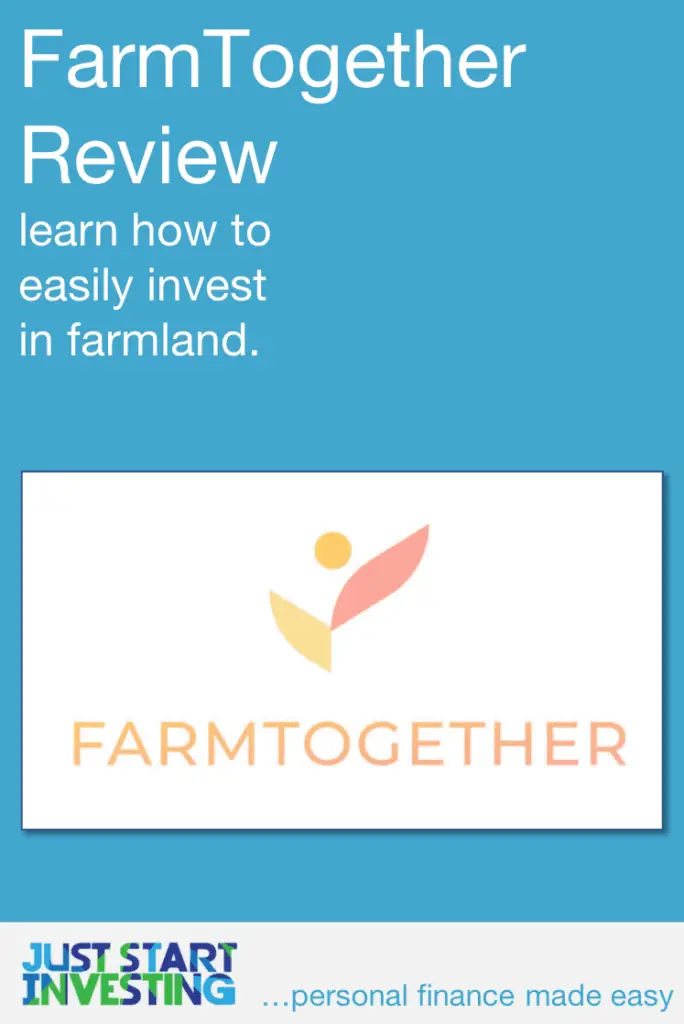 Summary: FarmTogether Review
Farmland is an interesting asset class with the potential for solid returns. For anyone looking to diversify outside of stocks and bonds, it's a good option to consider.
FarmTogether is paving the way by making investing in agriculture easier for everyday investors. With a minimum investment of only $15,000, it's a good option for accredited investors to dip their toes in with unique asset classes.
In the meantime, stocks, bonds, and REITs are all good options for non-accredited investors to continue to invest in to reach their personal finance goals.
And if you'd explore another crowdfunded agriculture investment platform, you should check out this AcreTrader Review from my friend Leif at Physician on FIRE.
Just Start Investing is a personal finance website that makes investing easy. Learn the simple strategies to start investing today, as well as ways to optimize your credit cards, banking, and budget. Just Start Investing has been featured on Business Insider, Forbes, and US News & World Report, among other major publications for its easy-to-follow writing.