Outside of buying physical real estate, there are generally two ways to invest in real estate:
Invest in publicly-traded Real Estate Investment Trusts (REITs) through a traditional brokerage account, like Charles Schwab or Vanguard
Invest through a real estate crowdfunding platform, like Fundrise, and get access to private market real estate deals
Below, we'll focus on highlighting the pros and cons of the second option.
Specifically focusing on one of the leaders in the real estate crowdfunding game: Fundrise.
Keep reading for our full Fundrise Review.
Fundrise Review 2020: The Bottom Line
Fundrise is a platform that makes real estate investing more accessible, but should be used as part of a long term strategy.
Get Started
About Fundrise

Fundrise was founded in 2012 in Washington DC by current CEO Ben Miller. At the time, Fundrise set out to make real estate investing more accessible while keeping fees low.
Fundrise is the first online investment platform to create a simple, low-cost way for anyone to unlock real estate's historically consistent and exceptional returns.
-Fundrise Website
Since 2012, Fundrise has grown to become a massive real estate investment platform, now managing over $4.9 billion in assets for over 130,000 investors.

As mentioned earlier, Fundrise is an online real estate crowdfunding platform. Similar to how Kickstarter pools funds from people in order to launch companies, Fundrise pools funds from people in order to invest in private real estate deals.
These deals include everything from commercial buildings to single-family homes. By getting started with Fundrise, you get access to a diversified portfolio of real estate investments.
Here's how it works:
How Fundrise Works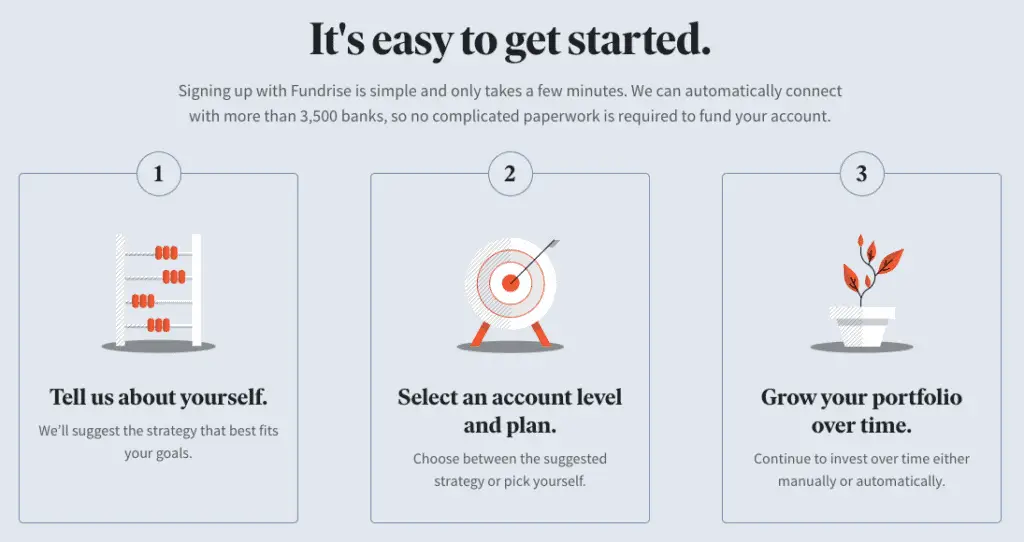 As expected with modern investing platforms like Fundrise, it's very easy to get started.
You can start investing through Fundrise with just $500 and 10 minutes of your time. Below are the 3 steps outlining how to invest in Fundrise.
Get Started
Step 1: Provide Some Basic Information
After hitting the "get started" button on the Fundrise website, you'll need to provide some basic information.
This includes things like your:
Email address
Age
Investment Experience
Investment Goals and Motivation
Duration of Your Investment
How Much Your Plan to Invest
Based on this information, Fundrise will recommend an account level and investment plan for you.
Which brings us to Step 2…
Step 2: Select Your Account Level and Investment Plan
Fundrise offers three basic types of account levels.
Based on the answers you provided in step 1, Fundrise will recommend an account level for you. Though, you don't have to proceed with that recommendation. You can choose for yourself between the three following options:
Core: $1,000 minimum investment
Advanced: $10,000 minimum investment
Premium: $100,000 minimum investment
Each plan gets you access to slightly different perks too, but for the most part, the core plan will cover everything you need.
The largest benefit I noticed when jumping from the Core plan to the Advanced plan was that you can allocate money directly to funds as you see fit, giving you more control over your potential returns. Some commentators in the Fundrise subreddit mentioned seeing better returns in the Advanced plan where they had more control over their money.
Once you choose an account level, you will need to choose an initial investment plan as well. Your options are:
Supplemental Income: Create a consistent income stream by maximizing dividends.
Balanced Investing: Build wealth by balancing short term dividends with long term returns.
Long-Term Growth: Prioritize long term returns above all else.
Note: Fundrise also offers a "starter plan" for those who want to get started with just $500.
Step 3: Create Your Account and Start Investing
Once you have selected an account level and investment plan, the hard work is largely over.
From here, you can create your account with Fundrise, fund your account, and start investing in real estate assets. Hopefully, you'll make money as a passive real estate investor for years to come.
Fundrise Key Features
It's easy to get started with Fundrise, but here are some key facts and features you should know before signing up:
Minimum Investment: $500 for the Starter Level, $1,000 for the Core Level, $10,000 for the Advanced Level, and $100,000 for the Premium Level.
Core Fees: 0.15% advisory fee, 0.85% management fee, and potential organizational/miscellaneous fees of 0-2%.
Investor Requirements: Open to people who are not accredited investors.
Liquidity: Fundrise recommends only investing with them if you have a 5+ time horizon. You can potentially reclaim your funds before 5 years if needed, but there will be additional fees involved and it is not always possible depending on the economic environment.
Investment Options: Fundrise offers a few different investment options, primarily focused around eREITs and eFunds, which invest in commercial real estate and residential real estate, respectively.
Fundrise Historical Returns
Of course, one of the most important features to examine is the historical returns of Fundrise.
While historical returns are no guarantee for future returns, they are a good measurement to examine to determine if an investment is worthwhile. Since no one has a crystal ball to see the future, looking at past returns is better than jumping in blindly.
As you'll see below, Fundrise has netted some impressive returns over the past 5 or so years, netting between 8.76% and 12.42% annually.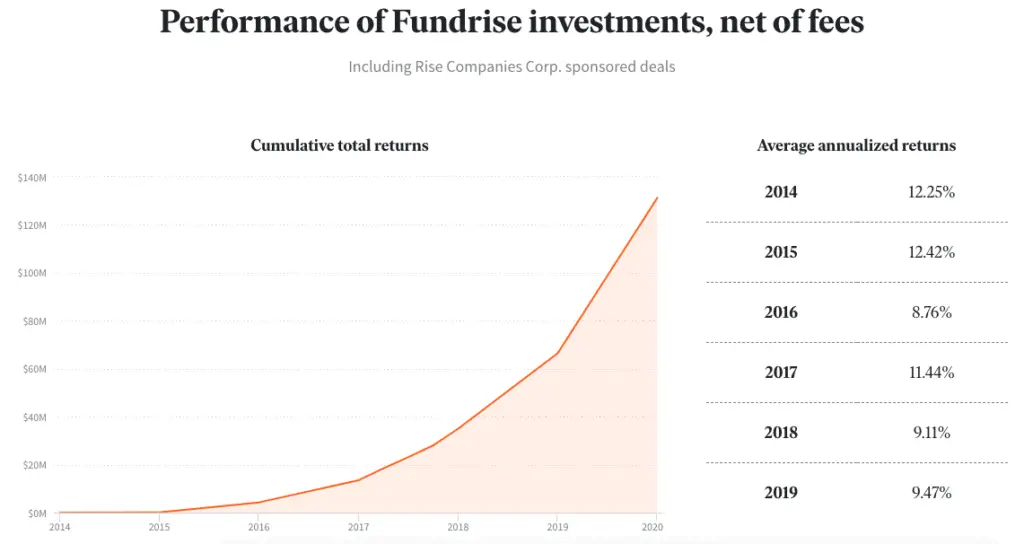 In addition, Fundrise currently claims an annual dividend yield north of 5%.
This is one of the most appealing parts of investing in private real estate deals through companies like Fundrise – they have the potential for high returns. However, you must balance this with their cons, which include higher risk and less liquidity.
---
Start Investing with Fundrise Today:
Get Started
---
Fundrise Review: Pros and Cons
Like nearly every investment opportunity, there are pros and cons associated with investing in Fundrise.
Below are the top ones to consider.
Fundrise Pros
Return Potential: Fundrise has yielded some impressive historical returns, and the potential for those to continue in the future is certainly enticing.
Low Investment Minimum: There is a low barrier for getting started. The starter plan has a $500 minimum investment amount.
Diversification: Investing in real estate can be a good diversification tool to build beyond a portfolio of stocks and bonds.
Accessibility: Fundrise is available to non-accredited investors and gives investors the ability to invest in private real estate deals without having to buy rental property themselves.
Easy to Navigate Platform: Fundrise offers a sleek and modern investment platform that is easy to navigate. Plus, you can start investing in just a few minutes.
Passive Income: Minimum work is required ongoing, like with most investments, making Fundrise a source of potential passive income.
Fundrise Cons
Liquidity: As expected, investing in the private real estate market means investing in illiquid investments. You should not expect to be able to get access to your investment within 5 years easily or without avoiding fees.
Fees: The standard 1% in advisory and management fees is high compared to the average annual fee on index funds and exchange-traded funds (ETFs), but Fundrise does boast the returns to offset them. The piece to caution here is the potential for hidden fees, so be sure to do your due diligence on the potential for extra fees before signing up.
Risk: Of course, the high returns that Fundrise has provided in the past are not guaranteed to continue in the future. There is a risk that returns may be lower, or that you could lose your investment altogether.
Company Stability: Fundrise is a new and unproven company and platform. Founded in 2012, it has a short track record to look back upon.
Taxes: Dividends are non-qualified and taxed as regular income rather than at the 15% rate.
Fundrise Review: Frequently Asked Questions (FAQs)
Is Fundrise a Good Investment?
The historical annual returns of 8.7% – 12.4% (net of fees) that Fundrise reports certainly make it seem like a good investment. However, like with all investments, you need to take into consideration the risk involved.
Does Fundrise Pay Dividends?
Yes, Fundrise typically pays quarterly dividends that can be taken out as cash or reinvested.
How is Fundrise Taxed?
Dividends are non-qualified and taxed as regular income rather than at the 15% rate.
Is Fundrise Safe?
Like all investments, there is a risk to investing in Fundrise. There are real, physical assets that you invest in when using Fundrise, but there is a risk that your investment can depreciate in value. Before investing in Fundrise, make sure it fits your investment strategy and risk tolerance.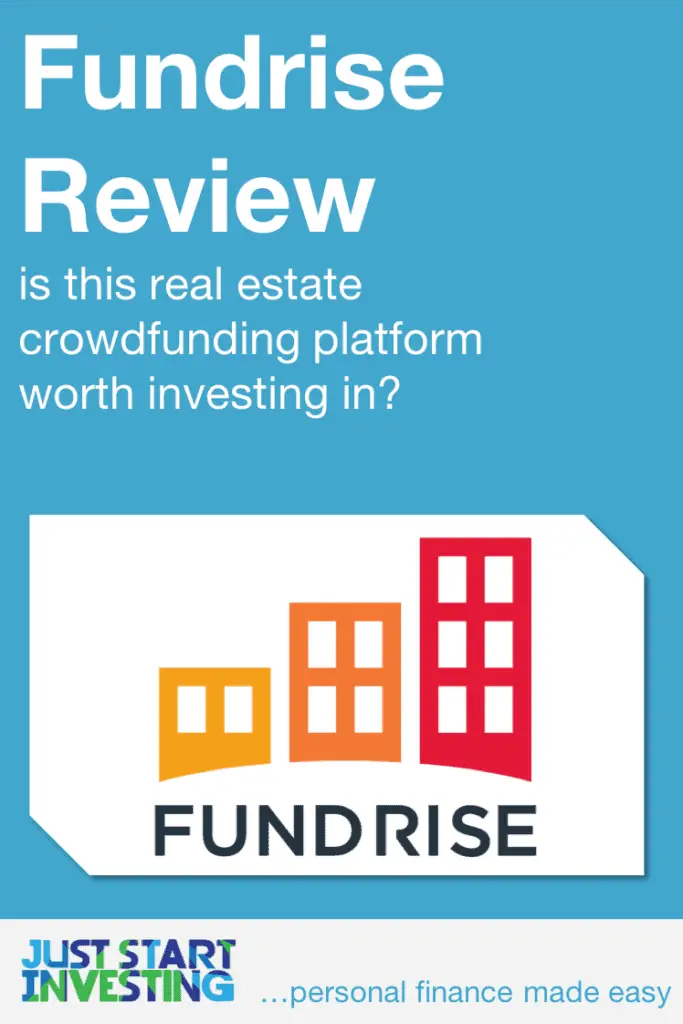 Fundrise Review: Is Fundrise Worth It?
Fundrise is an interesting investment platform that I think is worth checking out.
For someone who already has an emergency fund, is maxing out their 401(k), and is investing in stocks and bonds in a brokerage account, Fundrise can be a good platform to continue to expand your investment diversification. Specifically, with funds that you don't need access to for at least five years, since Fundrise is a long term investment.
However, if you are investing your very first $500, there are likely better options than jumping straight into investing with Fundrise.
Fundrise in 2020:
If you're curious about how Fundrise is adapting to the current pandemic, they wrote a
lengthy article
that will hopefully address some of your questions.
If you are interested in investing after reading our detailed Fundrise review, you can get started here:
Get Started
Just Start Investing is a personal finance website that makes investing easy. Learn the simple strategies to start investing today, as well as ways to optimize your credit cards, banking, and budget. Just Start Investing has been featured on Business Insider, Forbes, and US News & World Report, among other major publications for its easy-to-follow writing.