Justin Bieber Net Worth 2021: $285 Million
The Canadian pop singer achieved success at a very young age. His talents may have been discovered by accident, but the way he made a name and a hefty net worth for himself through his career is nothing short of amazing. 
How much is Justin Bieber's net worth?
| | |
| --- | --- |
| Net worth: | $285 Million |
| Born: | March 1, 1994 |
| Source of Wealth: | Professional singer, Composer, Dancer, Endorsement deals, Investments |
| Nationality: | Canada |
| Last Updated: | 2021 |
As of 2021, the Canadian singer and songwriter's net worth is estimated to be $285 million. Read on to learn more about how Justin Bieber's rapid rise to fame as a young boy ultimately helped him build his own empire as a married man. 
Measure Your Net Worth:
You can create your own financial plan for free in just 5 minutes with
Savology
and start tracking your net worth.
Early Life and Personal Life
Justin Drew Bieber, popularly known as Justin Bieber, was born in 1994 and grew up in Stratford, Ontario, Canada. He is the only son of single mom Patricia "Pattie" Malette and then on-and-off boyfriend Jeremy Jack Bieber. 
The two never married, and Bieber's mom also had him at an early age, prompting Malette's parents to help her raise her son. 
Bieber's parents, however, remained friends for the sake of their son. During her early days as a single mother, Malette struggled in raising Bieber as they lived in poverty and had to benefit from public assistance. 
Justin eventually graduated from high school in St. Michael Catholic Secondary School in 2012. 
In 2007, Bieber's mom put him on YouTube by uploading videos of him singing R&B songs on the online video sharing platform. At first, Malette only wanted to share videos of her son's performances for family and friends to see. 
The next thing she knew, thousands of people were clicking on Bieber's videos. What she didn't expect, however, is how her son's career would take off through the same platform, which all started when an American talent agent mistakenly clicked one of Bieber's videos. 
Justin Bieber Career and Path to Wealth
From YouTube to Global Superstar
Justin Bieber's career took off shortly after he was discovered by Scooter Braun, a music promoter and talent agent from America, who was just looking for videos of a different singer on YouTube when he accidentally clicked on one of Bieber's performance videos. 
Needless to say, he was so impressed with the singer that he contacted Bieber's mother, who agreed to bring her son to Atlanta to work with Braun by first recording some demo tapes.
Eventually, Braun was able to convince the two to move permanently from Canada to the United States. At age 13, Bieber arrived in Atlanta, Georgia, to work with the record executive. A week later or so the story goes he was already singing for Usher. 
Time in the Spotlight
Over the past years, Justin Bieber has had a roller-coaster career ride. His rise to fame as a singer easily propelled him to pop superstardom, which greatly contributed to his huge earnings and now massive net worth. 
Let's relive some of Justin Bieber's best music moments through this timeline:
2009
Released his debut single, "One Time," which quickly peaked at no. 17 on the Billboard Hot 100
The video for the single, which featured Usher, quickly racked up views
2010
Bieber released his second album, My World 2.0, which soon went platinum
A total of 698,000 copies of the album was sold in its first three weeks
Months later, the singer kicks off his My World Tour
Released the breakout hit, "Baby," that featured Ludacris and quickly became an international smash, with 15 million singles sold globally
2011
A concert documentary starring Bieber entitled Justin Bieber: Never Say Never was released, and grossed a total of $98 million worldwide
Bieber ranked no. 2 on the Forbes list of Best-Paid Celebrities under 30
Released his holiday album, "Under the Mistletoe," which sold 2 million copies
2012
Justin released his third album, "Believe," which sold 3 million copies worldwide
The singer kicked off the biggest tour of his career, the Believe Tour
2013-2014
Believe Acoustic became his fifth no. 1 album on the Billboard 200 chart
Started releasing a series of R&B tracks which were later released as "Journals"
Justin Bieber topped Forbes 30 Under 30, which lists the highest-earning celebrities under 30 years old
2015
For his comeback, the singer released "Where Are Ü Now" with Jack Ü
The song got Bieber his first Grammy for Best Dance Recording
2017-2019
Justin Bieber has also worked on a few collaborations, including:
"Despacito" with Luis Fonsi and Daddy Yankee
"I'm the One" with Quavo, Chance the Rapper, Lil Wayne, and DJ Khaled
"Bad Guy" with Billie Eilish
2020-present: Music, Marriage, Personal Battles
From 2020-2021, Bieber released the albums: (1) Changes; (2) Justice; and (3) Freedom.
The singer also debuted his 10-part YouTube DocuSeries, Seasons, which focused on his life away from the public eye, his marriage, his journey back to preparing for new music, and his struggle with mental health issues. 
Justin Bieber Net Worth of $285 Million
Justin Bieber's net worth of $285 million was accumulated from music earnings, successful tours, endorsement deals, merchandise, and personal investments, including real estate. 
Album Sales and Successful Tour Shows
In 2014, Justin Bieber topped Forbes magazine's list of the highest-earning celebrities under 30. It is reported that he has earned an estimated $80 million that year. 
Again, in 2017, the Canadian singer showed no signs of slowing down, as he took second place in Forbes' world's highest-paid celebrity under 30 list. Bieber is said to have earned $83.5 million that year. 
Since Bieber's debut in 2009, he has released several albums, resulting in three worldwide concert tours. Needless to say, all of them achieved massive success. Below are Justin Bieber's concert tours and the estimated amount of ticket sales each one banked over:
My World Tour – $53.3 million
Believe Tour – $210 million
Purpose World Tour – $256 million
Now, if you are overwhelmed just by seeing these figures in writing, know that you are not alone. The next time someone asks you, "What is Justin Bieber's net worth?," give them a brief answer similar to what BTS member V said about their Kinetic Manifesto Film for 'ON': It's massive. 
Endorsement Deals
In addition to his music earnings and successful tours, Bieber was also able to rake in big bucks through endorsement deals. Some of the brands he has worked with include:
Calvin Klein
Proactiv
Nicole by OPI
Adidas
Beats by Dre
Best Buy
Bieber's partnership with Calvin Klein is believed to be his greatest endorsement deal by far. To this date, it's unclear how much the singer got paid for his ads, but CK reportedly made $723 million after Justin Bieber stripped down to his Calvins. 
Lessons from Justin Bieber's Path to Wealth
Use the Right Avenue to Your Advantage
Justin Bieber knows his audience. He also knows that in a time when the internet is  accessible to most people, reaching out to his target audience can be done in no time. 
Knowing this, Bieber continuously uploaded cover videos on YouTube, which ultimately led to him being discovered by Scooter Braun. 
Handle Criticism Like a Pro
If you do not live in a cave, you probably know that while Bieber's fame enabled him to enjoy some of the most luxurious things life has to offer, this also meant that his teenage phase was largely caught on camera.
He used to be plagued with scandals and legal issues, but he was able to overcome these like a pro. Today, as a married man, Bieber has opened up about how he struggled with mental health issues and also communicated about how he is still learning valuable lessons every day besides his wife.
Favorite Justin Bieber Quotes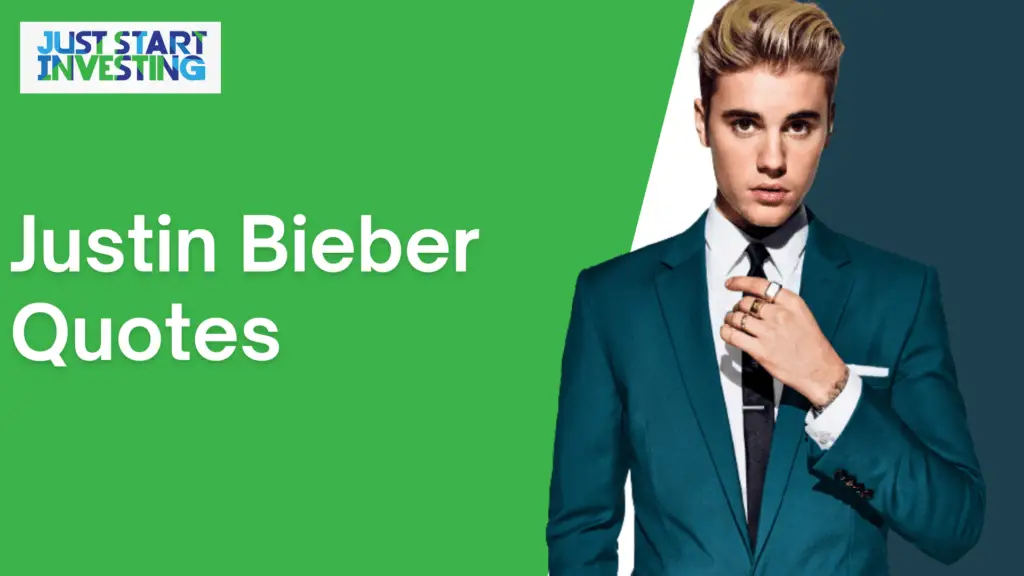 Love him or hate him, Justin Bieber has given us some inspirational words to live by. Some of them are:
"I've got my eye on a few things to spend my money on. I've got my own bank card but I am really good with money. I don't spend too much at all." – Justin Bieber
"I'm not a fighter by nature, but, if I believe in something, I stand up for it." – Justin Bieber
"I'm looking forward to influencing others in a positive way. My message is you can do anything if you just put your mind to it." – Justin Bieber
Summary: Justin Bieber and What We Can Learn
How much is Justin Bieber's net worth? – $285 Million
Through his best-selling albums and highest-grossing concert tours, Justin Bieber was able to build his wealth. I hope that you have enjoyed witnessing the Canadian singer's rise to fame, which came with the following lessons:
Use the right avenue to your advantage.
Handle criticisms like a pro. 
Here's to hoping you can take these learnings with you even beyond finance-related matters. 
Just Start Investing is a personal finance website that makes investing easy. Learn the simple strategies to start investing today, as well as ways to optimize your credit cards, banking, and budget. Just Start Investing has been featured on Business Insider, Forbes, and US News & World Report, among other major publications for its easy-to-follow writing.