Your credit score will be a significant factor if you're looking to buy a car. This is because your credit score determines how much of a loan you can get and affects the interest rate that you are charged on that loan. For these reasons, you need to make sure that you have a good credit score before you start shopping for a car.
Before getting into the minimum credit score for buying a car, it's crucial to understand how your credit score is determined. This is the key as this will help you decide whether or not you can get a loan from a lender or bad credit auto loans provider. Here is what you need to know about the minimum credit score required to purchase a vehicle and some tips to help you improve your credit score.
What Is a Credit Score?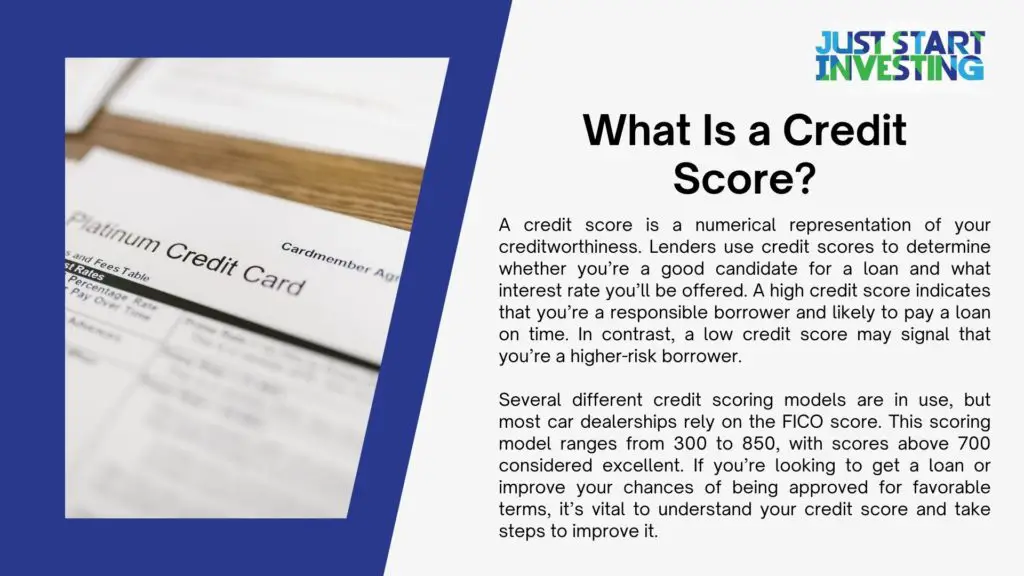 A credit score is a numerical representation of your creditworthiness. Lenders use credit scores to determine whether you're a good candidate for a loan and what interest rate you'll be offered. A high credit score indicates that you're a responsible borrower and likely to pay a loan on time. In contrast, a low credit score may signal that you're a higher-risk borrower.
Several different credit scoring models are in use, but most car dealerships rely on the FICO score. This scoring model ranges from 300 to 850, with scores above 700 considered excellent. If you're looking to get a loan or improve your chances of being approved for favorable terms, it's vital to understand your credit score and take steps to improve it.
What Factors Influence Your Credit Score?
Several different factors can influence your credit score. Some of the most critical include:
Payment History
Payment history is the most important ingredient in credit scoring. It is a record of how you have managed your finances in the past and is the best predictor of managing your finances in the future. Good payment history shows that you are responsible and can be trusted to repay your debts. It also demonstrates your ability to manage your money and make timely payments.
On the other hand, a poor payment history indicates that you are not a reliable borrower and may be more likely to default on your debt obligations. Creditors will be reluctant to lend to you if they believe you are a high-risk borrower. As a result, your credit score will suffer. Therefore, it is essential to make sure you have a good payment history to maintain a good credit score.
Credit Usage
Your credit usage is one of the most critical factors in your credit scores. This ratio represents how much of your available credit you are using at any given time. A higher credit utilization ratio can hurt your scores because it shows that you may be struggling to manage your debt.
On the other hand, a lower credit utilization ratio indicates that you are using a smaller portion of your available credit, indicating that you are a more responsible borrower. You can improve your credit utilization ratio by paying down your debt. Keeping your credit usage low is a great way to boost your credit scores.
The Length of Your Credit History
The length of your credit history accounts for 15 percent of your FICO score. A long credit history shows lenders that you're an experienced borrower who has managed different types of credit responsibly. If you're looking to boost your score, it pays to keep older accounts open and active.
You can also diversify your credit mix as lenders like to see a variety of installment loans (e.g., auto loans) and revolving lines of credit (e.g., credit cards) on your credit report. Just make sure you manage all your accounts responsibly. It only takes one missed payment to cause severe damage to your score.
What Is the Minimum Credit Score Needed to Purchase a Car?
When lenders look at your car loan application, they will immediately zoom in on your credit score. Lenders typically categorize applicants based on their credit scores, with Super Prime (781+) being the best borrowers, Prime (661-780) being good borrowers, Nonprime (601-660) being fair borrowers, and Deep Subprime (300-500) being high-risk borrowers.
If you want your loan to be approved, getting a score of 661 or higher is ideal. However, if your score is lower than this, you may still be able to get approved for a loan, although with a higher interest rate.
How Can You Improve Your Credit Score?
If you're looking to improve your credit score, there are some steps you can take, such as:
1. Find Out Why Your Credit Score Is Low
A low credit score can have a significant impact on your financial wellness. It will be a challenge for you to qualify for loans, and you may be charged higher interest rates if you are approved for financing. That's why it's essential to regularly check your credit score and find out why it's low.
The first step is to pull your credit report from the three major credit bureaus. This will give you an overview of your payment history, outstanding debts, and other factors that affect your score. To identify any red flags, review it carefully once you have your report. If you see any incorrect information, make a dispute with the credit bureau.
2. Always Make Timely Payments
It's no secret that late payments can damage your credit score. But did you know that making even one late payment can have a lasting impact? That's why it's so important to avoid late payments at all costs.
You can do a few things to prevent yourself from falling behind on your payments. First, set up automatic payments for all of your bills. This way, you'll never have to worry about forgetting a payment. Second, create a budget and stick to it. This will help you keep track of your spending and have enough money to cover your bills.
3. Be Wary of Your Credit Utilization Rate
Your credit utilization is one of the most important factors in your credit score. Credit utilization is the amount of debt you have compared to your credit limits. For example, if you have a credit card with a $1,000 limit and owe $500 on it, your credit utilization is 50 percent. Ideally, you want to keep your credit utilization below 30 percent. The lower your credit utilization, the better your credit score will be.
The Bottom Line
Your credit score is one of the most critical aspects of your finances. The minimum credit score you need to buy a car should be at least 661. Still, there's no need to freak out if your score is lower than this. There are still options to choose from, but just be prepared to pay higher interest rates.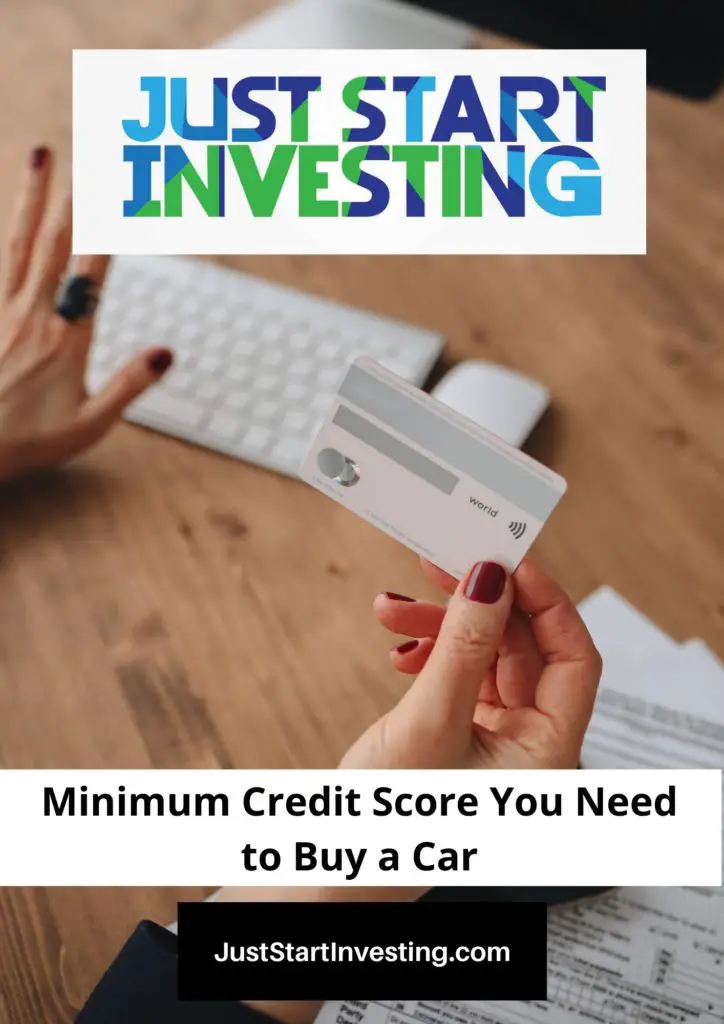 Just Start Investing is a personal finance website that makes investing easy. Learn the simple strategies to start investing today, as well as ways to optimize your credit cards, banking, and budget. Just Start Investing has been featured on Business Insider, Forbes, and US News & World Report, among other major publications for its easy-to-follow writing.