Are you intrigued about NFTs and how they're revolutionizing the collecting world? It's not just you! 
In the world of digital collectibles, NFTs are swiftly gaining popularity after taking the art world by storm. 
This guide will show you how to mint your own NFT and create a collection you'll adore. 
From the fundamentals of NFTs to identifying and obtaining new items for your collection, we'll cover it all. You'll have the information and confidence necessary to explore the world of NFTs and begin assembling a collection that is exclusively yours by the end of the article.  
Understanding NFT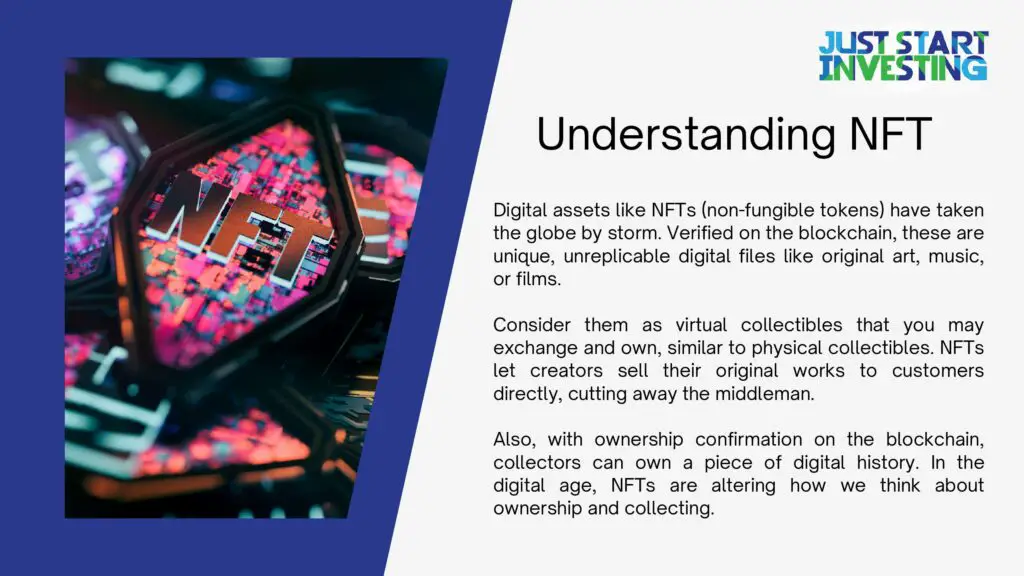 Digital assets like NFTs (non-fungible tokens) have taken the globe by storm. Verified on the blockchain, these are unique, unreplicable digital files like original art, music, or films.
Consider them as virtual collectibles that you may exchange and own, similar to physical collectibles. NFTs let creators sell their original works to customers directly, cutting away the middleman. 
Also, with ownership confirmation on the blockchain, collectors can own a piece of digital history. In the digital age, NFTs are altering how we think about ownership and collecting.
How they Differ from Traditional Collectibles
Non fungible tokens (NFTs) have certain key differences from conventional collectibles. NFTs, as opposed to tangible collectibles, are digital assets that are restricted to the blockchain. 
NFTs also enable creators to market their products directly to consumers without the aid of middlemen like auction houses or galleries. Also, thanks to NFTs, collectors may purchase, sell, and trade their digital asset from anywhere in the world. 
NFTs are reshaping the collecting world, making it more accessible and interesting than ever before!
What Are the Common Misconceptions About NFTs?
As NFTs are a relatively new idea, there are unavoidable misunderstandings as with any new technology. We would want to dispel a few widespread myths concerning NFTs, such as the following:
NFTs are only a trend: According to Entrepreneur, why some people are skeptical of NFTs and their business potential is understandable. After all, they are sometimes overshadowed by the buzz that surrounds them. But while others think it's just another trend that won't last, in reality, NFTs are here to stay. Creators and collectors have already found NFTs to be a useful tool, and their popularity is only increasing.
NFTs are only for tech-savvy people: Despite the fact that NFTs are based on the blockchain, anyone can engage in NFT markets. It is simple for everyone to buy and sell NFTs thanks to the user-friendly interfaces of several platforms.
NFTs are only for digital art: NFTs can represent any distinctive digital asset, including music, films, and even virtual real estate, despite the fact that they are typically associated with digital art.
NFTs are just for rich people: Some NFTs have sold for millions of dollars, but there are also many NFTs that are affordable for collectors of all budgets. 
Choosing a Platform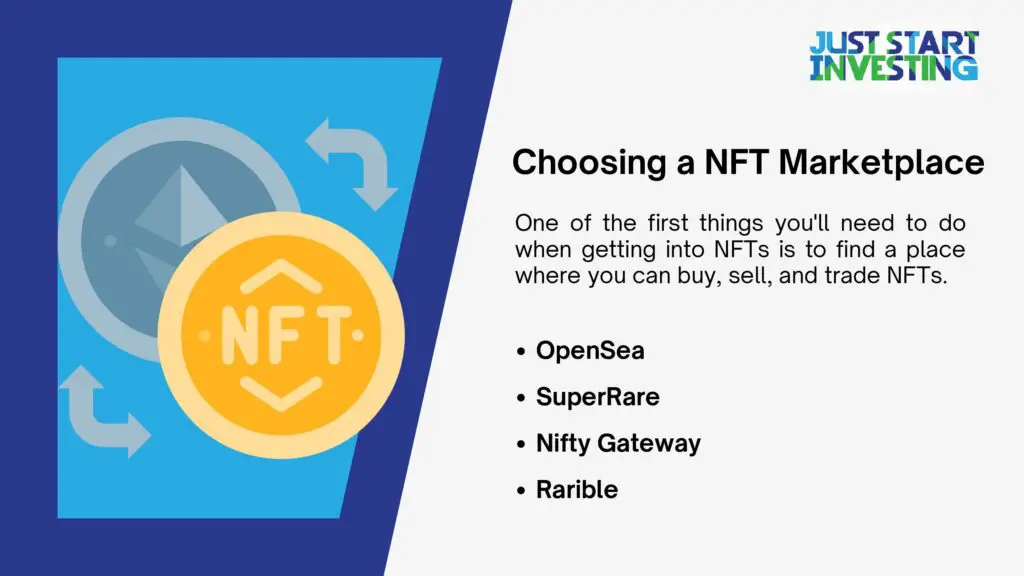 One of the first things you'll need to do when getting into NFTs is to find a place where you can buy, sell, and trade NFTs. An overview of some of the most well-known NFT marketplaces is provided below: 
OpenSea: Popularly known as the largest NFT marketplace, OpenSea offers a huge selection of digital assets for sale. The OpenSea marketplace is renowned for other things as well, like its easy-to-use interface and capacity to support numerous NFT standards, as stated by NFTexplained.info.
SuperRare: SuperRare is a curated NFT marketplace that emphasizes exceptional, one-of-a-kind works of digital art. A team of curators meticulously choose each item on SuperRare, making it a fantastic destination to find valuable and rare NFTs.
Nifty Gateway: Popular NFT marketplace Nifty Gateway focuses on limited releases from well-known artists and businesses. They frequently have high-profile partnerships and product debuts that can sell out very rapidly.
Rarible: Rarible is a decentralized NFT marketplace where you can make and trade your first NFT. This makes it a terrific place to uncover unique digital file as well as new and upcoming artists. 
No matter which NFT marketplace you use, make sure to conduct thorough research and consider all of your options. Choose the marketplace that is best for you and your NFT collection by taking the time to research each one since each has unique strengths and capabilities.
Factors to Consider When Choosing a Platform
When choosing a platform, numerous factors must be considered. Here are some of the most important ones: 
Fees: The pricing structure of the platform is crucial. Be on the lookout for a platform that has fair costs and is open about their pricing. This will assist you in avoiding unforeseen expenses and guarantee that you're receiving the most for your money. Analytics Steps adds that you should avoid using platforms where access to the user interface requires you to pay a sizable upfront fee.
Audience: The platform's audience is still another crucial factor. You'll have a better chance of selling your NFTs if you choose a platform with a vibrant and active user base. Although this might help you target your sales and identify customers who are interested in your particular style of NFT, you might also want to think about whether the platform caters to a particular niche or audience.
User experience: Think about how the platform is used. Is it simple to use and navigate? Does it contain functions that make it simple to locate and purchase NFTs? Seek for a platform that is made to make purchasing and trading NFTs as simple and easy as possible and has a user-friendly interface.
Reputation: Seek out a platform with a positive reputation among NFT users. Be sure the marketplace where you buy and sell is reputable and trustworthy.
Selection: Choose a platform that offers a large variety of NFTs so that you have many choices to pick from.
Security: Think about the platform's security and whether it has safeguards in place to protect your NFTs and private data. 
Creating an NFT
NFT minting can be a terrific way to exhibit your work and establish your name in the digital art community, whether you're an artist, musician, or collector. We'll walk you through creating your unique NFT, including tips on how to make it appealing to potential buyers.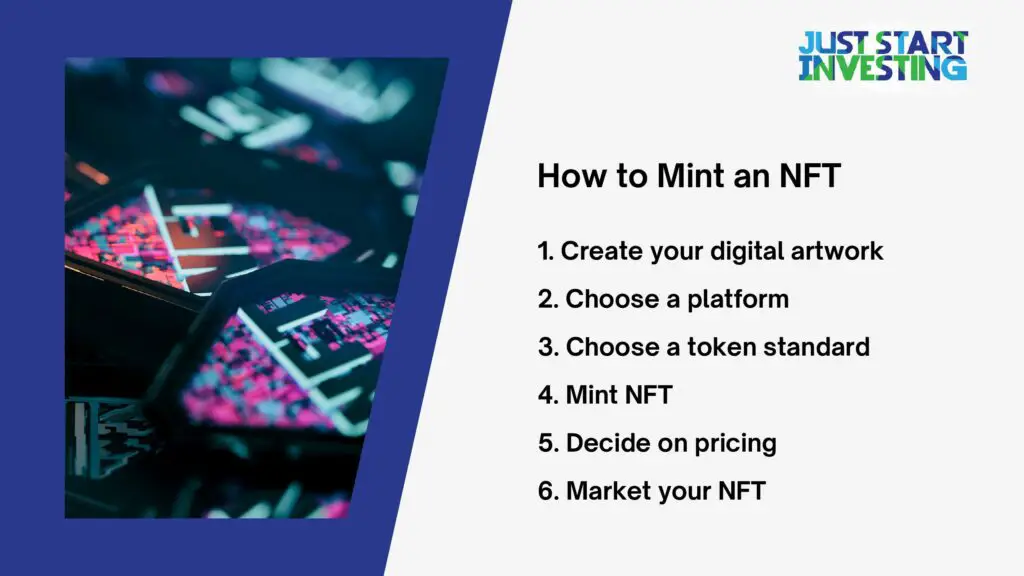 Detailed Instructions on How to Mint an NFT
Creating an NFT is simpler than you would imagine. To mint an NFT, follow these steps: 
Create your digital artwork: The first step in creating an NFT is to make your digital artwork. This might be anything from a digital painting to a 3D model. A high grade and appealing aesthetic will increase the worth of your NFT artwork in the eyes of potential buyers.
Choose a platform: The next step is to select a platform where you may mint NFTs and sell your artwork. Choose from a variety of platforms, such as OpenSea, SuperRare, and Nifty Gateway. Choose a platform that is simple to use and has a solid reputation among NFT users.
Choose a token standard: After deciding on a platform, you must select a token standard. For unique, one-of-a-kind NFTs, ERC-721 is the most widely utilized token standard. But, you might want to think about switching to the ERC-1155 standard if you intend to sell several copies of your NFT.
Mint NFT: You are now prepared to begin the minting process after selecting your platform and token standard. This entails filling out the platform's forms for your digital artwork and your NFT, including the NFT's name, description, and pricing.
Decide on pricing: It's critical to think about the value of your NFT to prospective purchasers when deciding on a price. To determine the pricing range to aim for, you might want to perform some research on comparable NFTs.
Market your NFT: Lastly, it's time to promote your NFT to prospective buyers. Promote your NFT on social media and through NFT communities, and think about providing incentives like temporary discounts to entice customers to buy. 
Tips for Creating an NFT That Will Appeal to Collectors
There are a few considerations to make if you want to create NFTs that collectors will find appealing. Here are some pointers to help you create an NFT that collectors will enjoy: 
Create something unique: The value of NFTs is mostly due to their distinctiveness. Think about creating a unique piece of art or a digital asset that cannot be copied or imitated.
Use high-quality materials: Employ top-notch materials to make your NFT pleasant to the eye and distinctive from the competition. Make sure your artwork is well-crafted and polished as well.
Tell a story: NFTs are not just about the artwork or asset; they are also about the narrative that surrounds it. To make your NFT more interesting to collectors, think about providing a background or context.
Think about the market: Find out which NFT varieties are most in demand and well-liked by collectors. Think about creating an NFT that follows current trends or has a distinctive appeal.
Provide something exclusive: To increase the value of your NFT to collectors, think about including something unique, such a limited edition or a particular feature. 
By using these suggestions, you can create an NFT that appeals to collectors and might fetch a hefty price on the NFT market.
Building an NFT Collection
It can be thrilling and satisfying to build an NFT collection. There are many ways to build a large and valuable collection, whether you want to invest in unique works of digital art or just collect NFTs that interest you. 
We'll go over everything you need to know to begin your NFT collecting journey, from creating a budget to making investments in up-and-coming artists.
Strategies for Building a Diverse and Valuable Collection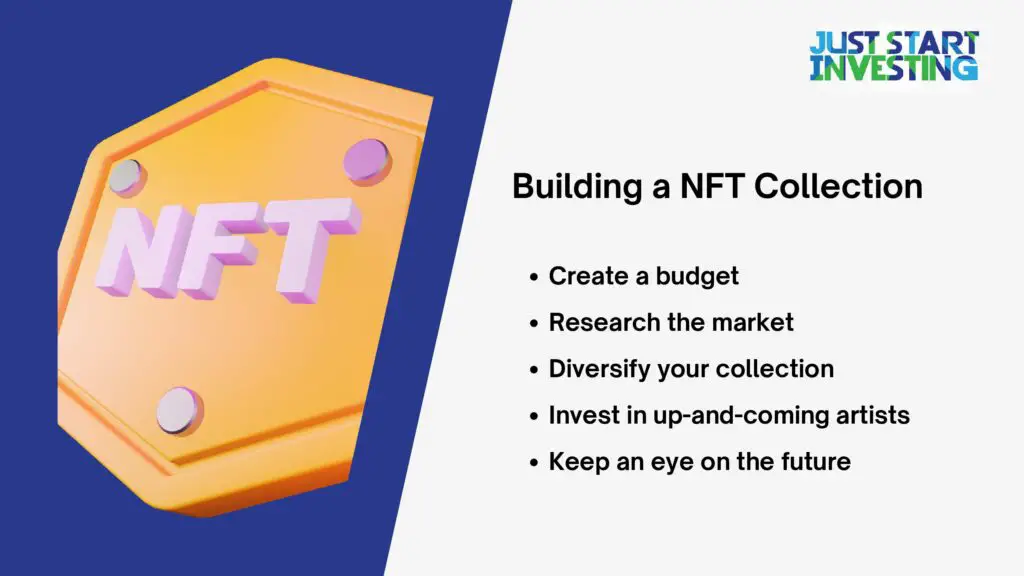 Putting together a wide and valuable NFT collection is an art form in and of itself. You can use the following techniques to build a collection that is both valuable and diverse: 
Create a budget: This must be completed before you start to create a collection. Establish your spending limit for each NFT and stick to it. You'll be able to make wise investments and avoid going overboard thanks to this.
Research the market: To understand the trends and patterns in the NFT market, conduct market research. Seek out NFTs with a history of rising in value over time and that are in demand. This information will help you make smart choices when you buy NFTs.
Diversify your collection: To build a diverse collection, think about investing in NFTs from different categories, such as art, music, gaming, and sports. This will increase the interest of your collection and lessen the chance of overexposure to a particular area.
Invest in up-and-coming artists: Consider investing in emerging artists who are creating distinctive and inventive NFTs. These NFTs might be more affordable at first, but as the artist's career progresses, their value might rise.
Keep an eye on the future: As you expand your collection, it's crucial to consider the NFTs' potential future value. Instead of focusing on NFTs that are currently popular, consider those that have the potential to gain value over time.
Helpful Tips for Finding and Acquiring NFTs
Here are some pointers for finding and getting hold of NFTs:
Follow artists and creators: Keeping up with artists' and NFT creators' latest NFT drops on social media sites like Twitter and Instagram is a wonderful way to keep in the loop. Following them on social media can help you be the first to learn about new NFTs since many artists use such platforms to advertise impending drops.
Attend NFT auctions and events: Buying unique NFTs and learning about new artists can both be accomplished by attending NFT auctions and events. Regular auctions and events are held by several NFT marketplaces and galleries, which can be a great chance to expand your collection and connect with other collectors. 
Explore NFT platforms: You may find new NFTs and purchase them straight from the makers at NFT markets like OpenSea, SuperRare, and Nifty Gateway. To locate NFTs that interest you, you can search for particular keywords or browse by genre or artist.
Join NFT communities: You may meet other collectors and learn about new NFTs by joining NFT communities on social media sites like Discord and Telegram. Several communities often hold private drops and events just for its members, which can be a fantastic way to get hold of rare NFTs.
Consider investing in NFT funds: NFT funds are ways to invest that let you buy a variety of NFTs. This is a great option for beginners who are unfamiliar with NFT collections or those who don't have time to find and acquire NFTs. 
How to Curate and Display an NFT Collection
It might be just as crucial to curate and exhibit an NFT collection as it is to buy the NFTs themselves. The following advice can help you organize and present your NFT collection: 
Choose a topic or a narrative: Think about organizing your NFT collection around a particular theme or a story. This might assist you in developing a unified and visually appealing presentation that conveys a narrative.
Choose a display platform: A range of display platforms, from digital frames to large-scale projection screens, are available. Choose a display platform based on the size of your collection and your budget.
Present your NFTs: Think about presenting your NFTs in a way that draws attention to their distinctive qualities, including animation or music. This can make your collection more fascinating for viewers and help give it life.
Think about positioning and lighting: These two factors can greatly affect how your NFT collection is seen. To draw attention to particular NFTs, think about utilizing spotlights or other lighting approaches. You can also try several placements to find what works best for your collection.
Document your collection: The best method to share your NFT collection with others and keep track of your acquisitions over time is to document it. To meet other collectors, take pictures or videos of your collection and post them on social media or in NFT communities.
Navigating the NFT Ecosystem
Knowing the fundamental concepts and words associated with NFTs is critical for successfully navigating the NFT ecosystem. Buying, selling, and creating NFTs can be done with confidence if you understand these ideas. 
Gas Fees
You must pay a charge whenever you do a transaction on a blockchain, like creating or selling an NFT. The cost of completing the transaction on the network is covered by this charge, which is also referred to as a gas fee, according to 101 Blockchains.
The amount of gas you must pay does not have a fixed price and instead varies according to the intricacy of the transaction and the current network activity level.
The practice of "lazy minting" is one technique to perhaps avoid paying high gas prices when creating an NFT. Instead of being pre-minted and placed on the market for sale, lazy minting only produces the NFT when it is purchased.
Smart Contracts
Self-executing contracts known as "smart contracts" are written into a blockchain. Cointelegraph also states that smart contracts automate the contract's conditions' implementation so that no middlemen, such as a bank or lawyer, are required.
A smart contract in the context of NFTs enables creators to describe how, by whom, and under what conditions their NFTs may be utilized.
Royalties
Royalties are a portion of the price of an NFT's sale that goes to the creator every time the NFT is sold. They are frequently included in smart contracts and can guarantee that creators continue to be paid for their work. Royalties are a well-liked feature for creators since they can help preserve the value of an NFT over time.
Conclusion
NFTs give collectors a new and interesting way to own and display digital art. By following the methods and strategies given in this guide, you may begin minting NFTs, collecting diverse and valuable pieces for your collection, and staying up to current on the newest trends and news in the NFT field. 
Remember to take into account a variety of aspects when selecting a platform, keep up to date with important ideas and terminologies like gas fees and smart contracts, and don't be afraid to try new things and take chances when developing your collection. You can build a collection that not only provides you delight but also has long-term value with hard work and a little bit of luck. 
We appreciate you reading this tutorial, and we wish you well as you embark on your NFT journey!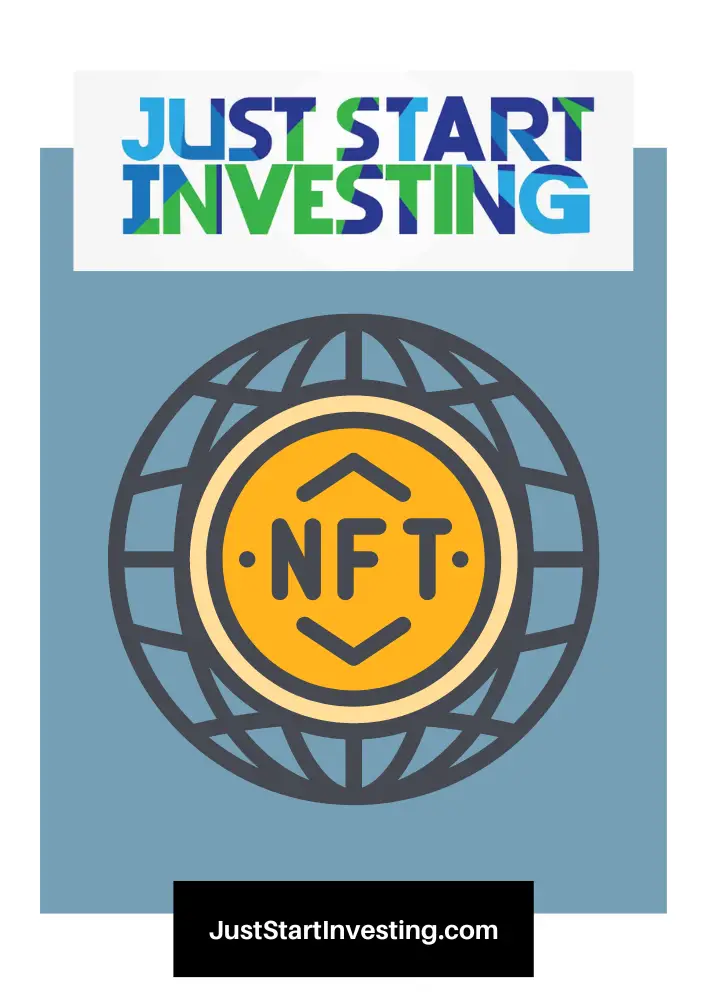 Just Start Investing is a personal finance website that makes investing easy. Learn the simple strategies to start investing today, as well as ways to optimize your credit cards, banking, and budget. Just Start Investing has been featured on Business Insider, Forbes, and US News & World Report, among other major publications for its easy-to-follow writing.