The world was once all about cash and checks. Yet within a relatively short period, the advancement of technology has seen those forms of payment fall by the wayside. While paper money is still clinging onto relevancy, checks have plunged into the abyss of irrelevancy.
There's no slowing down, either. Personal finance software continues to be developed and refined, and people are benefitting from added control over their personal finances. Aside from the added security and efficiency it provides, technology has opened the door to opportunities that were previously unavailable.
For proof, here are eight ways that personal finance software has changed our personal finances for the better:
8 Ways Personal Finance Software Changed How We Manage Money
1. Investment Opportunities 
Investing has never been more welcoming and diverse.
Stocks, bonds, and index funds can now be analyzed, purchased, and sold instantly. Platforms are available that allow investors to drop money into startup companies with ease. Online brokers supply many different tools for investors, with everything from stock recommendations to a simple way to monitor their holdings. All they have to do is use their smartphone or tablet, and they can gain an insight into the health of their investments whenever required.
However, two of the most notable changes are with real estate and cryptocurrency.
Real estate was previously something you needed connections and a lot of money to invest in. Now, thanks to platforms like Streitwise, everyday investors can invest in real estate.
Cryptocurrency, on the other hand, is an entirely new asset to trade in, which has gained in popularity ever since Bitcoin exploded in value. While it can be confusing and risky to invest in crypto, continued software developments are helping to make this market easier to navigate. CryptoSoft, for instance, is one platform designed to help people invest in crypto. Robinhood is another, more well-known option. 
Last, looking at it from a business point of view, investment software has also made it easier to gain financial support. Thanks to Kickstarter and Indiegogo, many startup companies have managed to get their ideas off the ground via crowdfunding. 
2. Online Banking 
Did you know that online banking has, in some form, been around since the 1980s?
Back then, online banking was understandably limited, and few people actually used the service. As of today, however, online banking has become the normality of life. In fact, 80% of Americans would rather bank digitally than visit a physical branch – and that percentage is likely going to increase further over time. 
This is due to the convenience that online banking provides.
Someone only needs to download the app that represents their bank, and they have instant access to their personal finances. They can view their balance at any time and send out payments within seconds. Furthermore, it's possible to link accounts together, buy and sell investments, and even organize direct debits straight from a bank.
Online banking also supplies an added layer of security.
You can set up notifications on your smartphone to be alerted to any activity with an account. If any unauthorized transactions are processed, a user will be made aware of these instantly. This is important so they can dispute and reverse these transactions right away. 
3. Digital Shopping 
In the 21st century, online shopping has taken over the game. While it's to the detriment of brick-and-mortar stores, digital shopping presents opportunities that physical retailers simply cannot match. 
Firstly, the range of items available is unparalleled. You can purchase virtually anything you can imagine across the internet. Groceries, clothes, artwork, medical supplies, etc. – the possibilities are endless. Plus, with major retailers offering next-day and even same-day delivery options, one of the biggest perceived disadvantages of digital shopping has effectively been negated. 
Online shopping has also opened the door to international purchases. When you once had to rely on specialist import shops to buy certain overseas goods, you can now do so directly from the source. The language barrier doesn't even have to be an issue – not only are translation apps readily available, but there are services available which deal with the entire overseas ordering process. 
From a personal finance point of view, though, it is the savings that matter the most. Online stores typically sell products at a lower price, while you can also download apps that help reduce the costs further by finding discount coupons and exclusive deals for specific websites. Honey, for example, is a browser extension that is free to use and covers over 30,000 participating merchants in total. 
4. Selling Your Possessions 
If you wanted to sell your possessions a few years ago, you'd resort to a yard sale, classified newspaper ad, or even word-of-mouth.  
Selling your unwanted items has changed significantly due to technology. Auction website eBay is well-known for allowing you to sell virtually anything.
Plus, rather than being restricted to a local market, you can sell to a worldwide audience. Additionally, there are buying platforms available where you simply scan the barcodes of applicable products, and they will automatically come up with a total amount to buy your possessions. Free online classified ads are also available. 
Aside from your old possessions, technology has also presented ways to sell your own creations. Platforms such as Redbubble allow you to upload designs and sell these on the likes of apparel, cushions, and mugs. Similarly, Amazon offers the opportunity for budding writers to self-publish their own books for free with their innovative KDP platform. The result: it is easier than ever for people to add a passive income stream to their finances. 
5. Budget Management 
There's no need to use a pen and paper or Microsoft Excel to track your finances. You don't even need to file all of your bills. Finance software has made it a straightforward task to budget, save, and manage your money. 
You can search in any app store and find a plethora of budgeting-themed applications, like Trim and Truebill. These ensure you can easily keep track of your spending, and you have easy access to all the financial figures via your phone. 
With its smart software, some apps can analyze income patterns and spending habits. When it has collected enough data, the app calculates how much money you could reasonably set aside on a weekly basis. Then via direct debit, this amount is automatically transferred to your account. You then have the option of simply saving up this money, or you can invest it in a variety of ways. Apps like these will vary but will all offer the same benefits.  
An alternative to budget apps would be personal accounting software. With accounting software, you can automate the tracking of your income and expenses. You don't have to input any figures on your own, the software will do the job for you, and it can even prepare financial reports for when you're filing your tax return. 
6. Payment Processing 
Whether you want to split a bill or pay for a taxi, it has never been easier to process payments through your smartphone. There are apps available for pretty much everything in that regard. 
The growth of sending and receiving online payments can be largely attributed to PayPal. Due to their reputation for safe and reliable transactions, the public realized moving their money around online wasn't a gamble – it was the future. Since PayPal paved the way, other platforms like Stripe and Payline have emerged. 
One of the most exciting payment processing developments is the use of digital wallets. With the use of near-field communication (NFC) technology, digital wallets allow people to simply scan their smartphone – complete with an applicable app – to make a purchase at a retail store. 
With enhanced security features and convenience, digital wallets are growing in popularity across the globe. Since launching in 2014, Apple Pay, recognized as one of the most prominent mobile-based payment providers, has over 440 million users worldwide. 
7. Borrowing Money
Thanks to advancements in technology, it has never been easier to borrow money. No longer do people have to rely on traditional lending options such as a bank, or have a pristine credit score. Online lenders are plentiful and, in an effort to secure new customers, are willing to accept those with a less-than-stellar financial history. 
The use of advanced behavioral underwriting software has assisted credit providers. By using specialist software to better analyze data, they can understand the suitability and affordability for each customer. They can then provide more flexible products to people with bad credit histories. 
One of the biggest advantages offered by online lenders is speed. Within a matter of minutes, someone can successfully apply for a loan and receive the requested funds in their bank account. This is particularly helpful for those who are faced with an emergency situation, whether it's to cover a car breakdown or medical bill.
8. Geo-Location and QR Codes 
With geo-location and QR code technology, smartphones have again played their part in changing the way finances work. 
Geo-location technology is used to track your movements while QR codes can be used to enjoy discounts and deals.
How do these work together?
These QR codes will be sent to you by companies depending on your location. For instance, if you visit a certain store, you might receive an email or text with a QR code that tries to entice you into making a purchase. Alone these are powerful tools; together, they are a force to be reckoned with and could spell out the future.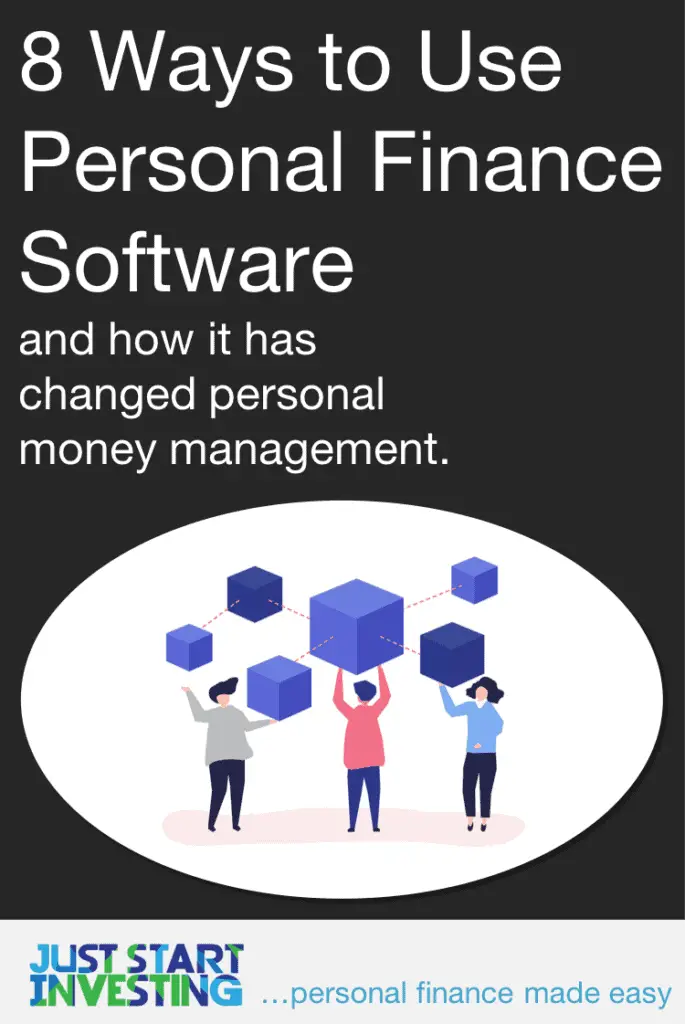 Summary: Personal Finance Software is a Tool
At the end of the day, personal finance software should be a tool to make managing money easier.
However, it should not be a replacement for sound strategy, budgeting, and long term investing approach.
Hopefully, you learned about a new tool that can try to help you more easily manage your own personal finances!
Dan Cormac knows how to make his money go further. A freelance financial journalist, Dan is passionate about personal finance. Whether you hope to escape the chains of debt, to save for a house, or to retire within a decade, Dan explores the most effective ways you can achieve your financial goals.