Video games are a form of entertainment that keeps evolving through time. Long gone are the days of internet cafes and LAN connectivity. One way the industry evolves is through the crypto space. The concept 'Play To Earn' is getting plenty of traction. More notably, it popularizes as crypto becomes more mainstream. Nowadays, play to earn crypto games are a popular proposition for investors and gamers looking to score big on the market. But what's the deal with play to earn games, and how did we get here? Most importantly, how does the play to earn concept even work?
We'll explain all that in this guide. So if you want to learn more about it, make sure to stick around.
The Concept Of Making Money Through Video Games
The idea that you can make money from playing video games isn't new. Nor should it surprise you, but many games have a real economy behind them. Old titles like Runescape and Diablo made it possible for players to grind items and sell them for real money. While there wasn't an actual in-game exchange of money, it was still a functioning concept that works even today. 
Avid gamers play popular games and look at ways to monetize their talent and time invested in the game. Popular ways include selling in-game items and offering boosting services. For the average Joe, the concept of making money through video games isn't familiar. But for gamers, it's a dream to pursue.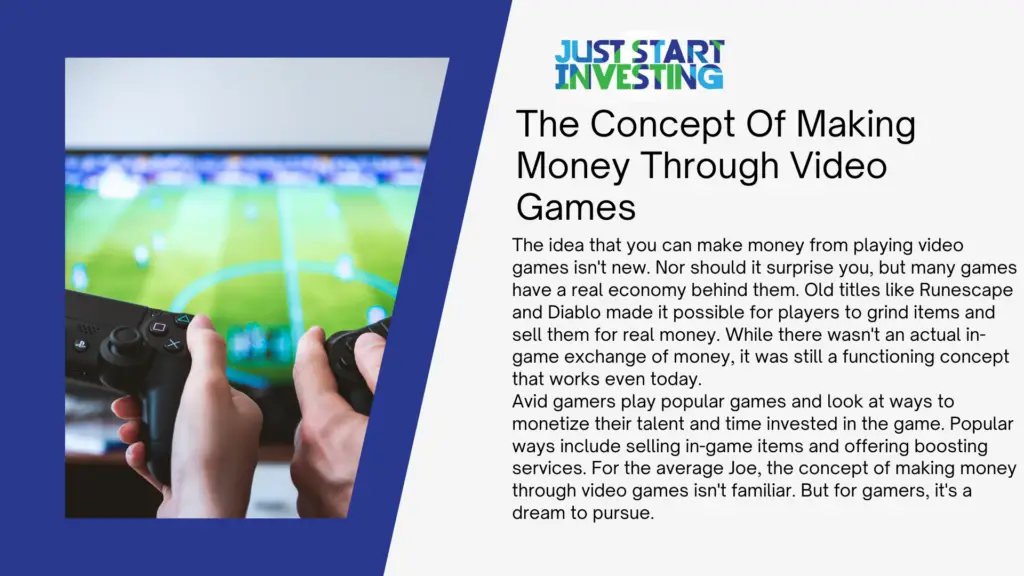 Even if players couldn't get paid through video games, eSports is growing rapidly. eSports is the concept of players competing in video games. One of the biggest tournaments in eSports is Dota 2's 'The International.' Would it surprise you to find out that the teams who compete for this tournament compete for a prize pool of $40 million? 
So the concept of earning money through video games isn't anything new. But what about play to earn? Here is where things take a surprising turn.
The Play To Earn Concept Explained
It's safe to say that players can make money through video games, but only in popular multiplayer games. These are the most popular games with the most advanced in-game economy. As such, people are actively competing to earn the best items. Those who can't compete choose to pay. And here is where the concept of play to earn comes from.
While we somewhat explained how people make money from a game's in-game economy, play to earn is a relatively new concept made for a new generation of gamers. The play to earn concept is simple. You earn rare items and sell them for real money. The games themselves provide the platform and tools for completing this transaction. But the most notable characteristic is that the transaction is made in cryptocurrency. That's why these games are usually referred to as play to earn crypto games or play to earn NFT games.
How Does Play To Earn Work?
In play to earn games, the items that a player sells come in the form of NFTs (non-fungible tokens). As such, players are actively chasing these play to earn tokens to exchange for cryptocurrencies. For those of you without the slightest idea of what an NFT is, allow us to give you a brief explanation.
NFTs are digital assets. In play to earn games NFTs are skins, rare items, emoticons, loading screens, or anything else. We won't get into how NFTs work; all you need to know is that they are digital assets with proof of ownership. That's right. If you own an NFT, you're the owner of that digital asset. As such, a whole market for selling NFTs exists. Popular markets include OpenSea and CNFT, among others. On these platforms, you can buy and sell NFTs in the platform's native currency.
So with that out of the way, remember that NFTs are unique, and that makes them so valuable in the owner's eyes. Let's give you a real example of one of these play to earn crypto games. One of the most popular play to earn crypto games is a game called Axie Infantry. In the game, you collect creatures called 'Axies' and use them to battle other players' creatures. 
Each Axie is an NFT. You can trade them, sell them, or buy them to get better at the game. While this is just one example, what you should know is that each game has its own rules regarding selling NFTs. So if the NFT market works in a certain way in Axie Infantry, it probably won't be the same in another. The game will tell you which NFTs you can and cannot sell.
The Advantages of Play To Earn Games
We can look at the advantages of play to earn games from two points of view – the developers and the players. For the developer, play to earn games offer players a huge incentive to sign up and try their luck playing a game that can potentially be rewarding. Unlike other multiple game concepts, the play to earn concept actually pays. But, you need to devote a serious amount of time and commitments. Play to earn games can be so rewarding that players can potentially sell NFTs for hundreds of thousands of dollars. 
In Axie Infantry, one player sold an NFT for 300 Ethereum. In US dollars, that amount comes just above 1 million. That can be enough motivation for any gamer to try a play to earn game and hopefully discover an NFT that is worth hundreds of thousands of dollars. But don't put all your hopes in one basket – $1 million NFTs are extremely difficult to come by. Another advantage of play to earn games for the developer is the idea of bypassing Apple's restriction to Identifier for Advertisers policy. 
With these developers, targeted advertising becomes more available. But what about the advantages that players see in play to earn NFT games? We already covered the obvious one. And that's pretty much all there is to it. Players will play these games for the chance of selling in-game assets for large amounts of money. In the player's eyes, there is real value in farming in-game assets. 
But not every play to earn game is free, to begin with. While many are, developers are cautious about the idea of making the NFT marketplace free for everyone. In all fairness, the developer also wants something from the players. So, the player has to buy in to play and earn. 
Is Play To Earn the Future of Gaming?
With all that said, is the idea of play to earn crypto games really the future of gaming? The short answer is no. Not everyone is interested in crypto games. More so, most crypto games are mobile-based, meaning you can only play them on your smartphone. What good does it do when a gamer has a $2,000 PC sitting at home idly? But in time, play to earn crypto games will transition towards PC gaming. The best play to earn games are indeed mobile-based, but many predict a huge wave of new and more innovative games is around the corner.
At the current time of writing, there are more than 1,300 play to earn crypto games on the blockchain. That number might be small and incomparable with modern gaming, but it's only a start. According to DappRadar, 80 new games are created on the blockchain every month. As the concept gets more popular, more games will emerge. Some of the best crypto games like Axie Infantry, Splinterlands, Alien World, Bomb Crypto, and many more have hundreds of thousands of users. The current record holder in Splinterlands with 310,000 registered users.
But to think that play to earn games will be the future or crypto is a poor man's way of thinking. The model might get introduced to triple-A titles, but even these games have ways to monetize in-game assets. A game like Counter-Strike: Global Offensive has a loot box system where players "gamble" for a chance to acquire the most expensive gun skins in the game. You can then sell the skins on third-party websites for real money.
Finishing Thoughts
Maybe the play to earn concept is already here and we're simply not aware of it. Or maybe play to earn games are a form of detaching oneself from real-world value and putting value to the digital world. As the metaverse is already here and wants to add value to the digital world, play to earn crypto games will be there as a form of entertainment.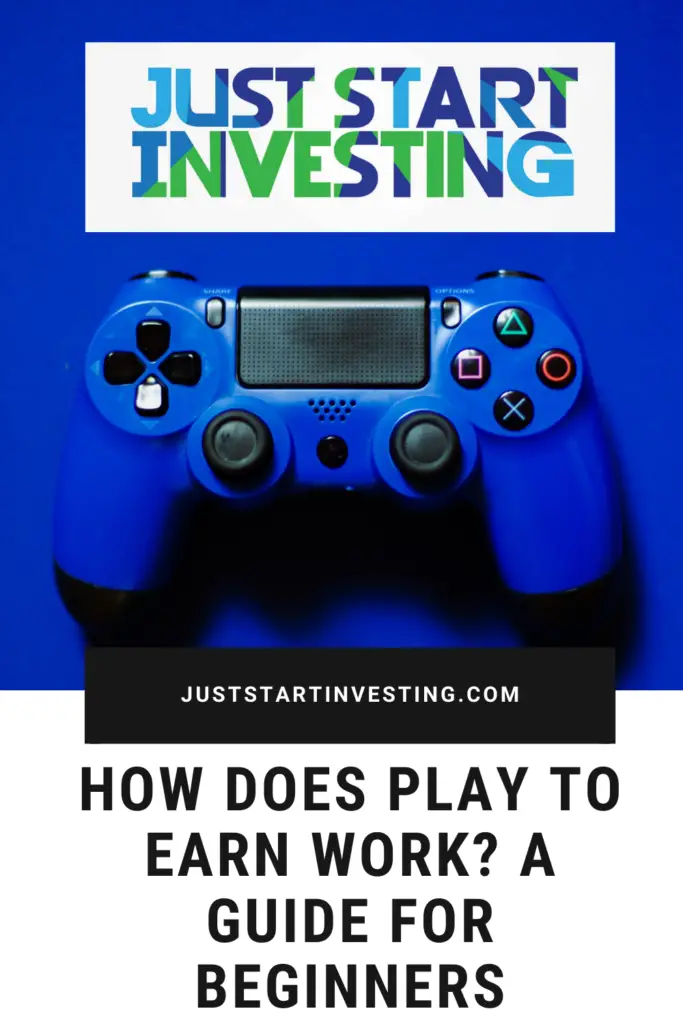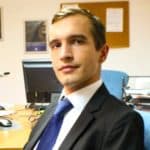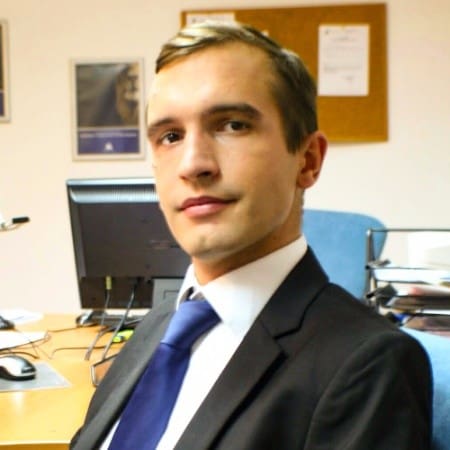 Partner at Vega Capital Management - a private funds management company.
An experienced portfolio manager with 10+ years of proven and reputable track record in investment management and financial analysis. Currently, a partner at one of the fastest-growing private fund management companies in southeast Europe, Kiril has been tending to a loyal international base of client-investors and partners. When he is not crunching numbers and increasing his client's wealth, he reminisces about his Michelin-star restaurant cheffing years and fondness of the culinary arts.