Cryptocurrencies are making big waves right now. Blockchain technology is impacting all walks of life. It impacts the technology we have at home, the way we play video games. As such, the best play to earn crypto games are the newest, hottest thing to dive into right now.
Play to earn crypto games are simple to explain and understand. They're video games that you can play on your PC, smartphone, or tablet. But unlike ordinary video games, play to earn crypto games reward players in cryptocurrencies. While the concept is somewhat more complicated than that, the whole point is to give players the chance to make something in return. We have a beginner's guide on what play to earn is right here.
So with cryptocurrencies being more popular than ever, it's time we give you the best play to earn crypto games on the blockchain. Here is the list of games we've gone for.
Best Play To Earn Crypto Games
Battle Of Guardians 
Battle Of Guardians is a popular title in the play to earn NFT games space. The reason why it makes this list is that many players call it the "best fighting game" in the crypto games category. Battle Of Guardians is a relatively new title. But that doesn't mean there isn't a lot of hype around it. In Battle of Guardians, you battle versus other players and get rewards after each win. The game is based on the Solana network and is a very stable project. As such, players praise the game for its graphics and gameplay. 
The reason why the graphics are a big part of BOG is that the game itself is made on Unreal Engine – a game engine with immense graphics potential. BOG's NFT market is a booming place for enthusiasts who want to sell their NFTs. As such, it is by far one of the most impressive play to earn NFT games out there. Some time ago, the company held an NFT sale that surpassed $5 billion. 
Idle Cyber
An idle game set in a post-apocalyptic world, Idle Cyber is a well fleshed-out title with lore and background for all characters. The whole idea of this game is to defend against endless hordes of cyborgs who want to end humankind. As such, your goal is to collect the best Cyber Defence squad and emerge victoriously. While that's the gameplay side of things, what's the actual reason Idle Cyber makes our list of best play to earn crypto games?
The obvious answer is the play to earn model. Idle Cyber isn't currently out. On their website, you can see the roadmap and what the team plans on doing with the game. The game is currently in early stages and plans on listing the native token AFK IDO token on CEX. By this time next year, the game plans on having world tournaments and live events. 
With such an ambitious roadmap, Idly Cyber is a highly anticipated play to earn NFT game that will reward players for the time and effort they put in. With plans of an NFT marketplace, the developers hope that players will commit to the game and eventually get rewarded with a rare character. 
Axie Infantry
If you're been following the play to earn hype, then you're probably aware of this one. Axie Infantry is by far the best play to earn crypto games out there. The game has around 200,000 active players and a fully functional NFT marketplace. In Axie Infantry, you grind Axies (NFT playable monsters) and battle versus other players. You get rewarded for your victories, and the goal is to collect the rarest Axie. You can then sell the Axie or use it to become the best in the game.
Each Axie is unique and comes with a set of abilities. For players looking at selling Axies, the Ethereum NFT marketplace is the place to do it. However, before you start playing the game, you will need to buy three Axies. That's the only requirement to start playing the game. The game has two native tokens, the AXS and SLP tokens. Both tokens are valuable ERC-20 utility tokens and act as in-game currency. You can also use these tokens to strengthen your Axies and make them more powerful. These tokens also help you acquire new Axies.
MetaWars
MetaWars is yet another play to earn crypto game set in a futuristic world. But this time, it's a space exploration game where the player can immerse himself in the world of MetaWars. In this particular play to earn NFT game, there is a marketplace where players can sell and buy goods. These goods are the NFTs of the game. When a player collects a robot, they can sell it on the NFT marketplace for cryptocurrencies. Players can also explore galaxies, modify their ships, and combat other players.
The winners get rewarded in the form of in-game currency. But players can also acquire this currency in numerous other ways. With daily challenges and even a staking system, MetaWars is one of the best play to earn crypto games out there. There is so much depth to this game and so many ways to earn $WARS tokens. As players advance and build up their armies, things only get more interesting. Everything you do in Meta Wars gives you the option to earn $WARS tokens. 
Sandbox 3D
Sandbox 3D is a different type of play to earn crypto games. What makes Sandbox 3D so different is that you are free to explore the world that Sandbox has created for you. Many call Sandbox 3D the Minecraft or Roblox of the crypto games genre. As such, it is one of the best play to earn crypto games to dive into. 
Sandbox also has a fully functional NFT platform where players can buy and sell NFTs. These can be land, items, cosmetics, and many more. Since this game is by nature a sandbox game, you can do whatever you want. You can interact with objects, explore, customize, create your own world, etc. The sky's the limit with Sandbox 3D. What helps is that the game is indeed three-dimensional. In this play to earn NFT game, you get rewarded SAND tokens.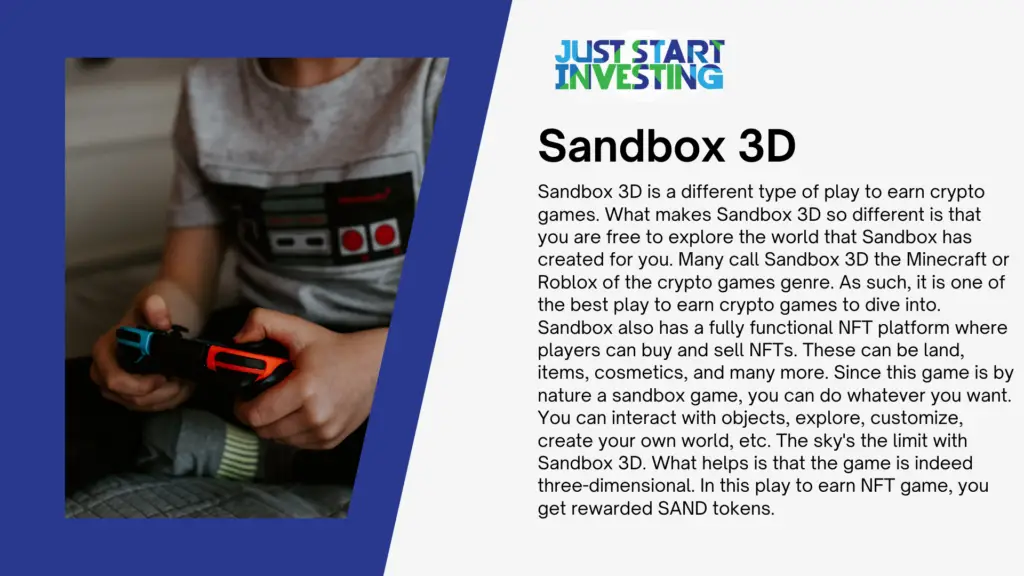 SAND is an ERC-20 token with utility in the metaverse. But the game's in-game currency is LAND tokens. If you're playing this game, your goal is to collect as many LAND tokens as you can. Since there are two types of tokens in Sandbox 3D, we can safely call it a play to earn tokens game. 
Alien Worlds
Yet another futuristic and sci-fi play to earn crypto game, Alien Worlds is a metaverse game where players are free to do whatever they like in the universe of the game. The in-game currency of Alien Worlds is Trillium. Trillium can be mined by players using different types of mining tools. The higher quality tools you're using, the more TLM tokens you're earning. What makes Alien Worlds one of the best play to earn crypto games is the fact that players don't have to invest anything to start.
You can start with zero investment and earn a lot of money selling NFTs. The gameplay concept is very simple. You click a button every ten minutes and get rewarded TLM tokens. The game is very accessible and rewards players for their time invested in playing the game.
Finishing Thoughts
That concludes our list of the best play to earn crypto games out there. These games come with their own in-game economy and NFT marketplaces. The possibilities are endless with play to earn NFT games, so maybe you should give them a try. You can try your luck with a play to earn game that requires some level of investment, or with a game that requires none. Regardless, play to earn crypto games are changing the way gamers play games.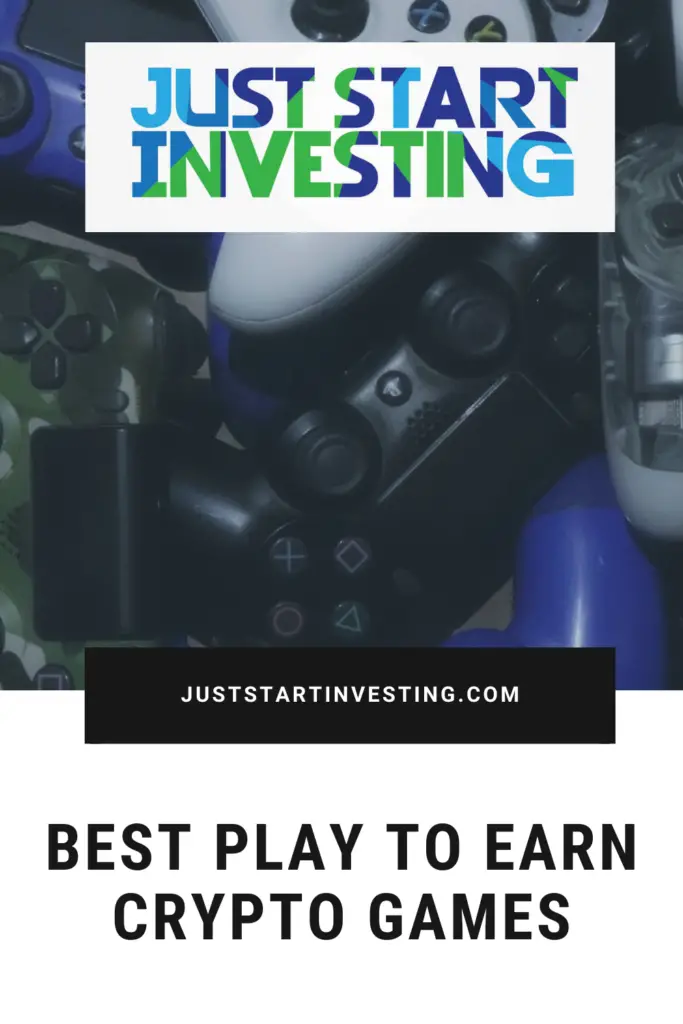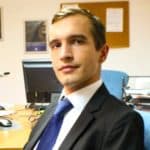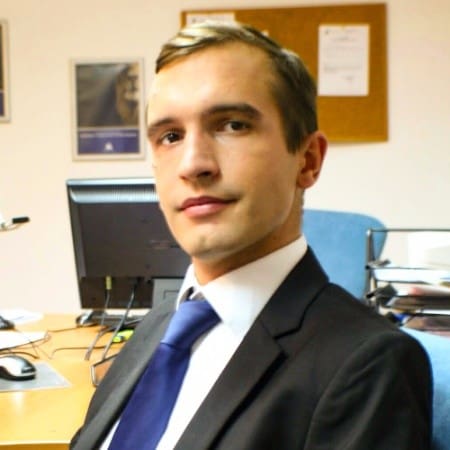 Partner at Vega Capital Management - a private funds management company.
An experienced portfolio manager with 10+ years of proven and reputable track record in investment management and financial analysis. Currently, a partner at one of the fastest-growing private fund management companies in southeast Europe, Kiril has been tending to a loyal international base of client-investors and partners. When he is not crunching numbers and increasing his client's wealth, he reminisces about his Michelin-star restaurant cheffing years and fondness of the culinary arts.