Play to earn games are taking the gaming industry by storm. After all, who wouldn't want to make money while playing entertaining games? What might sound silly to some is a dream come true to millions. As such, the best play to earn games are combining the cryptocurrency niche with the gaming industry. To put it simply, players can play these games and get paid in crypto.
The play to earn model is growing fast. More than 80 titles are published every single month. With such hype and rage, it's only natural that we give you the best play to earn crypto games to satisfy your hunger for earning NFT rewards. If you are not familiar with the play to earn model, check out our article on how play to earn works.
The Best Play To Earn Games
Splinterlands 
One of the most popular play to earn games is Splinterlands. According to eGamers, Spliterlands has more than 286,000 registered users. But what's the lure of this particular NFT game? Apart from the opportunity to make a lot of money, Splinterlands is a card-based game. It resembles Yu-Gi-Oh or Hearthstone, but in a different way. In those games, you collect cards by either buying them or acquiring them through a rewards system. In Splinterlands, you get cards by buying NFTs. Each NFT is a card that a player can use to battle other players.
The game has regular NFT card sales that players can jump in for the opportunity to buy the next best card. Also, Spliterlands isn't free. You're supposed to pay $10 to start playing the game. That means Splinterlands is a play to earn NFT game with a buy-in mechanic. 
REVV Racing
Racing games are always popular. Titles like Forza Horizon have redefined the racing game category by giving it a more satisfying look, appeal, and greater control over cars. That's why REVV Racing is one of the most popular play to earn NFT games out there. The whole point of REVV Racing is for players to use their NFT cars and compete against other players. The player with the best car will likely win. A win comes with a reward – NFT tokens. As such, REVV Racing is one of the best play to earn token games in the space. 
The tokens in REVV Racing come in three distinct styles. Those are REVV tokens, SHRD tokens, and CATA tokens. Each token has a particular use, and players need to farm all three to earn the best cars in the game. With additional introductions like PTE mechanics and customization, REVV Racing has the potential to be the very next big thing in the NFT games niche.
Axie Infantry
No best play to earn games list is complete without Axie Infantry. Arguably the pioneer of the niche, Axie Infantry is a different kind of play to earn game. In Axie Infantry, you're supposed to fight other players using your Axies. Axies are the monsters in the game, and they can cost a lot of money to buy. If you're following the space, then you're likely familiar with the news that an Axie was sold for 300 Ethereum just last year. That amount of money is ludicrous for an NFT game. 
But the simple fact that this transaction happened encourages new players to give Axie Infantry a try. With lots of other mechanics and fun strategic gameplay, Axie Infantry is one of the best play to earn crypto games out there. It boasts similar player numbers like Splinterlands, and it's just as popular.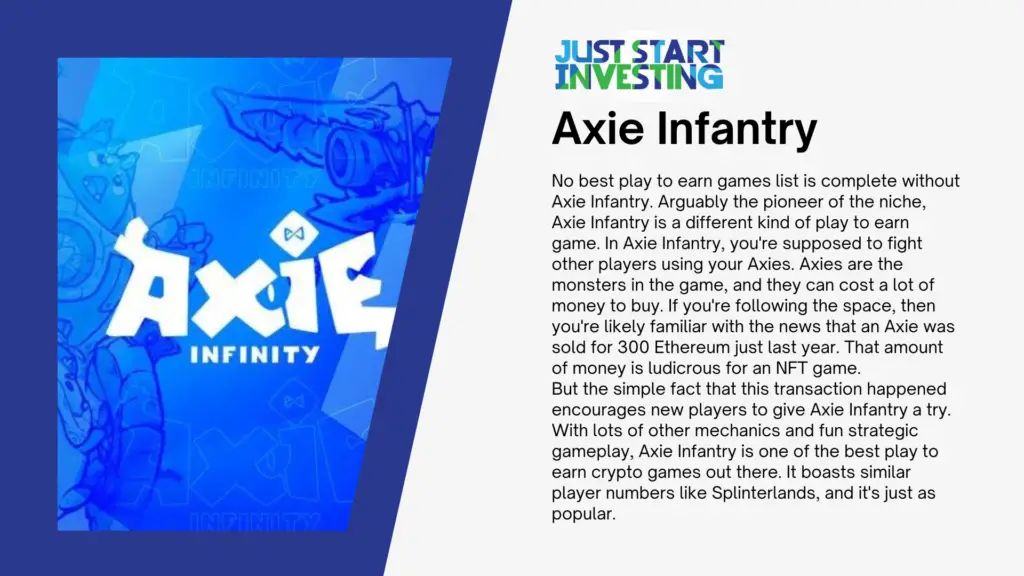 Aavegotchi
This one is quite different from the other games on this list. If we look at the very best play to earn games out there, many wouldn't put Aavegotchi on any list. But the reason why we have it here is due to the simple fact that Aavegotchi might be the best play to earn game in the future. At the current time of writing, the game focuses on being a collectible game where players earn crypto. The gameplay aspect doesn't currently exist but the developers are focusing on an MMO (massively multiplayer online) concept. 
So in short, Aavegotchi serves mostly as a "game" where players collect NFTs and sell them.
Forest Knight
One of the oldest and best play to earn crypto games is Forest Knight. The mechanics of this game are simple and easy to learn by beginners. In Forest Knight, you collect heroes that fight monsters in the game. Each hero is different and has a different kit that comes with skills and equipment. Certain heroes perform better against certain enemies, so players have to diversify their collections. The game is regularly updated and even features a fully-functional NFT market on the EnjiX platform.
With game mechanics like daily login rewards and quests, Forest Knight is one of the best play to earn crypto games where players can earn cool NFT rewards. The NFT marketplace of the game is also a big lure. Very few games have a well-established marketplace like the one in Forest Knight.
Elementos
We've talked so much about different crypto games that it's difficult to rank from best to worst. Ranking isn't the purpose of this list, but rather to give you an idea of the very best games out there. As such, it would be a shame not to include Elementos in our list. 
Elementos isn't a very popular title as it just got released a few months ago. In Elementos, you earn tokens and NFT rewards by beating other players or mobs. Elementos is an RPG game with turn-based combat. As such, there is a big hype around the game. To earn NFTs, you're supposed to collect eggs and hatch Mentos. Each Mentos is different and comes with different abilities. By earning rewards from beating players and mobs, you feed the Mentos and grow them. The play to earn system is in beta, but players are already getting a sense of what's next to come once it fully releases.
As such, it might be smart to hop on the train earlier rather than late. 
Farmers World
If you had enough fighting and combat games, why not give Farmers World a try? Farmers World is one of the best play to earn games from the farming simulator genre. As some of you might know, farming simulator games are very popular. One of the most popular games, Stardew Valley has hundreds of thousands of players on Steam.
Farmers World hopes to be the Stardew Valley of the play to earn genre. In Farmers World, you grow crops and animals. By using tools, you can speed up the harvest period of the crops and earn a reward much faster. That's the whole point of the game. There is another element in this game, and that's the combat. Yes, there is combat in Farmers World. The combat comes in the form of attacking other farmers to steal their crops. However, you need to buy in to play the game and unlock the NFT marketplace. 
CryptoBlades
One of the very best play to earn crypto games is CryptoBlades. This game is very competitive compared to the rest. If you look at it from a gameplay point of view, there isn't much gameplay. You get a screen where you can manage your character and craft items. There is an RPG mechanic where you level up your character during combat with other players and mobs. 
You can also craft items and characters to sell on the NFT marketplace. To get started playing CryptoBlades, you will need to buy a character. Also, players play a very small fee in crypto to participate in battles. The winner of the battle receives SKILL tokens, which essentially act as the in-game currency.
Farsite
Farsite is a space exploration play to earn crypto game. In Farsite, you explore the stars and mine worlds for in-game currency. When you start, you get a free ship to navigate the galaxy and start your space exploration adventures. Each ship can be upgraded, and there is a wide variety of upgrades to choose from. What makes Farsite one of the best play to earn games is the simple fact that you can hop in right now. The game was released on December 14th, and there is already a big amount of hype around it. 
The more you gather resources from your mining adventures, the more you can upgrade your ship. The NFT marketplace for Farsite is on OpenSea. There you can buy ships, crates, modules, and more. Complete daily quests and you might receive a rare NFT to sell for real money.
Finishing Thoughts
That concludes our list of the best play to earn games right now. With thousands of other games in the genre, play to earn games might redefine the way we play games. Since players have to option to earn lots of money when playing these games, it might be worth buying into one of these games.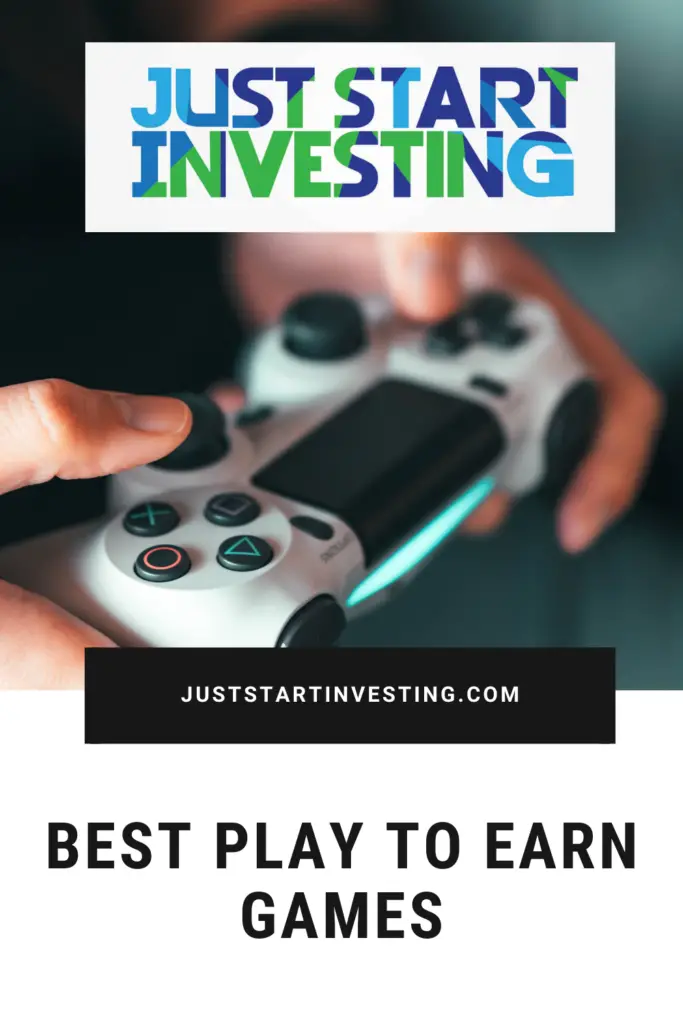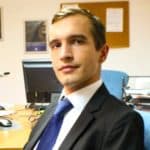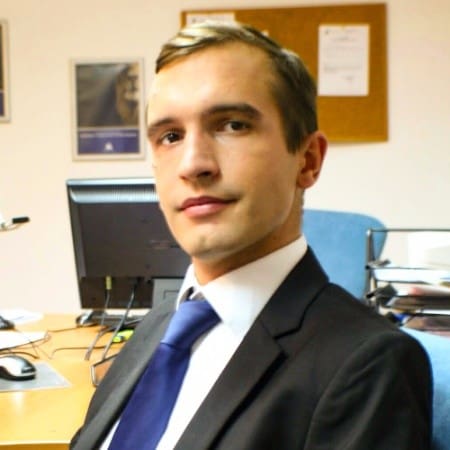 Partner at Vega Capital Management - a private funds management company.
An experienced portfolio manager with 10+ years of proven and reputable track record in investment management and financial analysis. Currently, a partner at one of the fastest-growing private fund management companies in southeast Europe, Kiril has been tending to a loyal international base of client-investors and partners. When he is not crunching numbers and increasing his client's wealth, he reminisces about his Michelin-star restaurant cheffing years and fondness of the culinary arts.