As the world's population increases, so make the demand for food. This has posed several significant challenges in farming. We've continued to push forward and innovate, though. As a result, there have been fantastic investment possibilities this year, and vertical farming technology equities are rising.
That has been a good guideline for investors to follow. However, we are now managing land in a variety of ways. For example, precision farming methods are being developed, and crop harvests are increasing. Furthermore, we have the technology to produce food more efficiently indoors.
The world's population is rapidly growing, putting further pressure on food production and availability. Vertical farming is the answer – a technique that conserves resources while establishing a long-term solution. It also offers an exciting environment for research of all kinds. So it's no surprise that vertical farming farms are doing incredibly well and progressing rapidly.
Vertical farming is a form of agriculture that involves growing plants in columns, such as in a greenhouse or indoor farm. It's far from new, but it is becoming increasingly popular among investors as several publicly listed businesses compete for your attention.
What is vertical farming?
Vertical farming facilities are a form of agriculture that involves growing plants on vertical surfaces rather than on horizontal surfaces. Farmers can produce a lot more food using vertically stacked layers than they could be using horizontally separated layers. Unfortunately, these layers are often integrated into buildings such as skyscrapers, warehouses, shipping containers, large greenhouses (like ours), or maintained in otherwise unsuitable locations.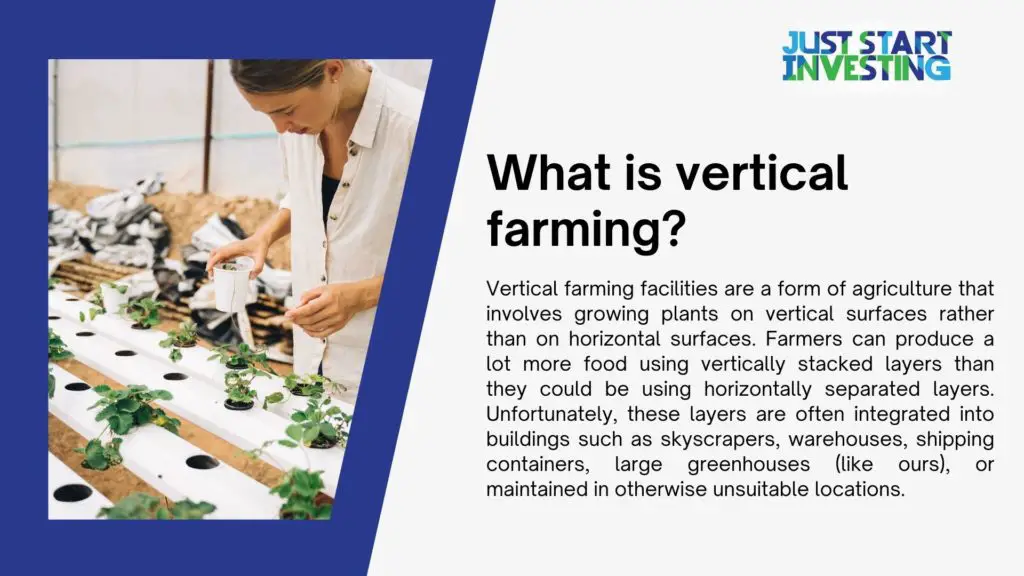 Vertical farming encompasses various technologies and practices that may be used to sustainably and cost-effectively cultivate plants. Vertical farms must rely on the automated temperature, light, and humidity control to succeed. It's also possible to lose an entire crop yield if a delicate balance isn't maintained. In the case of a drought or flood, it's possible to lose a whole crop like a traditional might.
Why invest in vertical farming?
Vertical farming isn't new, but it has only recently grown in popularity. Indoor agriculture and urban farming are often linked with it.
Many vertical farming firms have emerged as part of the worldwide movement for sustainability and the ever-present danger of hunger. Investment is required for startups, and as a promising technology with a social impact, it has attracted interest from investors from all parts of the world. Vertical farming methods are an exciting business opportunity. It's just common sense to invest in vertical farming. The statistics on the world population are staggering. Every 9.7 billion people on the planet will require food, and if our agricultural production methods are not improved, widespread famine is a distinct possibility.
With rampant urbanization and a drop in traditional agriculture, it's clear that there is an acute need for new food production techniques. Vertical farming appears to have the ability to assist fulfill future food demands. However, even though vertical farming is still in its infancy, it has several drawbacks. The main one, of course, is the high cost of establishing such a farm.
It would not be easy to achieve this goal. Many people have difficulties due to their homes being too small, too old, or for other reasons. It will require a significant initial investment to deal with these issues and make the concept more cost-effective in the long term. This is why there are numerous opportunities for investors in this sector.
How to invest in vertical farming?
Vertical farming is still in its early stages and isn't as adaptable as other sectors. Most firms that attract attention and earn millions in seed money do so via venture capital financing.
Investors and large businesses are also pouring money into this area. Generally speaking, the general public follows suit where business and venture capitalists put their cash.
There are still several direct or indirect methods to invest in vertical farming.
Top Vertical Farming Stocks
AppHarvest –
Among the most significant indoor farms in the United States is Plant, which runs several indoor farms. It has two 60-acre indoor farms. One is in Richmond, Kentucky, and the other is in Morehead, Kentucky. The firm also owns a 15-acre indoor farm in Berea, Kentucky.
AppHarvest is attempting to grow fresh fruits, vegetables, and leafy greens on these farms. It's still in its early phases, but the promise is enormous. The firm employs conventional agricultural methods as well as cutting-edge technology.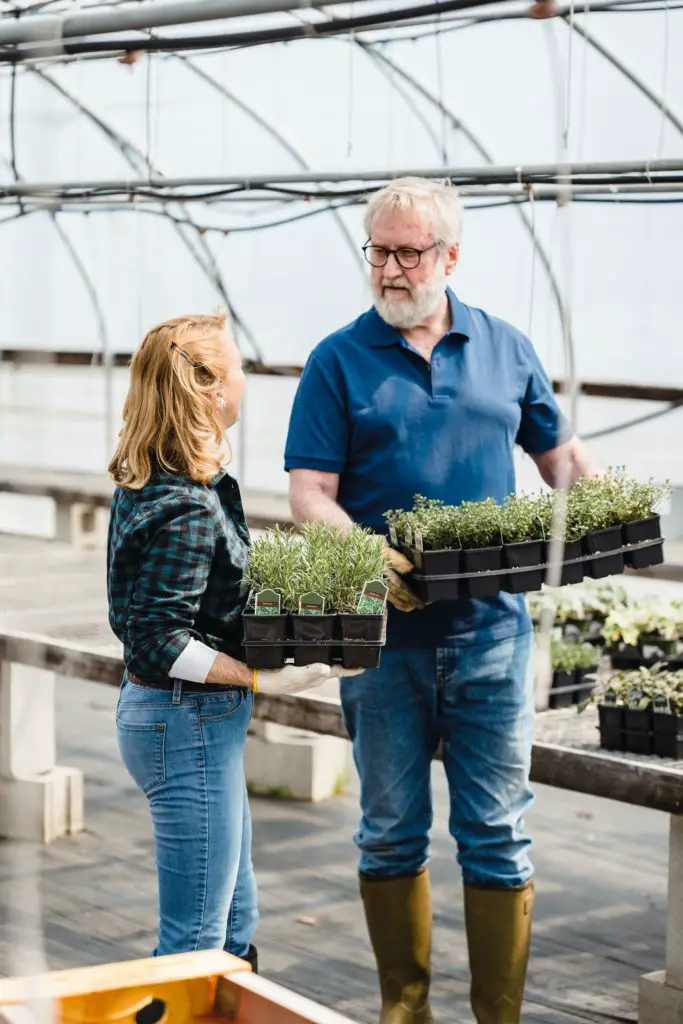 Another benefit of vertical farming is sustainability. Indoor agriculture makes it climate-resilient, and there are no agricultural pollutants. It also consumes up to 80% less water than conventional agriculture.
Scotts Miracle-Gro –
Scotts Miracle-Gro isn't a direct vertical farming stock. Instead, it offers a wide range of goods and services. Precision gardening and hydroponics have made some significant advances, though. Both are important for growing plants vertically indoors.
In 2018, Scotts Miracle-Gro announced the particular purpose acquisition company of Sunlight Supply. It's a hydroponics supplier that brought in $450 million in cash and stock. In 2020, Scotts acquired AeroGrow International, a hydroponics manufacturer.
Although Scotts Miracle-Gro has several well-known brands, it is not resting on its laurels. The firm is enhancing its indoor farming equipment. It has more than 100 on-staff research scientists, specialists, engineers, and academic ties with prestigious institutions.
Scotts Miracle-Gro's vertical farming unit is a success story that serves as an example to other businesses in the sector. It has a strong foundation and appeals to both small and large farmers.
CubicFarm Systems –
According to CubicFarm Systems, 1.3 billion tons of food waste is in transit yearly. We're moving great food distances, but not anymore with modern technology.CubicFarm is a firm that designs, manufacture complementary products, and sells automated crop growth systems. The devices aid fresh produce, nutritional livestock feed, and plant propagation.
The company also uses hydroponic and vertical farming technologies. It specializes in whole-home agricultural systems. Vertical farm consultants are also available through the firm. They assist clients in gaining knowledge and finding answers. CubicFarm also has a leadership team that is well-versed in the field.
CubicFarm is a smaller Canadian firm than a giant multinational corporation. It's based in British Columbia and sells its stock on the Toronto Stock Exchange (TSX). You can also invest in U.S. over-the-counter markets if you like (OTC).
AeroFarms –
AeroFarms has minimal trading history, at least when it comes to publicly traded businesses. The firm had intended to go public via a SPAC.
AeroFarms Corp. was trying to buy Spring Valley Acquisition (Nasdaq: SV), which is planned to integrate. However, the company canceled its merger agreement. Nonetheless, this is a fascinating vertical farming firm to watch. There's still a good chance it will eventually be listed on the stock market.
AeroFarms is a world leader in vertical farming, founded in 2004. It assists with population growth, water scarcity, arable land loss, and supply chain risks. Using aeroponics and vertical farming, AeroFarms can grow up to 390 times more per square foot than traditional farming.
To do so, AeroFarms uses a data-driven strategy. Every harvest, plant scientists at the firm monitor millions of data points. Patents have also given the business some protection.
Kalera –
A Kalera vertical farming system is a Kalera vertical farming system. This technology has been in existence for a long time, but only recently have businesses started to use it as part of their vertical farming system. This is an essential feature of Kalera because it allows farmers to manage their crop production. It also enables them to control the quality and taste of the finished product. It is one of the first businesses in the world to offer this technology, which has resulted in high demand for its products.
Kalera announced fourth-quarter results on February 17. Revenue increased by 440 percent to $1.2 million, compared with $227,000 in the same quarter. Adjusted operating loss was about $11.6 million. Cash and equivalents were worth roughly $16.1 million at the end of the period.
The firm is privately held and currently trades on the Oslo Stock Exchange. Beginning in May 2022, it will combine with Agrico Acquisition Corp. As a result, it will list on the NASDAQ exchange.
Kalera announced the acquisition of &ever, a German vertical farming company with operations worldwide, in August 2021. The partnership will assist grow vertical farming operations across the world. In 2022, Kalera's output capacity is anticipated to be 17 million pounds, with ten facilities currently operational or under construction.
Hydrofarm Holdings –
Hydrofarm is a company that creates equipment and supplies for the indoor farming industry in the United States and Canada, including high-intensity, grow lights and climate control solutions. For over 40 years, Hydrofarm holdings group has supplied to wholesale clients like big-name department stores. Hydrofarm has six distribution centers in the United States and two in Canada.
Because the firm's goods can also be utilized to cultivate marijuana, it has become a popular way to gamble on a low-cost cannabis producer legalization. As a result, Hydrofarm may not be the most suitable pure-play option if you're only starting in lettuce production. However, unlike many vertical farming companies startups, Hydrofarm is profitable. The firm earned $480 million in sales and $13 million in net income in 2021.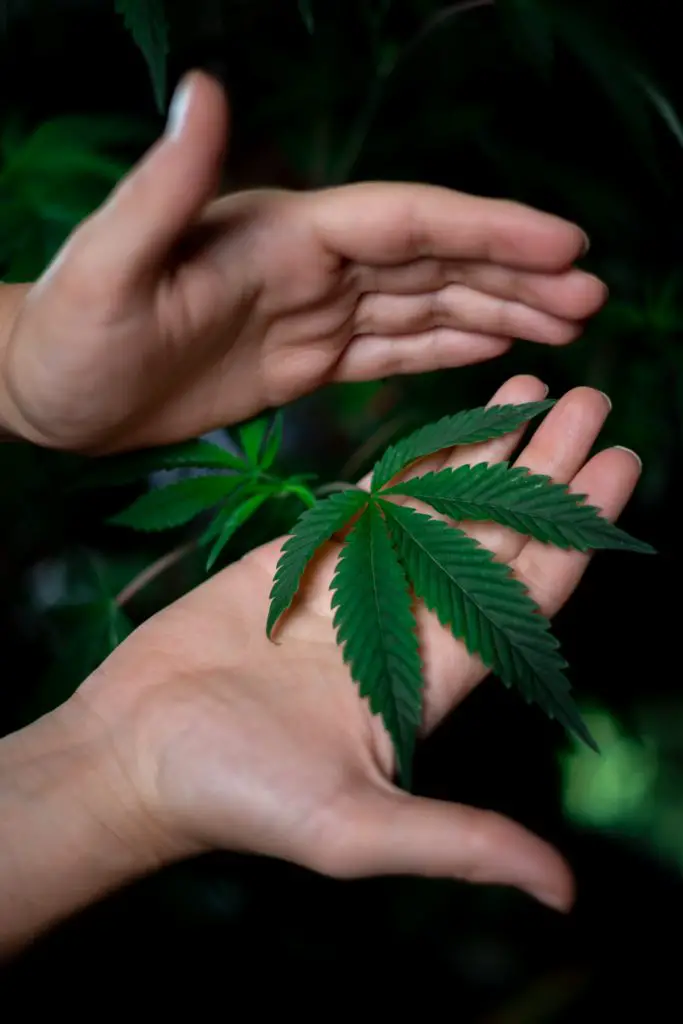 Spring Valley Acquisition –
The business was founded to concentrate on a sustainable manner. In March 2021, combine with AeroFarms, a prominent indoor farming firm, and adopt a vertical farming method that uses 95% less water but achieves 390 times more output per square foot than traditional open-field farming agriculture. Solar plants, on the other hand, have a long-term environmental advantage because of their potential for year-round production and as a solution to population growth, water scarcity, and dwindling arable land for agriculture.
AeroFarms offers more than 550 types of produce, including a, grow leafy greens, fruits, and veggies. AeroFarms sells producing leafy greens to the retail market in the Northeast, notably at Amazon subsidiary Whole Foods (NASDAQ: AMZN). The firm's products generally have a superior flavor and taste to other locally produced leafy greens.
Village Farms International –
Village Farms International is a firm that promotes healthy living by growing crops and selling organic, green foods. The organization runs five global farms, each with its own set of crops. In terms of sales volume, it is one of the most rapidly developing businesses in the United States. In this post, we'll look at Chipotle's strategies for advertising its cuisine and how it compares to traditional farming practices.
Another excellent name among agricultural equities is VFF. The firm's stock has increased by 241% in the previous year. However, the further upside appears to be in store from current levels of roughly $11. The firm practices organic farming techniques and does not use pesticide-free produce or herbicides. The crops are picked from these farms every day and then sent to shops all around the country and world. They do not use mechanized harvesting to collect the harvested crops. As a result, the food is devoid of added chemicals and colors.
Village Farms International cultivates a range of vegetables in an environmentally controlled setting. They have gardens that produce veggies in rows and alter crops as necessary. The products are certified organic, providing high-quality produce and top-quality meats, eggs, and dairy. They also sell their customers various goods, including bread, fruits, and heart.
GP Solutions –
WDWPD is one of the riskier farming stocks on our list. It has a market capitalization of $70 million, which is relatively small. However, with industry tailwinds in place, exposure to this name may be justified.
GPP Solutions is a company operates specializes in "Growing Systems for Specialty Leaf Crops and Herbs." In addition, it sells "hydroponic-based pod[s]" and soilless growth media.
In late October, GP struck a deal with Advanced Container Technologies (OTCMKTS: ACTX) to "sell and distribute GP's goods in the United States and its territories." Income will likely increase as the company's product visibility rises due to these agreements.
GP has already stated that it will begin growing strawberries shortly, which is worth noting because the company announced it had started research and development for increasing strawberries back in January. The fruit, which has a market value of $18.37 billion, is expected to start cultivation shortly, according to GP. As a result, the firm appears to be moving toward vertical farming market operations on its own.
Given the overall market outlook, WPD appears to be on track for accelerated revenue growth and earnings for the year. In addition, investors appear to be overlooking this stock as it still has a modest trading volume. However, the company seems to be heading in the correct direction.
Bottom Line
The acquiring companies listed above are great at promoting new farming methods. Indoor farming will continue to grow as the world's population rises. The need for clean energy and environmental responsibility is also assisting.
This is becoming a reality due to technological progress. As a result, some expenses are coming down, and output for food is increasing. Furthermore, quality assurance is getting more refined. Indoor farming is also assisting in alleviating food supply chain challenges.
Vertical farms' stocks in the table above may provide significant gains in the future. And whether you invest or not, you will probably profit from these businesses. But, on top of that, there are many more investment options to explore.
FAQs

Is vertical farming a good investment?
It's a cutting-edge agricultural technology that piqued several large businesses and investors' interest worldwide. Investing in vertical farming as part of the impact investing environment is lucrative and assures food security for future generations.
Is there a vertical farming ETF?
There is no ETF solely dedicated to vertical farming. The Global upright farming leader X AgTech & Food Innovation ETF (KROP), on the other hand, invests in cutting-edge food and agricultural technology firms.
Who is the leader in vertical farming?
AeroFarms, based in New York and founded in 2004, is the pioneer commercial indoor vertical farming business, developing unique aeroponics techniques to maximize growth while using up to 95% less water and zero pesticides.
What are the best vertical farming stocks?
AppHarvest (APPH): Some of the world's most giant indoor farms are designed and produced by Planting Grow.
Hydrofarm Holdings (HYFM): The firm is recognized for its high-intensity grow lights and other specialized enclosures in controlled environment agriculture (CEA).
Village Farms International (VFF): VFF is also a well-known name in the marijuana sector.
Agrify Corp (AGFY): Agriify aims to assist the cannabis and hemp industries by offering LED farm lights and air purifiers.
GrowGeneration Corp (GRWG): Growth generation, the company that ships cannabis and hemp products throughout North America, has experienced triple-digit growth during the previous financial year and has rapidly expanded.
Urban-Gro (UGRO): Urban-gro promotes using hydroponic technology and LED lighting to cultivate plants in an indoor setting.
Spring Valley Acquisition Corp (SV): The company will be listed via a reverse merger on the New York Stock Exchange's ecosystem. It is one of Whole Foods Market's suppliers.
Are The Vertical Farming Stocks World Leading?
The market for the vertical farming facility is anticipated to continue developing shortly as the world's population grows and urban living becomes more fashionable. In 2022, the vertical farming industry will be worth around $5.5 billion in the United States, but it is anticipated to reach a value of about $20 billion by 2026.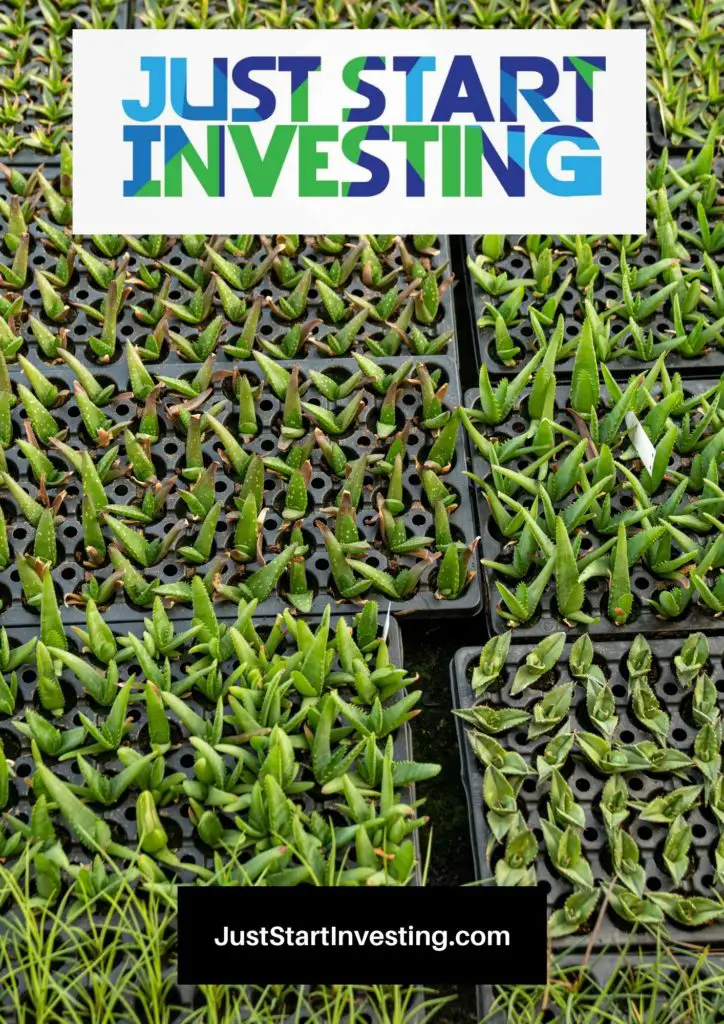 Just Start Investing is a personal finance website that makes investing easy. Learn the simple strategies to start investing today, as well as ways to optimize your credit cards, banking, and budget. Just Start Investing has been featured on Business Insider, Forbes, and US News & World Report, among other major publications for its easy-to-follow writing.