Retirement comes in all shapes and sizes. Some people retire early, others late – some with millions of dollars, others with just a few hundred thousand.
No matter your age or financial situation, it's always a good time to be thinking about and planning for retirement. To help you prepare, I've compiled a list of the 21 best retirement books. Immediately below, you'll find the list of the best books, with more details on each book throughout the article.
21 Best Retirement Books:
Without further ado, let's dive into the details of the 21 best retirement books.
The 21 Best Retirement Books to Consider Reading Now
Your Money or Your Life is a modern take on a retirement book. It teaches readers about financial independence and reminds them that more money does not always equal more happiness.
By reframing how people think about personal finances and money, this book should help you save for retirement and make you better off financially, as well as improve your lifestyle along the way.
It's first on the list for a reason and a great read no matter how close or far from retirement you are today.
---
The Bogleheads' Guide to Retirement Planning was written by a crew of "Bogleheads," loyal followers of Vanguard founder John Bogle.
Generally speaking, Bogleheads all follow a similar investing plan that is recommended by John Bogle, which centers on investing in diversified and low-cost index funds. The plan is simple and effective, making it a good strategy for a wide range of people.
This book is one of the best retirement planning books out there and perfect for you if you are seeking straight forward advice across a wide range of retirement topics.
---
Written by one of the most well-known finance coaches, this book is not just for retired individuals and seniors. Any adult with finances to take care of can get valuable help from this book.
Dave did not keep his book single-track. On the one hand, it guides you on his recommended path to pay outstanding debts. On the other hand, it walks you through a method to build up a safe nest egg for retirement by getting up to the right savings rate and investing in mutual funds.
The book also highlights and busts ten myths regarding money and finances.
Although Dave Ramsey's advice comes with pros and cons, the book is still one of the most popular out there.
---
If you have turned 60 and are starting to think about retiring, you should give this book a read. Emily Guy Birken has written this book to serve as a financial roadmap for the last couple of years before you retire.
Apart from finances, the book also covers familial and medical aspects of retirement planning.
---
Robert C. Carlson has written this book to address all the possible finance-related issues of a retiree. The good thing about this book is it doesn't resort to cliches and unrealistic objectives. Robert has used research-based and proven techniques to guide the readers.
Topics include long-term healthcare planning, IRA management, sustainable spending strategies, and estate planning – the book covers all the aspects of post-retirement life where one might need expert advice.
---
Most of the retirement books that address financial problems get too complex with all their business math and legal jargon. Morgan Housel has broken out of that mold and wrote a book that is a fun read through and through.
Morgan has used 19 different stories to put across some of the most important financial (and life) lessons, giving you the info you need to enjoy your golden years.
---
In this book, Jane Bryant Quinn writes about how to leverage all the possible avenues to improve your financial wellbeing in your retirement years.
She shares well-thought-out tricks to make the most of social security account, pension, retirement accounts, home equity, and other money-making and saving for retirement tips.
In short, the book is a valuable guide on how to turn your retirement funds into a healthy and recurring paycheck. Making your money last becomes even more important now with people living longer on average.
---
A former hedge fund manager Todd R. Tresidder has penned down this book to save people in pre-retirement from their readymade retirement plans.
Todd believes that most retirement plans don't consider individual requirements and remain useless. Therefore, the book discusses approaches that anyone can shape and mold in line with their particular requirements.
Todd has dedicated a section of the book on cutting down the amount of money you need at the time of retirement by $600,000. This section is an interesting read and lets you rework your thinking about post-retirement finances.
---
Notwithstanding its clickbait-type name, this book by Daniel R.Solin is undoubtedly one of the best retirement books of recent times.
The best thing about this book is it doesn't feature long yawn-inducing chapters. Instead, Daniel has put across all the useful information in small chunks.
The Smartest Retirement Book You'll Ever Read guides you on how to manage your retirement nest egg for lifelong income generation and covers life insurance matters as well.
The book also outlines some scams that target retirees and how to steer clear of them.
---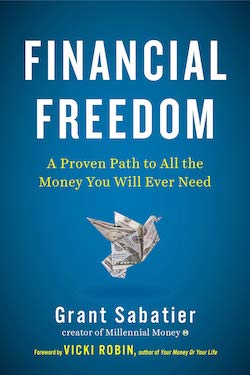 Financial Freedom is a more recent publication from Grant Sabatier, the founder of the successful money blog – millenialmoney.com.
The book teaches valuable money lessons that you set up for achieving financial freedom. Which is another word for "being able to retire whenever you want."
The lesson from the book that stuck with me most, besides the obvious call out that your time is more valuable than money, is that your ability to make money is limitless. At the same time, your ability to save money is limited.
If you want to accelerate your path towards a successful retirement and don't believe in a "normal retirement age," making more money might be a more viable option than saving more money.
---
While most retirement books focus on increasing post-retirement wealth, this guide by Wade D sheds light on spending strategies.
The author has used a large body of financial research to draw inferences on how to cash out investment portfolios while saving yourself from all the potential risks of post-retirement life when you withdraw your money.
If you're interested in diving into the 4% rule, this is an excellent book to check out. And for extra credit, you should read Jesse's (from The Best Interest) article on ergodicity.
---
Hans Scheil is a chartered financial consultant who has helped many people in devising their retirement plans. Hans has distilled his years of experience into words and put them together in this book – The Complete Cardinal Guide to Planning for and Living in Retirement.
The book explores the landscape of benefits, investments, savings, long-term healthcare, and taxes, and guides readers to improve their financial decision-making post-retirement.
---
Retire Inspired addresses everyone— a person in their early 20s who wants an early retirement, to those fast approaching the retirement age. Chris has used an interesting concept of age as a financial number to explain his philosophy.
The book empowers readers to learn sound investment decision-making with realistic expectations. This retirement book also educates readers on how to use financial experts' services in the best possible manner to reach their post-retirement financial goals.
---
If all the other retirement books are heroes, this book is an antihero. And like a good antihero, it is interesting, engaging, and makes you think. Jeff Yeager has put across an antithesis against the conventional retirement wisdom that smart investments and wealth creation are indispensable to retire happy.
Jeff talks about how simplifying life and downsizing your lifestyle is a better strategy to lead a carefree life after you retire while also reaching all of your retirement goals. I also liked this book for its offbeat humor and anecdotal tone.
---
If you also belong to those millions of individuals this book's subtitle is pointing out, then you should give it a read.
Melissa Phipps is a financial planning expert who has outlined an entire scheme for retirees to take control of their finances as quickly as possible.
The Retirement Rescue Plan even includes sample worksheets and exercises to provide more hands-on help regarding expense and savings management. Moreover, it highlights the common retirement planning mistakes that the writer has come across in her years-long career.
---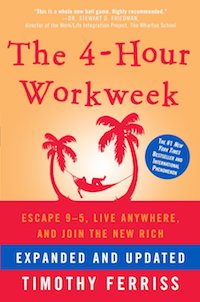 Technically, you could argue that The 4-Hour Work Week by Tim Ferriss is a retirement book.
Although, it is 100% not a traditional retirement book.
In the book, Ferriss outlines advice and tips to help you work smarter, not harder, so that you can escape the rat race. And yes, it is possible to get away with only working 4 hours per week and essentially retiring early.
Is this book for everyone? No. But if you have been seeking a different, better lifestyle that involves less work, it's worth a read.
---
5 More Newer and Less Established Retirement Books to Consider
Greg Sullivan has addressed an issue that very few writers chose to pick – post-retirement failures. Retirement Fail primarily covers nine issues, risks, and hazards that can sabotage even the most well-thought-out and sound retirement plans.
Learning about those hazards can help retirees amend their retirement plans accordingly. The book also shares some real-life examples that thoroughly illustrates the failures and success of different retirement plans and strategies.
This book is an excellent read if you want to revise your existing retirement plan critically.
---
Kyle Rolek is a certified financial planner and retirement planning specialist. He has put down an easy-to-follow retirement guide that has seven distinctive sections.
These sections include lifestyle planning, expense planning, income planning, investment planning, tax planning, health care planning, and estate planning. In other words, you can take care of every financial aspect of your post-retirement life with this self-help book.
It seems like a practical book that acts as a checklist for retirement.
---
Steve Vernon has written Don't Go Broke in Retirement to guide retirees in light of research conducted by Stanford Center. His plan has been stress-tested in the ongoing financial downturns where it has shown its failsafe-ability to retirement fund management.
Steve hasn't recommended anything that requires capital inflow apart from your social security benefits and retirement savings.
---
Jonathan D.Bird warns people nearing retirement to not just bank on dividend stocks due to the volatile situation of the market and tax woes.
Alternatively, he offers retirees a step-by-step guide to structure their portfolio centered on index funds with minimal tax woes for a sustainable stream of retirement income.
Remember, one of the best ways to avoid paying taxes in retirement is to invest in tax-advantaged accounts (or retirement accounts), like a 401(k) or individual retirement account (IRA). Both are different from a taxable brokerage account in that you can either contribute tax deferred money (401k), or withdraw money tax free (Roth IRA).
---
21. Forever Paycheck by Debbie Andrews and Kathryn Payne
Debbie is a seasoned financial advisor, and Kathyrn is an investor and retired business owner. They have teamed up and written one of the best retirement books of the last couple of years – Forever Paycheck.
Forever Paycheck talks about living a post-retirement life that's not all about stressing over finances. The author duo has explained the unrealistic Wall Street promises in straightforward language. This information will come in handy to avoid picking poor investment options. The book also guides readers on creating a paycheck from their lump sum of money that can outlive them.
---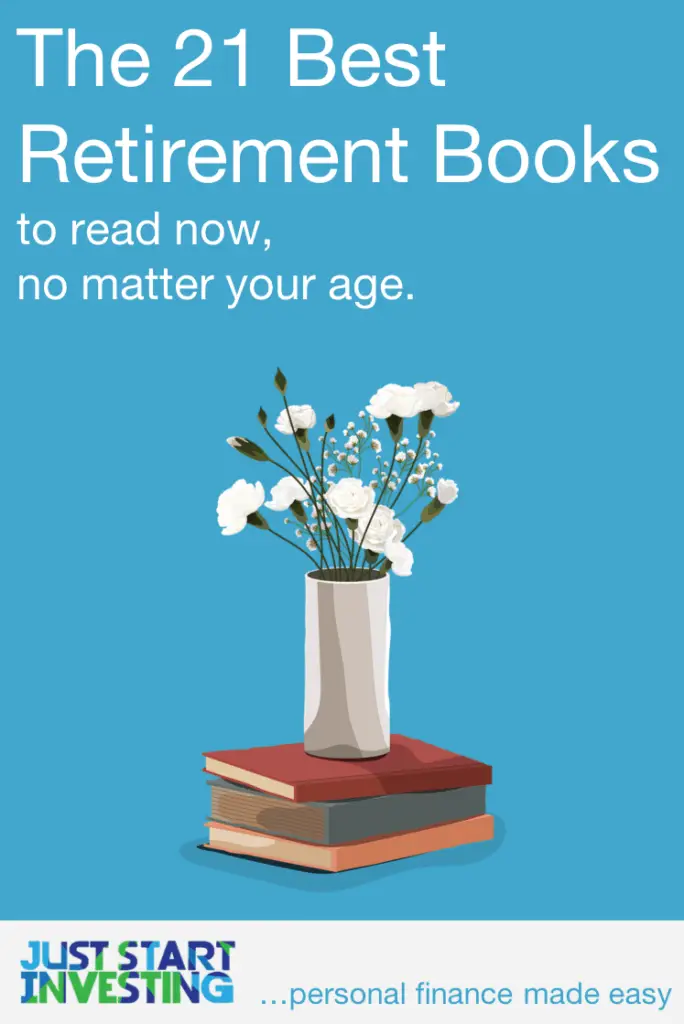 ---
Summary: The Best Retirement Books
We hope that you find the book you're looking for to create a sound retirement plan.
Whether you are 20, 40, or 65+, planning for retirement is a good idea no matter your age. Hopefully, one or more of these books can provide some useful insight to leave you better off when you stop working.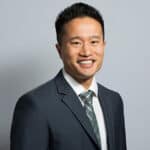 Christopher Liew from Wealth Awesome
Christopher Liew is the creator of Wealthawesome.com, where he shares money tips and guides for his readers. He's a CFA Charterholder who has been featured on Yahoo Finance, MSN Money, and The Motley Fool. Read about how he quit his 6-figure job to travel the world.